Today it is my pleasure to Welcome romance author

Olivia Miles

to HJ!

Hi Olivia and welcome to HJ! We're so excited to chat with you about your new release, Mistletoe on Main Street!
Sleigh bells, snow, and second chances . . .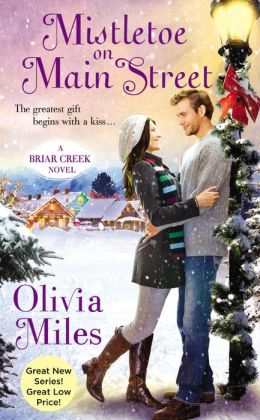 Briar Creek's quaint shop windows, cozy homes nestled in snow, and neighborly residents are what Christmas dreams are made of—for everyone except Grace Madison. She left her hometown years ago to pursue a writing career. But when her father's death leaves his bookstore empty, Grace must return to face why she fled Vermont in the first place: Luke Hastings, who still heats her up like a shot of smoky whiskey on a cold winter's night.
Grace is back, and Luke is worried. How much has she changed as a bestselling author in the big city? What memories will she stir up? And was the choice he made five years ago the biggest mistake of his life?
Now, with their past, present, and future rocking around the Christmas tree, it's time for Grace and Luke to face the music . . . and the mistletoe.
Olivia's Fav scenes from the book:
1. Luke slid into the driver's seat and slammed the door shut. He wasn't sure which was worse: feeling like she was still the girl who knew him inside out, or feeling like she was a total stranger. That he meant nothing to her anymore.
But Grace Madison could never be nothing to him. And that was just the problem.

2. "Afraid to be seen with me?"
His banter had succeeded in disarming her and she gave a small smile. "You know how it is in that house. Two sisters and a mother. If they saw you dropping me off, I'd never hear the end of it."
"Would that be such a bad thing?" He slid her a glance and she lowered her eyes.
"Yes," she said firmly.

3. "It's my home and I like it," Luke said, but one glance at Mark told him his cousin wasn't buying it. Mark had seen the lavender hand soaps in the bathroom. The throw pillows on the bed. The faux floral arrangement that anchored the dining room table. The dishtowels that depicted little birds and butterflies.
"I'm just saying…It's not the kind of place you could bring a woman to. Not as a bachelor."

4. "You had plenty of choices," he growled.
Her gaze narrowed. "And so did you."
He held her stare, his heart thundering in his chest. and then shrugged. Shrugged off the pain, the hurt, the frustration that had lingered for years and was now bubbling at the surface.
He had plenty of choices, she was right about that. And leave it to Grace to home in on the one thing that had nagged him all these years. Had he made the right one?

5. "I do love you, you know."
She shot him a look as her fingers turned the door handle. "I know," she said bitterly. "But we both know from experience that sometimes that isn't enough."
Giveaway:

2 Print copies of MISTLETOE ON MAIN STREET
To enter Giveaway: Please complete the Rafflecopter form and Post a comment to this Q: 

Who would be your fictional dream date to meet under the mistletoe and why?
Meet the Author
Olivia Miles is a Chicago-based romance writer. Having grown up in New England, Olivia attended McGill University in Montreal, Quebec before settling in Chicago where she lives with her husband, their daughter, and two ridiculously pampered pups.
When she is not chasing after her little ones, she is hard at work creating feisty heroines and alpha heroes with a heart. A city girl with a fondness for small town charm, Olivia enjoys highlighting both ways of life in her stories.
For more information on Olivia Miles, you can find her at:
http://oliviamilesbooks.com/
Twitter: @MsOliviaMiles
Facebook: http://facebook.com/AuthorOliviaMiles