Today it is my pleasure to Welcome romance author
LuAnn McLane
to HJ!

 Hi LuAnn, welcome to HJ!
What would you say are the 5 best things about being a writer?
1. My love of books is what drew me to be a writer. To think that I bring stories to life for readers brings me such joy.
2. I enjoy my characters and it's always such fun to see what journey that will take me on next.
3. Although deadlines can be brutal I take advantage of being able to make my own hours and to take my laptop and write anywhere I choose.
4. I write romance because I like to bring hope to readers that against all odds that love will win in the end. I wouldn't choose any other genre for that reason.
5. I simply love what I do. If I were to win the lottery I would still write. It is in my blood and part of who I am.
Let's talk about your newest release: Moonlight Kiss
If you had to summarize Moonlight Kiss for the readers here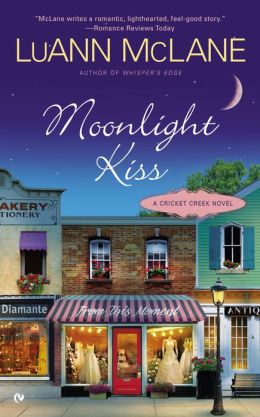 After two very public broken engagements with two famous men Addison Monroe wants to avoid the spotlight. She decides to put her wedding planning experience to good use by opening a bridal boutique. Setting up shop in Cricket Creek, Kentucky is the perfect way to escape prying eyes and to live a quiet single life.
Investment consultant Reid Greenfield is fed up with weddings… but not his own. He is certain his sister's plan to turn their family farm into a wedding reception venue will lead to bankruptcy. Reid hoped that city girl Addison will be an ally in getting his sister to change her mind before she loses her saving. Instead, Addison adores the idea and jumps on board. It's a risky business especially once romance gets involved. But sometimes a little risk brings a huge reward…
Please tell us about the characters in your book?
Addison has been hurt and is afraid to open her heart up to anyone and yet deep down she wants to find that all consuming weak in the knees kind of love that has eluded her in the past.
Reid has spent his adult years trying to save his family farm. Family and finance has kept him from finding true love.
Was it love at first sight for your characters? If not what was the pivotal moment of change?
Oh no, not at all! Reid and Addison butt heads over the barn wedding receptions his sister Sara wants to have on the family farm. The moment of change is a really fun scene when Reid takes city girl Addison for a wild ride on the back of his four wheeler. I really enjoy hiving two characters with very different backgrounds find common ground and learn from each other.
If your characters could go back in time and change one thing what would it be? Why?
Reid suffers from the guilt of not encouraging his siblings to follow their dreams especially his brother Jeff who longs to be a country singer. (We get Jeff's story in Sweet Harmony, the novel I'm currently writing). I think if there were one thing he would change, it would be not being supportive of Jeff's dream.
What scene did you have the most fun writing? Why?
The scene that was the most fun writing was when Addison is frightened by Reid's huge dog. I've had such fun having dogs throughout the Cricket Creek series!
Smile still in place, she started toward the sidewalk leading to the front steps. But out of the corner of her eye she spotted something big and furry galloping in her direction. At first Addison thought it was a fat little pony, no… oh God, it… it was it a wolf? She stood, rooted to the spot as the animal raced across the yard causing dust to fly and it ran straight for her. Would it attack? Bite? She took a shaky step backwards wondering whether to bolt for the front steps or dive into her car. Before she could decide, the big ball of brown fur ran around her in a circle as if closing in for the kill? . His deep bark struck terror in her heart. A scream bubbled up in Addison's throat but fear squeezed her vocal chords. Mind racing, adrenalin pumping, she wondered if there was anything in her purse that the dog would like to eat like maybe a t-bone steak so she could run like hell but could only think of chewing gum and didn't suppose that would do the trick unless the dog wanted minty fresh breath.

After another deep bark the huge dog skidded to a stop and then pounced. The big paws came up on her shoulders making Addison stagger backwards wondering if she should fight or play dead. The big furry head leaned in…

And licked her.

He happily lapped one cheek and then the other. Letting out her held breath, Addison giggled first from repressed hysteria and then from absolute relief that the big animal was actually a gentle giant.

"Little John, down!"

Little John paused in his licking but his paws remained. He looked at Addison as if asking permission for one last lick. He took her giggle as a yes.

"I said down!" Another command came from across the yard.

Addison looked over Little John's massive shoulder and spotted Reid standing next to the metal barn across from the house. He had a tool of some kind in his hand and he was holy cow… shirtless. His jeans had a rip across each knee and a hole in one thigh but it was his chest that captured her undivided attention.
What scene was the hardest to write? Why?
The hardest scene is always the black moment when one of my character's is going to get their heart broken. Here is a peek:
He shrugged. "I know that. But this is a huge opportunity and your mother was also right in that these things only come around so often. If you miss out you might never get another chance. This could be huge for you Addison."

"But… but I'm in the middle of so much right here. I have wedding's to plan…" Her hroat constricted at the thought of leaving him when their relationship was going so well.

"Sara won't have any classes at the farm during the summer break. I'm sure she could fill in at your shop while you're away."

"But she's busy planning her wedding and overseeing the barn renovation."

"The renovations are going smoothly. Believe me, Sara of all people knows how to juggle her time. She is an expert in multi-tasking."

"But, I would miss you too much," Addison said softly and gave him a trembling smile. She looked at him thinking of how much time her mother and father lost over the years and it came close to ruining their marriage. She put her hand over his but he withdrew it, making her heart pound. Please, don't do this, she thought. Please care about me more than that.
How did your character spend the week just before the story starts?
Well Addison was planning her wedding not knowing that her fiancé only wanted to get married so that they could do a reality show. Little did she know how her life was going to change!
Reid was back at the Greenfield farm trying to save the family farm. He's always had the weight of the world on his shoulders but little did he know that Addison was going to come into his life and turn it on its ear!
Who would you cast in the role of your characters if your book was optioned for a movie?
Although her hair is the wrong color I love Emma Stone. She is so sweet but also funny and sassy but just totally loveable.
For Reid I think that Alex O'Loughlin would be just perfect. Sexy in a strong, silent kind of way bit with that unexpected sense of humor.
What are you currently working on? What other releases so you have planned for 2013 into 2014?
I'm currently working on Sweet Harmony, the next Cricket novel in the series. I just turned in Wildflower Wedding and it will hit the shelves in April.
I am having such fun with this series. I have so many ideas that will branch out in other areas but still have previous characters come back and make appearances to let the readers what's going on in their lives.
Thanks for blogging at HJ!
Giveaway:

I would love to give away a signed copy of Whisper's Edge and of Christmas on Main Street. I will include some fun swag too!
To enter Giveaway: Please complete the Rafflecopter form and Post a comment to this Q:

I really enjoy writing about more mature couples as my secondary story. How do you feel about older couples? Should we have more of this age group in romance novels?
Except
I think this is a fun excerpt…

A few minutes later Addison sad down on the sofa and sipped the rich wine. Her mood was an odd combination of excitement and sadness mixed with a little bit of fear. It was an emotional cocktail that made her feel a bit off kilter. She sipped and pondered about her life.

Her cell phone was sitting on the glass coffee table… silent. Addison stared at if for a moment and couldn't decide if she was relieved or disappointed that Garret hadn't called and tried to smooth things over. Not that it would change her mind at this point but it stung a bit that she was so easily dismissed without a real fight. Was Garret at a bar right this minute hitting on women or home alone missing her? But when Addison envisioned his sad face she leaned forward, sat her glass down and almost picked up the phone with the intention of calling him just to see if he was okay.

"Stop!" Addison said so loudly that her voice seemed to bounce off the walls and echo in the silence. "Garret's well-being is no longer my concern!" Glaring at the phone as if it was somehow to blame she sat back against the sofa so fast that she bounced against the cushion. Addison wished she had a girlfriend to confide in but she'd lost contact with her high school friends after the move to L.A. and her college friends were now scattered all over the country, many of them married with a child or two.

Not knowing whether to laugh or cry, she had the suspicion that laughter would dissolve into tears and so she simply sat there, looked around her condo, and frowned. While she paid rent, the building actually belonged to her mother and father. The furnishings were gorgeous but courtesy of an interior designer friend of her mother's and not a reflection of Addison's taste. But the decorating had been a birthday surprise and her mother, who loved bold colors, gushed over the results while she tugged Addison in and out of every room. Addison didn't have the heart to tell her mother that she would have preferred something lighter, softer and a few antiques scattered here and there.

After another sip of wine, Addison picked up a jewel-toned pillow, hugged the silky material to her chest and thought about, well… just about everything. She knew that in spite of the break-up she had a nice life. Loving parents, no financial worries, excellent health, a solid education and she really did enjoy working at Beauty and the Beat. On a daily basis life went smoothly. In fact, the broken engagements were the only traumas she really suffered and like her father said, in truth were for the best. She had an even, easy going temperament and avoided confrontation. She rarely cursed, drank socially but moderately and her political views were pretty much middle of the road. She just simply went with the flow…

"Oh my God!" Addison suddenly tossed the pillow aside and put a hand to her chest. "I'm not nice… I'm boring!" Oh she listened, she laughed, was entertained by others but who did she entertain? No wonder Garret liked being with her… he wanted an audience and she was perfect. No one felt passionate about her because she wasn't… exciting. And then another thought hit her: "Oh my God, I bet I suck in bed!"
Book Info:
Cricket Creek, Kentucky, is a sweet river town known for its baseball, shopping, and cuisine. After finally rebounding from the recession, the residents are ready to repair their lives—and their hearts…
After two very public broken engagements with two very famous men, Addison Monroe is ready to avoid the spotlight. She decides to put her wedding planning experience to good use by opening a bridal boutique. Setting up shop in small town Kentucky is the perfect way to escape prying eyes and live a quiet, single life.
Investment consultant Reid Greenfield is fed up with weddings—and not his own. He's certain his sister's plan to turn their family farm into a wedding reception venue will lead to bankruptcy. Reid hopes that city girl Addison will be an ally in getting his sister to change her mind before she loses her savings. Instead, Addison adores the idea and jumps on board. It's a risky business—especially once romance gets involved. But sometimes a little risk brings a huge reward…
Author Bio
LuAnn McLane writes southern bent romantic comedy for NAL/Signet Eclipse and is currently penning her eighth novel in her popular Cricket Creek series. Her books have appeared on best selling lists including USA Today, Nielsen BookScan, Barnes and Noble and Amazon. Her books have been featured selections for Rhapsody and Doubleday Book clubs. Her love of country music led her to collaboration with superstar Wynonna Judd with the novel Restless Heart. She lives in Naples, Florida and when she isn't writing… she enjoys entertaining family and friends, cooking, reading, music, travel and University of Kentucky basketball.  Website