Today it is my pleasure to Welcome author
Amanda Forester
to HJ!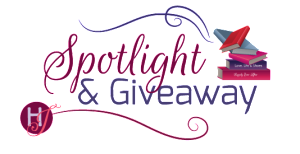 Hi Amanda and welcome to HJ! We're so excited to chat with you about your new release, My Highland Rebel!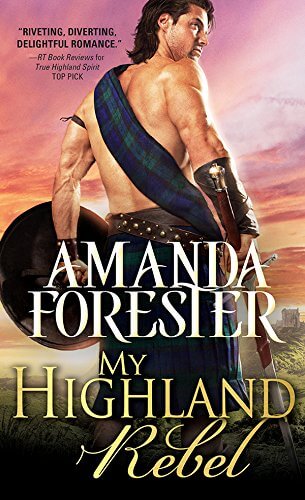 I really enjoyed writing about a bad guy hero whose dream was not to conquer the world but to attend university and conduct science experiments (he figures out how to blow things up, but still, it's science). Unusual heroes are always the most intriguing to me! 

Here are some more facts about My Highland Rebel that might be surprising.
Cormac Maclean began as a minor character in The Highlander's Bride, but I became intrigued with his back story. Why would he go against his warlord father and set the heroine free? He did it for a story? Really? I knew I needed to write more about him and so he ended up with his own book!
The first sentence of my first draft was, "Unlike many people in his employ, Red Rex was no fool." Originally, I began the novel with the villain, but then I changed it to focus more on the hero and heroine.
Most of the book takes place in the fictional Kinloch Abbey that Campbell had bought from the monks when they moved and was in the process of transforming it into more of a stronghold residence. So much of the action in the book depended on the layout of the abbey, I had to research floorplans of medieval abbeys and even drew out the floorplan for Kinoch.
When I write, sometimes the scene plays out for me like a movie and I just try to keep up by writing the dialog. When I go back to edit, sometimes all I have is dialog and I have to add in where they are and what they are doing – just a few important things like that.
In the original version of the book, Core was tasked with taking his sister to wed a man named Reeking Richard. In the final version, this was changed and we never learn the name of the potential groom his sister is running from – but now you know it's Reeking Richard!
Favorite Scene: My Highland Rebel
In My Highland Rebel, Jyne convinces Core to help her oust a conquering warlord, the Fire Lord, who has taken control of her keep. What she doesn't know is that Core is the Fire Lord. In this excerpt, she has a plan to pretend to be ghosts and scare away the Fire Lord and his men. Core promises to help…but they get a bit distracted.
Jyne followed him into the central courtyard. It was a cold, cloudless night, the white stars scattered across the night sky, sharp and clear. A half-moon hung low in the sky, casting a pale light on the courtyard. All was silent.
Core kept to the shadows along the edge of the building. The raiders had been an unusually quiet and downcast lot without their usual drunken carousing and had turned in early. They had taken up residence in the old cells for the monks, which had been in the process of being renovated. The old dormitory was located on the east side of the old abbey, next to where Jyne's fictional tower had crumbled.
Core turned and pressed a finger to his lips to admonish her to move more quietly. She thought she had been noiseless, but apparently not silent enough for the master before her. He paused for a moment outside the dormitory. No sound could be heard above the occasional snores of the brigands.
Core slowly unlatched the door and moved in without making a sound. Jyne was impressed. She attempted to follow suit but received a sharp look from him when her slipper scuffed along the floor. She shrugged her shoulders to let him know she was doing her best.
They moved forward carefully into the antechamber before the dormitory. There should have been another door leading from the small chamber to the sleeping quarters, but it had been removed, so they were visible if anyone stuck their head out into the main corridor and looked down the hall. Jyne's breath quickened. What would these men do if they found them sneaking into their barracks at night? Torture? Death?
Jyne's pulse raced. It was one thing to plan in the relative safety of her chamber. It was another to actu¬ally follow through with real, dangerous men.
Core motioned to her, and she followed him to the corner where some wood planks leaned against the wall. Core kneeled down and crawled behind them and disappeared. Jyne waited for a moment, for there could not have been more than a few feet of space under the planks.
A snort and a grumble from one of the men had Jyne ducking down to crawl behind the planks with Core, space or no space. She was surprised to find, first, there was no Core, and second, there was a hole in the wall. It looked like it had been a passageway at one time and was being closed off. This must have been the passageway of the converts!
Jyne crawled through, having to pull her skirts along, and was able to stand up once she reached the passageway. It was pitch-black, for neither of them had brought a candle. Jyne felt around, trying to deter¬mine the dimensions of her location. It appeared to be a long, narrow hall. If she stretched out her arms, she could touch both sides of the cold stone walls.
She waited for a moment but could hear nothing. Where had Core gone? Had he left her there alone? "Core?" she called in a loud whisper.
Suddenly, strong arms wrapped around her. She cried out in surprise, but her mouth was instantly smothered in a demanding kiss. It was either a very affectionate ghost, or Core had returned to kiss her senseless. If that was his goal, he was doing a good job of it. Her body pressed against his, and her ears buzzed with a happy tingling. She knew her brothers would not approve of such goings-on, but alone in the dark with a handsome Highlander—how could she resist?
He broke the kiss, but remained holding her close, whispering so softly in her ear, she could barely hear him. "Ye must remain quiet."
"If I dinna, will ye kiss me again?" she whispered back, but apparently not quietly enough, for he kissed her again.
Thanks for blogging at HJ!
Giveaway:

Print copy of My Highland Rebel (Highland Trouble Book 2) by Amanda Forester
To enter Giveaway: Please complete the Rafflecopter form and Post a comment to this Q:

I hope you will enjoy My Highland Rebel. What type of heroes do you enjoy? Do you like heroes who always do the right thing or ones that have to make a few mistakes before they realize they are the hero?
Book Info:
A Conquering Hero
Cormac Maclean would rather read than rampage, but his fearsome warlord father demands that he prove himself in war. Cormac chooses what he thinks is an easy target, only to encounter a fiery Highland lass leading a doomed rebellion and swearing revenge on him.
Meets an Unconquerable Heroine
Jyne Cambell is not about to give up her castle without a fight, even though her forces are far outnumbered. She's proud and determined, and Cormac can't help but be impressed by her devious plots to force him to leave. Soon, his allegiances are as confused as his feelings for the fair Jyne—though he may have captured the castle, it is she who captures his heart.
Buy Link: http://www.amandaforester.com/booksmore.html#myhighlandrebel

Meet the Author:
Amanda Forester holds a PhD in psychology and for worked many years in academia before discovering that writing historical romance was decidedly more fun. A Publishers Weekly Top Ten author, her books have been given starred reviews from Booklist, Publishers Weekly, and Top Picks from RT Book Reviews. Whether in the rugged Highlands of medieval Scotland or the decadent ballrooms of Regency England, her novels offer fast-paced adventures filled with wit, intrigue, and romance. You can visit her at www.amandaforester.com.
Thanks for inviting me today! I love to hear from readers so come visit me at my website, Facebook, or twitter.