Today it is my pleasure to welcome romance author 

Lynnette Austin

to HJ!
The Not-So-Silent Character in a Book
As incredible as it is, the lazy days of summer are nearly over. The kids are headed back to school, the days growing shorter, the mornings cooler. It won't be long before we'll be hanging autumn wreaths on our doors and passing out treats to the ghosts and goblins that come to visit.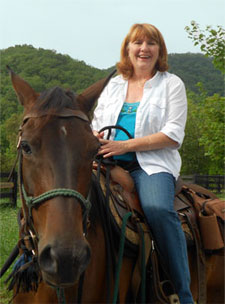 With the change of seasons, we all undergo subtle variations in our life—from what we wear to what we eat to our favorite activities. The hot days of summer beg us to lounge on the beach; autumn calls us to the Friday night football game. That light fruit salad becomes a hearty beef stew. The flowers and trees change, moving through Mother Nature's cycle.
As an author, the time of year my story is set in directly impacts the plot line. The season—whether it's summer, spring, autumn, or winter—becomes a not-so-silent character. Before I write word one, I know whether my hero and heroine are going to swelter in July's heat or shiver in that blast of cold December air. The season is as integral to my book as is the physical setting.
Somebody Like You, the first in my new Maverick Junction series from Grand Central Publishing, begged for heat. It had to be hot, hot, hot when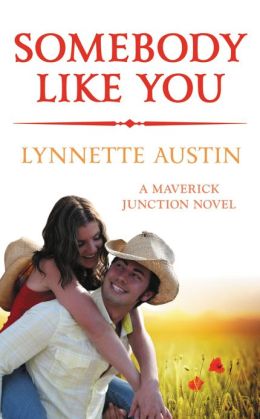 Annelise rode into town on her big black Harley. Nothing else would do.
"You've got to be kidding me."
Annelise Montjoy motored her Harley along what appeared to be the town's main street. This was Maverick Junction?
A blue Cadillac, surely old enough to be in a museum, was parked nose-in to the curb. An incredibly ugly dog sat in the front seat.
Thank God, this, the final destination of her cross-country trip from Boston, was temporary. It looked like the kind of place you ran away from, not toward. If luck was on her side, she'd be out of here in a couple weeks at the most.
And then a store door opened and her breath caught. Go, Texas! Look at that cowboy. So different from any of the men in her life. So…intriguing. She slowed to nearly a standstill and watched as he swiped an arm across his forehead, then dumped a grocery bag in the backseat of the old Caddy.
Cracking open a bottle of water, he turned his head in her direction. Her breath hitched as his gaze ran lazily over her, her bike. Then he snagged a Styrofoam cup from inside his car and filled it before setting it on the blistering pavement for the dog waiting patiently beside him. Leaning against the faded fender, he thumbed back his battered Stetson and chugged the rest of the water.
But in the second book in the series, Nearest Thing to Heaven, Ty Rawlins is a widower with four-year-old triplets. Although he's a hot Texas cowboy, too, I didn't need or want the summer heat. His story demanded the feel of family. What better than the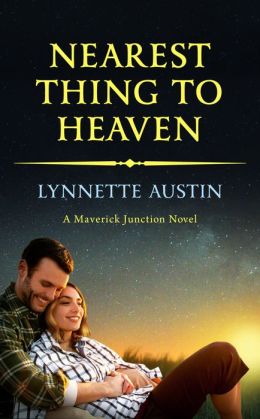 holiday season when family sits down to that Thanksgiving turkey, when the world celebrates Christmas? In Nearest Thing to Heaven the warmth isn't measured by the thermometer but rather by family love.
Over the TV noise, she heard the front door open and a loud squeal. High-pitched children's voices.
"That would be Ty." Mrs. Taylor, Matt's mother and Ty's mother-in-law, laid down her dish towel.
Before she started toward the front room, though, Ty stuck his head into the kitchen, casserole in hand. "Sorry we're late. I went by my folks' place for a short visit and had trouble escaping. Mom sent this."
He passed the dish to his sister-in-law.
"Where are my grandbabies?"
"Destroying the front of the house, no doubt. It's been a trying morning."
"Too much going on." Mrs. Taylor went in search of the boys.
Babs lifted the foil and sniffed appreciatively. "Your mother's enchiladas."
"For Thanksgiving?" The question slipped out before Sophie could bite it back.
Ty sent her a bemused look. "Absolutely. Don't forget, you're in Texas now, darlin'." He ran a finger down her nose. "We eat enchiladas three hundred sixty five days of the year."
Even though I wrote Nearest Thing to Heaven in Georgia in the dead of summer, it was important to me to connect to that incredible feeling the holidays bring. To do that, I set up a Christmas tree in my office, lights and all, and played country Christmas music nonstop on Pandora radio. ☺ It was wonderful, truly Christmas in July!
The third in the series, Can't Stop Lovin' You, will take place in the spring when the world is waking from that long, cold spell—kind of like Sleeping Beauty, right? And Brawley and Maggie's love. Sigh…
So when I write, the season truly becomes another character in my story—and it's never silent!
I find the changing of the seasons invigorating. I like autumn best with its crispness, beautiful colors, and air of anticipation. I like digging out my sweaters and watching the pumpkins and scarecrows appear around town on their bales of hay.
But whatever the season, we have reason to celebrate. Our calendar is sprinkled liberally with holidays. The day after Thanksgiving, my husband calls a small store in Rock Springs, Wyoming and orders Kronskis, a type of sausage made only by them. It wouldn't be Christmas Eve without them.
Thanks so much for stopping by. Come visit me at my website www.authorlynnetteaustin.com or visit me on Face Book or Twitter.
Giveaway:

3 print copies of NEAREST THING TO HEAVEN
To enter Giveaway: Please complete the Rafflecopter form and post a comment to this Q: 

What's your favorite season? Why? What do you do to celebrate it? Leave me a comment.
Here's a short blurb from Nearest Thing to Heaven:
Ty Rawlins, the widowed father of rambunctious triplets, is at odds with Sophie London when she returns to Maverick Junction at Thanksgiving for her cousin Annelise Montjoy's wedding to Cash Hardeman. Chicago is home, where she runs Starlight Productions, her greeting card company. Sophie is a fish out of water in Texas. The cows freak her out. The long-horned steers are nightmare material. But Ty's triplets, one of whom spilled cherry soda on her white silk lap at Cash's barbecue, are enough to make her run all the way back to Illinois in her Jimmy Choos. What will it take for Ty to convince Sophie that Maverick Junction is where she belongs, right beside him and his boys?
Excerpt
Ty Rawlins banged around in his kitchen, feeling more than a little frayed along the edges. Things weren't going well. He glanced at the clock, then did a double take. The thing was practically sideways on the wall. Twelve o'clock settled somewhere around the spot where two o'clock should be. One of the triplets must have whacked it with a sword during last night's duel to the death.
Guess he'd have to hang it higher.
He should have let one of the hands finish up the horse feeding so he'd have enough time for the kid feeding. Somehow, time was something he never had enough of.
Okay, so he was a single parent. All across America, single moms managed to take care of the kids, the house, and hold down a job. If they could do it, he sure as hell ought to be able to.
And now he had to go to this damn dinner tonight. He dropped a spoon into the far-from-empty sink. It wasn't that he wasn't happy for Cash and Annie. He was. But it stirred up memories he didn't want to visit. Memories of far happier times now gone. Forever.

A crash sounded from somewhere in the vicinity of the living room.
"Uh-oh. Daddy's going to be mad."
That would be Jonah, Ty thought. The conscience of the trio.
"It was your fault."
Jesse, the finger-pointer.
Ty set the pan of over-cooked spaghetti on a hot pad and strode off to the front of the house to check out the latest damage. He took a deep breath and surveyed the mess. Nobody was hurt. No blood anywhere. And Josh was right. Nothing was broken. In the grand scheme of things, this was a minor bump. A mere blip on the uh-oh meter.
Thanks so much for stopping in to visit.