Today it is my pleasure to Welcome author
Tara Wyatt
to HJ!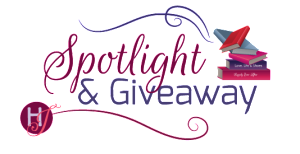 Trained to protect against all danger, a professional bodyguard can provide all the muscle a woman needs. But when their hearts are on the line, love is the riskiest business . .
Please summarize the book for the readers here: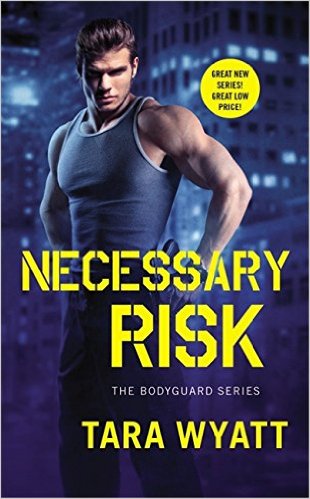 Necessary Risk is a fun, steamy romantic suspense set in Hollywood. The hero, Sean, is a 6'5 bodyguard (who may or may not look a little bit like Joe Manganiello….) and the heroine, Sierra, is a former child star who's in danger because of her role as a spokeswoman for a women's health organization. After she's attacked in public, she hires Sean to protect her. Sparks fly, along with a few bullets.
Sean's priority is keeping Sierra safe, and he worries that giving in to the attraction between them will be a dangerous distraction. But as the danger around them mounts, so does the pull they feel towards each other. I don't want to give away too much—you'll have to read it to find out the rest!

Please share the opening lines of this book:
Sierra Blake glanced up at the bank of lights, and tiny dots danced in front of her eyes. People didn't often realize just how hot stage lights could be. The expression "basking in the spotlight"? That stray s had to be a typo, because it was more like "baking in the spotlight."
Please share a few Fun facts about this book…
This is both my debut novel, and the first book in the bodyguard series. Keep your eyes peeled—the heroes and heroines of books 2 and 3 (coming in May and December) all make appearances.
I like to write to music, and every book I write has its own soundtrack. You can check out the Necessary Risk soundtrack here: https://www.youtube.com/playlist?list=PLwBD6KKc3s_CM7JOPwsPxX_9sK_n8C
The First kiss…
Is super hot! Don't you think?
"I don't have an ice pack, but…" Her small, round ass stuck up in the air as she rummaged through the bottom freezer. Clutching a bag of frozen peas, she sprang back up. "Green Giant to the rescue." She hopped up on the island. "Come here."
He arched an eyebrow as he walked slowly toward her. "I can do it myself."
"Would you come here? I'm trying to say thank you."
The pressing need to wrap his arms around her vibrated through him. The vibrations turned into a warm tingle as she took his bruised hand in hers, holding the bag of peas over his tender knuckles. She turned her face up to his, her green eyes sparkling.
God, she smelled good. Like sunshine, warm and bright and life-giving.
He inched his body closer to the island, his hips bumping the edge. The insides of her bare legs grazed his legs as the skirt of her dress rode up.
"Thank you for sticking up for me. And for keeping me safe." She bit her lip and looked up at him through her lashes. His heart squeezed as he looked down at her, their faces only inches apart. Goddamn, she was beautiful.
"I meant it when I said that I've got you." With his free hand, he tucked a strand of hair behind her ear, tracing his thumb over her cheekbone. His eyes drifted down to her lips, and he couldn't fight it anymore. Clearly he was hell-bent on destruction tonight. He'd punched a state senator, and now, for the first time in his ten years as a bodyguard, he was going to kiss a client.
Cupping her cheek with his undamaged hand, he slowly dipped his head and gently, tenderly closed his mouth over hers. She responded immediately, returning the kiss with a soft sigh.
The peas slid to the floor with a crunchy plop and he slid his right arm around her, pulling her closer, growling quietly. She wrapped her arms around him as he deepened the kiss, parting her lips with his tongue. Finally he was touching her and tasting her just the way he'd wanted since the day they met. Finally she had her arms around him and was moaning softly into his mouth. Finally, and it was a thousand times better than he ever could've imagined. And he'd spent a lot of time imagining it.
He explored her mouth, savoring the sweetness of it as heat curled through his veins. His tongue caressed hers, and she gripped him tighter.
It was the best wrong thing he'd ever done.
If your book was optioned for a movie, what scene would you use for the audition of the main characters and why?
I think the most important thing would be to capture the chemistry between Sean and Sierra, so I'd have them do the scene where they're first alone together after she hires him to protect her.
He turned his attention to her front door, studying the handle and hinges. "We can upgrade this too. I've got some reinforcements I can install that will make it more resistant to being kicked in. New hinges and screws, a thicker dead bolt."
Her eyes widened, and she clutched the plastic rock to her chest. "You think someone would try to kick in my door?"
"It's not likely, but to keep you safe, I need to be prepared for anything this protest group might throw at you."
Her brow furrowed, tension written across her pretty face. Shit. He hadn't meant to scare her. Before he could stop himself, he tucked a strand of hair behind her ear, his fingers lingering on the delicate skin there. "Chances are, no one's going to try to kick down your door. And if they do, that's what I'm here for. I'm not going to let anything happen to you. I get that you're scared, but I promise, I've got you."
She closed her eyes for a second and pressed her cheek into his palm. She was so small, so sweet, so undeserving of any of this shit that his heart ached a little for her while the rest of his body roared to life, heat pulsing low in his gut and tightening the muscles there.
Fucking hell. One touch, and he was ready to pin her up against the wall.
"I'm really glad you're here," she said, sighing heavily. Reluctantly he pulled his hand away, struggling to maintain any semblance of professionalism.
If you could have given your characters one piece of advice before the opening pages of the book, what would it be and why?
Follow your hearts. ☺
What are you currently working on? What other releases do you have planned for 2016?
There will be 2 more books in the Bodyguard series this year. Primal Instinct comes out in May, and Chain Reaction comes out in December. I also have a few other (secret!) projects in the works. ☺

Thanks for blogging at HJ!
Giveaway:

2 Print copies of NECESSARY RISK by Tara Wyatt
To enter Giveaway: Please complete the Rafflecopter form and Post a comment to this Q:

If you could have any celebrity be your bodyguard, who would you pick and Why?
Excerpt from Necessary Risk:
Sean Owens pulled his sunglasses from his face, squinting for a second against the bright Los Angeles sunshine as he strode toward the back entrance of the convention center, slipping them into the pocket of his suit jacket. He scanned the small aboveground employee parking lot, on the alert for any unusual activity, but nothing stood out. The standard perimeter check complete, he reached into another pocket for his phone, ready to check in with De Luca, the new guy on his team, before heading back to the office.
Before he could send the text message, the nondescript door at the back of the convention center flew open, slamming against the brick wall with a sharp bang, and he tensed, his hand edging toward the Glock 19 in the shoulder holster under his suit jacket. A woman came rushing out, one hand clutched to her chest, her face pale.
She was covered in blood.
Ten years of training and carefully honed instinct kicked into high gear, and he rushed toward her, his legs kicking into motion before he even had time to think about it. He raked his eyes over her tiny body, trying to figure out where all the blood was coming from, and if it was hers. She wasn't moving as though she was injured. She almost collided with him, but he anticipated her and braced his hands in front of him, his fingers curling lightly around her upper arms to steady her. She gasped and looked up, and a pair of bright-green, terrified eyes met his. Immediately he looked behind her, trying to determine if someone was pursuing her.
"Are you hurt? Is this your blood?" he asked, keeping his voice calm as he held her steady, his eyes still scanning the area for potential threats.
She shook her head, the ends of her golden-brown hair brushing against his fingers.
"No," she said, her voice strained. "It's dye."
He frowned and once again scanned the area behind her as he swapped places with her, putting himself between her and the door.
"Are you all right? You're not hurt?"
She laughed, the sound shaky and hollow. "Am I all right? Not really. But I'm not injured."
Sean's heart eased out of his throat from where it had leaped at the sight of a woman covered in blood running out of the convention center. But only slightly.
She pulled away, moving back a little.. "I need to go."
He nodded, wanting more than anything to help her. "Where? I can drive you."
She took another step away from him, one eyebrow arched, a frown on her face. "Yeah, I don't get into cars with strange men, but thanks for the offer." A bit of color returned to her cheeks, making her green eyes look even brighter.
"Understandable. My name's Sean, and I'm a security expert." She eyed him warily, and he continued. "A bodyguard. I'm here at the convention to check on a new member of my team, see how he's doing with a client." He slipped his hand into his pocket and fished out a business card, handing it to her, wanting to earn her trust. Even though she was uninjured, his instincts told him that she needed him. She studied the card with narrowed eyes for a second before crossing her arms over her chest.
"This doesn't prove anything. You could've had these made."
He bit his lip, trying to suppress the smile he knew wouldn't get him anywhere. But he couldn't help it. Not only was she cute, she was smart.
"I just…" She toyed with his card, running it back and forth over her knuckles. "I just need a minute."
"Why don't you sit down?" He gestured to a bench several feet away. She glanced from him to the bench before finally nodding. Still keeping himself between her and the door, he let her lead the way. She sat down heavily, her elbows on her thighs, her face in her hands. He eased down beside her, sitting so as to block her from view of the convention center's back door. He watched as she took several deep breaths, and his chest tightened slightly. She was scared, and upset. Even if she didn't trust him, he could protect her from whatever had her so upset, and no way in hell was he going to leave her on her own. He couldn't. Not only was it his training, but there was something about this woman. He couldn't put his finger on it, but he felt drawn to her. Wanted to protect her and look after her.
Excerpt. © Reprinted by permission. All rights reserved.

Book Info:
SOMEONE TO WATCH OVER ME
Former child star Sierra Blake is making a stunning Hollywood comeback-and attracting a scary amount of attention. When her home is vandalized and her safety threatened, she knows it's time to bring in the professionals. But from the moment she sets eyes on her indecently sexy new bodyguard, Sierra's thoughts are anything but professional . . .
Few things in this world scare Sean Owens-until he realizes he's in serious danger of losing his heart to his new client. No matter how much he wants to, Sean won't let his feelings for the smart and gorgeous Sierra get in the way of doing his job. Because as the attacks against her escalate, crossing the line between business and pleasure could get them both killed.
Book Links:

Meet the Author:
Tara Wyatt is the author of The Bodyguards series, coming in 2016 from Forever Romance. Her debut novel, Necessary Risk, will be published in February 2016. Known for her humor and steamy love scenes, Tara's writing has won several awards, including the Unpublished Winter Rose, the Linda Howard Award of Excellence, and the Heart of the West. A librarian by day and romance writer by night, Tara lives in Hamilton, Ontario with her dog and husband.
Connect:
You can contact me through my website (tara-wyatt.com), or find me on Facebook (www.facebook.com/tarawyattauthor) or on Twitter @taradwyatt.