Today it is my pleasure to Welcome author
Marina Adair
to HJ!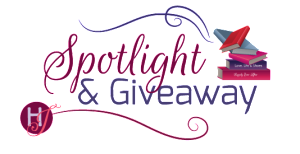 Hi Marina and welcome to HJ! We're so excited to chat with you about your new release, Need You for Mine!

Hi everyone! I am so excited to be here today!

Tell us about the book with this fun little challenge using the title of the book: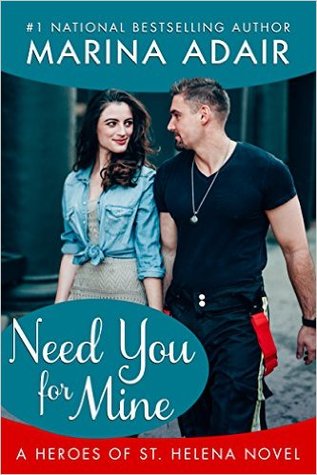 M is for Man Candy
I is for Irresistible
N is for Need
E is for Everafter
What's your favorite line(s) from the book?:
"I didn't think you'd be wearing this dress when I agreed to fill in." He planted his palms flat on the wall above her head. His eyes? Those were firmly on her mouth. "And you should wear it more often. It goes well with Honeysuckle." His lashes lifted. "You wearing Honeysuckle, sunshine?"
"Are you still just interested in being friends, Smoky?" she asked. "Because I have a lot of friends, and they aren't privy to what I have on underneath my dress."
Please tell us a little about the characters in your book. What first attracts your Hero to the Heroine and vice versa?
Harper has always been everyone's best friend, a real milk-and-cookies kind of girl in Adam's eyes….until he walks in on her in nothing but a pair of panties and a bright smile and realizes that beneath the Little Miss Sunshine persona, she is all woman. But ultimately, it is her ability to draw out the best in people, make them feel as if they belonged in her magical world, that draws him in.
Adam is a St. Helena firefighter, bro of the year, and legendary ladies' man around town. Three things that annoy and intrigue Harper with equal measure. But it is the soft and sweet side that he hides that calls to her.
When you sat down to start this book, what was the biggest challenge you faced? What were you most excited about?
My biggest challenge going into Need You for Mine, was that is the last book in the series. I have spent 4 years and 8 books in the amazing town of St. Helena and needed to cap off the series right. I wanted readers to get to spend time with all of their favorite characters, without distracting from Adam and Harper's love story.
I was excited to finally write Adam's book. Who doesn't love a bad boy with a big heart? Put him in a fireman's uniform and what's not to get excited about.
What, in your mind, makes this book stand out?
The St Helena world isn't just about romance in wine country, it follows two influential families as the next generation works to over come great loss and heartache in order to find their happy ever after. There is lots of family drama, family fun, and even more family love.
The First Kiss…
"You asked for my help, so let me help. Here." He grabbed a red belt off the silk robe and tied it around her waist, cinching it in to showcase her flat stomach. With Harper no longer looking like a chewing- gum wrapper, Adam tugged the zipper south, far enough that the collar of her dress opened and slid down one arm. Her shoulder was now exposed, as well as a nice hint of her copacabanas. "Sexy is in the accessories. Oh, and you need new lipstick."

"My lipstick is not the problem. This is the third color I tried this month, and the saleslady at the drug store guaranteed it is the perfect shade."

"The first problem with your statement was 'drug store,' since we both know that the saleslady in question is Mrs. Peters, who hasn't changed lip color since Carter left office." He undid her hair, which was secured by a chopstick. Not a decorative one, but a wooden one from the takeout joint down the street.

"I wouldn't do that. My curls are out of control," she said, her hands moving up in a defensive action that had him laughing.

He intercepted them, mid -helmet pose, and set them back at her sides, squeezing her wrists so she knew to leave them there. And miracle of miracles, she actually listened.

"You have slept-in bed waves, not curls," he corrected. One pull and all of those soft brown waves came tumbling down to her mid-back. Like walking sex, he thought. "Back to the lipstick. Are you really wearing pink with glossy shine and glitter?"

She shifted on her feet. "So?"

"So, it's a problem." He handed her a tissue and waited while she wiped it off. Then he put his fingers in her hair and gave it a little shake, stepping back to study his work. "Better. But still missing something."

"Wow, you sure know how to sweet-talk a woman," she mumbled, and that's when he realized what it was. Sunshine was looking self-conscious, which he'd never seen before. She usually marched to her own beat and flashed those pearly whites at anyone who looked at her strangely—the good-girl version of flipping the bird. But right then, standing there looking bed -rumpled and sexy as hell, she was uncomfortable.

So Adam did the only thing he knew would work. What he wanted to do wouldn't be appropriate, so instead, he slid his fingers deeper into her hair, and then he kissed her.
And holy shit, Harper Owens with her warm smile and rainbow dreams might have looked like the kind of girl one would bring home to Sunday dinner at the parents', but she kissed like she'd rocked your world on the car ride over.

And back.

She made a soft little mewling sound that drove him crazy, because it was half surprised and wholly aroused. Without warning, she pulled his lower lip with her teeth, sucked on it for a good minute, and he manned up in the most embarrassing way. But then her hands were on him, threading through his hair, playing with the ends at the back of his neck, and he forgot what the problem was.

Forgot why crazy cuties were a bad idea.

Forgot every hard-learned lesson that had gotten him through fifteen years as a smokejumper for Cal Fire. Such as: the key to not getting burned was you had to get in, scratch some line, hook it, call it good, and cut out before catching too much heat. It was a technique that had saved his ass a dozen times over in wildfires—and with women. Only he was too busy enjoying the flame to notice it had gotten out of control.
If your book was optioned for a movie, what scene would you use for the audition of the main characters and why?
The scene where Adam interrupts Harper's business meeting with a lingerie manufacturer. There is so much chemistry, and tension, and wit–and poor Harper doesn't know what to do with the charming side of Adam.
"Maybe I could get that private showing? Honeysuckle was the style, wasn't it?"
"Are you kidding me?" Harper removed her hand and studied him long and hard to see if, in fact, he was. Nope, she acknowledged as he casually flipped his ball cap around and shrugged.

He was dead serious.

"I never kid about lingerie."

"Except you came here to find your jacket." That he'd forgotten after getting his pre-party on. "Not tonight's date."

He also hadn't really apologized. For putting her in a weird situation by sneaking into her grandma's shop for an after-hours playdate with Baby. Or kissing Harper. Or not bothering to call the next day.

Not that it mattered. He'd come with one woman, kissed another, then left alone. Harper had gotten the impression he enjoyed the kiss, but she regretted it all the same.
Clay asking her to babysit Tommy had knocked her off balance, and she'd still been teetering when Adam found her. Otherwise she never would have allowed his flirtations to go that far.

"Problem is, I got distracted by a red dress," he said, dropping his gaze again.

"That is a problem." Because tomorrow he'd be distracted by a bartender in a short skirt, and his world would keep spinning. Thankfully, Harper suffered from severe motion sickness, so spinning wasn't in her best interest. "Just not mine, since I'm not interested in being one of your many conquests."

Adam's eyes took a slow inventory of her summer collection, then the corners of his mouth lifted slightly and he shrugged. "Okay. I'll be one of yours."

Harper almost fluttered. Almost. Only right at the first sign of wings in her belly, he smiled, big and smug and so full of himself, and the flutter turned to irritation. "Whatever game you think we're playing, I'm not interested."

"Your dress says otherwise."

"This dress isn't for you," she primly pointed out and wanted to look away, but she couldn't. Rule number three clearly stated to maintain direct eye contact—and she wasn't about to let him win. "It's for an important meeting, which you are keeping me from."

"That may be, sunshine. But the hair? 'Slept-in bed waves,' I believe we called it." He reached out and fluffed it some. "That wasn't for the meeting, and it's a game changer. Well played." His tone was a mix of surprise and respect. "Now, when you go back in there, make sure you're a little breathless." His thumb ran along her lower lip, smudging her lipstick, and she felt her pulse skyrocket. "Yeah, just like that."

"Like what?" she heard herself whisper.

"Like you're interested."
If your hero had a sexy-times play list, what song(s) would have to be on it?
Shawn Mendez – Life of the Party
Jason Aldean – Burning it Down
What do you want people to take away from reading this book?
That romance exists everywhere, around every corner, and it isn't about grand gestures or private jets, it's about the every day nurturing of love.
What are you currently working on? What other releases do you have planned for 2016?
2016 is going to be a great year! I have two new series coming out. In June, I release the first book in new The Easton series, CHASING I DO. It follows a runaway bride, turned wedding planner who gets the chance of a lifetime to plan a high-profile wedding. Only before she can thank her luck stars, the star's best man turns out to be her ex-fiancee's brother… and the uncle to her three-year-old daughter.
Then in August, I have my new Destiny Bay series releasing. The first book is called LAST KISS OF SUMMER, an enemies to lovers story that takes place around an apple orchard in the Pacific Northwest, where the hero and heroine can't seem to stop fighting–or falling into bed together. But beneath the conflict and chemistry is a lot of deep emotions surrounding loss, betrayal, and the overwhelming need to find a place, and family, to call home.

Thanks for blogging at HJ!
Giveaway:

A signed copy of NEED YOU FOR MINE (US only this time)
To enter Giveaway: Please complete the Rafflecopter form and Post a comment to this Q:

What is your favorite kind of hero and Why? Fireman, cop, soldier, doctor…
Excerpt from Need You for Mine:
"I do like sweets. A lot."
Blaming the lack of tingles on stress and knowing it was now or never, Harper licked her lips to bring Clay's attention there, then thought of a sexy scene from a book she'd just read and flicked her hair. Because, according to rule six in creating lasting appeal, "feeling sexy makes one appear sexy"—and with being covered in finger paint and glitter glue, Harper needed a little help in the allure department.
She wanted Clay to see her as more than a friend who was good with his son. She wanted him to see her as a sexual being who would be good in his bed.
Lowering her voice, she leaned in and rested a hand on his arm, making sure her head was tilted in case he wanted to aim that cheek-kiss somewhere more central. "You know what else I like a lot?"
Clay shook his head.
"When it's a little dirty?" a voice cut in.
Before Harper could respond, she was spun around and two full lips crashed down on hers. Hard and demanding and with enough irritated male to have her staggering back. Because it wasn't Clay cashing in on those benefits she was so eager to dole out—it was her very own kissing bandit there to steal more smooches.
Smooches meant for Clay.
Harper pushed back, surprised to discover just how many packs Adam had under his shirt. A twelve-pack for sure.
"What was that?" she demanded, wiping her hands across her lips, painfully aware they were tingling.
Dang misfiring tingles.
"Me, missing my girl," Adam said, holding up a to-go bag of his own. He also held the paintbrush that had been holding her curls back, which meant her hair probably looked like an electrocuted Q-tip.
"Your girl?" she asked, a sinking feeling settling in her gut.
"According to Facebook you have some big status change you're dying to announce."
Harper felt her hands start to sweat. There was no way he could know she had a favor to ask. A favor she had been putting off asking because she didn't know what she'd do if he said no. A favor that, if she asked in front of Clay, would make everything awkward.
She looked at Clay's expression of shock and snorted. After that kiss, awkward would be a welcomed state. "It's nothing, really."
"Huh," Adam said. "Aunt Luce has placed ten-to-one odds that it is a ring-required kind of status change. Which is why I thought I'd drop by and let you know I'm a size fifteen." He wiggled a brow. "Special order."
"You wish," Harper mumbled.
"Ring required?" Clay said, not as horrified as Harper would have liked. In fact, he seemed excited to be chatting with Adam. "I didn't know that you two—"
"We're not," Harper clarified, right as Adam said, "She had me at hello."
Clay's eyes bounced between the two of them like he was watching the final set at Wimbledon. Adam's eyes? They were firmly affixed on Harper's cleavage.
"One look at her Parisian peek-a-boos and, pow, it was like witnessing a goddess being born."
"Parisian peek-a-boos?" Clay asked, his brows folded in on themselves.
"You peeked at my Parisian peek-a-boos," Harper clarified.
Adam grinned, wicked and with purpose—and Harper's knees wobbled. "I did a lot more than peek."
"He's kidding." When Adam didn't comment, only twisted one of her loose curls around his finger, she elbowed him in the ribs. "Tell him you're kidding."
"No can do, sunshine. Parisian peek-a-boos are powerful stuff," he said, slinging his arm around Harper's shoulder. "Plus, some girl was seen wearing my jacket and was nearly mobbed. I can't imagine what would happen to anyone who spoke out against Hadam."
Oh God. Harper's stomach constricted—Adam had seen the post. Not wanting to get into it in front of Clay, Harper used her best teacher tone and said, "Cut the bologna. This is about the jacket, isn't it?" Without giving Adam the chance to respond, she turned to Clay. "Can you give us a minute to straighten this out? I promise this is not what it seems."
Clay looked at his watch. "Actually, I have to go. I just wanted to say thanks for babysitting. Enjoy the gift." He handed her the bag. "Nice to see you, man."
"He kind of walks like a girl," Adam said as Clay headed down Main Street toward his car.
"He does not. And what was that? Payback for me interrupting you and Baby?"
He laughed. "No. That was nothing like me and Baby. What happened with me and Baby was a gigantic cock block. That"—Adam wiggled his fingers in an animated wave as Clay drove by—"was just me interrupting some friendly chitchat."
"That was not friendly chitchat! You totally co—" She looked in the shop's window at the kids, who were looking back, ears peeled. "Well, you know what you did."
He grinned. "Maybe you should explain it to me."
She grabbed a pencil out of her apron and re-secured her hair into a messy bun at the back of her head, ignoring the flyaway curls. "Clay was about to ask me out and your kiss was to chase him off."
"He wasn't about to ask you out, sunshine," Adam said in a gentle way that made Harper question herself. She hated questioning herself, even though she did it often when it came to the opposite sex.
"You don't know that." But somehow she got theis really sick feeling that he did. That she was the one misreading the situation—again. Which was impossible. She was sending the right messages this time, and receiving them.
She opened the bag and wished she had the ability to make herself disappear.
Inside wasn't a set of pastries and napkins for an impromptu sweets break. Inside was a gift card and a pencil drawing of a big stick figure with a paintbrush, holding hands with a smaller stick figure. They were both smiling, only the bigger one had a halo of curls that took up most of the page. At the bottom, in hard-won scribbles was a big #1 followed by the word SITTER.
"Maybe he's just not ready to start dating," she said quietly, reminding herself that his divorce had been finalized just last year, and twelve months wasn't all that long to mourn the loss of a dream. So she'd be patient. Not that Clay would forget her and Adam locking lips on Main Street.
"Maybe," Adam said, but he didn't sound all that convinced.
"What do you mean 'maybe'?"
"I know guys, and he's not the guy for you."
Humiliating moment complete, Harper closed her eyes and took a few deep breaths, trying to get the burning red embarrassment to recede from her cheeks. It didn't help.
"I bet this will make it better." He held up his bag with two fingers and shook it. Harper could hear a pastry tumble around. The grease stain on the side of the bag told her whatever was in there was frosted. The size of the bag said there was more than one.
Maybe cupcakes? Or a dozen cookies? She was an equal opportunity consumer when it came to baked goods, but cookies were her favorite. Especially ones with enough butter to stain a bag. But this bag made her uneasy, because this bag felt like a bribe.
"What's going on, Adam?" Her gaze fell to his chest when she asked, "And why did you kiss me?"
"You looked like you needed to be kissed, and dumbass wasn't perceptive enough to see that," he said in a tone that had Harper looking up and, holy smokes, Adam was looking back.
It wasn't the look she expected—it was protective and hungry, if not a tad bit confused.
Welcome to it, Harper thought. Two minutes ago, she was so focused on Clay's chaste kiss she had convinced herself he was going to ask her out. Now she couldn't seem to remember why she wanted to go out with him.
"He needed to know that it wasn't you missing out on something amazing. It was him who was missing out."
"Oh," she whispered, her stomach clenching a little. "I thought you kissed me as payback for, you know . . ." She waved her hand at his fly and groaned. God, she was so awkward. "So you kissed me to save me from embarrassment?"
He chuckled lightly. "You really need to work on reading signals, sunshine."
"I don't understand."
"Exactly,"
Excerpts. © Reprinted by permission. All rights reserved.
Book Info:
Every red-blooded male in St. Helena wants Harper Owens…as a friend. Despite her efforts at seduction, Harper seems to be destined to end up alone. The only guy with a knack for unleashing her inner vixen is firefighter and resident rule-breaker Adam Baudouin. Agreeing to a faux-mance could help him secure a promotion—and save her family's lingerie shop, the Boulder Holder. But playing with fire has consequences. Especially when the flame comes courtesy of St. Helena's own Five-Alarm Casanova…
None of Adam's quick-and-easy hookups have prepared him for a connection this extraordinary. There's more to the milk-and-cookies art teacher that he'd love to explore. But first he has to convince her to trust the town's most notorious playboy. Even tougher—he'll have to trust himself to be the real-life hero this warm and sexy woman deserves.
Book Links:

Meet the Author: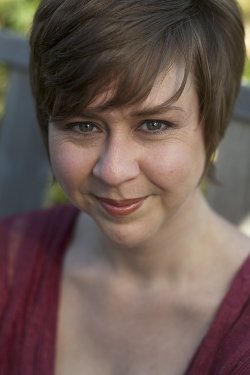 Marina Adair is a #1 National best-selling author of romance novels and holds a Master of Fine arts in creative writing. Along with the Sugar, Georgia series, she is also the author the St. Helena Vineyard series, the Heroes of St Helena series, and her upcoming Sequoia Lake series. She currently lives with her husband, daughter, and two neurotic cats in Northern California.
As a writer, Marina is devoted to giving her readers contemporary romance where the towns are small, the personalities large, and the romance explosive. She also loves to interact with readers and you can catch her on Twitter at @MarinaEAdair or visit her at www.MarinaAdair.com. Keep up with Marina by signing up for her newsletter at www.MarinaAdair.com/newsletter.
Website | Facebook | Twitter |