Today it is my pleasure to Welcome Harlequin romance author

Melanie Milburne

 to HJ!
Hi Melanie, Welcome to HJ
What would you say are the defining characteristic of your novels?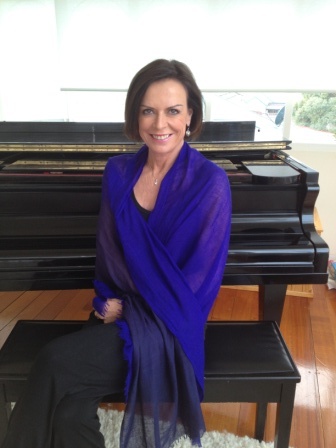 Fast paced passion, deep emotion and characters you can relate to.
If you were a heroine in a book, your character would be – The girl next door, the damsel in distress, Kick-butt take charge heroine or the aloof ice queen and why?
I am all of those things! I think that is what is so much fun about being a writer. You can explore other (sometimes hidden or secret) aspects to your personality. Actors do it all the time. They have to morph into the character to make them authentic.
Let's talk about your newest release: Never Underestimate a Caffarelli
If you had to summarize the book for the readers here…
A former adrenalin junkie is confined to a wheelchair after a freak accident and the only woman who can help him get back on his feet refuses to work with male clients.
Please tell us about the characters in your book.
Raoul Caffarelli is a playboy thrill seeker who has been injured in an accident. He refuses to leave his chateau in France unless he can walk again. Lily Archer is a physical therapist with wounds of her own.
What scene did you have the most fun writing? Why?
I always love writing the scene where the hero and heroine meet for the first time. It's fun to see that first spark of reaction. I felt like I was in the room with them!
But her gaze was immediately drawn like a magnet to the silent figure seated in a wheelchair behind the desk. Raoul Caffarelli had the same breath-snatching good looks of his older brother, with glossy black hair, olive-toned skin and a rather stubborn, uncompromising-looking jaw. But his eyes were a green-flecked hazel instead of dark brown, and right now they were glittering at her in blistering anger.
'You'll forgive me for not rising.' His tone was clipped and unfriendly, his expression stony.
'I…Of course.'
'Unless you are hard of hearing or a complete and utter fool, you must realize by now I don't want you here.'
She lifted her chin, determined not to show him how intimidated she felt. 'I'm neither hard of hearing or a fool.'
What scene was the hardest to write? The scene where Lily reveals her scars to Raoul. Why?
Because the issue of self-harm/cutting is a sensitive one and I wanted to show how difficult it is for a former sufferer to reveal that part of her past.
Lily was intensely aware that the same water that surrounded and touched her body was surrounding and touching his. It added a level of intimacy that was disturbing and yet exciting at the same time.
'Why are you wearing a T-shirt?'
The question coming out of the silence threw her for a moment. 'I-I have very sensitive skin.'
'The moon doesn't have UV rays.'
She gave him a withering look as she folded her arms across her chest. 'Ha ha.'
His eyes graze the shape of her breasts and then narrowed as they came to rest on her forearms. His gaze came back to hers, dark and concerned. 'What happened to your arms?'
Who would you cast in the role of your characters if your book was optioned for a movie?
Lily Collins would be perfect as Lily. Matt Bomer for Raoul as he has a really intense gaze.
What are you currently working on? What other releases do you have planned for 2013 into 2014?
I am working on a Presents title with an uptight workaholic English hero and former street-kid wild child heroine who are trapped together in the Scottish highlands during a blizzard. It's an enemies to lovers theme so there's lots of banter and sexual tension!
Also I am part of the exciting new Presents continuity – The Chatsfields. I have written book two- Playboy's Lesson.
Where can readers get in touch with you?
I am on Twitter @MelanieMilburn1 and Facebook and you can sign up for my newsletter at www.melaniemilburne.com.au
GIVEAWAY:

a signed copy of Never Underestimate a Caffarelli and a gift pack.
To enter Giveaway: Please complete the Rafflecopter form below and Post a comment to this Q:

Both Lily and Raoul had regrets to deal with. What is your biggest regret?
Excerpt:
Lily blinked at him. 'You want to work with me?'
'Yes.'
'But…But I thought…?'
'I'd like you to stay for the month. I'll pay you double the amount my brother offered.'
She looked at him in bafflement. Why had he changed his mind? Hadn't her scars put him off? Most people shunned her when they saw her body. He was doing the opposite.
Why?
Who cares? Think of the money. Two years' wages for a month's work!
'But I don't understand…'
'I quite like the idea of getting to know you, Lily Archer. I suspect no one else has achieved that before.'
She gave him a guarded look. 'I suppose you see me as yet another challenge to overcome?'
'No.' His eyes glanced briefly at her mouth before coming back to mesh with hers. 'I see you as a temptation I should resist.'
Her eyebrows lifted. 'Should?'
'Can't,' he said, and before she could move even an inch out of his way he covered her mouth with his.
Book Info
Has this Caffarelli finally met his match? Millionaire playboy Raoul Caffarelli has always lived life in the fast lane. But when an accident confines him to a wheelchair–and to the care of a woman whose beauty taunts him–he's consumed with rage and frustration.
Used to difficult patients, physical therapist Lily Archer won't be cowed by Raoul's arrogance or distracted by his Adonis-like physique. Carrying her own scars from the past, Lily has vowed never to relinquish her power to a man again.
Both underestimate the power of the shared passion between them. Their physical scars may heal, but some wounds run much deeper….