Today it is my pleasure to Welcome New York Times Bestselling Author
Dianne Duvall
to HJ!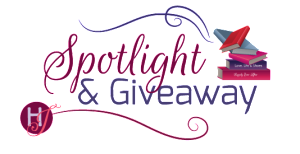 Hi Dianne and welcome 🙂
If someone wrote a biography about you, what do you think the title of the book should be? Why?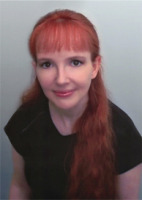 DYNAMITE COMES IN SMALL PACKAGES. I tend to be quiet in public. Unassuming. So I think it sometimes surprises people that I write books that contain epic battles and passionate love scenes. Such a title could also reflect my determination to pack as much as I can into each story I write. Clinging-to-the-edge-if-your-seat action. Romance that can be sweet, spicy, poignant, and passionate. Laughter and humor. Tragedy and loss. And a constantly growing group of exceedingly powerful immortal warriors who delight in the friendship and family ties they share.
Which of your prior characters would you most/least likely invite to dinner and why?
I would most likely invite Seth. He's the oldest Immortal Guardian in the series and, as such, has seen and experienced so much. I could spend hours just peppering him with questions. And, too, he's my favorite character in the series. 

I would least likely invite Dennis, the vampire villain from NIGHT REIGNS, Book 2. All humans infected with the vampiric virus in my series suffer progressive brain damage that causes a swift descent into insanity. While some of the vampires you'll encounter in my series are still lucid, Dennis was completely psychotic. I would NOT want to be in the same room with him.
Let's talk about your newest release: Night Unbound
If you had to summarize the book for the readers here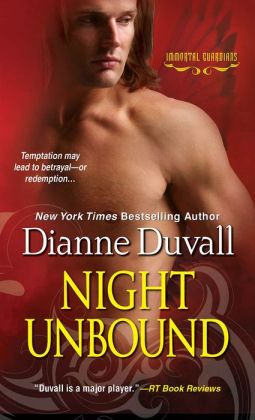 Lisette is a telepathic Immortal Guardian who has labored for two hundred years beneath the guilt of accidentally transforming her brothers. Even after her brothers each fell in love with and married wives they adored, she would never have thought to seek such a relationship for herself or find happiness of her own . . . until she met Zach.
Zach is as fascinated by Lisette as she is with him. But a new enemy has risen up against the Immortal Guardians, and all evidence points to Zach. Even so, Zach and Lisette gravitate toward each other, both willing to risk the wrath of the Immortal Guardians' immensely powerful leader and delve into ever more dangerous territory to ferret out the TRUE enemy . . . if only to see where the attraction neither Zach nor Lisette can deny will lead them.
Please tell us about the characters in your book?
My Immortal Guardians are gifted ones, men and women born with extremely advanced DNA, who have been infected with a rare symbiotic virus that lends them many of the characteristics found in traditional vampire folklore. Their advanced DNA protects them from some of the more corrosive aspects of the virus and gives them special abilities, like Lisette's telepathy. Vampires are humans who have been infected with the same virus. Because they lack the protection offered by the Immortal Guardians' advanced DNA, they suffer progressive brain damage that drives them all insane. So the Immortal Guardians spend their nights hunting and slaying the vampires who prey upon humans.
Now, this sounds like a pretty dark existence, but my Immortal Guardians and the mortals who aid them are like one big family. They laugh and tease and razz each other as siblings often do, which leads to light, humorous moments. They're also fiercely loyal to each other, something that is more important than ever now as they face a new, even deadlier enemy.
As you wrote your protagonist was there anything about them that surprised you?
The vulnerabilities that surfaced within both Zach and Lisette as they embarked upon their forbidden relationship surprised me. Zach is one of the most powerful beings on the planet. And yet, as Lisette soon realizes, he seems heartbreakingly unaware of his own worth. He really doesn't understand why she is willing to risk everything to be with him. That isn't something I expected from a man who not only butted heads with the Immortal Guardians' leader in the past, but went so far as to threaten him. 

And, though I knew of Lisette's turbulent past, I didn't become aware of the insecurities it had instilled in her until I wrote NIGHT UNBOUND. She's always been a singularly courageous warrior, leaping into battle without fear and remaining unruffled no matter what the odds she faced. I liked seeing this new side of her.
Please share a few fun facts about this book:
This entire book was inspired by lollipops. When I first introduced Zach's character, I intended for him to remain a sort of shadowy background figure. But, in PHANTOM SHADOWS (Book 3), he deviated ever so slightly from the path he had traveled for thousands of years and interfered just a touch in the Immortal Guardians' world. When the Others with whom Zach had traveled that long path punished him severely for straying, Ami—a shy, quiet member of the Immortal Guardians family with a torturous past of her own—sought him out and offered him silent solace . . . and two lollipops. The way Zach reacted really made me sit up, take notice, and want to give him his own book. Those two lollipops changed everything. 🙂
First Kiss:
He moved a step closer.
She didn't back away.

He took another step.

She held her ground.

Barely a breath separated them.

"I want to try something," he proposed.

Her heartbeat increased. "Okay."

Lowering his head, Zach pressed his lips to hers. His pulse jumped at the warm contact, racing to match hers.

Her breath caught.

Tilting his head, he increased the pressure, deepened the contact, and drew his tongue across those soft lips. She tasted incredible.
Did any scene have you crying or laughing while writing it?
I did tear up while writing a couple of scenes in this one, but laughed while writing far more. There is one scene in particular that I've seen mentioned by several reviewers that makes me laugh every time I think of it, but I think it may be too naughty, so I'll post a snippet of another one in which Lisette addresses two of her fellow immortals:
"You do know I kill vampires for a living, right?"
Bastien pointed at Ethan.  "He said it, not me."
"But you were thinking it."
He scowled.  "Are you reading my thoughts again, telepath?"
"I didn't have to.  It was all over your face.  Besides, I stopped peeking into your head a long time ago because all you ever think about is Melanie naked and your vampire friends."
Ethan's eyebrows shot up.  "He thinks about Melanie naked with his vampire friends?"
Bastien popped him on the back of the head.
If your book was optioned for a movie, what scene would you use for the audition of the main characters and why?
I would use the scene in which Lisette and Zach encounter each other for the first time in NIGHT UNBOUND. The actors would have to display a nice range of emotion in it, everything from the intensity of a warrior in battle, to breathless attraction, to uncertainty, fear, and pain. That initial encounter may be brief, but a lot happens in it. 🙂
If you could have given your characters one piece of advice before the opening pages of the book, what would it be and why?
I would urge them to risk everything, because what they will ultimately find together will be well worth it.
What are you currently working on? What other releases so you have planned for 2014?
I don't have any more releases planned for this year. But I'm currently working on Immortal Guardians Book 6, which will be released in 2015, and am very excited about the turn the Immortal Guardians' world will take in it. I'm also writing an Immortal Guardians novella that will be released in the ON THE HUNT anthology in 2015.
Where can readers get in touch with you?
Website:  http://www.dianneduvall.com
Blog:  http://dianneduvall.blogspot.com/
Facebook: https://www.facebook.com/DianneDuvallAuthor
Twitter: http://twitter.com/#!/DianneDuvall
Youtube:  http://www.youtube
Pinterest:  http://pinterest.com/dianneduvall
Goodreads:  http://www.goodreads.com/author/show/4400405.Dianne_Duvall
Thanks for blogging at HJ!
Giveaway:

One print copy of Night Unbound.
To enter Giveaway: Please complete the Rafflecopter form and Post a comment to this Q:

 How do you like your paranormal romance: light, dark, or both? Why?
Excerpt
"Why are you doing this?" Confusion colored Zach's voice.
Lisette set the pasta down and gave him her full attention. "Doing what?"
He hesitated. "Helping me. Being . . . kind to me."
Why indeed? She kept getting deeper and deeper and deeper into this . . . whatever this was. "You saved my life."
His lips tilted up in a faint smile that seemed to reflect cynicism, relief, and disappointment all at once. "Ah. You feel obligated. I understand now."
"Not obligated," she corrected. "Grateful. And . . . "
"And?" he prompted.
"Don't you know?" she asked curiously. "Haven't you looked into my thoughts?"
"No."
Interesting. Seth and David seemed to lack any reservations when it came to reading the minds of their charges. And, if she were honest, she and Étienne intruded on their friends' thoughts far more often than they should. One would think Zach, perhaps the antithesis of Seth, would possess even fewer scruples.
Or did he lie?
Could he be testing her to see if she would tell him the truth?
Hell, what did she have to lose at this point?
Crossing the kitchen, she stopped a foot away from Zach and tilted her head back to look up at him.
"Ask me again," she ordered softly.
"Why are you doing this?" he murmured.
"Because I'm drawn to you, Zach."
His heart began to beat faster.
As did hers. "I'm drawn to you in a way that makes me want to risk everything just for the chance to know more of you."
His eyes lit with a mild golden glow. "Why?"
She gave her head a slow shake. "I don't know. But I suspect . . . I hope . . . that it's the same for you, that that's why you came here—to me—when you were so badly injured and needed help."
He raised one of his hands and, almost as though she were a bird he feared he might frighten away, captured a damp strand of hair that dangled in front of her ear, testing its texture with his fingers. "I came to you because you were all I could think of while I was being tortured." He drew the lock closer to his face and breathed in the citrus scent of her shampoo. "I came to you because you were all that enabled me to endure it."
I am in so much trouble here, Lisette thought.
Buy Links
Amazon — http://amzn.to/1owVm7B
Audible — http://bit.ly/Z4Q3Fs
Barnes & Noble — http://bit.ly/1wEbPia
iBooks — http://bit.ly/SaBpc3
Kobo — http://bit.ly/1mBKQhO
BAM! — http://bit.ly/1nrplS4
Walmart—http://www.walmart.com/ip/33938472
Book Links:
Author Bio
Dianne Duvall is the New York Times and USA Today Bestselling Author of the Immortal Guardians paranormal romance series. Every book in her series—Darkness Dawns, Night Reigns, Phantom Shadows, and Darkness Rises—has been declared a Top Pick by RT Book Reviews, The Romance Reviews, and/or Night Owl Reviews. Darkness Dawns and Darkness Rises have also both been nominated for the RT Reviewers' Choice Award for Best Vampire Romance. Dianne earned a bachelor's degree in English from the University of St. Thomas and loves all things creative. When she isn't writing, Dianne is active in the independent film industry and once even crawled out of a moonlit grave onscreen.