Today, HJ is pleased to share with you

Leigh Greenwood'

s new release: 

No One But You

First Comes Marriage…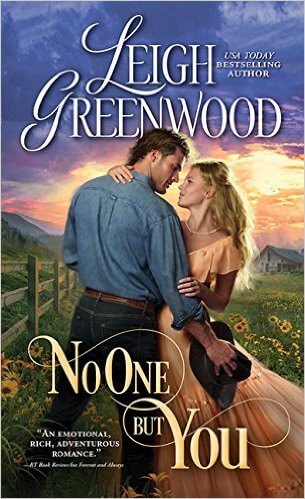 Alone in the world and struggling to make ends meet, Texas war widow Sarah Winborne will do anything to keep her two small children safe and her hard-won ranch from going under. She hasn't fought for so long to lose everything… and if that means marrying a stranger to protect her family's future, then so be it.

She never expected anything but a business arrangement, but something about Benton Wheeler's broad shoulders and kind eyes awakens emotions she'd long since buried. He makes her feel beautiful. He makes her feel desired. He makes her feel like a woman again. And even though their marriage was never intended to be more than a matter of convenience, as Benton stands between her small family and the wild and dangerous West, Sarah may just realize that the cowboy she married is the love she never dreamed she would find…

Enjoy an exclusive excerpt from No One But You:
"Do you think we can find anybody here who'll work for us?" Jared asked. "They have a bunkhouse."
Her ranch didn't have a bunkhouse. The men had to sleep in the shed. They hadn't liked doing that, but she'd refused to let any of them sleep inside because there were only two bedrooms. More than one man had implied he'd be willing to work harder with more encouragement. Sarah had never had any doubt of what kind of encouragement they meant.
"I hope so," Sarah said.
"No one in Austin would."
She hadn't told the children what she intended to do. She was too afraid of the questions they would ask. She was even more afraid of what she would have to settle for. She was a realist. She didn't have much to offer besides herself.
But she refused to think about that yet. She still believed there were honorable men in Texas. She had no one else to fall back on. Her parents were dead, and Roger's family had turned cold when Jared was born. When Roger didn't return from the war, they cut her off completely. All she had to show for the bargain her father had made with Roger's family was a piece of land that was too large to be a farm and too unsuccessful to be a ranch. She had held out against the compromise nearly every widow faced—marry the first man who offered or risk starvation—but now she had no choice.
She had come too far to turn back, but now that she was here, she wondered if she hadn't been an idiot to attempt such a crazy plan. Regardless of any agreement she might make, it would be her husband's legal right to expect her to behave as his wife. She didn't want to be any man's wife ever again, but she would do it for her children. There was nothing special in that. Thousands of women were forced to do it even when there wasn't a war.
"I bet they have a dozen beds in that house," Jared said to his sister.
"I'd rather sleep in the bunkhouse," Ellen said, her eyes glowing.
"We'll sleep in the wagon just like we have since we left home," Sarah told her children.
"What if they offer?" Ellen asked.
"We'll politely decline. I don't want to be beholden to strangers."
"Wouldn't it be rude to refuse?" Jared asked. "You always said Southerners never turn away a stranger."
"I said they would offer them something to eat if they were hungry and a bed if they were sick. We're neither hungry nor sick."
"I'm hungry and Jared has a bad leg," Ellen said. "Doesn't that count?"
"We have our own food, and I don't want anyone pitying Jared," Sarah told her daughter. "We're here to find a man who can help us, not beg for favors."
"It's not begging if they offer," Jared said.
"They won't."
Sarah wondered why she thought the Randolphs would be willing to help her. She had nothing to offer them, and she was asking them to give up one of their most responsible and dependable workers. Just because she was desperate didn't mean people would feel they should deprive themselves to benefit her. She looked up at the house that loomed before her. It practically shouted at her to turn around and go back. The feeling was so strong she pulled the horse to a halt.
"Why did you stop?" Ellen asked.
"We shouldn't have come," Sarah said to her children. "We have to turn around."
Jared looked around, apparently trying to find what had caused his mother to change her mind. "Did something scare you?"
The odds were stacked heavily against her, but what kind of mother would she be if she quit? It didn't matter if she was so scared she could hardly breathe. It didn't matter that she was practically selling herself to a man she'd never seen. No one else would take care of her children. Both were looking at her now, waiting for her to say something.
She was about to shake the reins and start the horse again when a voice stopped her. "Are you folks lost?"
Sarah spun around to see a man with broad shoulders and a lean body approaching with an easy, swinging gait and a hoe resting on his shoulder. Apparently he'd been working in a grove of fruit trees whose leafless limbs looked like outstretched fingers against the pale gray winter sky. She didn't know how she missed seeing him. He was as tall as the trees themselves.
Oddly, he gave her the impression of being as sturdy as a tree, able to bend when necessary but keeping his roots firmly attached to the ground. Maybe it was his expression that was an engaging mixture of curiosity and cheerfulness. Maybe it was his unhurried gait, the way he stood calmly waiting for her to reply. Or maybe it was simply clothes that fit his body comfortably without being baggy. Maybe it was his broad shoulders and powerful forearms she could see below his rolled up sleeves. His voice had a low, slow, and distinctly southern accent; his gaze was forthright. His gray eyes seemed to welcome her. Or it could be that she was so afraid of being spurned that anything less than outright rejection seemed like an invitation?
"We're not lost," Ellen told the man. "We've come to look for a hired man."
The man's brow creased. "Why would you think he was here?"
Sarah pulled her scattered wits together. "I need to find a man to help me with my ranch. I was hoping one of the Randolphs would know of someone I could hire."
Excerpt. ©Leigh Greenwood. Posted by arrangement with the publisher. All rights reserved.
Giveaway:

2 Print copies of No One But You by Leigh Greenwood
To enter Giveaway: Please complete the Rafflecopter form and post a comment to this Q:

What did you think of the excerpt spotlighted here? Leave a comment with your thoughts on the book…
Book Info: 
Title: No One But You
Author: Leigh Greenwood
Pubdate: July 5th, 2016
ISBN: 9781492608257
Buy Links: Amazon Apple Books-A-Million Chapters Indiebound


Meet the Author: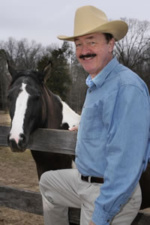 Leigh Greenwood is the USA Today bestselling author of the popular Seven Brides, Cowboys, and Night Riders series. The proud father of three grown children, Leigh resides in Charlotte, North Carolina. He never intended to be a writer, but he found it hard to ignore the people in his head, and the only way to get them out was to write. Visit him at www.leigh-greenwood.com.