Today it is my pleasure to Welcome New York Times bestselling author
Roni Loren
to HJ!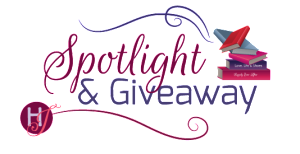 Hi Roni Loren and welcome to HJ! We're so excited to chat with you about your new release, Nothing Between Us

!
Your first challenge, summarize NOTHING BETWEEN US here in the traditional 5-7-5 haiku form:
Ack, I was never good at these in school, lol. Okay, here goes: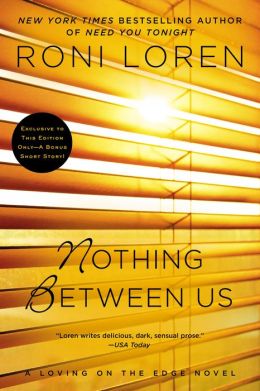 Colby, Keats, Georgia
The match is about to strike
Three hearts, but one fire

What's your favorite line in this book and why?
That's tough. The ones I would choose would have spoilers in them, so I'm going to open a random page and find my favorite line on that page. Here goes…
"Close your eyes and beg me."
What's the most interesting element you've learned about the BDSM/kink lifestyle while writing your novels? Is there something you've read about that you want to incorporate in a book yet but haven't?
You know, it's kind of funny because I don't even think about the kink element much anymore. I think about the characters and being kinky is a part of who they are, so often the BDSM scenes just naturally flow and ideas pop up because it fits the characters and the situation in the book. As for things I haven't incorporated yet, I think Shibari (Japanese rope bondage) is beautiful and intricate, so I'd love to include some of that. But I haven't included it so far because it's a lot of detail, and I'd need to do a lot of research to write it correctly.

Please tell us a little about the characters in your book. As you wrote your protagonist was there anything about them that surprised you?
Well, Colby is the longest running character in the series who hasn't gotten his HEA yet. He showed up in the very first book and has made appearances throughout the series, so he's been a very patient dom, lol. But he's the guy who's not afraid to fall in love. He just hasn't found the right girl (or guy) (or both!) yet. And Georgia is a strong woman, but she's coming from a traumatic situation with a sick ex-boyfriend, so she's agoraphobic and has been watching Colby (her neighbor) through his window as her only real connection to the world around her. And Keats is younger than them both and someone from Colby's past who is going to throw both Georgia and Colby for a loop. : )

The First kiss…
What was fun about writing this book is that I got to write lots of first kisses because it's m/m/f ménage, and I had to develop relationships between all three of them. So there is lots of first everythings all the way around! But probably my favorite first kiss in the book happens in Colby's kitchen and is rather unexpected for Colby. I won't say more than that since I don't want to spoil it. 😉


Did any scene have you crying or laughing (or blushing) while writing it?
There's a scene where Colby, Georgia, and Keats are having movie night, and Georgia gets annoyed at the horror movie protocol of only showing naked women and no guys. I had fun writing this conversation. Here's the snippet:
"Everything all right?" Colby asked, sending Georgia a look of amusement.

"It's annoying that all they ever show in movies is the girl. I mean, sure, she's pretty and has a nice body. But would it kill them to throw the female viewing audience a little man ass or something? That guy has a good one. Boy parts shouldn't be off-limits."

Keats's chest bounced gently beneath her as he laughed, and Colby's dimples appeared.

"It's unfair," she concluded.

"Agreed. Horribly sexist," Colby said, trying to look serious. "I do have internet access on this TV. I could I pull up some gay zombie porn for you. There will be man ass and boy parts abound."

She sent him a sidelong glance. "Please, God, tell me that doesn't exist."

"When it comes to porn, everything exists," Keats assured her.

She turned her head to look up at him and gave him a poke in the arm. "Speaking from experience?"

He gave her an oh-please look. "You do realize I'm male and grew up in the age of the internet, right?"

"Wait, are you even old enough to watch porn?" she asked, blinking innocently.

Colby barked a laugh.

Keats pinched her side, and she yelped before falling into her own laughter.

"Low blow, George," he said, but his smile was warm.

"Ha!" Colby said from the other side of the couch.

Georgia turned to face him.

He pointed the remote at the TV and announced triumphantly, "Would you prefer The Sucking Dead or 28 Dicks Later?"

Georgia was already a little giggly from a night of nervous tension and the beer, so at the sight of the two movie posters displayed on the screen, especially the one with the very shapely green male behind, she lost it. She slipped out of Keats's hold as she bent forward, her shoulders shaking with laughter.

"Only nine-ninety-nine. Yeah, we're totally getting this," Colby said, lifting the remote. "And I'm opening up the account in your name. Georgia Lawrence, lover of gay zombie ass."

"Don't you dare!" She went for the remote, launching herself at Colby. He lifted the remote out of her reach, and she landed half across his lap. He locked an arm around her waist, dragging her against him and giving her a flash of teeth. "Hey, I'm giving you what you asked for."

"All I wanted was male nudity not zombie ass," she said, still stretching for the remote, but he tossed it over her head to Keats.

"Hit Buy, Keats," Colby called.

"Oh my God, the zombie f***s people back to life and that turns them into zombies," Keats said, apparently reading the description. "Do you think he walks around saying 'Asssss' instead of 'Braaaains'? Because if that's the case, we might need to watch this. I mean, how could we not? It's like an obligation."

She sent Keats a look of mock betrayal. "You are not siding with him. All I asked for was a little equal opportunity nudity. Is that too much to ask?"

"Hey, I'm fond of nudity of all types," he said with a grin and reached behind him. He tugged his shirt over his head with one quick motion and tossed it aside. "There, it's evened out now. Topless girl in the movie, topless guy for your viewing pleasure."
If Colby had a sexy-times play list, what song(s) would have to be on it?
I can imagine "Sweetness" by The Toadies playing during a BDSM scene. If he were feeling romantic maybe "Don't You Wanna Stay" by Jason Aldean and Kelly Clarkson since Colby sings country music and would lean toward listening to that genre.

What would you say is the overarching theme in this series?
Most of my books boil down to healing and self-acceptance and through those things, finding love. I had a writer friend point that out to me because I certainly didn't notice those themes myself, lol. In NOTHING BETWEEN US, Georgia needs the healing, Keats needs some self-acceptance, and Colby needs a little of both.

What are you currently working on? What other releases so you have planned for 2015?
I'm about to start on a brand new series that I'm super excited about (details to be revealed soon!). I'll still be writing Loving on the Edge books (Pike's book comes out in July and Gibson's novella in October), but I'm adding a new erotic series to the mix early next year. It will be the first time I'm writing outside the Loving on the Edge "world" in four years, so it's both scary and exciting. 🙂

Thanks for blogging at HJ!
Giveaway:

2 Print copies of NOTHING BETWEEN US by Roni Loren.
To enter Giveaway: Please complete the Rafflecopter form and Post a comment to this Q:

So what are you reading right now? And if you have it close by, play the game I just did: open it up to the page you're on or a random page and share your favorite line. : )
Excerpt
Excerpt Setup: Georgia has been watching Colby through his bedroom window for a year. She's gone over to his house to finally admit to it but can't seem to get the words out.

"I'd rather have your honesty than anything else," Colby said.

Georgia tried not to wince. Honesty. Yeah, she was doing a stellar job at that one. Fake last name. Shady background. Not to mention that whole illegal-peeping thing. Just slap a big fat F on her report card for that one. Her conscience wagged its finger at her, bringing the guilt down heavy. Her thumb started rubbing at her palm again. She watched the back-and-forth motion. Maybe she should leave. Kissing Colby had been fantastic, but how could she pursue anything with him? All her issues. The fact that he was dominant. Everything was so complicated in her life right now. "It's getting late . . ."

"Come on, baby," he said softly. "Don't chicken out on me now."

She looked up, finding those hazel eyes studying her, flickering gold in the lamplight. "What?"

"Tell me what you really came here to tell me."

It took a second for the request to register, but when it did, it squeezed around her throat in a death grip. "What do you mean?"

"Georgia . . ."

The awareness in his eyes was like a guillotine slicing through her last shreds of hope.

Oh. Shit.

"You saw the binoculars."

Colby's expression didn't change, but he set down his beer. "I did."

She stared at the couch cushion between them, humiliation bleeding through her. This wasn't happening. "I'm so sorry, I—"

But her words trailed off when he shifted toward her on the couch. He put his fingers beneath her chin. "Hey, look at me."

That was the last thing she wanted to do, but she forced her focus upward. She'd done the crime, now it was time to pay the price for it. But when she tilted her face to him, she didn't see any censure or judgment in his.

"You must think—" she started again, but he hushed her with a shake of the head.

"I already knew," he admitted. "So I'm as much to blame as you are."

"What?" She blinked, her thoughts scattering like frantic mice. Maybe she was hearing things. "But—"

"I saw your curtains move and a flash one night when I had friends over. The moonlight must've glinted off the lens of your binoculars."

"Oh my God." She put her hands to her face, officially mortified. "Why didn't you shut your curtains?"

He chuckled and reached for her wrists, easing her arms down to her lap. "I'm guessing you can probably figure out the answer to that yourself."

She swallowed hard, the realization staring her in the face. "You liked me watching."

His dimpled smile was downright devious. "Hello, Ms. Voyeur, meet Mr. Exhibitionist."

She closed her eyes and shook her head. "God, that makes me sound like such a pervert."

He released her wrists and leaned back against the arm of the couch again. "Come on, now. You've watched me long enough to know I could beat you on the pervert scale a few thousand times over. No need to feel any shame about it. You wanted to watch. I let you—and enjoyed it."

She couldn't process this. All the times she'd watched him flipped through her mind like a dirty movie on fast-forward and repeat. All those nights, he'd known she was there. Then another thought hit her. "So last night . . ."

"Last night was probably out of line," he admitted. "All the other times, I knew you were watching, but I didn't change my behavior because of it. Last night, I did."

Her heart was moving too fast again, but for a different reason than panic. "Why?"

He considered her for a moment, then released a breath. "Because I was selfish. I needed to know if you watched my window because you just enjoy seeing other people be intimate and do kinky things or if you watched because of me."

Oh, hell. She bit the inside of her lip.

"Because some people like watching no matter who it is. And that's cool. I can get into that sometimes, too. But if that's all it was, I wanted to know so that I didn't go traipsing where I'm not wanted."

Her brows met. "What do you mean?"

"You've seen what kind of lifestyle I live, how I am with lovers?"

"Yes," she said, almost too low for her own ears to register the sound.

"And what do you know about me, Georgia?"

She wet her lips. "You're kinky."

"I am."

"And you like threesomes."

Amusement lit his eyes. "True, what's not to like?"

"And you're a dominant and a sadist."

His mouth lifted at the corner. "Yes. You know the language. I have to admit that surprises me a little. Google?"

"I look that innocent?" she asked, deadpan. "I think I'm insulted."

Okay, so it was totally Google. But no way she was admitting that.

He laughed, the sound coming from deep in that wide chest of his. "I'm not trying to tease you."

"Uh-huh."

He took her hand again, his expression going more serious. "I'm only trying to figure you out—and need to make sure you know exactly who I am because that list of things would probably scare off ninety percent of the population. And if you watch me simply because I'm so out there that you find it interesting, that's fine. If we kissed because there's attraction but you're not really into the other stuff, I'll understand. Tell me that and nothing has to change. You can continue to watch and I'll let you." His thumb traced the delicate bones of her wrist, the heat of his touch burning through her. "But if you watch because you think you might crave some of those same things, if you find yourself wondering what it'd be like to be there with me instead of behind the glass, then tell me that, too. Because, Georgia, all you have to do is ask and next time I won't stop unless you tell me to."
Book Info:
Unlike the heroine of her popular thriller series, Georgia Delaune can't afford to take risks or push sexual boundaries—unless you count spying through her neighbor's bedroom window, and never missing a single move he makes.
Colby Wilkes is more than willing to put on a show for the alluring woman next door. But his dominant side aches to show her the pleasures of submission up close. As a counselor, Colby is sensitive to Georgia's fears. As a Dom at The Ranch, a private BDSM retreat, he's the perfect teacher to unleash her passion.
But just as Georgia lowers her emotional barriers, an unexpected complication arrives: a bad boy musician from Colby's past who adds fuel to her heated imagination. Now, the lonely author has two gorgeous men eager to fulfill every fantasy she's ever written—and one she's never dared to dream….
Exclusive to this edition only – a bonus short story!
Book Links: B&N Amazon | Kindle UK | Kindle Canada Kobo Apple/iTunes Google Play
Meet the Author: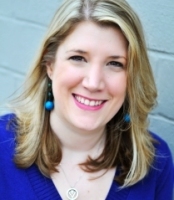 Roni wrote her first romance novel at age fifteen when she discovered writing about boys was way easier than actually talking to them. Since then, her flirting skills haven't improved, but she likes to think her storytelling ability has. Though she'll forever be a New Orleans girl at heart, she now lives in Dallas with her husband and son.
If she's not working on her latest story, you can find her reading, watching reality television, or indulging in her unhealthy addiction to rockstars, er, rock concerts. Yeah, that's it. She is the New York Times and USA Today Bestselling Author of The Loving on the Edge series and other sexy things.