Today it is my pleasure to welcome historical romance author

Anne Barton

to HJ!

Hi Anne , Welcome to HJ
Hi, and thank you so much for having me!
What would you say are the defining characteristic of your novels?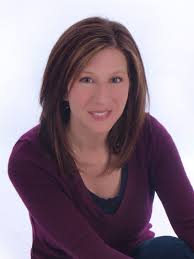 What a great question! Gosh, I think I'm still figuring it out, and maybe the answer will come into focus with more books. But I write fairytale-like stories—nothing too horribly gritty. I like a hero and heroine who I can root for, and who don't take themselves too seriously. Oh, and you know how some romantic comedies end with an over-the-top scene that's a little cheesy but still makes you happy and teary-eyed? I like to write those scenes—the big, public declarations of love. I can't help it!
5 best things about being a writer?
1. Starting a new story—so many possibilities!
2. Going to conferences. Romance writers are FUN.3. Getting lost in a story. 4. Hearing from readers.
5. Typing "The End."
Let's talk about your newest release: ONCE SHE WAS TEMPTED
If you had to summarize the book for the readers here…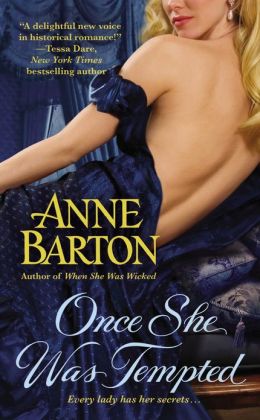 A hot, tortured hero with a bad attitude meets a sweet, innocent heroine—who might have posed for a couple of scandalous portraits. Oh, and he has one of them.
Please tell us about the characters in your book?
Benjamin Elliot, the Earl of Foxburn, (our hot and tortured hero) was inspired a little by the character of Dr. Gregory House. He's got a wry sense of humor and a war injury that makes him retreat from the world—until he meets Daphne.
Everyone thought Daphne Honeycote was the sweet, innocent younger sister, but it turns out that she has a couple of secrets of her own. The scandalous portraits she posed for could bring shame upon her family—unless she can track them down before they're revealed.
What scene did you most enjoy writing? Why?
It's hard to choose! I like writing love scenes because intimacy almost always leads to interesting revelations about the characters. And as I said, I love writing the big public declarations at the end, but that would be giving too much away. For this story, I really liked writing the opening, because it's in Ben's point of view and it's just so him.
Upon meeting Miss Daphne Honeycote for the first time, Benjamin Elliot, Earl of Foxburn, had two distinct thoughts.
The first was that she appeared to be a suitable match for his upstanding young protégé, Hugh. Her golden hair was smoothed into a demure twist at her nape, and the collar of her gown was prim enough to pass muster in a convent. Her entire person radiated light, goodness, and purity.
The earl's second thought regarding Miss Honeycote was that he should probably take down the nude portrait of her that was hanging in his study.
As you wrote your hero and heroine was there anything about them that surprised you?
Yes, but I don't want to give it away! I'll just say that I love how they eventually bring out the best in each other.
What was your hero's biggest secret?
The solemn promise to his best friend, who died at Waterloo.
What does your hero love most about your heroine?
Her luminous, sweet, generous personality.
What does your heroine love most about your hero?
His loyalty, bravery, and honesty. And his broad shoulders. 🙂
If you could have given your Characters one piece of advice before the opening pages of the book, what would it be?
You can't fight love.
What are you currently working on? What other releases do you have planned for 2013 into 2014?
I'm finishing up the third book in the Honeycote series—SCANDALOUS SUMMER NIGHTS. It's Olivia's story, and it'll be out in 2014. Rose's story comes after that!
Where can readers get in touch with you?
Oh, please visit me on Facebook, Twitter, and my website.  I'd love to see you there!
GIVEAWAY:

2 print copies of  ONCE SHE WAS TEMPTED
To enter Giveaway: Please complete the Rafflecopter form and post a comment to this Q:

When you were growing up, what was your favorite fairytale? And what princess did you most wish to be? Why?
Excerpt
She looked up at him, her beautiful face imploring. In the light of the lanterns, the skin above her fashionably low neckline glistened, and he imagined what it would be like to hold her and cover her mouth with his, to lose himself in her warm, seductive glow. He longed to trace the lace edge of her pretty gown with his fingertip. Or, better yet, his tongue. The anger that he'd felt only seconds before turned to ash and a different kind of fire ignited in his chest. In that moment, he knew he'd do anything she asked of him, no matter how silly or hopeless. "Why should I?"
"Because you have nothing to lose."
"That is true." He took her bare hand from his arm, raised it between them, and pressed his lips to the back of it.
"What was that for?"
"I was simply sealing the deal. I shall search for the owner of the second portrait. You shall search for a miracle cure."
She smiled as though he'd given her a precious gift. Or a puppy. "Perfect," she said.
Before he knew what he was saying, he blurted, "I'll even sweeten the pot."
Her forehead wrinkled in puzzlement.
"If you find a way to ease my pain, I shall give you the portrait of you that hangs in my study."
"It's still hanging in your study?" Her voice held a note of alarm.
"Relax. No one has seen it. No one will."
"I would feel better if it were destroyed."
Destroy it? He hadn't considered the idea that she might want to get rid of the portrait altogether. It would be sacrilege. He understood her logic, of course. For as long as the painting existed, her reputation was in a state of danger. He just knew that he'd never be able to bring himself to torch or shred it. The very idea made his stomach clench.
"Let's take one step at a time," he said. "I'll visit Hugh tomorrow and concoct an excuse to look through Robert's papers."
Her face fell. "I feel awful for putting you in a position where you need to lie."
He laughed. "You're hardly responsible for corrupting me. I thought we'd already established that I'm quite without scruples—a lost cause, if you will."
"I'm not so sure about that…Benjamin."
The sound of his name on her lips unleashed a fresh wave of desire. He wondered how she'd react if he leaned in and kissed her tenderly—just a brief kiss so that he could test his theory that she'd taste like honey, pure and golden.