Today it is my pleasure to Welcome romance author

Joely Sue Burkhart
 to HJ!

Hi Joely and welcome to HJ! We're so excited to chat with you about your new release, One Cut Deeper!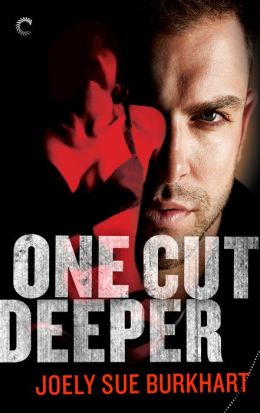 I don't know how or when the idea wormed its way into my head, but a couple of years ago I got the idea of writing something like a horror romance. I don't mean blood and guts horror, but something scary. Maybe even with an anti-hero like Riddick from Pitch Black. Maybe even…

A killer.

But I still wanted the story to be solidly romance.

Was that even possible?

That's the idea behind my Carina Press release, One Cut Deeper. I wanted all the wonderful things from romance that I love, like emotional conflicts, heart-wrenching tenderness, spicy sex, and a to-die-for hero. But also elements of horror, like heart-pounding tension, danger, and a deadly hero. Wedded (haha) with a happy ending that puts a smile on your face.

No cop out. No cliff hanger. But a real, committed happy ever after.

It was so much of a challenge, that when Charlie first walked into the story, I really didn't know he was the dangerous hero I'd been waiting for. He seemed so nice. So normal. Yes, he was a Master, and I knew he was hiding some secrets, but wow, he totally blew me away.

I hope he blows you away too. Even if he does give you a few heart-stopping scary moments.

Read an exclusive excerpt from One Cut Deeper: 
His pants hung open enough to reveal the dark cotton of his briefs and the bulge hidden beneath. He tugged the black T-shirt over his head. He was as lean as I'd suspected, with chiseled muscle that made my mouth water. More chest hair than my previous boyfriends but not so much that I thought of a burly backwoodsman. Both his left shoulder and pec bore ink. From the eagle, flag and skulls, I guessed some kind of hardcore military background, but I couldn't concentrate on the design.

A silver ring hung from his left nipple.

I could almost feel that metal between my teeth.

His arms were loose at his sides, his shoulders down and relaxed. Nothing screamed domination and control in his stance.

Until I dragged my gaze up his body to his eyes.

Always his eyes, raging and intense, at odds with his gentle voice and manner. It was why I'd worked so hard at never seeing him, or at least never meeting his gaze fully. Once he'd seen what I really was, I knew I'd never be able to escape. He needed no cuffs or chains or collars to bind me to him. All he needed was that dark, all-consuming need that swallowed me whole and left me crying for more. It took all my concentration to force out one word. "Master."
Excerpts. © Reprinted by permission. All rights reserved.
Giveaway:

A digital copy of ONE CUT DEEPER + $10 gift card to the ebook Retailer of the winner's choice.
To enter Giveaway: Please complete the Rafflecopter form and post a comment to this Q:

Have you ready many "scary" romances? If so, please share in the comments – I'm always looking for another recommendation!
Book Info: 
Her needs are dark. His are dangerous.
Charlie MacNiall has been bringing his beautiful king shepherd to the vet clinic where Ranay Killian works for the better part of a year. She doesn't realize he's been slowly wooing her. She certainly has no idea that he picked her deliberately—that she is to become his. A broken heart and a desperate desire to be dominated make her the perfect victim.
His perfect victim.
Charlie fixes Ranay, testing her emotional limits while pushing her sexual boundaries past anything she'd imagined possible. Pain is their shared pleasure…until Charlie disappears and Ranay is all but destroyed.
The FBI says the man she loves is a serial killer. Ranay can't deny there's a darkness in Charlie, a monstrous hunger that drives him to the brink. She even believes he could kill. But Charlie's hunger is what bonds them—it's the foundation of their love. Would he actually kill her?
Purchase Links: Amazon – Barnes & Noble – Kobo – GooglePlay – Goodreads


Meet the Author: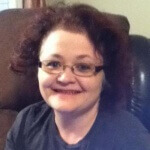 Joely Sue Burkhart has always loved heroes who hide behind a mask, the darker and more dangerous the better. Whether cool, sophisticated billionaire, brutal bloodthirsty assassin, or simply a man tortured by his own needs, they all wear masks to protect themselves. Once they finally give you a peek into the passionate, twisted secrets they're hiding, they always fall hard and fast. Dare to look beneath the mask with delicious BDSM in a wide variety of genres!
Visit Joely at her website, as well as Twitter and Facebook. Her upcoming releases include The Billionaire Grinch November 2015 and the second book in A Killer Need series: Two Cuts Darker in February 2016.