Today it is my pleasure to Welcome author
Christy Carlyle
to HJ!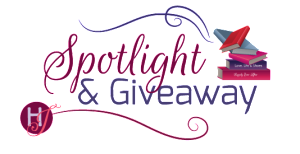 Hi Christy  and welcome to HJ! We're so excited to chat with you about your new release, One Dangerous Desire

!
Please summarize the book for the readers here: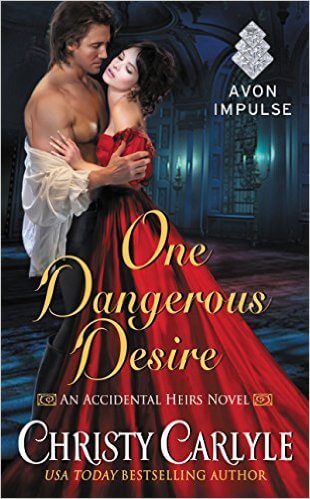 Sparks fly when two old flames, both Americans in London, engage in a wager to see who can marry an aristocrat first.

Please share the opening lines of this book:
When you've come to plunder, blending into the crowd is no longer a possibility.
"He's an American," one lady whispered.
"Dangerous," another added.
Please share a few Random facts about this book…
I love setting my books in Victorian era Britain, and yet I also love that both my hero and heroine in this one are Americans who are trying to navigate and succeed in British society.
I had fun researching this book, which included finding out the floor plan of the British Museum in the 1890s, staring at lots of sumptuous Worth gowns from the late 19th century, and finding out more about "dollar princesses" like Conseulo Vanderbilt, who went to London during the Victorian era to marry aristocrats and offer their jaw-droppingly huge dowries in return.
Please tell us a little about the characters in your book. As you wrote your protagonist was there anything about them that surprised you?
May Sedgwick is the million-dollar heiress of an American department store magnate who's experienced her first taste of independence in London. That bit of freedom has convinced her that marriage to an aristocrat, a fate she's always been groomed for, might not be as appealing as pursuing her passion for art and design.
Rex Leighton is a driven American who's pulled himself up from a past he's not proud of and remade himself as an entrepreneur in 1890's London. His greatest ambition is to build an entirely electrified hotel in central London, but his greatest weakness is a petite heiress he fell in love with years ago in New York City.
As you wrote your protagonist was there anything about them that surprised you?
May started out as a fairly frivolous secondary character in the first book in the Accidental Heirs series, and she did surprise me as I wrote her story. I was surprised to discover her past heartbreak. When I first envisioned this character, I had no idea she had one of those tenacious first loves still weighing on her heart.

The First kiss…
I loved writing their first kiss scene! Here's a snippet:
He was going to kiss her. That mercurial gaze of his fixed on her mouth. The first time he'd kissed her, he'd stared at her this way. Hot and eager, focusing on her lips as if he'd reached the end of a long journey, and she was his reward. As if nothing mattered more than pressing his mouth to hers.
Did any scene have you crying or laughing (or blushing) while writing it?
My hero has a rebellious staff at his rented London townhouse. His valet is a former pickpocket and he's forever clashing with his very English housekeeper. In this little scene, you can see that his valet, Brooks, isn't nearly as eager to please as most gentlemen's trusted servant would normally be.
"This isn't right." Rex picked at the edges of his tangled necktie while his valet settled an evening jacket on his shoulders. It didn't look as it should. In fact, it was possibly the worst neck cloth-tying effort he'd ever seen. Tonight, of all nights, he wanted to present himself as a polished gentleman.
Brooks glanced at his employer's tie and shrugged. "Looks right as rain to me, guv."
"With this hanging out?" Rex lifted one end of the white piqué fabric and the whole began to unravel. "There should be a matching point on the other side."
Brooks stepped in front of him and huffed out a less than obsequious sigh. "Now you've gone and done it. I've to redo it now, don't I?"
The young man stared at the cloth a moment, a strip in each hand, as if he'd just been asked to assemble a complicated puzzle.
If your book was optioned for a movie, what scene would you use for the audition of the main characters?
I think I'd use Rex and May's first meet (again) scene. It's the first time they've seen each other after years apart, and it would quickly reveal chemistry between the actors as they expressed all the emotion boiling under the surface between these two.
Here's a snippet:
A man she'd relegated to her dreams had crashed in and collided with her Thursday afternoon. Impossibly, he stood before her. The man she kept confined in her heart and mind. The same man, and yet so changed. He was no longer the poor shop clerk she'd pined for, impossibly yearned for year after year until she'd almost forgotten how to yearn for anything else. The eyes were the same mercurial brew of gold and azure, and all the angles of his face still aligned with irritating perfection, set off by a divot in the center of his chin. That gleaming dark hair she'd once sifted through her fingers shone like rich mahogany in the afternoon light.
But his gaze was remote, impassive, as if a pane of murky glass separated them. She was the one stuck on a curio cabinet shelf, and he was coolly examining her from the other side. His clothes were those of a prosperous gentleman, not the outdated and oft-mended single suit owned by Reginald Cross. Worst was the arrogant tilt of his chin. The Reg of her memories had only ever looked at her with admiration and pleasure, what she imagined in her silly youthful way was love. No one had ever made her feel as important with a single glance.
He wasn't the same man. Couldn't be. The duke called him Leighton, not Cross. A striking resemblance. Nothing more.
May reminded herself to breathe and stepped forward to be introduced to the polished gentleman who could not be the shop boy who'd broken her heart in New York City.
Mr. Leighton took two steps forward, and her momentary grasp on composure faltered. Reg. His scent, the firm line of his mouth, the large, elegant hand extended toward her—they belonged to Reginald Cross. Smarter, wealthier, older, and with an abundance of confidence his younger self had lacked, but still a man she'd once known. The only man she'd ever loved.
Emily touched her arm, urging May to accept his offered hand. She obeyed and moved toward him, sliding her fingers against his until their palms met. Warm. How could a memory be so warm? But he wasn't a memory. He was real. Alive. He was in London, had been for goodness knew how long, and she was meeting him in her dearest friend's sitting room. By complete and utter chance.
"A pleasure to meet you, Miss Sedgwick."
Same deep-toned voice. Same ability to raise shivers across her skin. Even when there was something silvery and practiced in his timbre, even while he still wore that placid mask.
If you could have given your characters one piece of advice before the opening pages of the book, what would it be and why?
You can't outrun your past.
Both May and Rex are still affected by their histories, especially their youthful, short-lived romance back in New York. Like most of us, they need to come to terms with their pasts in order to embrace their futures.

What are you currently working on? What other releases do you have planned for 2016?
I'm so excited to be working on my next series for Avon Impulse. It's called the Romancing the Rules series, and it features a family of rebels and writers who have been raised on the proceeds of an etiquette book empire. Their father's Ruthven Rules is such a famous etiquette book that they say even Queen Victoria keeps a copy at hand. However, none of the Ruthven heirs are interested in living lives shaped by their father's outdated rules.
The first book in the series, Rules for a Rogue, will be released in September 2016.

Thanks for blogging at HJ!
Giveaway:

Ebook Copy: ONE DANGEROUS DESIRE by Christy Carlyle (Gifted via Amazon)
To enter Giveaway: Please complete the Rafflecopter form and Post a comment to this Q:

Some of my favorite scenes to write in One Dangerous Desire involved parlor games, which were essentially precursors to our modern party games. During the Victorian era such games allowed single ladies and gentlemen to have fun and interact in ways propriety usually didn't allow. Tell me what you think of party games. Love them? Hate them? Which is your favorite?
Excerpt from One Dangerous Desire:
CHAPTER ONE

London, March 1892
When you've come to plunder, blending into the crowd is no longer a possibility.
"He's an American," one lady whispered.
"Dangerous," another added.
"Wild," the third insisted.
The ladies' whispers carried through the din of chatter in the Bridewells' crowded drawing room, and Rex Leighton tightened his grip on the ridiculously tiny glass a footman had deposited in his hand. He longed to shatter the damned thing. Instead, he raised it to his lips and downed the sickly sweet claret in one swig.
Overlong gazes and speculative murmurs shouldn't irritate him. Why attend a posh soiree if not to be noticed and make an impression?
It wasn't as if he could deny any of the words they called him.
Dangerous? Oh yes, even if his day-to-day existence was no longer a matter of survival but a question of strategy. These days, the dangers he faced related to his bank account. Risks written in ink, rather than blood. Businessmen, he'd found, preferred to battle with their wits.
Wild was the word that soured in his gut. He'd heard the claim before, at the orphanage he'd been sent to after his mother's death. Perhaps he had been a wild creature once, but it rankled to hear the accusation now, when he was trying his damnedest to play the gentleman.
Moving away from the gaggle of women assessing him from behind fluttering fans wouldn't stop the whispers. They—women and whispers—trailed after him no matter where he positioned himself. He'd already circled the room once and secured the dimmest corner. No one at his back and a prime position from which to appraise the crowd of titled lords and well-bred ladies. Especially the ladies.
From among the bounty of pampered females at this party, or the next ball or dinner he attended, he'd choose a wife. Only an aristocrat's daughter would do. One whose titled father and brothers and cousins possessed connections with other titled men. Men who sat in the House of Lords and served on influential committees or the boards of corporations. After five years in London, wealth and business success had finally begun to earn Rex invitations to a few upper-crust events. One realization had come, swift and unwavering, after his first taste of high society. He could accept every invitation extended to him and still remain an outsider. Unless he married into their world, he'd always hover at the edges. An oddity to spark whispers. An exotic almost-gentleman with strange eyes and hair longer than fashion allowed to titillate bored women.
Yet no matter how expensively tailored his suits or well-fitted his boots, his bulk did not fit in their polished world. Literally. His broad shoulders and overlong legs weren't suited to their dainty furniture. He'd taken to staying on his feet.
"I wonder if he carries one of those ferocious Bowie knives."
"A stiletto, actually." He turned to face the trio of ladies hovering nearby. "Much smaller, far sharper, and easier to wield in a hand-to-hand scrabble." He flexed his right hand, stretching the crisscross of faded scars. He'd learned to revere stiletto knives at the wrong end of such a blade.
For a fleeting mischievous moment, he considered truly scandalizing the group by rolling up his sleeve and letting them spy the sheathed weapon he hid under his evening clothes. But one young lady had already skittered away. The second gasped and, as far as he could tell, hadn't taken another breath since. The third lifted her fan and began flapping it wildly.
A footman stopped in front of Rex and offered another puny glass of claret. Barely a mouthful. He declined and approached the doors leading to the Bridewells' spacious balcony, considering an escape into the inky darkness beyond for a breath of fresh air.
The three whispering ladies reassembled just over his left shoulder, their murmurs lower but infused with a kind of frantic giddiness.
"Do you think he carries a gun?"
He did, though they might be surprised to learn it wasn't an American Colt he favored but a small, powerful English Webley revolver.
"He prowls the room like a tiger."
"Tigers aren't native to America," the breathless miss reminded the others.
"A mustang, then."
"Horses don't prowl," Miss Breathless insisted.
Good God, they fashioned him some industrialist version of Wild Bill Hickok. A reformed Artful Dodger would be a far more accurate assessment.
The host's eldest daughter approached, a lush young widow with a shockingly direct gaze and a husky timbre to her voice.
"Is there something amiss with our claret, Mr. Leighton?"
"Not at all, Mrs. Thackeray. I simply desire something with more bite."
After glancing over each shoulder to ensure no one was close enough to hear their exchange, she leaned in as far as her corset and a semblance of propriety would allow. "Down the hall, second door on the left. Join me there, and bring your desire with you." As she swiveled to move away, the wide skirt of her gown dragged across the front of his trousers.
Despite how his body twitched to life in response, Rex held his ground, resisting the urge to follow after the seductive swish of the widow's hips as she sauntered away. He didn't require the fine education most of these gentlemen had been given as a birthright to know that joining her in that room down the hall would be a mistake. He needed to find a wife, not pass an evening sating some gentlewoman's urge for a quick, heated tumble in a dimly lit parlor. No matter how she might cry his given name when he tipped her over pleasure's edge, the lady would have no interest in taking his surname.
Everyone in the room knew Mrs. Thackeray was just out of mourning and already promised to an elderly viscount.
If half a dozen gazes followed him before the widow's approach, twice that number were on him now. Watching, waiting to see if he would spark a scandal before dinner was served.
He deposited his miniature goblet on a nearby table and stepped toward his cluster of devotees. "Don't forget to breathe," he whispered to the perpetually breathless one, and then strode out of the drawing room. Past the second door on the left. Out the front doors of the Bridewells' Saint James Square townhouse. Out of the stifling focus of a dozen gazes tracking his every move.
London's fog was a balm compared to the heated dinner party gathering, no matter what his early departure cost him. He'd send his apologies to the Bridewells and continue his hunt for a bride at the next upper-class soiree.
Book Info:
In a bet between two old flames…
Rex Leighton dominates the boardroom in the day and prowls the ballroom at night. Searching for the perfect bride to usher him into the aristocracy, he abandoned the idea of love a long time ago–the last time he saw the delicious May Sedgwick. But when he's roped into a bet, where the prize is the means to fund his greatest ambition and the stakes are a marriage he's already planning for, Rex is willing to go all in. There's just one problem-he's competing against the only woman he's ever loved and he's sure she'll ruin all his plans.
Only love can take it all
Miss May Sedgwick could be the belle of the season…if she cared. May is more interested in the art studio than the marriage market and her craving to pursue her passion far outweighs her desire for a titled English husband. Winning this bet will finally allow her to pursue her true artistic desires. Rex Leighton losing is just a side benefit, as are his breathtaking kisses that she just can't seem to resist.

Buy Links:      Amazon | B & N | Google Play | iTunes | Kobo


Meet the Author: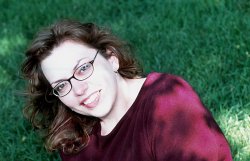 Fueled by Pacific Northwest coffee and inspired by multiple viewings of every British costume drama she can get her hands on, Christy Carlyle writes sensual historical romance set in the Victorian era. She loves heroes who struggle against all odds and heroines who are ahead of their time. A former teacher with a degree in history, she finds there's nothing better than being able to combine her love of the past with a die-hard belief in happy endings.
Author Links:  Website | Facebook | Twitter | GoodReads