Today it is my pleasure to welcome back USA Today Bestselling author 

Lucy Monroe

to HJ!
Lucy, Could you tell us a bit about yourself and your books?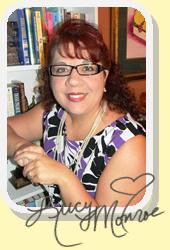 Something kind of neat, for me anyway, is that September will see the 10 year anniversary of the publication of my first book, The Greek Tycoon's Ultimatum. Which is available in eBook, but no longer in print. I plan to celebrate, though I haven't decided how. Any suggestions are welcome. 🙂
Although I have written multiple sub-genres of romance (paranormal, historical, single title and short contemporary), all of my books are sexy, deeply emotional and adhere to the concept that love will conquer all. I'm a passionate devotee of romance, and really enjoy sharing my love for our genre with other readers.
What are you currently working on?
I'm writing my first ever continuity book (that's a story in a mini-series created by the editors, connected to other stories by other authors in a common theme – this time its the Chatsfield family and their hotel empire). My hero is a yummy sheikh and my heroine is the illegitimate daughter to the Chatsfield patriarch. I'm having a lot of fun with it as the editors have given me a great deal of leeway with the story itself.
What other releases so you have planned for 2013?
After One Night Heir, the companion By His Royal decree book will be out in August: Prince of Secrets. Then I'll have another Harlequin Presents release in November: Million Dollar Christmas Proposal.
In July along with One Night Heir, I have three other releases: Warrior's Moon (the last in my Children of the Moon series), Enthralled (an anthology with Lora Leigh) and He's the One (a reprint anthology with Linda Lael Miller).
Where can readers get in touch with you?
Email ~ Website  ~ Blog ~ FB ~ Twitter ~  Pinterest
Please summarize your latest release

One Night Heir

for the readers here ….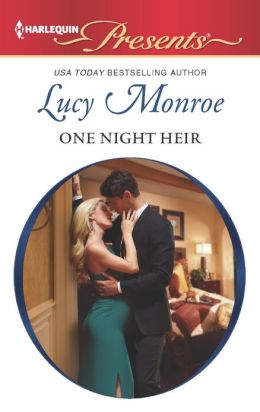 Only a royal wedding…
Bitter life lessons have taught Crown Prince Maksim Yurkovich that duty must come before desire. His country needs an heir, so when he discovers his lover can't have children, he must sever their ties. Only Maks can't resist spending one last night in her bed.
…can avert this royal scandal!
Now he faces the biggest diplomatic crisis of his life. Against all odds, Gillian Harris has become pregnant. Maks's royal reserve masks the heart of a fierce Cossack warrior—one who is not above using their mutual passion to convince a hurt, wary Gillian that she must be his queen!
Please introduce to HJ readers your character

Crown Prince Maksim Yurkovich

from your novel

One Night Heir
How would you describe Maksim in one sentence?
He's a prince bound by duty, a man bedeviled by love and as sexy as any alpha hero has a right to be.
What is his strongest character trait? Weakest?
His greatest strength is his absolute commitment to his family and country. His greatest weakness is how blinded that commitment can make him, even to his own heart.
What does your character do for a living?
He's the CEO of Yurkovich Tanner and Crown Prince of Volyarus (an independent country that broke off from Ukraine before the first Russian occupation).
Is your character ruled by emotion or logic or some combination thereof?
He thinks he's ruled by logic, but the reality is that his emotions dictate a lot of his actions and thoughts.
Who is your character's Love interest in the book?
Gillian Harris is a really unique woman. She's been raised by her grandparents in Alaska, but with sporadic exposure to both her parents' lives – a famous American news correspondent and South African politician. She'll make a great princess…once they get past the fact he dumped her.
Was it love at first sight for your character? If not what was the pivotal moment of change?
My heroes rarely realize when they fall in love and Maks is no exception. In fact, it takes most of the book before he recognizes the emotions driving him. Gillian, on the other hand, was smitten from the beginning and very much in love when he dumps her.
If your character could go back in time and change one thing what would it be? Why?
Oh, Maks would definitely not break up with Gillian. Because she doesn't make their reconciliation easy or smooth. Emotions muddy the waters he prefers to keep pristine and clear.
How has your character evolved from when the novel began to when it ended?
Both Maks and Gillian grow throughout the book. Maks learns that love is not a weakness and to admit to his own feelings. He also begins to see that the denial of everything else for duty doesn't end well. For anyone. Gillian grows in her confidence, but she also learns how to open her heart completely, something she has not done despite her love for Maks.
If your character had a free day and your his/her mission was to enjoy themselves what would he/she do?
Maks would spend it in bed with Gillian, no question. Gillian would spend it being a "normal person" with Maks – no paparazzi no family, no duties, just them.
How did your character spend the week just before the story starts?
Gillian shot a few romance covers (she's a photographer) and Maks met with a multi-national energy consortium. They also dated twice, once to the ballet and once for lunch in the park.
Giveaway: 2 signed copies of Prince of Secrets
To enter giveaway: Please complete the Rafflecopter form and post a comment to this Q:

Now that you have had an opportunity  to meet Maks, what kinda impression did he make on you? Why?