Today it is my pleasure to welcome NY Times and USA Today bestselling author 

Jaci Burton

to HJ!
Jaci welcome back to HJ!
Thanks for having me here!
Would you please summarize

One Sweet Ride

for the readers here ….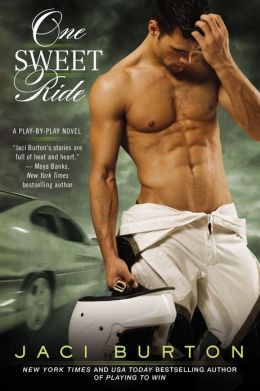 Race car driver Gray Preston enjoys fast cars and an uncomplicated life, until political aide Evelyn Hill enters the picture and complicates the hell out of it with a request that he help out his estranged father's political campaign. Racing and politics don't mix, but Gray and Evelyn's sexual attraction sizzles like asphalt in August.
Please introduce your character

Gray Preston

from your novel

One Sweet Ride

to the readers here
Gray Preston has made his living over the past several years racing cars. He's recently moved from racing to owning a race team, so now he has the added responsibility of managing the team as well as being a driver. He's hot, sexy, and sought after, and very very busy trying to build a racing empire.
What does your character do for a living?
He's a race car driver and owner.
Is your character ruled by emotion or logic?
Mainly logic, with a sprinkle of emotion. But not too much, because Gray feels it gets in the way of business decisions.
Who is your character's Love interest in the book?
Evelyn Hill is a dynamic, career minded woman who works as an aide and campaign assistant for Senator Mitchell Preston, Gray's father.
Was it love at first sight for your character? If not what was the pivotal moment of change?
It was definitely not love at first sight for Gray. He found Evelyn to be manipulative and thought she was butting into his life. Plus, she works for his father, and he wants nothing to do with his dad.
The pivotal moment of change comes when…well, I think people should read the book to discover it for themselves. Finding out about the characters and their journey is the best part of reading a romance, isn't it? ☺
If you character could go back in time and change one thing what would it be? Why?
I think Gray would wish he had kept more of an open line of communication with his father over the years, so he wouldn't have missed out on important milestones.
How has your character evolved from when the novel began to when it ended?
He learns forgiveness.
How did your character spend the week just before the story starts?
Racing!
What are you currently working on? What other releases so you have planned for 2013?
Coming up in July is the Hot Summer Nights anthology, which introduces readers to my new Hope contemporary romance series with the novella, Hope Smolders. In August is the first single title in the series, Hope Flames. In November, there will be a Play by Play novella where I'll revisit the Riley family in Holiday Games.
Where can readers get in touch with you?
Website: http://www.jaciburton.com
Twitter: http://www.twitter.com/jaciburton
Facebook: https://www.facebook.com/AuthorJaciBurton
Giveaway: a print or digital copy of

One Sweet Ride
To enter Giveaway: Please complete the Rafflecopter form and complete this sentence 

I would like to win a copy of ONE SWEET RIDE because …….  

(creativity gets you bonus points) 😉
About the book:
Gray Preston was born into money, but he's built his racing empire on hard work and muscle. Now, with millions of fans, his senator father sends one of his aides,Evelyn Hill, to elicit Gray's help in garnering votes for his upcoming national election. Gray wants nothing to do with his estranged father's campaign, but Evelyn can be pretty persuasive. She's willing to learn about racing, and maybe even get a little dirty.
Evelyn's number-one goal is politics, which makes working with Gray difficult, because his only passion is fast cars. As she and Gray spend time together, he teaches her about the sport he loves, and she learns a lot about the man behind the wheel. The more she learns, the more she wants him. But any desire that threatens to derail the carefully laid plans for her future is a dangerous one.
With the passion Gray and Evelyn share running hotter than either imagined, one of them is going to have to compromise, or run the risk of losing more than their hearts.
June 4, 2013
Berkley Trade
ISBN-10: 0425253384
ISBN-13: 978-0425253380