Today it is my pleasure to welcome New York Times bestselling author

Carly Phillips

to HJ!
Hi Carly Welcome to HJ! If you are ready let's get started …
5 Random facts about you?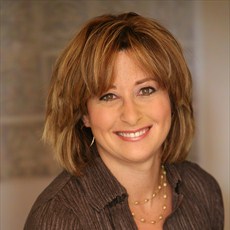 I eat peanut butter on whole wheat bread for lunch every day.
I love milk chocolate.
My iPad mini is my best friend (w/the Kindle app).
I wanted girls and I have two great daughters.
Erotic romance is my favorite "go to" genre to read.
What would you say are the defining characteristic of your Novels?
Characters who are defined by what happened in their pasts and have to meet the right person in order to get beyond it and live happily ever after. Emotional depth mixed with humor and lightness.
What is your favorite trope to read, one you will never get tired of?
Not really good with "tropes". To me, a good book or story just grabs me.
If you were a heroine in a book, your character would be – The girl next door, the damsel in distress, Kick-butt take charge heroine or the aloof ice queen and why?
The damsel in distress. I love the rescue theme. Rescue me, take me away and make me fall in love with you ☺
What are you currently reading?
I'm reading an upcoming Macy Beckett for a quote. It's an advanced read and a lot of fun!
If you had to summarize Perfect Fling for the readers here ….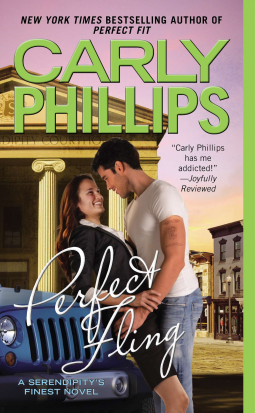 On one hand, Perfect Fling is good girl who meets bad boy story, but Perfect Fling is deeper. It tackles the subject of what happens to someone who is raised to believe he's no good? How can he be convinced otherwise when that voice in his head overrules what his heroine sees? Cole Sanders has spent years under cover and barely knows who HE is. He likes it that way, distant from everyone and not letting anyone close. Until a one night stand with good girl Erin Marsden leaves them with the closest connection of all – a baby! Then Erin is threatened and Cole steps up to protect her forcing them to come to terms with each other. And love.
Please tell us about the characters in your book
Erin is the good girl. She's always done the right thing and pleases people. She's sweet and giving. Suddenly everyone around her is settling down and she feels lost. This leaves her open to bad boy Cole who returns to town, also lost in his own way. He's been deep under cover and barely knows who he is anymore. They come together at this vulnerable time in both their lives … and suddenly nothing will ever be the same!
What scene did you have most fun writing? Why?
I loved the scenes where Erin stands up to Cole's father and defends him. It's so heartwarming to watch her go to bat for someone who's almost stopped defending himself against his father's misperceptions and verbal abuse. She's so strong that way and I adored her. (Please see the scene below)
Who would who cast in the role of hero and Heroine if your book was optioned for a movie?
Easy for the heroine – A slightly younger Bridget Moynihan who stars in Blue Bloods – also playing Erin, the daughter of a cop. ☺ Not so easy for the hero – he's just a sexy as all hell dark haired hero. I didn't have visual inspiration for him in my mind.
What are you currently working on? What other releases so you have planned for 2013?
Not sure what's up next … I'm working on that now. 2013 is all about Serendipity:
~ Hot Summer Nights Anthology (Dr. Alexa Collins' story in Perfect Strangers) – out now
~ Perfect Fling – obviously out now…
~ Perfect Fit – (reprint) – part of Breast Cancer Awareness Campaign – READ PINK! In September 2013
~ Perfect Together – February 2014 – Sam Marsden's story
Where can readers get in touch with you?
You can join my newsletter via my website at www.carlyphillips.com so you'll be first to know.  I also post at Facebook: www.facebook.com/carlyphillipsfanpage and on Twitter: www.twitter.com/carlyphillips .
Thank you for stopping by HJ!
Thanks for having me! It's been a lot of fun!
Giveaway:

Print copy of Perfect Fling
To enter Giveaway: Please complete the Rafflecopter form and post a comment to this Q:

What/who has been your favorite Serendipity book/character and why?
a Rafflecopter giveaway

Excerpt:
Reprinted by arrangement with Berkley Publishing Group, a member of Penguin Group (USA) LLC, A Penguin Random House Company. Copyright © Carly Phillips, 2013.
He shook his head. "I had breakfast with Ella and Simon. 'Course I knew you were here playing bodyguard. Despite it all, I figured you'd take decent care of Erin but damn it all? Couldn't you keep it in your pants?"
Cole grabbed his father by his good arm and pulled him inside. In a public condo unit, he didn't need Erin's older neighbor coming outside and getting an earful.
"None of this is any of your business," he said, shutting the door behind Jed.
His father ran his good hand through his hair. The cast had been removed on his other arm, leaving him with just a sling. "You feeling okay?" Cole asked him.
"What do you mean it's none of my business? She's the daughter of my best friend, the ex-police chief of this town. Not to mention an assistant DA."
"Still don't see where it's your business," Cole said, then mentally counted to ten to calm his temper. "Do you think I planned this? And before you ask, of course I used protection so don't go there."
"You're still a Goddamned moron. Who do you think you are touching a girl like her?"
Cole set his jaw. "She's a woman, dad. It was mutual."
"She's a damned nice woman," Jed barked at him. "You should have known better than to lay a hand on her. You're just going to hurt her when you leave her high and dry."
"That's between Cole and me, don't you think?" Erin walked down the stairs, dressed for a day at his cousin Nick's cabin on the lake. "Sorry. I couldn't help overhearing and there's no way I'm going to let him pin all this on you."
Cole's head began to throb. "Erin, go back upstairs." She didn't need to hear his father beat up on him once again. And he didn't need her sticking up for him or attempting to fight a battle he'd long since learned he couldn't win.
She shook her head. "It's my house, that gives me some rights. Jed, if you'd like to stay and congratulate us on having a baby, that's great. If you came to cause trouble, I'm going to have to ask you to leave."
Cole was torn between admiration and frustration.
"Erin, I've known you since you were a little girl. What were you thinking?"
She tipped her head to one side, eyeing his father as she would a defendant in a courtroom – much like he envisioned her going after a bug she wanted to squash. Cole decided his father deserved whatever he was about to get.
"I was thinking I couldn't find a better man than your son to sleep with when I was lonely."
Cole didn't know which admission hit him harder, that she found him a good man even then? Or that she'd gone to Joe's that night because she'd been looking for company.
He didn't have time to chew on either because she wasn't finished with Jed. "And until you can find it in yourself to see Cole the way I do, you aren't welcome here." She stepped around Jed and opened her front door, making it perfectly clear she wanted the older man gone.
"I see my son's manners are rubbing off on you. Your mama would be disappointed."
"Actually I think she'd applaud," Erin muttered as Jed made his way to the door.
"Now you've got a woman fighting your battles," Jed said, getting in his parting shot at Cole.
"Go home, dad."
"He'll break your heart just like his mother broke mine, mark my words."
"But I'll be a better father than you ever were," Cole said, getting face to face with the man who'd fathered and raised him but never ever liked him. "And I'll have Brody to thank." Cole slammed the door behind Jed before Erin could take the pleasure away from him.