Today it is my pleasure to welcome contemporary romance author

Jennifer Seasons

to HJ!
IF I WASN'T I WRITER I WOULD BE. . . .
If I wasn't a writer I would be an anthropologist, hands down.  The study of humans and all that it entails is absolutely fascinating to me.  Which makes sense when you consider that writers spend their days observing the human race and then commenting and sharing insights.  For me it's a natural fit.
It took me a while to get to college, but when I got to it that's what I chose for my major.  I had these grand visions of being a female Indiana Jones, traveling all around the world uncovering the secrets of ancient civilizations.  Bronze Age Scotland was going to be my specialty.
Although it's still a passion, in the end my need to write trumped becoming an anthropologist.  I need to give my thoughts a voice.  And I need to do that in a creative way.  Now I utilize all that I learned about the human race to create stories.  Stories that focus on love, an emotion as old as the bones I studied.
 Giveaway: digital 
Set of both books in the Diamonds and Dugouts Series, 
STEALING HOME and PLAYING THE FIELD
To enter giveaway: Please complete the Rafflecopter form and post a comment:
Are you a fan of Sport romances? Why? Why not? What your fav sports romance  book /movie.
About the book: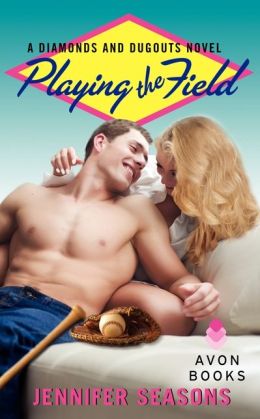 The sexy baseball players of Jennifer Seasons' Diamonds and Dugouts series are back with the story of a single mom, a hot rookie, and a second chance at love.
Single mother Sonny Miller has spent years avoiding love. A rotten childhood and an even rottener ex-boyfriend left her determined to protect her son—and herself—against the risks of romance. That is, until hotshot ballplayer JP Trudeau swaggers into her carefully constructed life, all sin-with-me eyes and irresistible grin. Sonny can't help but feel drawn to the sexy, confident man, even as every fiber of her being tells her to keep running the bases . . .
JP is known for being fast on his feet, not fast with his heart. But meeting Sonny and her boy sparks something in him—something he's never felt before, not from all the cleat- chasers in the major leagues. Sonny may be hell-bent on keeping him at arm's length no matter what, but this rookie has a plan. To get the girl, he must step up to the plate and convince her to take another chance on love . . . before this game gets rained out.
An excerpt from PLAYING THE FIELD by Jennifer Seasons
Chapter Two
"Hey, Charlie. Want to see a magic trick?"
The kid nodded vigorously, "Yeah!"
Glancing behind him to make sure the photographers were watching, JP held up the ball and announced, "Now you see it, now you don't."
That got their attention. Camera shutters started clicking as he went about amazing the boy with the one and only trick he knew. Even Sonny seemed to be fascinated. She kept leaning forward from her hideout a few feet away to get a better view. When he held out his hands in front of him and the ball had disappeared, Charlie's eyes went wide. "No way!"
"How did you do that?" came her sexy voice behind him.
Not finished, JP shot her a wink and relaxed his stance. "Magic."
She gave him a face and he outright laughed. "I don't believe in magic."
Now that was really just too bad. Everybody needed a little magic in their lives. "Here, Charlie. Why don't you take my hat for a second?" He took off his cap and handed it to the kid.
Thoroughly engrossed in the trick, the boy grabbed it eagerly and asked, "Where'd the ball go?" He'd been scanning the ground like he was hunting for Easter eggs.
Sonny stepped up beside him and added, "The real question is if you can bring it back." The skepticism in her tone implied she didn't think he could.
How wrong she was. "Thanks for holding my hat, kid. I'll take it back now."
Charlie handed it back and JP made a display of putting it on his head. "Ouch. Man, what is that?" Faking confusion, JP pulled off his hat and turned it over, inside facing up. And right there in the center of his cap was the ball, snowy white in the afternoon sun.
The boy practically shoved his face into the ball cap. "Holy cow! How did you do that?"
One of the guys from the Post piped up nearby, scribbling furiously on a tiny notepad. "Hey, Trudeau. Want to introduce us to your friends?" He glanced up from the pad and adjusted his eyeglasses. "You know, for the byline."
JP flashed his best grin. "Sure. This here is Charlie Miller, shortstop for . . ." He trailed off and glanced down at the kid in question. "What's your team's name?"
Charlie puffed out his chest and stood as tall as he could. To the reporter he boasted, "I play for the Longmont Hawks."
Sonny spoke up, her voice soft and kind of tense. "Is this just your normal? I mean, all these photographers and stuff?"
Glancing down, he noted she looked tense too. He was so used to being in the public eye that he forgot how uncomfortable it could be to some. "Yeah, it's pretty much just part of life. You get used to it."
She looked up at him and her gorgeous eyes shuttered. "I couldn't do it." He opened his mouth to respond when a thump thump on a microphone turned his attention toward the low stage. The event coordinator was almost ready to give her speech. That was his cue to get moving.
"Hey, I have to go. But it was great meeting you, Charlie."
His gaze slid to Sonny. A lazy smile curved his lips. "It's been a real pleasure."
He watched color bloom in her cheeks and couldn't stop the heat that started to coil in his belly. Didn't particularly want to, if truth be told. He'd never dated a single mom before, but then again he'd never encountered one like her either. It was more than just her looks and the fact that he was seriously attracted to her.
She had something.