Today it is my pleasure to Welcome author
Taryn Leigh Taylor
to HJ!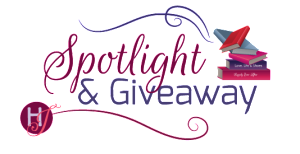 Hi Taryn and welcome to HJ! We're so excited to chat with you about your new release, Playing to Win!

Thank you for having me. Happy new year, everyone!

Tell us about the book with this fun little challenge using the title of the book:
Ooh, fun! Okay, I'll give it a try…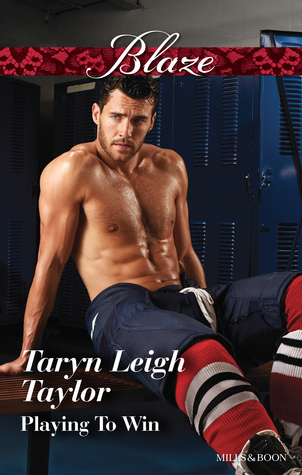 P Passionate
L Love
A Affair
Y Yielding
I Intense,
N Naughty,
G Gratifyingly
T Tempestuous
O Orgasms
W While
I Intoxicatingly
N Naked
What's your favorite line(s) from the book?:
It's silly, I know, but one of my favorite gags from the book is a stupid hockey pun that occurs while Holly is interviewing one of Luke's teammates.
"Doug, what do you think of the new jersey colors?"
On the ice, the burly D-man was a force to be reckoned with, but off ice, he reminded her of a big cartoon bear—imposing but nonthreatening. His grin was goofy and genuine.
"They're great. Red and black is a really classic combination, you know?"
Holly couldn't quite mask the withering look on her face at his answer. She hoped Jay had zoomed in on the navy and teal jersey behind Doug instead of her face.
Seriously, this was her life now?
"No, Doug. Not New Jersey's colors—I meant the Storm's redesigned jerseys."
As a fan of dialogue, I always enjoy a good misunderstanding. *smile*
Please tell us a little about the characters in your book. What first attracts your Hero to the Heroine and vice versa?
What I love about Luke, is that even though Holly is dressed relatively provocatively when they first meet, he's immediately wary of her. He doesn't trust her motives, and suspects she's much smarter than she's letting on right from the start. So essentially, it's figuring her out, watching for glimpses of her brains, not her breasts, that hooks him.
Holly, on the other hand,starts the book off with a little fan-girl crush on the handsome team captain-she may or may not be in possession of a magazine featuring a shirtless photo-spread of him. *grin* It was fun to flip the gender stereotype and make her the one who had to get past the physical and learn what he's really all about as a person.
When you sat down to start this book, what was the biggest challenge you faced? What were you most excited about?
I think the biggest challenge of Playing to Win was to write a book that lived up to the promise of a hockey romance, one that delivered on both the action and the feels that sports fans would really connect with. That being said, I didn't want it so overwhelmingly hockey-centric that non-sports fans wouldn't enjoy the story. Hopefully, I've successfully skated that line.
As for what I was most excited about, that's definitely the banter. I knew from inception that I'd set up two characters who were not going to get along professionally, so I couldn't wait to dig into the verbal sparring that was destined to ensue.
What, in your mind, makes this book stand out?
This might be a bit of a controversial answer, this being a Blaze and all, but I think maybe the fact that these two don't jump right into bed with each other makes it a little different. They're very attracted to each other, sure, but they're also both very career-focused people. Giving into their baser instincts also means crossing enemy lines-Holly sees investigating the betting scandal as a chance to get ahead and make a name for herself as a serious reporter, whereas Luke knows the betting scandal will tear his team apart and cost them a chance at the championship.
Setting those kind of stakes aside for a sex time-out, it's not an easy choice to make.
But you know what they say…sexual frustration makes the chemistry hotter! (They say that, right? No? Just my writing philosophy then? *wink*)
The First Kiss…
Ah. Luke and Holly's first kiss… This was a fun one to write because it took place in the players' box with Luke wearing most of his equipment. There was something really visceral about writing their first encounter-the coolness of the air, the smell of ice and concrete, juxtaposed with simmering lust and that flare that comes with finally giving in to the heat that's been building between them. Let's just say their first kiss spins out of control pretty quickly…
If your book was optioned for a movie, what scene would you use for the audition of the main characters and why?
If Playing to Win became a movie, I think the leads would definitely need to embody Luke and Holly's crackling chemistry, so I'd pick a scene that would show if that was present or not. Something like…
"I've got my eye on you, Evans."
Not exactly the part of him she wanted on her just then, but probably the safest of the available options.
"I'm going to figure out what you're doing here and I'm going to expose you."
Geez. Everything sounded sexual when he was standing this close. She upped the ante and took a half step closer to him—she definitely wasn't going to let him intimidate her inthis sexy game of cat and mouse they'd embarked on. If he thought she was going to let him be the cat, he was so very wrong. She'd been holding her own in a man's world for a long time.
"You can try, but there's nothing to expose. What you seeis what you get."
"Oh, I very much doubt that, Ms. Evans. The truth is hiding somewhere behind that big hair and tiny suit."
"Look at me, Mr. Maguire. You honestly think there's room to hide anything under this suit?"
Her breath stuttered at the sudden fierceness in his eyes, the predatory gleam that pinned her in place. Were their lips getting closer because he was leaning in, or had she swayed toward him?
She was drawn to his body, hard as iron and just as magnetic. Her fingers brushed his biceps as his hands made first contact with her waist. She didn't want to stop looking
at him, but her eyelids grew heavy as their breaths comingled and his lips moved closer, closer still…
If your hero had a sexy-times play list, what song(s) would have to be on it?
Oh man! I thought about this, and while Luke's no stranger to sexy-times, he isn't really a sexy-times playlist kind of guy. He's a little too serious for his own good, and I think he's been playing the game for too long to be sucked into the wine, women, and song scene-or in his case, beer, puck-bunnies, and sexy-times playlists.
Besides, have you seen the book cover? With abs like that, who needs music to set the mood? *wink*
Now I, on the other hand, am all over the sexy-times playlist, so here are three of the many songs I had on repeat while writing the intimate encounters in Playing to Win:
Nice and Slow – Usher
Ride – SoMo
Wicked Games – The Weeknd
What do you want people to take away from reading this book?
What I really wanted to explore in this book is the dichotomy between what you think you will make you happy and what will actually make you happy. You can waste a lot of time chasing dreams that sound like what you're supposed to want, but if achieving them makes you feel hollow, then what was the point? You have to be open to the surprises along the way, or you might miss out.
Luke and Holly are both battling to find exactly where that sweet spot is, of being both personally and professionally content.
All the deep stuff aside, though, I hope Playing to Win makes readers smile, laugh, and get swept away, because the world could use a little more romance.
What are you currently working on? What other releases do you have planned for 2016?
Right now I'm working on stories for a couple of Luke's team mates. No official release dates yet, but hockey season definitely isn't over!

Thanks for blogging at HJ!
Giveaway:

1 signed paperback copy, 2 digital copies, 3 winners in total and all giveaways are open internationally
To enter Giveaway: Please complete the Rafflecopter form and Post a comment to this Q:

So obviously, I have a soft-spot for hockey, but I'm curious to know what's your favorite sport to watch or play? (And yes, "I'd rather poke my eyes out than watch sports" is a viable answer. *grin*)
Excerpt from Playing to Win:
"YOU CAN'T HIDE from me forever."
Luke skated over. "Who says I'm hiding?"
"You're the one out on the ice, avoiding the interview we're supposed to do. I'm the one who's here, questions at the ready, reporting for duty."
"You calling me a coward?"
"Hey, if the skate fits…"
He smiled at that, and her heart stuttered. She'd never seen him smile for real before. He'd flashed his PR smile on a couple of occasions during their on-camera stuff, but his real grin was something to behold. It was the first time he'd looked carefree. Like he didn't have the weight of the world on his shoulders. And it suited him. She had the irrational urge to make that smile come out more often.
"You think I'm gonna fall for some thinly veiled reverse psychology? I play hockey for a living. Trash talk doesn't faze me. You'll have to do better than that."
Luke stepped off the ice and over the boards like they were nothing—God, why was that so hot?—and sat down on the bench.
Holly turned her back to the ice and leaned against the boards, facing him. He set his stick against the side of the box and divested himself of his hockey gloves and his helmet. Then he ran a hand back and forth over his helmet hair. Somehow, after just a few careless swipes, his short brown coif looked photo ready. Holly lamented the hour and
a half it had taken to make herself camera presentable.
"You don't like me very much, huh?" she asked.
"I don't like that you take the team's focus off the game and disrupt our routine. We need to be at our best, mentally and physically. I have to trust that every man on that ice is playing for me, and they have to believe I'm playing for them, too."
"Admirable sentiment, Captain Maguire, but there's really only one person you have complete control over. Sometimes you just have to keep it simple and play the game for you."
"I know exactly who I'm playing for," he countered. Then he went on the offensive. "So, Ms. Reporter, what kind of hard-hitting questions do you have for me tonight?" he asked, pulling his elbow pads off and setting them beside him. "What I ate for breakfast? The last song I downloaded?"
Luke pulled off his shoulder pads and jersey together and set the amorphous mound on the bench. Just like that, he was stripped down to a T-shirt—a T-shirt that was damp and clinging to his muscles. Suddenly his leg seemed very close to her bare thigh, and the fact he was wearing shin pads and hockey socks didn't deter a warm tingling from spreading through her body.
"Favorite sexual position?" he continued.
Oh geez. That warm tingling upgraded to hot throbbing in a split second.
He stood up. His skates made him incredibly tall. He loomed over her, but she didn't feel threatened. On the contrary, she felt sort of powerful—like she wanted to tame the beast. The smoldering look in his eyes said he'd let her.
Somewhere, in the deep recesses of her brain, a warning light flashed.
She was here to do a job. She shouldn't get romantically involved with a story. Especially not a top suspect in a betting scandal that had the potential to rock the sports world. Her head knew walking away was the smart play right now, but her body overruled the call, especially since he'd provided the perfect opening. "So what is your favorite sexual position?"
His eyes darkened like a stormy sky. "Off the record?"
"Of course." Her words were a breathless rush.
"I like all of them."
Excerpts. © Reprinted by permission. All rights reserved.
Book Info:
Playing to win means playing dirty…
Holly Evans is intelligent, educated and crazy about sports—so how did she end up prancing about in a miniskirt and teasing her hair like some broadcasting bimbo? Of course, since she's already iced her journalistic integrity, Holly might as well indulge in a little fangirl lust for the ripped captain of Portland's hockey team.
Luke Maguire sees right through Holly's bunny disguise, and he's ready to pull her into the locker room and strip it all off. Then Holly discovers someone on the team is profiting from a little over/under betting. Suddenly her lusting for Luke is going head-to-head with her reporting instincts. And if she's caught offside, there's no telling what the penalty will be…
Book Links:

Meet the Author: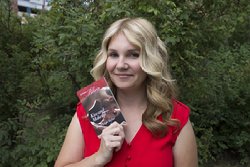 Taryn Leigh Taylor likes dinosaurs, bridges, and space, both personal and of the final frontier variety. She shamelessly indulges in cliches, most notably her Starbucks addiction (grande-six-pump-whole-milk-no-water chai tea latte, aka: the usual), her shoe hoard (I can stop anytime I…ooh! These are pretty!), and her penchant for falling in lust with fictional men with great abs (yum!)
She also really loves books, which is what sent her down the crazy path of writing one in the first place.
Website | Facebook | Twitter |