Today it is my pleasure to Welcome romance author
Barbara White Daille
to HJ!

Hi Barbara, welcome to HJ!
Thanks so much to Sara for inviting me to chat with you here at Harlequin Junkie!
What is your favorite trope to read, one you will never get tired of?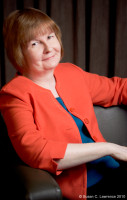 Lovers reunited. I love the idea that a hero and heroine can have a second chance. That they can right old wrongs and triumph over whatever it was that drove them away from each other the first time. As a romance writer and reader, I'm thrilled to see a couple resolve the conflicts that once kept them from their happy-ever-after.
Let's talk about your newest release: Rancher at Risk
If you had to summarize the book for the readers here
In Rancher at Risk, Ryan Malloy is on the verge of losing everything—his job, his reputation, his self-respect. The only way to redeem himself is to successfully complete the job he has been given on his boss's new ranch. But the minute he arrives in Flagman's Folly, he gets in trouble with a woman he doesn't yet know he'll be supervising.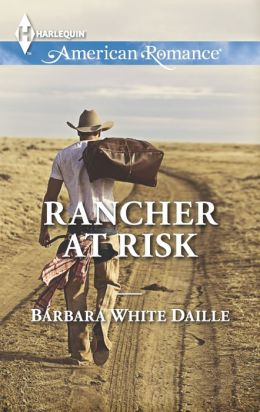 Lianne Ward has just left a relationship with a controlling man who believed her deafness would keep her from succeeding in the hearing world. She's determined to prove herself in her new job, but Ryan's micro-managing and lack of faith in her is undermining her ability to get that job done. Living and working together brings them closer, yet their differences and conflicts keep them apart.
Please tell us about the characters in your book?
The accident that took his family's life has left Ryan with question that may never be answered. His life has spun out of control and, desperate to pull things together again, he feels the need to control everything around him.
For her entire life, Lianne has been around people who look down upon and want to control her. She's determined to prove she's a capable, independent woman who can survive in both the deaf and the hearing worlds.
Was it love at first sight for your characters? If not what was the pivotal moment of change?
It definitely was not love at first sight for Ryan and Lianne. In fact, just the opposite. They go head-to-head at their first meeting, and when they discover they're going to be working with each other, as well as sharing a house, things only get worse.
As they get to know one another, their feelings change. The pivotal moment happens when they realize each is interested in the other but they're both backing off from sharing a kiss.
If your characters could go back in time and change one thing what would it be? Why?
Lianne would have walked out on her ex-boyfriend the first time he put her down, because his lack of belief in her made her begin to doubt about herself.
The day of his wife's doctor's appointment, Ryan would have taken time off from work to take her and their son to the doctor's office. If only he'd been with them that day, he would have been driving the car, and he could have done something to avoid the accident that took both their lives.
What scene did you have the most fun writing? Why?
One of the scenes I had the most fun writing was when Ryan and Lianne realize they're stuck with each other, like it or not. At that point, they don't like the idea—or each other—one bit. They also don't realize their antagonism is making them push each other's hot buttons.
"You don't know a whole lot about ranching, do you?"

Her eyes narrowed. "Is that what you were getting at last night, when you asked what I knew about horses? Were you trying to put me in my place?"

So that's what had her slamming drawers this morning.

"Did you already know Caleb's plans?" she demanded.

"Hell, no."

"Well, if there's something I haven't encountered yet, I'll learn as I go. I'm a quick study."

He laughed shortly. "Are you?"

"Yes, I am. And I may not know much about horses, but I can sure recognize a horse's a—" She snapped her jaw closed. Her chest rose and fell with her deep breath.

He set his mug down and leaned over the desk. "Cussing out the boss won't look so good in your personnel file, darlin'."

"And I don't see you winning supervisor of the month."
What scene was the hardest to write? Why?
I'll share one of the early scenes from the story. It was a hard one to write because it forces Ryan to think of things he's desperate to forget. From a writer's standpoint, it was also hard to write because it includes quite a bit of description and I wanted it make it active for the reader. Here's a clip:
Two hundred yards shy of the railroad crossing at the south end of town, the car swerved, painting black rainbows on the asphalt, straightened again, slid forward, and ended grill-first against an unyielding concrete fence. Fiberglass popped. Distressed metal collapsed, twisting and bending, folding in on itself like a beer can in the hands of a drunken man.

He could smell the rubber, hear the metal scream, feel the pounding in his temples.

But he wasn't there….

He hadn't been there the day of the accident. He didn't know where he was now, other than sitting bolt upright in an inky darkness that stretched on into forever. His heart limped for a few beats as he sat waiting for his eyes to adjust.

Dead ahead, a thin, gold thread appeared, outlining a dark rectangle—light seeping around the edges of a window shade. Off to one side of him, bright-red LED numbers hovered in the dark like a candle flame. A bedside clock, reading 2:43 a.m.

The red images gave him his bearings: Caleb's ranch house, the guest room on the second floor, the faint light from the porch fixture outside. A deep sleep after two days of no shut-eye. A nightmare he had hoped he'd left behind.

The screeching metal and shattering glass had only added sound effects to a bad dream.

Then why did they still echo inside his head?

Lianne?

He crawled out of bed, grabbed his jeans and slid them on, all the while trying to identify the source and location of the racket that wasn't in his head at all. And that had just ended as abruptly as if someone had pulled a plug.
How did your character spend the week just before the story starts?
Lianne was packing up the few belongings she owns and preparing to leave her life in Chicago to travel to Flagman's Folly.
Ryan was struggling to do his job a ranch manager in Montana, deal with a troublesome ranch hand, and figure out how—or if—he could ever regain the respect of his boss and his men.
Who would you cast in the role of your characters if your book was optioned for a movie?
This is always a tough question for me because I see my characters as themselves, not as anyone else. But I'll take a stab at it and say that Kate Winslet could play the role of Lianne. And Gerard Butler would be a very nice stand-in for Ryan.
What are you currently working on? What other releases so you have planned for 2013 into 2014?
My next release is The Texan's Little Secret in August, 2014. It's the story of a heroine who has always felt lost in the middle of her family and upset by her mother's abandonment. Her teenaged heart was broken years ago when the hero walked out on her, and she's now back home again and struggling to hide a secret she can never share with him.
The hero is a single dad who wants to do the best he can for his baby girl. That includes giving her a mommy. He and the heroine are forced together, since he manages her dad's ranch. Though he's still half in love with the heroine, he knows she doesn't want a family, which puts her off-limits to him forever.
I'm also working on a couple of other projects, including a three-book series. They're still in the planning stages, so wish me luck with them!
Thanks for blogging at HJ!
Giveaway:

Autographed copies of Family Matters + Rancher at Risk
To enter Giveaway: Please complete the Rafflecopter form and Post a comment to this Q:

Readers, I'd like to take the question I answered above and turn it over to you: What is your favorite trope to read, one you will never get tired of?
Except
"Sounds like the workmen are keeping busy." He gestured in the direction of the largest building. "I can hear them over there."

And I can't. Was that his point? "Nice to know they don't wait till I'm walking through the door," she said evenly.

She led him out to the small porch again and turned back.

Ryan braked to a stop within inches of her. She avoided his eyes, but couldn't keep her glance from sweeping his face.

Years of reading lips and expressions had left her with no doubts about what she liked best when she looked at a man. And to her dismay, Ryan Molloy fulfilled every item on her wish list. Firm, wide mouth. Strong jaw. Chin with a tiny cleft in it. Tanned skin the perfect contrast to his five o'clock shadow. His changeable hazel eyes only made her add a brand-new item to the list.

Those eyes, stormy green again today, stared right at her…below dark brows raised in question.

Oh, please. He hadn't said anything while she was staring, had he? She couldn't have missed seeing those lips move.

She took a half-step back. "I'm sorry—"

He shook his head. "No, my mistake." His rueful, one-sided smile put a deep groove into his cheek. "I said something on the way out. Forgot I should have waited, since you wouldn't hear me."

She wanted to shake her head, too—in confusion. At times, it didn't seem to matter to Ryan that she was deaf.

But it was the other times she needed to watch out for.

Book Info:
Rancher at Risk
A Fresh Start
After the loss of his family in a tragic accident, Ryan Malloy has been given one last chance to change his life. His boss sends him to Flagman's Folly, New Mexico, to run his ranch, but unfortunately, Ryan's troubled attitude lands him in hot water with the locals, especially the ranch's manager, Lianne Ward.
Deaf since birth, Lianne has never let her disability define who she is. But, she's yet to meet a man who treats her as an equal. Ryan seems different…that is, when they're not butting heads over the ranch's new school for disadvantaged boys
Forced to work together, Lianne and Ryan discover an unexpected attraction beneath their quarreling. But will Ryan's painful past drive them apart…permanently?
Book Links:
Author Bio
Originally from the East Coast, award-winning author Barbara White Daille now lives with her husband in the warm, sunny Southwest, where they love the lizards in the front yard but could do without the scorpions in the bathroom.
Barbara's newest title, Rancher at Risk, debuted this week in both paper and e-book formats. An earlier book, Court Me, Cowboy, has just been re-issued as a Cowboy at Heart Special Release, available as a standalone e-book (at your favorite retailer) and in Larger Print (exclusively at www.Harlequin.com).
Website | Facebook | Twitter |