Today it is my pleasure to Welcome romance author
Jennifer Faye
to HJ!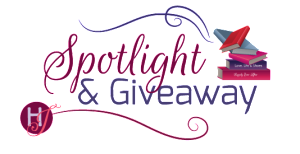 Hi Jennifer and welcome to HJ! We're so excited to chat with you about your new release, Return of the Italian Tycoon!

Hi. 🙂 Thanks so much for having me back to tell everyone about my new release.

Please summarize the book a la Twitter style for the readers here: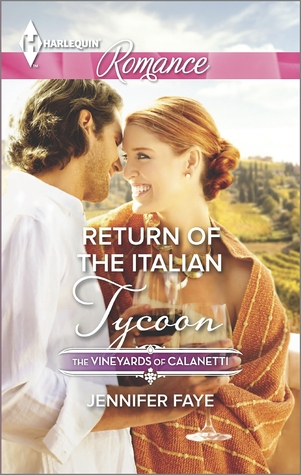 Take 1 self-made man add a rising star stir in a dash of Tuscany sunshine plus a heaping of attraction and you've got the start of a great romance.

Please share your favorite line or quote from this book:
The opening line… "Can I smell you?"
It's fun and opens up the story to a whole host of potential scenarios. 😉

Please share a few FUN facts about this book…
both the hero and heroine work on Madison Avenue in New York City where Angelo runs a world-renowned advertising agency.
RETURN OF THE ITALIAN TYCOON is book #2 in The Vineyards of Calanetti series (it may be read as a standalone book). The series consists of 8 books by 8 authors, releasing one title a moment spanning July 2015 to February 2016.
Monte Calanetti is a very old Italian village dating back to medieval times and it has a crumbling wall surrounding it as it was once a stronghold.
The village of Monte Calanetti is invited to enter a bid for a royal wedding–the future king and queen of Halencia (a small Mediterranean island nation).
The island nation of Halencia is famous for its spa. Angelo and Kayla get to visit it and find out what it's so special…but then again maybe it isn't the spa that grabs their attention. 😉
Please tell us a little about the characters in your book. As you wrote your protagonist was there anything about them that surprised you?
Angelo Amatucci is summoned back to Italy, but it isn't for a joyous reunion with his brother and sister. And it doesn't help matters that returning to the small Tuscan village will cause him to come face-to-face with a tangled web of emotions. But he doesn't let any of that deter him– not when his family needs him.
Kayla Hill is the loyal assistant with her eyes on a promising career. She's a small-town girl making her way in the big city. And now that she's latched her wagon on to Angelo, a brilliant star in the advertising industry, she's certain that success is at last within her grasp–if only she can keep her thoughts focused on work and not on her exceedingly handsome boss. But when Angelo leads her on a wondrous, romantic journey through the rolling hills of the Tuscan countryside, all bets are off.

What kind of research did you do for this book?
Research was big thing for this series. Subjects ranged from Italian cuisine to palaces to palazzos. There were conversations amongst the authors about the settings including architecture and sculptors. There were maps drawn and photos shared. It was a lot of fun.

The First kiss…
Angelo's line of vision momentarily dipped to Kayla's pink frosted lips before meeting her gaze again. He struggled for a nonchalant expression. "I think you've captured a touching nostalgic note with a forward-thinking view. This campaign should entice both the new and old consumers."

Her tempting lips lifted into a broad smile that lit up her eyes. "Now we just have to hope the client will approve."

"I wouldn't worry about that. Send this along to the art department and have them start working on some mock-ups."

Her smile dimmed a bit. "You're sure about this?"

"Of course I am. Don't look so surprised. You don't think you got the position as my assistant just because you're beautiful, do you?"

Now why in the world had he gone and said that? But it was the truth. She was stunning. In fact, he was considering changing the dress code at the office. He really enjoyed this different look on her. Then again, if she looked this way in the office, he'd never get any work done. Color bloomed on her creamy cheeks.

"You think I'm beautiful?"

He stared back into her eyes longer than was necessary. In that moment, his ability to speak intelligently was debatable. He merely nodded.

"No man has ever called me that."

At last finding his voice, Angelo said, "I'm having a hard time believing that."

"Steven was more matter-of-fact and sparing on compliments. It wasn't that he was a bad man. In fact, it's quite the opposite. He was really good to me. He just wasn't good with flowery words."

"This Steven, he's from Paradise, too?" She nodded. "High-school sweethearts."

"The man must need glasses badly to have missed your beauty. Both inside and out. Is he still your boyfriend?" Part of Angelo wanted her to say yes to put a swift end to this surreal moment, but a much stronger part wanted her to be free.

"We…we broke up before I moved to New York."

The field was wide-open. Exhilaration flooded through Angelo. His hand reached out, stroking the smooth, silky skin of her cheek. The backs of his fingers skimmed down over her jaw, and then his thumb ran over the plumpness of her bottom lip. Her sudden inhale drew air over his fingers.

In her eyes, he noted the flames of desire had been ignited. She wanted him as much as he wanted her. And in that moment, he didn't want to think—he just wanted to act. He wanted to forget everything and enjoy this moment with the girl with wavy red hair.
If your book was optioned for a movie, what scene would be absolutely crucial to include and why?
"Can I smell you?"

Kayla Hill's fingers struck the wrong keys on her computer. Surely she hadn't heard her boss correctly—her very serious, very handsome boss. "Excuse me. What did you say?"

Angelo Amatucci's tanned face creased with lines as though he were deep in thought. "Are you wearing perfume?"

"Uh…yes, I am."

"Good. That will be helpful. May I have a smell?"

Helpful? With what? She gave up on answering an email and turned her full attention to her boss, who moved to stand next to her. What in the world had prompted him to ask such a question? Was her perfume bothering him? She sure hoped not. She wore it all the time. If he didn't like it or was allergic to it, she thought he'd have mentioned it before now.

Kayla craned her neck, allowing her gaze to travel up over his fit body, all six-foot-plus of muscle, until she met his inquisitive eyes. "I'm sorry but I…I don't understand."
What do you want people to take away from reading this book?
That everyone has something in their past that they aren't proud of, but it's who you are now that matters most.

What are you currently working on? What other releases do you have planned for 2015?
I'm preparing to start the second book in a new duet–THE BRIDES FOR THE GREEK BILLIONAIRES. The first book is slated to release in March 2016 and the second book is suppose to release in July 2016.
As for the remainder of 2015, I have two more releases:
October – A MOMENT ON THE LIPS (A Whistle Stop Romance, book 3)
November – THE PRINCE'S CHRISTMAS VOW (The Twin Princes of Mirraccino, book 2)
Thanks for blogging at HJ!
Giveaway:

Winner's choice of one Jennifer Faye backlist title (Kindle or Nook)
To enter Giveaway: Please complete the Rafflecopter form and Post a comment to this Q:

What's your dream job?
Excerpt from Return of the Italian Tycoon:
The Vineyards of Calanetti

Saying "I do" under the Tuscan sun…

Deep in the Tuscan countryside nestles the picturesque village of Monte Calanetti. Famed for its world-renowned vineyards, the village is also home to the crumbling but beautiful Palazzo di Comparino. Empty for months, rumours of a new owner are spreading like wildfire…and that's before the village is chosen as the setting for the royal wedding of the year!

It's going to be a roller coaster of a year, but will wedding bells ring out in Monte Calanetti for anyone else?

Find out in this fabulously heartwarming, uplifting and thrillingly romantic new eight-book continuity from Harlequin® Romance!

A Bride for the Italian Boss by Susan Meier

Return of the Italian Tycoon by Jennifer Faye

Reunited by a Baby Secret by Michelle Douglas

Soldier, Hero…Husband? by Cara Colter

His Lost-and-Found Bride by Scarlet Wilson

The Best Man & the Wedding Planner by Teresa Carpenter

His Princess of Convenience by Rebecca Winters

Saved by the CEO by Barbara Wallace
Excerpts. © Reprinted by permission. All rights reserved.

Book Info:
Promoted…to wife?
Tough tycoon Angelo Amatucci must return to the Tuscan village of his childhood. With a lot of work to do, he brings his dedicated assistant Kayla Hill with him.
As beautiful Kayla falls for the village's charms, she also discovers a new, very attractive side to Angelo—working with him to secure a wedding contract is blissful torture! Especially as Kayla begins to wonder what it would be like to be Mrs. Amatucci…
Meet the Author: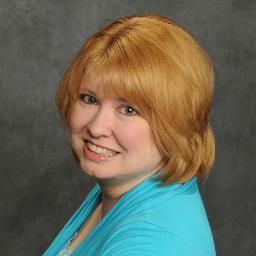 Award-winning author, Jennifer Faye pens fun, heartwarming romances. Step into the pages of exciting destinations with rugged cowboys, sexy tycoons & enchanting royalty. Jennifer is a two-time winner of the RT Book Reviews Reviewers' Choice Award, named a TOP PICK author, and been nominated for numerous awards. Now living her dream, she resides with her patient husband, amazing daughter (the other remarkable daughter is off chasing her own dreams) and two spoiled cats. She'd love to hear from you.
Website | Facebook | Twitter |