Today it is my pleasure to Welcome author
Jennifer Hayward
to HJ!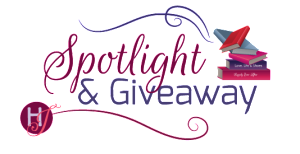 Hi Jennifer and welcome to HJ! We're so excited to chat with you about your new release, Reunited For the Billionaire's Legacy!

Hi everyone – So happy to be back with you! Thanks for having me.
Please summarize the book a la Twitter style for the readers here: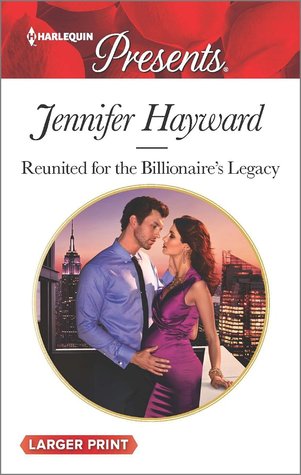 He'll give her one last night, but a kiss is out of the question

Please share the opening lines of this book:
For a man who thought life was wrapped in a sea of irony, this had to take the cake. Coburn Grant, heir to an automotive fortune and the newly minted CEO of Grant Industries, gave his silk tie a tug so it didn't feel as if he was choking on his own cynicism. Attending his best friend Tony's engagement party on the eve of his own divorce was impeccable timing that only he could manage. Having to give a speech to the happy couple in thirty minutes that spoke of hope and rainbows? The icing on that exceedingly unpalatable cake.
Please share a few Fun facts about this book…
My orthopaedic surgeon father was the inspiration for this book and my surgeon heroine
My former PR career helped me handle the automotive recall
Casablanca and Isla and Rick's song 'As Time Goes By' was a key inspiration for this book – sometimes a kiss isn't just a kiss
Coburn & Diana's argument over where to live was stoked by my fascination with New York real estate – my research included the excellent book – House of Outrageous Fortune: Fifteen Central Park West, the World's Most Powerful Address
We brainstormed this book on a girl's car trip – what fun!
What first attracts your Hero to the Heroine and vice versa?
For Coburn it was Diana's quick comebacks and complete 'lack of awe' when it came to him
For Diana it was Coburn's stunning body and 'wicked, effortless charm'

Using just 5 words, how would you describe Hero and Heroine's love affair?
Hot, challenged, intense, inevitable, complicated

The First Kiss…
Comes after Coburn & Diana's hot final night together in which he refused to kiss her because it's too intimate, he's still too in love with her and knows he'll never move on with that vision in his head. When that fateful night results in a child, Coburn has to convince Diana to marry him. "Kiss me without feeling and I'll walk away," he promises.

She stood on her toes, pressed her lips to his firm, beautiful mouth in a light pressure that was in no way threatening, then pulled back.
"There."
Amusement glittered in his eyes. "Try a real kiss, Diana."
She swallowed the urge to claw his eyes out instead. He was such a bastard. He wouldn't kiss her that night in his bed, but now she was supposed to kiss him without emotion?
She took a deep breath and focused on the sensuous curve of his mouth that had always fascinated her. A man with a mouth made for kissing had been her initial impression of him and it hadn't steered her wrong. Coburn loved to kiss. He'd used to make out with her for the better part of an evening when they'd worked together on the sofa, before finally carrying her to bed. That's why when he'd refused to kiss her that night, it had felt like a total and complete rejection of everything she was…
Blanking her mind to the low, tight pain that tugged at her insides, she caught his lower lip between her teeth and tugged. It might have been a bit more punishment than pleasure, but he played along, opening up for her. She slid her mouth against his, this time in a caress meant to stimulate. His hand pressed firmer against her back as he gathered her into him, returning the kiss with a steady pressure that signaled his complete acquiescence. She stiffened at the contact, because wasn't she supposed to be the one in control here? But then again a kiss involved two people so she had to be okay with that.
Except then the weight of his solid, thickly-muscled thigh moved between hers, the power of his corded muscles far too stimulating…
A few more seconds, she told herself, not about to be the one to cut this off so he could accuse her of reneging on their deal. She cupped his jaw in her fingers and dragged her mouth across the sexy contours of his, taking back control of the kiss. He felt like heaven, that was the problem. The soft, seductive, expert caress he gave back was one only Coburn knew how to give, as if he had all the time in the world to seduce her. It was everything she'd wanted when he'd taken her that night in his apartment, every bit of reassurance she'd craved that he was as much under her spell as she was under his.
It shattered her. Sucked her into a maelstrom of emotion she didn't want to feel—memories of how very good they had been together when it had just been them worshipping how they made each other feel. How nothing could touch her when she was in Coburn's arms because he was a part of her.
His palm at her back urged her closer into the vee of his hard thighs. Deeper and harder the kiss went. When he urged her lips apart with the pressure of his and his tongue sought hers, she moved toward him, sliding her tongue along his in an unhurried, erotic movement she knew he liked. A shudder went through his big body. "That's it, baby," he murmured. "More."
Without revealing too much, what is your favorite scene in the book?
Ah, it's a tie between the opening scene where Coburn gives a speech at his best friend's engagement party about how hard marriage is on the eve of his divorce and his & Diana's divorce meeting with the lawyers. I'll go with the first.
A lifetime of happiness. He was going to wish his friends the best, then shut his mouth. It wasn't that hard.
He waited with Rory and Tony at the front of the room while Annabelle's maid of honour made sure everyone had a glass of Veuve in their hands, courtesy of the Grants. Then he strolled to the centre of the room at Tony's nod. The crowd stood gathered around him, a festive cheer in the air at an occasion full of such promise. His eyes picked out Diana in the second row, her gaze carefully averted from his. His blood fizzled in his veins, his prepared speech flying out the window.
"I'm sure you've all heard the joke that love is temporary insanity, cured by marriage." He paused as scattered laughter filled the room. "While I think that is hardly the case with Tony and Annabelle who are two of the most perfectly matched people I have ever encountered, make no mistake about it," he underscored harshly, "marriage is hard."
The room went so silent you could hear the clinking of swivel sticks as the bartenders mixed drinks. "Marriage isn't just about finding a person you love," he continued, oblivious to the agitated stare Rory was throwing him, "because I think that does happen. I do think falling in love is possible. What's far harder is staying in love. Finding someone you can live with. Finding someone whose hopes and dreams, whose ideologies mirror yours so when the going gets tough, when the inevitable realities of life intrude, that bond has the strength to support you both past the attraction that drew you together."
He paused, the voices in his head warning him to stop, but his heart wouldn't let him. Rory looked panic stricken now, his gaze imploring him to rein it in. Annabelle was chewing on her lip, staring at him. Tony was frowning with that deliberate calm of his.
Coburn shrugged. "Someone neglected to tell me that you can love a person madly, blindly, but it still isn't going to work if you can't accept each other's flaws and imperfections. That," he added deliberately, looking at Diana, "sometimes love isn't enough."
If your book was optioned for a movie, what scene would be absolutely crucial to include?
The opening scene I've included above. It just sets the whole tone of the book and I love it.
Readers should read this book …
If you love a reunion story with lots of passion. They're my favourite. They pack such an emotional punch. It's always heartbreaking to watch a love that once was torn apart – whether due to external forces that conspire against it, the baggage we carry, or perhaps simply because two people have grown apart, grown up, fallen apart.
I love the immediate tension the backstory creates for the characters, the built-in stakes, but it's the journey the characters need to take, the transformation, I find most compelling. Why is it going to be different this time? How have they changed? Can they make this work? Diana and Coburn have to wade their way through this and it isn't certain they're going to make it despite how much they love each other.
What are you currently working on? What other releases do you have planned for 2015?
I am currently working on my first royal trilogy called Kingdoms and Crowns. I am so excited about this fictional Mediterranean kingdom I've created. Get ready for a world of passion, intrigue and royal scandal! Here's the back cover blurb for the first book in the trilogy, Carrying the King's Pride.
A marriage for the monarch
One last New York night with Sofia Ramirez is all Prince Nikandros Constantinides allowed himself before returning to Akathinia, after a dreadful accident took his brother's life. But before the royal rebel is crowned, Nik discovers that he didn't leave Sofia behind alone!
In a baby's heartbeat, Nik turns Sofia's world upside down and whisks her away to his Mediterranean kingdom. Dissolving a politically perfect engagement is not what Nik—or his country—had in mind, but this proud prince will do whatever it takes to legitimize his new rule…with a wife and child!
Thanks for blogging at HJ!
Giveaway:

2 signed copies of Reunited for the Billionaire's Legacy – open internationally
To enter Giveaway: Please complete the Rafflecopter form and Post a comment to this Q:

What is your best piece of marriage advice?
Excerpt from Reunited For the Billionaire's Legacy:
This comes from Coburn and Diana's final (or so they think) night together. He'll offer her one last night, but a kiss is out of the question:
"There will be no audience," he said roughly.
He slid his arms under her knees, picked her up and strode through the apartment to his bedroom. It was a big mistake to take her there, he knew. If he did, he would never get her out of his head. It was his bed, his space he'd created when she'd left him hollow and broken. To let her violate it again was surely unwise, but he wasn't thinking with his head, he was thinking with another body part entirely.
The play of the moonlight through the skylight was all he needed to absorb his wife's jaw dropping beauty as he deposited her on the bed. She was everything he'd ever wanted, everything he could no longer let himself want. Not after this.
He stripped off his pants, shirt and tie and slid on a condom. Diana was staring at him like he was a beast on the prowl and he liked that. Liked when she was at his mercy. He straddled her, pinning her to the bed with his heavier weight. She looked brazen with her dress half off and her eyes full of desire. He ran a hand from her throat to the heat between her legs, pushing her dress up to her waist. Her lips parted in an unspoken message. The urge to kiss her, to take possession of her sultry full mouth was so strong it nearly consumed him. He swallowed it back, clamped his jaw down hard on the need. If he did that this bedroom would never be his own.
Excerpts. © Reprinted by permission. All rights reserved.

Book Info:
Petition for divorce…denied!
Diana Taylor's marriage to playboy Coburn Grant was short, passionate and blazed brightly until the reality of their different worlds set in. Now, years later, Coburn has finally agreed to a divorce. Except one last pleasurable night together seals their fate—with a baby!
Diana knows Coburn will never sign the papers now—he will have his wife and child. And, whisked away to a tropical island paradise, it's increasingly difficult to ignore their primal hunger for each other. With his legacy growing inside her, can Diana deny the one man she could never resist?
Book Links:

Meet the Author: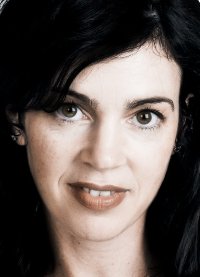 Award-winning author JENNIFER HAYWARD has been a fan of romance since filching her sister's novels to escape her teenaged angst.
Jennifer emerged on the publishing scene when she won Harlequin's So You Think You Can Write global writing competition in 2012. She is the Romantic Times Magazine Reviewer's Choice Best Harlequin Presents of 2014 winner for her book, The Magnate's Manifesto.
Jennifer's career in journalism and PR, including years of working alongside powerful, charismatic CEOs and traveling the world, has provided perfect fodder for the fast-paced, sexy stories she likes to write, always with a touch of humour.
Website | Facebook | Twitter |