Today it is my pleasure to Welcome author
Terri Osburn
to HJ!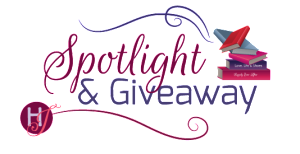 Hi Terri and welcome to HJ! We're so excited to chat with you about your new release, Rising Star!
Please summarize the book for the readers here: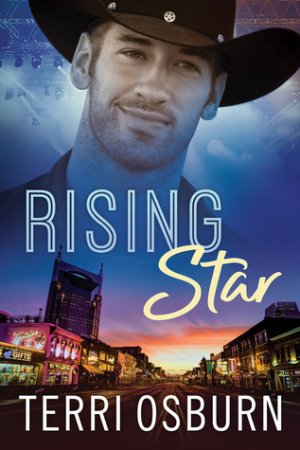 A popular DJ at the hottest station in Nashville, Charley Layton is doing what she's always wanted to do: living in the heart of country music. Charley puts her career first and relationships second, but when a charismatic stranger in a black cowboy hat invites her back to his place, she decides to give herself one night of no-strings fun.
But Dylan Monroe isn't a no-strings kind of guy. Charley is beautiful, brainy, and brassy as hell—the kind of girl he's always wanted. When his record label books him an interview on Charley's show, he's determined to find out why he woke up alone, and when he can see her again.
With Dylan now the most eligible bachelor in country music, Charley doubts their fling stands a chance, but she's willing to try. Dylan dreams of fame, but he also craves a life offstage with Charley. Can he convince her that both of their dreams are worth chasing, and that love is still possible, even in the spotlight?

Please share the opening lines of this book:
"I haven't seen a penis in ninety days. Hurry your little heinie up, Charley, before all the good ones are gone."
Ruby Barnett's words hung in the August heat like granny panties on a clothesline, and Charley Layton couldn't help but shake her head. After nearly three months of working with the bawdy woman, she was no longer shocked by Ruby's crass, if honest, outbursts. As a longtime radio personality, some might think that the older woman would possess a stronger filter than most, but they'd be wrong.
Please share a few Fun facts about this book…
Rising Star is set in the unique world of country music and the heart of the genre, Nashville, TN. It is also a classic case of write what you know. The heroine, Charley Layton, is a country radio personality. From 1998 to 2006, I, too, was a country radio personality. Charley meets up-and-coming singer Dylan Monroe at the Wildhorse Saloon, a well-known Nashville honkytonk. Many years ago, I met my ex-husband, an aspiring country singer, at Gilly's, which at the time was a well-known Nashville honkytonk. Though this book is in no way autobiographical, many experiences in my life informed the story, and I hope my love for the music and the city come through on the page.
What first attracts your hero to the heroine and vice versa?
Simply put, Dylan Monroe is hot. Firm, stubble-covered jaw. Intense blue-gray eyes. Slender but muscled frame. Top it all with a black cowboy hat and he's a hard man to resist. But what really gets Charley is his humor and his kindness. When she has a bit of a panic, he's there to save her, playing the white knight in a pickup truck. For Dylan, he's immediately drawn to the brunette's natural look. Nothing teased or plucked or lifted. And even from afar, he senses her grit. Once they meet, she's honest, brassy, and blunt, but with a vulnerable side. One night together and he's completely smitten.

Using just 5 words, how would you describe hero and heroine's love affair?
A country music love story.

What can you share about their first kiss…
The kiss is spontaneous and unexpected, at least by Dylan. Under a dim street light, outside an eclectic burger joint, and filled with honest longing, it's a definite sign of what's to come later in the night.
If your book was optioned for a movie, what scene would be absolutely crucial to include?
There comes a point in the book when their relationship is very new and Dylan's anxiety about his buddy career causes him to say the absolute wrong thing to Charley. In an effort to win her forgiveness, he apologizes on stage in front of an audience, and then sings her a love song. The scene ends with a passionate kiss that gets more applause than the actual song, which makes it a must-have scene.

What are you currently working on? What other releases do you have planned for 2017?
I just finished writing the follow up to RISING STAR, titled FALLING STAR, which will release in early spring of 2018. I already can't wait for readers to get their hands on Chance and Naomi's story. Where Dylan and Charley share a sweet new love, FALLING STAR is a second chance romance with a hard-living hero that harkens back to the country music outlaws of the 70s and early 80s, and the woman he once betrayed who shows him what unconditional love really means.

Thanks for blogging at HJ!
Giveaway:

Ebook: Rising Star (A Shooting Stars Novel) by Terri Osburn
To enter Giveaway: Please complete the Rafflecopter form and 

Leave a comment with your thoughts on the book…
Meet the Author: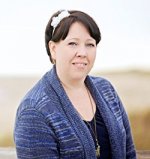 Terri Osburn started putting words on the page in 2007. Five years later, she was named a finalist in the Romance Writers of America Golden Heart contest for unpublished manuscripts. Shortly after, she signed with an agent and moved into publication, with her debut novel, Meant to Be, released from Montlake Romance in May 2013. Terri lives on the East Coast with one high schooler, three long-suffering tabbies, and a hyper Yorkiepoo with attachment issues. To learn more about Terri, check out her website at terriosburn.com.