Today, HJ is pleased to share with you

Alice Clayton & Nina Bocci's

new release:

ROMAN CRAZY.

A delicious, sexy, laugh-out-loud modern romance about a newly single woman and her journey to find love again, from New York Times bestselling author Alice Clayton and debut author Nina Bocci.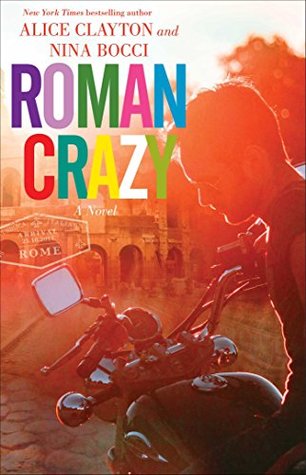 Avery Bardot steps off the plane in Rome, looking for a fresh start. She's left behind a soon-to-be ex-husband in Boston and plans to spend the summer with her best friend Daisy, licking her wounds—and perhaps a gelato or two. But when her American-expat friend throws her a welcome party on her first night, Avery's thrown for a loop when she sees a man she never thought she'd see again: Italian architect Marcello Bianchi.

Marcello was the man—the one who got away. And now her past is colliding with her present, a present where she should be mourning the loss of her marriage and—hey, that fettuccine is delicious! And so is Marcello…

Slipping easily into the good life of summertime in Rome, Avery spends her days exploring a city that makes art historians swoon, and her nights swooning over her unexpected what was old is new again romance. It's heady, it's fevered, it's wanton, and it's crazy. But could this really be her new life? Or is it just a temporary reprieve before returning to the land of twin-set cardigans and crustless sandwiches?

A celebration of great friendship, passionate romance, and wonderful food, Roman Crazy is a lighthearted story of second chances and living life to the fullest.

Alice and Nina share their favorite scenes from Roman Crazy:
1.) The restaurant scene where Daisy has convinced Avery to kick jetlag in the ass by going out to a party. – It's very atmospheric as far as giving you the details about the walk through Trastevere (where Daisy lives) but also a great view into Daisy & Avery's relationship.
"The pistachio gelato here? Orgasmic. You gotta come here some afternoon; there's a guy that sells these little flowers that he'll weave into your hair for, like, a dollar; they're so cute! If you need anything, condoms, tampons, as-pirin, come here."
"Condoms?" I laughed, shaking my head.
She shrugged as if it were perfectly acceptable to assume I'd need some while here.

2.) The first coffee scene with Marcello because he's broody and swoony – This was a tough scene to write because we had to balance him being believable as well as dreamy. It's not an easy combination to pull off. We hope you like it 🙂
He finally looked me in the eye. "Tell me what happened nine years ago, when you left to go back home and forgot all about Barcelona. And me."

3.) The entirety of Lake Como chapter. So much happens in that chapter. Confessions, George Clooney, and a lot of answers are revealed.
The house was literally on the lake. Or LAKE, as I was calling it in my head. Everything about Lake Como was amplified. Italy by default was gorgeous, but Lake Como was Italy 5.0 and that wasn't just because we may or may not run into (become best friends with) George Clooney.

4.) The olive vineyard in Pienza because it's based on a real place and a real time . . . A lot of people assumed when we said vineyard that it would be a wine vineyard because, Italy. When in fact it's olives and we had so much fun writing it.
"I know sunset is one of your favorite times to work. I thought maybe we could sit out here together while you sketch." I broke apart from him, moving to sit in the center of the blanket.
"What will you be doing while I'm hard at work?"
"Trying not to kiss you."

5.) The Trevi Fountain because you have to be a crazy person to not love that fountain. There are certain landmarks in Rome that you HAVE to hit if you're there. In the time that Avery is there, this was a place that she never reached until one night. A very important night and it was great fun to write.
"Slow down, princess. this is no Disney fountain. The Trevi has history, traditions to abide by. As a man of Roma, I cannot let you mess with the tradition."
Excerpt. ©Alice Clayton and Nina Bocci. Posted by arrangement with the publisher. All rights reserved.
Giveaway:

2 Print copies of ROMAN CRAZY by Alice Clayton and Nina Bocci
To enter Giveaway: Please complete the Rafflecopter form and post a comment to this Q:

What did you think of the scenes spotlighted here? Leave a comment with your thoughts on the book…
Meet the Author:
Alice Clayton worked in the cosmetics industry for over a decade before picking up a pen (read: laptop). She enjoys gardening but not weeding, baking but not cleaning up, and finally convinced her long-time boyfriend to marry her. And she finally got her Bernese Mountain Dog.

Nina Bocci is a novelist, publicist, eternal optimist, unabashed lipgloss enthusiast, constant apologist, and a hopeless romanticist. She has too many college degrees that she's not using and a Lego addiction that she blames on her son.