Today it is my pleasure to welcome romance author

Julie Brannagh

to HJ!

My five favorite scenes from RUSHING AMY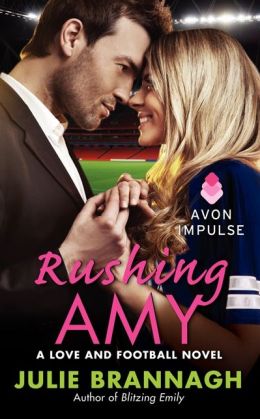 It was hard to choose just five scenes from RUSHING AMY that I love the most, but here they are! I hope you'll enjoy them, too.
1. Matt meets Amy, hilarity ensues.
She nodded a bit and tilted her chin up as if she were introduced to guys who made People's "Sexiest Man Alive" issue every day. "Matt, huh?"
"And your name is?"
Her mouth evidently had a mind of its own. For some perverse reason she blurted out, "I'm Fifi."
"Fifi." He looked a bit skeptical.
"Yes." She squared her shoulders. "My parents were—imaginative."
"Is that so?" He glanced around for a brief moment, and his eyes moved back to her. "I'm a little thirsty. Are you thirsty, Fifi? Let's have a drink."
2. Matt asks Amy out. She's dying to go out with him, but she doesn't want to be the flavor of the month. Consequently, she turns him down. Several times.
He cut her off. "The last man on earth." His eyes moved over her face. "Now there's a challenge if I've ever heard one." His voice dropped to a low, sexy rumble. "There must be a lot of other guys you wouldn't want to end up with besides me."
He was the picture of injured innocence—who, me?—the wolf whose big teeth Little Red Riding Hood didn't see until it was much too late. Unfortunately for Matt, she'd already spent some time in the forest, and she'd met plenty of guys like him before.
"Again, Matt, good to meet you. Thanks for stopping by. Have a nice evening."
3. Amy finally agrees to a date with Matt. It doesn't go perfectly.
She could see the commotion, but all she could focus on was Matt. He didn't yell at the luckless server, or freak out in any way. He braved the mess on the floor, crouched down next to her, and cleaned sauce off her face with his napkin.
"What do I do now?" she asked him.
His voice was gentle. "You're supposed to eat it, not wear it." He pulled a chunk of spaghetti out of Amy's hair, and dropped it onto the ruined dinner table. He kissed the tip of her nose. "Let's get dinner to go."
4. Matt and Amy fall in love, one date at a time. Amy discovers that Matt is fond of lingerie, especially when she's wearing it.
"I wanted to surprise you—ow!" She yanked her foot out of the shoe and pulled away from him. "Now the surprise is spoiled. Why can everyone else manage heels, and I'm just a big mess in them? I don't get it. I—"
Matt's mouth covered hers. He was already working on the trench coat's belt with impatient hands. He stopped kissing her long enough to say, "If this is what I think it is, I'm enjoying it already."
"The panties," she whispered into his ear. "They—They're so teeny. I can't get them off by myself."
She managed to shut his front door with one elbow, yanked the trench coat off, and dropped it at her feet. She wore nothing but one shoe, toenail polish, a spritz of Jo Malone's Orange Blossom, and the panties he'd sent her. He looked, and then he stared.
5. Despite dealing with family issues, work issues, previous relationships and his fourteen-year-old daughter, Matt and Amy are well on their way to a happily ever after.
"Are you serious?" she said.
"Serious as a heart attack, Hamilton. Are you in?" He kissed the corner of her mouth. "Marry me. Have my babies. Be my love, and I'll be yours."
"Everyone else proposes on the scoreboard."
"That's for losers. I had to get a stadium flyover exemption from the FAA for this."
He pulled a ring box out of the breast pocket of his jacket.
GIVEAWAY:

2 digital copies of Blitzing Emily

which is the first book in the series.
To enter Giveaway: Please complete the Rafflecopter form and post a comment:

Do you have a favorite scene from the ones listed above?
Blurb
Julie Brannagh's sparkling and romantic Love and Football series continues!
For Amy Hamilton, only three Fs matter: Family, Football, and Flowers. It might be nice to find someone to share Forever with, too, but right now she's working double overtime while she gets her flower shop off the ground. The last thing she needs or wants is a distraction … or help, for that matter. Especially in the form of gorgeous and aggravatingly arrogant ex-NFL star Matt Stephens.
Matt lives by a playbook—his playbook. He never thought his toughest opponent would come in the form of a stunning florist with a stubborn streak to match his own. Since meeting her in the bar after her sister's wedding, he's known there's something between them. After she refuses—again and again—to go out with him, Matt will do anything to win her heart … But will Amy, who has everything to lose, let the clock run out on the one-yard line?
Rushing Amy
A Love and Football Novel
By: Julie Brannagh
Releasing Feb 11th, 2014
Buy Links Amazon  | B&N | iTunes 
Author Info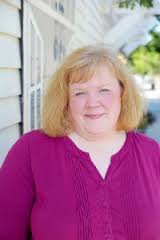 Julie Brannagh has been writing since she was old enough to hold a pencil. She lives in a small town near Seattle, where she once served as a city council member and owned a yarn shop. She shares her home with a wonderful husband, two uncivilized Maine Coons and a rambunctious chocolate Lab.
Julie hasn't quite achieved the goal of owning a pro football team, so she created a fictional one: The Seattle Sharks. When she's not writing, she's reading, or armchair-quarterbacking her favorite NFL team from the comfort of the family room couch. Julie is a Golden Heart finalist and the author of four contemporary sports romances.
Author Links
https://www.facebook.com/JulieBrannagh
https://twitter.com/julieinduvall
https://www.goodreads.com/author/show/7127296.Julie_Brannagh