Today it is my pleasure to welcome international bestselling romance author

Marie Adeline

to HJ!
S.E.C.R.E.T: The first book in a sexy and sophisticated series of erotica, with a new twist: this time, women control their fantasies and men will do anything to satisfy them
Hi Marie, Welcome to HJ!
What would you say are the defining characteristic of your novels?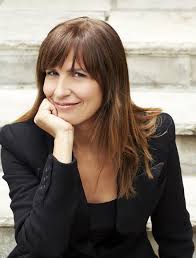 S.E.C.R.E.T. novels trace the sexual and emotional journey of Cassie Robichaud as she goes from a forgotten depressed widow, to a sexually vibrant and alive woman who's on the cusp of finding true love. So it's erotic, in that Cassie explores her sexuality in the safe confines of this great underground organization, S.E.C.R.E.T., that grants women their sexual fantasies. But there's also a parallel romance at the core of her journey. As Cassie grows in confidence, she also begins to draw closer to her sexy boss and friend, Will, who she would never have had the guts to pursue before her membership in S.E.C.R.E.T.
5 best things about being a writer?
1. every day is different
2. it's thrilling to make a living by your imagination
3. I can put my feet up and eat my cereal while plotting out my day
4. when the work's going well, days fly by
5. I get to work in my pajamas
If you were a heroine in a book, your character would be – The girl next door, the damsel in distress, Kick-butt take charge heroine or the aloof ice queen and why?
I am more of a kick-ass girl-next-door-type— the opposite of an aloof Ice Queen, but man it would be interesting to inhabit that skin. Ice Queens tend to live very internally, using their chilliness as a way to keep people at bay, so they're a lot of fun to write.
What are you currently working on? What other releases do you have planned for 2013 into 2014?
I am about a quarter of the way through S.E.C.R.E.T. Revealed, the final book in the S.E.C.R.E.T. trilogy. That comes out some time in 2014.
Where can readers get in touch with you?
Here's me:
Twitter @lmarieadeline
facebook is /lmarieadeline
or www.secretnovels.com for news and info.
Let's talk about your newest release: S.E.C.R.E.T.
If you had to summarize the book for the readers here…
In S.E.C.R.E.T., the first in the trilogy, a lonely waitress, Cassie, is given the opportunity to experience her sexual fantasies. In doing so, she slowly begins to realize that she's in love with her boss Will, and she finally has the sexual confidence to follow through. Book two, S.E.C.R.E.T. Shared, picks up after Will discovers something shocking that keeps him and Cassie apart, that kind of news that sends Cassie back to S.E.C.R.E.T. to guide our next candidate through her steps. Dauphine Mason has her own heart to heal, and experiencing her sexual fantasies gets her back in touch with her own sexual self. And while she isn't looking for love, it hits her when she's least expecting it. But while her body might be willing to fall, is her heart?
Please tell us about the characters in your book
I've introduced you to Cassie, Will and Dauphine, but we get to know Angela and Kit better, both members of S.E.C.R.E.T., who facilitate fantasies, and train men sexually. Tracina, the bratty waitress who keeps Will from Cassie, also takes center stage as she gets ready to give birth to the baby she says is Will's. We also meet another sexy, bad boy musician, who is recruited by Cassie, trained by Angela, but who meets his match in our new recruit, Dauphine.
What scene did you have the most fun writing? Why?
My favorite scene is when Cassie and Matilda meet in the park to talk about S.E.C.R.E.T. business. Little does Cassie know, Matilda's also going to show her how to recruit fantasy men for Dauphine's roster. As Matilda leaves the park, she instructs Cassie to get her new recruit's number. The recruit is a hot soccer player, who's participating in a local pick up game. Cassie balks:
"Yes, he's really quite beautiful, isn't he?" Matilda said. "But they don't all have to be models to be recruits. They do have to know they're sexy. They have to be able to hold a conversation, seem interesting, even if they aren't. Attractiveness is subjective but we like to stick to the 'classic'—sexy, confident, masculine. And of course, they need to be in top health. This one is all that. And no wedding ring."
She glanced at her watch.
"Cassie, I need you to close this deal for me. I have to meet my contractor."
"Close what deal?"
"Get Dominic's number," she said, winking.
My panic started at my feet, traveling all the way to the back of my skull like an instant ice cream headache.
"But he wants to meet you. He barely looked at me. What if he won't give me his number?"
Matilda stood and peered across the pitch, like a lioness lazily eyeing a gazelle.
"Cassie, trust me when I say all you'll need to do is ask."
What scene was the hardest to write? Why?
The most difficult scene to write was the tango dance/threesome that takes place in a dark club in the Boca district of Buenos Aires. (I used to live there; it's a sexy neighborhood). All those limbs and lips—I had to do a lot of tweaking, but I can only give you a snippet because it's really hot.
My male partner pulled me fully into his body, his hand tracing down my back, over my buttocks, tugging my pelvis into his. I felt his deep arousal, which released my own. He pulled my leg high, pressing against me, tugging me forward on one foot. Lifting me off the floor, my legs scissored in the air and after a quarter turn, he deposited me in front of the two women. The blonde moved like a panther, her hand on the singer's lower back, their arms a limber vine….
Who would you cast in the role of your characters if your book was optioned for a movie?
Oh I so want to answer this, but I hesitate. Everyone has their own Cassie and Will. But I will say this: I pictured Rosemarie DeWitt while I wrote it. She was in Mad Men and the United States of Tara. She's the perfect age and the perfect combination of sadness and sexiness…I also love Michelle Monaghan. Look her up…that face!
Thank you for stopping by HJ!
GIVEAWAY:
Paperback copy of S.E.C.R.E.T. + Paperback ARC copy of S.E.C.R.E.T. Shared
To enter Giveaway: Please complete the Rafflecopter form and post a comment Here's my question for readers:

IF you had an opportunity to have one sexual fantasy granted to you—you can do anything, with anyone, and it's guaranteed mind-blowing sex—would you choose someone you know, a total stranger, or a famous person? Why?
Excerpt
Outside in the brisk winter's night, Will threw his coat around my bare shoulders then pressed my back against the window of Three Muses, unable to wait any longer to kiss me. And kiss me he did. He kissed me deeply, whole-heartedly, stopping every once in a while to see if it was actually me who stood in front of him shivering in his embrace. I wasn't cold. I was waking up, my body shuddering to life in his arms. It is one thing to be gazed upon by a man you desire, quite another by one you love. But wait! I had to ask, even though I wasn't sure I wanted to know the answer.
"Will… about you and Tracina…?"
"It's over. It's been over for a while. It's you and me, Cassie. It should have always been you and me."
We let some tourist pass while I took in this heart-stopping information. You and me and me and you. A few steps further, Will stopped me again, this time pressing me up against the red brick wall of The Praline Connection, where a couple of the wait staff raised their eyebrows, as though to say, Will Foret and Cassie Robichaud? Kissing? On Frenchmen?
Will's hands, his smell, his perfect mouth, the love I think I saw in his eyes, all made such sense. There was no more fight in me. I wanted him, all of him. He was already in my head and heart and I now wanted him in my body, too. When he stopped me in the street and held my head in his warm hands, searching out my eyes for an answer to his question, I knew he heard me say yes, wordlessly. We practically sprinted the half block back to the Café Rose, Will's hands shaking so much he couldn't unlock the doors without dropping the keys twice.
How is it possible he was more nervous than me? How come I wasn't nervous at all? The Steps. They cascaded in my mind. I could surrender to this, finally, to this man I had resisted from the beginning. I felt fearless, brave, generous and confident enough to accept him. I trusted Will, which gave me courage to face whatever our future held. And I was so curious to find out what this man was like in bed, what we would be like together. A new feeling rose inside me, exuberance, the ultimate promise of Step Nine. We were joy in action.
We stumbled into the restaurant, giggling and kissing, tripping over the clothes we kicked off in our rush up the stairs, where we collapsed on the dusty mattress, in a room that would never feel lonely again.
What happened between us was mostly wordless. He was far from the timid lover I had imagined him to be. He was ferocious and gentle all at once, and I reached to match him. I pulled him, kissing him with full force, leaving no mistake about my longing. This man was mine. He took in the length of me, shaking his head as though he could not have imagined the moment more perfectly. Then he hovered over me, showering me with kisses, gentle, then more deliberate, beginning an achingly slow trail from my neck, down to my clavicle, lingering at my breasts. I couldn't contain more giggles as he inched his way down me, his stubble tickling my skin, stopping every one in a while, his eyes searching mine, making me beg for him. I was about to have sex with Will Foret, my boss, my friend, my man. I pick you.