Today it is my pleasure to Welcome author
Kate SeRine
to HJ!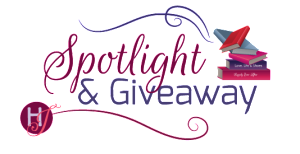 Hi Kate and welcome to HJ! We're so excited to chat with you about your new release, Safe From Harm!
Please summarize the book for the readers here: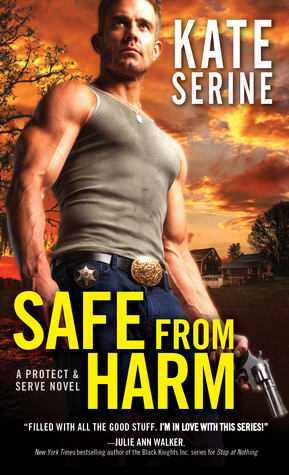 Sexy and movie-star handsome, Deputy Gabe Dawson is the golden boy of Fairfield County. With a generations-long family legacy of law enforcement and a single-minded determination to reach the top, Gabe's career promises to eventually eclipse even that of his famous father. All this makes him one of the most sought after bachelors in town. But the one woman Gabe truly wants doesn't want anything to do with him.
Elle's had a crush on Gabe Dawson since she was a teenager but was convinced he'd never give a girl like her a second glance. So now that they're adults and she's witnessed the famous Dawson charm in action, she doesn't trust his flirtations—especially considering Gabe's reputation as a womanizer. But when Gabe is shot protecting Elle from an anti-government extremist, his selflessness causes her to take another look at the man he truly is. And as they work together to take down the threat, Elle begins to realize she's losing her heart to a man who will risk it all to keep her safe from harm.

Please share the opening lines of this book:
Deputy Gabe Dawson pulled into the parking lot of Moe's Diner, habit and finely honed instinct allowing him to take in at a glance the cars parked out front. There were the two guys—mechanics from the adjacent garage—smoking cigarettes at the corner of the building, shooting the shit on their break. And the three construction workers with mud-caked boots just coming out of the diner with their to-go orders in a plain white plastic bag…
Please share a few Fun facts about this book…
I had originally planned for Gabe's story to be the first book in the series, but my agent and my publisher thought it would be better to release Kyle's story first. ☺
My Protect & Serve series actually starts with a prequel short story/novella titled "Torn," which is part of Way of the Warrior, a military romance anthology. "Torn" is the story of Joe Dawson and Sadie Keaton.
My physical model for Deputy Gabe Dawson was actor Bailey Chase, who played Branch Connally on the TV series, Longmire. When I pictured Gabe Dawson I immediately imagined that rugged jawline and those oh-so-sexy dimples. That said, there's probably also a little bit of actor Jensen Ackles thrown in for good measure. 😉
If your book was optioned for a movie, what scene would you use for the audition of the main characters and why?
It would have to be a scene that captures the simmering sexual tension between Gabe and Elle as well as their snarky banter with each other. This exchange is probably one of my favorites:
"Well, you'd better get going," Gabe grumbled. "Don't want to miss your ride."
Elle took a few steps forward, coming to the side of his hospital bed. "I'm going. But first, I wanted to make one thing very clear to you, Gabe Dawson."
"Yeah?" he said. "What's that?"
She narrowed her eyes and leaned over him, caging him with her arms on either side of his head. "Don't you ever again treat me like I'm some delicate flower who can't handle the truth."
Damn.
Having her that close was tempting as hell. For the first time, he noticed she had tiny flecks of gold in her eyes and a few more freckles on the bridge of her nose than he'd realized. God, she was beautiful—stunning, really. He had to muster all his willpower not to drag her into his arms and kiss the full lips that were currently pursed in irritation. But he forced himself to meet her gaze and lifted a single brow.
"Oh, I know you're no delicate flower," he said, his voice going deeper, betraying the effect of her nearness and giving his words a weight he hadn't intended.
Her cheeks went a little pink, but she didn't back away. "We're in this together, whether we like it or not. And I'm not going to be kept in the dark just because I'm not a cop."
"Oh, I don't know," he said, not bothering to suppress the grin tugging at his mouth. "You might like being in the dark with me, Elle."
What do you want people to take away from reading this book?
If you could have given your characters one piece of advice before the opening pages of the book, what – would it be and why?
I'd tell them both to quit ignoring the proverbial elephant in the room and talk to each other. There's so much miscommunication between them because of what's not said. Once they finally get things out in the open, they're able to move forward and embrace the love and happiness that has been within their reach all along.
What are you currently working on? What other releases do you have planned for 2016?
This is my last release for 2016. CONCEALED, the second book in my Dark Alliance romantic suspense series, releases in March 2017. DECEIVED, book one in the Dark Alliance series, is available now. 🙂

Thanks for blogging at HJ!
Giveaway:

Print copy of Safe from Harm (Protect & Serve) by Kate SeRine
To enter Giveaway: Please complete the Rafflecopter form and Post a comment to this Q:

The enemies (or frenemies) to lovers trope is one of my favorites! I'd love to hear which enemies-to-lovers couple (from books, movies, etc.) are your favorites. 
Excerpt from Safe From Harm:
Excerpt from Chapter 8 of Safe From Harm
"Will you be okay here tonight on your own?" Elle asked as she strolled toward his front door, clearly moving slowly so he could keep up with her on his crutches.
He slid a meaningful sidelong glance toward her. "You offering to stay?"
She rolled her eyes, but he could see a hint of pink rising in her cheeks. God, he loved making her blush like that. The fact that he could bring a flush to the cheeks of a woman like Elle made his chest swell with pride. The only thing better would be making her flush with desire as he made love to her.
A sudden, vague image of her arching off his bed in ecstasy made his cock go rock hard, making him seriously fucking glad he was wearing his shirt untucked for once so she couldn't see the effect she had on him. God, she had to be beautiful in the throes of passion. What he wouldn't give to watch as rapture played out over her features, to hear her scream his name, to feel her nails digging into his skin…
"Do you ever stop?" she teased.
He shook his head, and his voice was rough with desire when he answered, "Not where you're concerned."
She turned toward him when they reached his front door and regarded him for a long moment. "Why?"
Her question took him off guard. "Huh?"
She tilted her head to one side, far more adorable than she realized. "Why are you so interested in me, Gabe? You can have any woman you want."
He scoffed. "Not true. My reputation has been greatly exaggerated. Right now, there's only woman I want."
She rolled her eyes. "Fine, for argument's sake, let's pretend that's true."
Pretend? What the hell?
Did she really buy into all the rumors about him sleeping with anything with a pulse? His false reputation had been haunting him since high school. Okay, his fault for not refuting them, but what teenage guy wouldn't want everyone to think he was a god in bed? And, now that he knew better, he was too old to give a shit what people thought.
"Why would you want to keep pursuing someone who has pushed you away over and over again?" she continued. "I mean, what's so special about me?"
He reached up and tugged at a curl that had come loose from her ponytail. "How long do you have?"
She grinned and patted him lightly on his chest, just above the bruises from the shots he'd taken, but he managed to keep from wincing. "Ah, so that must be the famous Dawson charm you keep mentioning…"
He leaned on his crutches, bending forward, close enough to kiss her. "Is it working?"
She shoved away from the doorframe and straightened to her full height, bringing her lips even closer to his. Her mouth curved into a sensual smile as she searched his face. Then she stepped closer, her arm slipping around his waist as she leaned into him, her breasts pressing into his chest as she put her lips close to his ear and whispered, "Not even a little, Romeo."
With that, she stepped back and winked at him before opening the door and sending a wave at him over her shoulder as she strolled toward her car.
Oh, she was good…
Excerpt. © Reprinted by permission. All rights reserved.

Book Info:
It's All Harmless Flirting Until Someone Gets Shot…
Deputy Gabe Dawson has had his eye on prosecuting attorney Elle McCoy for years. But the smart, sassy redhead is immune to his legendary charm and good looks–until Gabe is shot on the courthouse steps protecting Elle from a vengeful domestic extremist.
Elle has been protecting her heart from the cocky playboy cop. But it's hard not to notice a guy when he takes a bullet for you and seems determined to turn his life around. With terrorists still at large and Elle a target, Gabe and his law enforcement brothers kick into high gear to take down the threat. And as they work together, Elle realizes she's losing her heart to a man who will risk it all to keep her safe from harm.

Buy Links: Amazon


Meet the Author: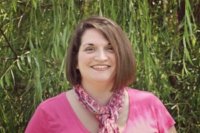 Kate SeRine writes award-winning romantic suspense and paranormal romance. A past recipient of an Emily Award and the National Readers Choice Award, she has also been a finalist in the Fire and Ice Contest, Finally a Bride Contest, and the Gayle Wilson Award of Excellence. She lives with her husband and two sons outside Indianapolis, Indiana. Connect with Kate at www.kateserine.com