Today it is my pleasure to Welcome author
Anita Hughes
to HJ!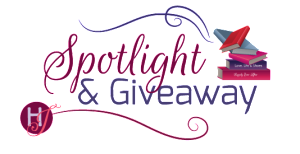 Told in Anita Hughes' spectacularly descriptive prose, Santorini Sunsets is a story about family bonds, first loves, and the question of when to let go and when to hang on as tight as you can.
Please summarize the book for the readers here: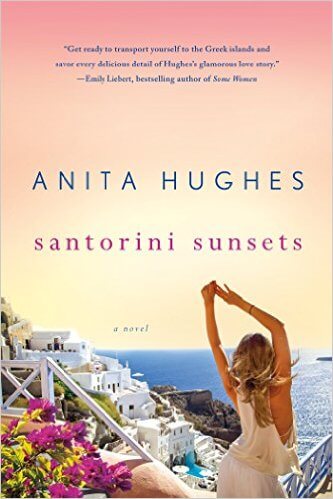 SANTORINI SUNSETS is about a young New York philanthropist who is on the Greek Island of Santorini for her wedding to Hollywood heartthrob, Blake Crawford. Her family and friends are here, and everything is wonderful until she walks into the villa's garden and discovers her ex-husband, Nathaniel, hiding in the bushes. Blake sold the rights to their wedding to a gossip magazine and Nathaniel, a failed writer, is the journalist assigned to the story.

Please share the opening lines of this book:
Brigit walked down the circular staircase and glanced around the living room of the villa. Every surface – the antique grand piano, the mahogany coffee table, even the pastel-colored love seats were covered with wedding presents. There were silver boxes from Harrod's and robin's egg blue squares from Tiffany's and parcels wrapped in Bloomingdale's plain brown paper.
Please share a few Fun facts about this book…
Santorini Sunsets was inspired by one of my favorite classic movies, PHILADELPHIA STORY, with Katharine Hepburn, Cary Grant and Jimmy Stewart.
Santorini is renowned for its sunsets. Every evening, tourists gather at the highest spots on the island to see the sun melt over the caldera.
Tourists in Santorini can travel from the port to the town of Fira by donkey.
Please tell us a little about the characters in your book. As you wrote your protagonist was there anything about them that surprised you?
Brigit is a New York society girl but she is also an attorney and philanthropist. She surprised me by being softer than she appears on the outside. Blake too, though one of the biggest movie stars in Hollywood, has a vulnerable side. And I really loved Daisy, Brigit's younger sister, who isn't afraid to try different jobs until she finds her passion.
If your book was optioned for a movie, what scene would you use for the audition of the main characters and why?
I would use a little of the scene where Brigit discovers her ex-husband, Nathaniel, in the villa's garden. They have known each other since they were children and have a wonderful chemistry.
"You never were good at hide-and-go-seek," he announced, parting the rosebush. "Even when we were children, you would stand in the middle of the tennis court and count to ten and invite everyone to find you." His face broke into a smile. "Hello, Brigit, you are you?"
"How dare you come here," Brigit stood up and smoothed her hair. She adjusted her floral dress and tightened her white leather belt. "I'm getting married in four days, and if you ruin it I'll never forgive you. If you're on vacation, you can pack your bags and go to Avignon or Tuscany."
What do you want people to take away from reading this book?
I want people to enjoy a warm romance set on a gorgeous Greek Island. SANTORINI SUNSETS is a true summer beach read, and I want people to feel like they have been to Greece.
What are you currently working on? What other releases do you have planned for 2016?
My next book, CHRISTMAS IN PARIS, will be released on October 4th, 2016. And I am finishing EMERALD COAST, which will be coming next summer.
Thanks for blogging at HJ!
Giveaway:

Print copy of SANTORINI SUNSETS by Anita Hughes
To enter Giveaway: Please complete the Rafflecopter form and Post a comment to this Q:

Do you agree with Brigit's romantic choices and why?
Excerpt from Santorini Sunsets:
"I still can't imagine you writing for HELLO!," Brigit shuddered. "They'd ask you to write an expose on your own mother."
"Winston asked if I wanted to write about the wedding of the year. Hollywood movie star and perpetual bachelor, Blake Crawford, weds New York society ice queen Brigit Palmer."
"He said I was an ice queen?" Brigit's lips trembled.
"I might have thrown that in but it makes a great pull quote," Nathaniel shrugged. "The cover and a four page spread including photos. And full access to the bride's family and wedding party."
Brigit put her drink on the sideboard and walked to the Regency desk. She sifted through the boxes wrapped in silver tissue paper and found her phone.
"I'm going to call Blake, he'll call Winston and threaten to sue unless this is stopped." She punched in the number.
Nathaniel crossed the room and took the phone from her hand. He walked to his backpack and took out a sheet of paper.
"You might want to look this over first." He handed her the paper. "Blake is the one who gave Winston the exclusive."
Excerpt. © Reprinted by permission. All rights reserved.

Book Info:
Brigit Palmer is thrilled to be on the Greek Island of Santorini. She's here for her wedding to Hollywood heart-throb Blake Crawford, one of America's most eligible bachelors. Brigit's parents have rented a villa, and soon guests will arrive from all over the world for the intimate ceremony. Brigit is a New York socialite, and she's just given up her position at a Manhattan law firm to run her father's philanthropic foundation. Things are finally falling into place. Love, career, family. Everything is going so well…until she steps into the garden and sees her ex-husband Nathaniel hiding in the rose bushes.
Nathaniel, a failed novelist, announces that Blake sold the rights to the wedding to HELLO! Magazine for two million dollars (donated to charity), and he is the reporter assigned to write the story. Everyone expects Brigit to have her happily ever after, her mother who taught her how to lead the perfect lifestyle, her younger sister Daisy who impatiently wishes for her own love story, and of course her fiancée. Things are supposed to work out for them. But when Brigit discovers an unsettling secret about Blake, she questions everything she's ever believed about love, and wonders if she's not better off alone.
Book Links:

Meet the Author: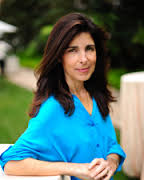 Anita Hughes was born in Sydney, Australia and attended UC Berkeley's Masters in Creative Writing program. She is the author of ISLAND IN THE SEA, ROME IN LOVE, FRENCH COAST, LAKE COMO, MARKET STREET, and MONARCH BEACH. She lives with her family in Dana Point, CA, where she is at work on her next novel.
Website | Facebook | Twitter |