Today it is my pleasure to Welcome romance author
Sarah Mayberry
to HJ!

 Hi Sarah, welcome 🙂
If you were written about in the newspaper, on the front page what would the headline say? Why?
Can a book about a woman who can't climax be sexy? Hell, yeah. Satisfaction is both a sensual and an emotional journey, and while there is plenty of the hot stuff, I hope there is also lots of emotional connection between Maggie and Rafel, too. These are two people who have sort of stumbled into each other's lives and they both have something that the other needs.
Would you rather…have 3 wishes in 10 years or 1 wish today? Why?
I think I would probably go for one wish today. I am an impulse shopper, an impulse eater and generally all about instant gratification. While the pay off in ten years time sounds wonderful…. I might get hit by a bus, right? And today is RIGHT NOW!!
Let's talk about your newest release: Satisfaction
If you had to summarize the book for the readers here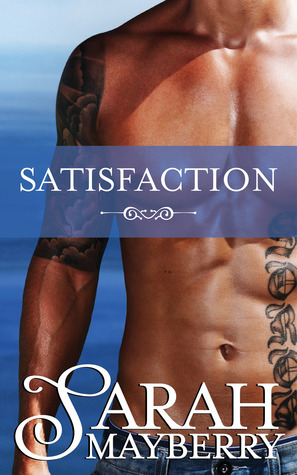 Maggie is a book shop owner who is perfectly happy with her life – except for one small thing. She can't orgasm. She's tried – a lot – over the years, but it just never seems to happen. She tells herself it's not a big deal, but the truth is she feels as though she's missing out, as though the whole world is on one side of a big glass wall and she is on the other side, looking in. When her friend tells her about an amazing one-off encounter she had with a sexy tattooist who just happens to work up the road from Maggie, Maggie hatches a plan. She will find this man, and she will sleep with him, and if he can't get her there with his mad bedroom skillz, then she will go talk to a doctor.
So Maggie the bookshop owner sets out to seduce Eduardo the Brazilian-Australian tattooist, not knowing that Eduardo has an identical twin… Things go wrong, naturally. Then they go very right. And then Maggie falls in love, and has no idea if Rafel feels the same….
Please tell us about the characters in your book?
Maggie is the only child of a single parent. She never knew her father, and she has a complicated relationship with her mother. When Maggie was 12, her mother was diagnosed with breast cancer. For the next five years, Maggie did her damnedest to support her mother in her battle to beat the odds. She cooked, she cleaned, she kept her problems to herself so that her mother could focus all her energy on getting well. As an adult, Maggie still has a tendency to try to control the world – and herself – thanks to this difficult time. But she's big hearted and funny, she loves Georgette Heyer, and she's courageous when she wants something.
Rafel is identical twin to Eduardo, the love god Maggie seeks out. A talented tattooist, he's also managed to build up a profitable property portfolio, driven by the need to never worry about where the next meal might come from, something that was an issue when he was younger. Rafel loves deeply, and he's still nursing the wound from his break up with Lena, the woman he thought was the love of his life. And then Maggie comes along and rocks his world and he realises that maybe he's much more ready to move on than he thought. He's hesitant about jumping into love again, though, having just gone through the pain of gluing his heart back together again. So what's he going to do? Walk away from the best thing that's happened to him in a long time because he's too scared to take a leap of faith…?
As you wrote your protagonist was there anything about them that surprised you?
Maggie surprised me a little. The more I got to know her, the more I realised that she's actually really tough. She's had to get through this gruelling time with her mother, and it's forged an emotional toughness within her that means she's very resilient and also brave. She's not necessarily aware of that, though, and it takes her some time to find her courage.
Rafel, on the other hand, is a bit of a wounded soul. On the outside, he's this buff, hot tattooed guy, but he feels things deeply. Love for him is a big deal, a soul-searing commitment. So in a way, Maggie and Rafel are the opposites on the inside to what they look like on the outside – she's soft and feminine, but strong emotionally, and Rafel is muscular and buff, but wounded.
What scene did you most enjoy writing? Why?
Oh, there are so many fun scenes in this book. I like this one, though, where Rafel and Maggie have broken up after having successfully achieved their share goal of getting Maggie there. Realising that she's falling in love with him, Maggie ended things to protect herself. So they haven't seen each other for a month, and Maggie is attending a local traders meeting that is boring her to tears:
Maggie leaned down to catch the strap of her handbag. As soon as the next person put their hand up to speak, she'd sneak out. She was vaguely aware of a latecomer taking a seat in the row behind her, but she was too busy watching for her opportunity to make a break for it too pay much attention.
Until she inhaled. Leather, sandalwood, amber. And something else, something that didn't come from a bottle. All the tiny hairs on the back of her neck stood on end. Her heart started to pound. Her palms became sweaty.
Calm down. You knew this would happen one day. You own businesses in the same shopping strip. It was inevitable. Just…play it cool. He doesn't know that you know he's here, so you can still sneak out and no one will be the wiser.
Except she didn't want to sneak out, not now that she knew Rafel was sitting somewhere behind her. How was that for perverse?
Had he sat there by accident? Did he realize that the blond woman in the row in front of him was her? Was the back of her head that distinctive?
She wanted to turn and look at him so badly her neck ached. She settled for picturing in her mind's eye how he would look—dark jeans, boots, a close-fitting T-shirt. His hair tousled, his jaw dark with beard scruff. Those green eyes of his warm with laughter.
She shifted in her chair, need starting an unruly, demanding throb between her thighs. Her breathing was shallow, and she couldn't focus on anything except the sense of him behind her.
"Did I miss anything?" the words were spoken near her ear, low and meant only for her.
She closed her eyes.
Oh God.
She took a deep breath and turned her head. He was leaning forward in his seat, which meant his face was barely inches from hers. The fabric of his jeans was tight across his thighs, his dark shirt straining at the top button. His hair was tousled, as she'd imagined, but his face was clean-shaven. She curled her hands to stop herself from reaching out to test the smoothness of his jaw.
"Nothing important. Unless you have a thing for Manchurian pears."
"Not these days," he said, his mouth kicking up at the corner. His gaze roamed her face, almost as though he was searching for something.
"Very civic-minded of you, attending the meeting," she whispered.
"I could say the same thing about you."
"Except I was about to sneak out."
His eyes dropped to her neck, then her breasts. "Were you? Manchurian pears not your thing, either?"
"I'm more of a Granny Smith girl."
He smiled fully, and the impact of it hit her in the gut. Suddenly, she was naked on his desk again, and he was pounding into her, coaxing her to her first climax ever.
"It was good seeing you." Her whole body was hot, and she was almost certain her face was flushed. "Enjoy the rest of the meeting."
She stood and scooted toward the end of the row, slipping into the aisle and making a beeline for the exit. She tried to tread lightly so as not to draw attention to herself, but she could hear the loud, steady tread of Rafel following in her footsteps, the sound of his boots echoing in the space.
Clearly, the man knew nothing about subtlety, a fact that thrilled her far more than was wise.
What scene was the hardest to write? Why?
The scene where Maggie decides to fight for her own happiness was a tough one. I wrote it three different ways, tweaked it, took characters out, put them back in, but in the end this is (some) of what I came up with:
By the time his car was gone, her throat was clogged with tears and she was shuddering with the force of her grief.
It isn't fair.
That was the single phrase that kept circling in her mind. It wasn't fair that she'd had only a handful of weeks with him. It wasn't fair that Lena had come back just when Maggie had started to trust the happiness she'd found with him.
She'd been waiting all her life to find a man who made her feel this good, a man who truly saw her and respected her and understood her. Rafel had charged into her life and shaken it from the foundation up. He'd made her confront fears and look at herself. He'd made her laugh.
God, he'd made her so fucking happy.
She paced in the hallway, one hand fisted against her sternum, a little afraid of how much her chest hurt. Not just an ache, but a physical pain so acute it felt as though someone was literally squeezing her heart.
She'd tried so hard not to fall in love with him. So hard. And yet here she was.
She'd told herself that it wasn't possible to feel something this profound, this life-changing so quickly, so easily. And yet here she was.
She'd tried to stay away from him, to forget him. And yet here she was.
Feeling lost in her own home, she wandered into the living room, then the kitchen. She found nothing there to comfort her. The dining table reminded her of the times they'd eaten together, and the nights he'd pushed the plates aside and fucked her till she screamed his name.
The bookshelf reminded her of the fact that he'd read Georgette Heyer because she'd told him she was her favorite author.
The sideboard held the flowers he'd brought her last week, a spray of Oriental lilies paired with vibrant spikes of green foliage.
She retreated to her bedroom, the tears slowing now, and began to peel off her swimsuit. There were more reminders of him in here, too. The bed where they'd given each other so much pleasure. The shower where he'd washed her with avid intensity.
Even her body was marked by him—a suck mark on her thigh, another on her breast, both legacies from Friday night.
Staring at her passion-marked body, a heartfelt plea rose up inside her: I don't want it to be over.
Who would you cast in the role of your characters if your book was optioned for a movie?
Maggie has pale blonde hair and big blue eyes. In my mind's eye, she looks a bit like Katherine Heigl, but with blue eyes. My hero is a little harder. Maybe a bit like Jim Caviezel, when he was younger. With green eyes!
If you could have given your characters one piece of advice before the opening pages of the book, what would it be and why?
I'd tell them both the same thing: Don't be afraid. Maggie is afraid of rejection, Rafel of loving and losing. But the pay off for both of them taking a risk is the kind of love that lasts a life time. Worth the risk, I think.
What are you currently working on? What other releases so you have planned for 2014?
I am currently working on a spring brides novella for Montana Born Books, an imprint of Tule Publishing, which was launched by best selling author Jane Porter last year. It's a pretty angsty story, and I can't wait for my heroine to get to the bit where she finds some happiness with the very hot hero. Almost a Bride is due out in April. I have a Super Romance due out with Harlequin in April, too. Her Kind of Trouble was such a fun, fun book to write – sexy, with two great characters who really get each other, but can't quite work out how to get it together. After that, I am hoping to get a sequel to Satisfaction out there – Anticipation will be Eduardo's story. And I have plans for the first in my Fitzgeralds Run series, which will be set around the Fitzgerald family and the vineyard they are hoping to salvage. And! If all of those ideas aren't enough, I'm also working on an anthology with Joan Kilby and Karina Bliss. It's going to be so much fun, I can't wait!
Thanks for blogging at HJ!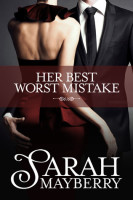 Giveaway:

I would like to give away 3 packs, each containing a copy of Satisfaction and Her Best Worst Mistake, as well as a $25 Amazon voucher.

This competition is open to all comers.
To enter Giveaway: Please complete the Rafflecopter form and Post a comment to this Q:

When Maggie hatches her plan to seduce Eduardo the sex god, she has to muster all her courage to do something that's essentially out of character for herself. What's the craziest, bravest thing you've ever done in your life?
Excerpt
He had dark brown hair, chiseled cheekbones and lips that looked strong. But it was his eyes that caught and held her—a cool, deep green framed by dark lashes, they were extraordinarily clear and bright and utterly compelling.
So much for Google—the photograph didn't even begin to do him justice.
"Good evening. Maggie, yes? Sorry to keep you waiting." His voice was mellow and smooth, with only the slightest of lilts to indicate he hadn't been born in Australia.
"Hi." She was vaguely aware of her handbag sliding out of her hand as her gaze dropped down his body.
Broad shoulders showcased by a fitted black tank top. A chest that was both lean and muscular. Flat belly. Narrow hips. Well-worn jeans that hugged long thighs. Scuffed work boots
She felt a little dizzy. The man was so hot he was practically a walking erogenous zone.
"You can put your bag over there, if you like," he said, indicating a stool in the corner opposite the sink. "Then we can talk about what you'd like me to do for you."
"Okay. All right."
She walked to the corner and dumped her bag, so staggered by his appeal that she completely forgot that she'd been about to leave five seconds ago. She returned to where he was waiting and simply stared at him, keen to take in more of his perfection.
His skin was lightly tanned, the burnished color making his tattoos pop—the exotic text running down the inside of his left arm, the half sleeve of mythical creatures cavorting amongst clouds on his right upper arm. Beneath the tattoos, his arms were sinewy with muscle, firm and powerful looking.
Never before in her life had she had such a strong urge to simply reach out and touch. His skin. His hair. The hard masculinity of him.
"So, Maggie. What are you thinking of for today?" Eduardo's gaze roamed over her face as he waited for her to respond, a small smile playing around his mouth.
Somehow she managed to prod her stunned brain into responding.
"I brought something with me. I got it off the Internet."
It was in her handbag, which necessitated another trip to the corner. With her back safely turned to Eduardo, she opened her handbag and extracted the page she'd printed at home. She caught sight of the strip of condoms she'd packed in preparation and automatically reached for one.
No way, the voice in her head said. No way are you going to go through with this.
But she was already tucking a condom into the lace at the top of her bra, at the mercy of a crazy kind of fatalism. She was here, after all, right? She'd gathered the gumption to put this plan in motion, scoring an early appointment against all odds, and Eduardo's sex-god credentials were clearly rock solid.
There was nothing to stop her from doing this. Nothing at all.
She returned to Eduardo for the second time, handing the sheet over. His forearm muscles rippled admirably as he took the paper from her, and she caught a waft of his aftershave, something with leather and amber notes that made her want more.
One perfect eyebrow arched skyward. "The Warner Brothers' Tasmanian Devil?"
He made it sound like a question, not a statement. As though he was checking that she was of sound mind and body.
"I've loved him since I was a kid."
It was the only image she'd been able to come up with that she had an enduring fondness for.
"Okay." His gaze swept down her body. "I'm going to go out on a limb and guess this is your first tattoo, yes?"
"That's right."
"And where were you thinking of having this little devil?" he asked.
She wasn't sure, but she thought maybe he was laughing at her behind his eyes. It should have been offensive, but somehow it wasn't.
It was sexy. But everything about this man was sexy.
The small hairs on the backs of his hands.
His earlobes.
The beautifully shaped arches of his nostrils.
"On my butt." She swiveled her hip and patted her upper-right butt cheek.
"And how big were you thinking you'd like the finished tattoo to be?"
She held her fingers an inch or two apart.
His eyebrow rose again. "That's quite small."
"Is that a problem?"
"No. Not at all."
"Good."
"I'll go sort out a transfer while you make yourself comfortable. I'll need you facedown . And you'll need to remove your underwear."
"Okay." Her throat was so tight with nervousness and excitement she could hardly get the word out.
He adjusted the chair, converting it into a table before leaving the room. She pressed a hand to her chest. Sure enough, her heart was pounding away like a jungle drum.
Book Info:
Maggie Hendricks loves her life. Great job, amazing friends. Everything just how she likes it. There's just one small problem. When it comes to sex, Maggie can't quite get there. No fireworks, no screaming orgasms. And while she tells herself she's fine with that, she can't help wanting more.
When her friend shares the intimate details of a one night only fling with an extremely talented lover, Maggie makes a desperate pact with herself. She will seduce this man and if he can't get her there…well, then she'll hand herself over to medical science. A simple enough plan. What could possibly go wrong?
Within minutes of meeting Rafel Oliveira, Maggie knows the answer to that one: plenty. Rafel turns out to be far more than simply talented in the bedroom. As he takes her on a journey toward the ultimate pleasure, Maggie finds herself craving a lot more than his beautiful body. But can she win the one thing that will leave her truly satisfied…his heart?
Book Links:
Author Bio
Sarah Mayberry was born in Melbourne, Australia and is the middle of three children. Before she was published, she worked as a magazine editor as well as a storyliner/story editor in both Australia and New Zealand. These days she splits her time between writing books and scripts. She has published more than 30 novels with Harlequin and firmly believes she has the best job on earth. Satisfaction is her second self-published work. She lives by the bay in Melbourne with her husband and a small furry dog called Max, and when she isn't writing enjoys reading, cooking, shoe shopping and spending time with her loved ones.
Website | Facebook | Twitter |