Today it is my pleasure to spotlight the release of 

SCANDALOUSLY YOURS 

by Cara Elliott

Proper young ladies of the ton-especially ones who have very small dowries-are not encouraged to have an interest in intellectual pursuits. Indeed, the only thing they are encouraged to pursue is an eligible bachelor. So, the headstrong Sloane sisters must keep their passions a secret. Ah, but secret passions are wont to lead a lady into trouble . . .

SCANDALOUSLY YOURS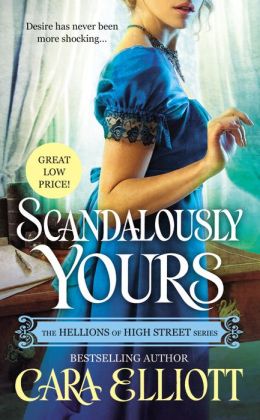 The eldest of the three Sloane sisters, Olivia is unafraid to question the boundaries of Society-even if it does frequently land her in trouble. Disdaining the glittery world of balls and courtship, Olivia prefers to spend her time writing fiery political essays under a pseudonym for London's leading newspaper. But when her columns attract the attention of the oh-so-proper Earl of Wrexham, Olivia suddenly finds herself dancing on the razor's edge of scandal. With the help of her sisters, she tries to stay one step ahead of trouble . . .

However, after a series of madcap misadventures, Wrexham, a former military hero who is fighting for social reform in Parliament, discovers Olivia's secret. To her surprise, he proposes a temporary alliance to help win passage of his bill. Passion flares between them, but when a political enemy kidnaps the earl's young son, they must make some dangerous decisions . . . and trust that love will conquer all.

Read an exclusive excerpt from Scandalously Yours:
Taking her hand, John slid into the figures of a waltz. He was humming, the soft notes in perfect harmony with the music of the night.
"That's lovely," she murmured after several bars. "What is it?"
"Beethoven's Sonata 'Quasi una fantasia.'" A silver shimmer winked over his smile. "Which is more popularly known as the Moonlight Sonata."
Moonlight. Firelight.
The tangled glow traced over the planes of his face, the flame-tipped lashes, the stubbled whiskers, the lean jaw. Silhouetted against the iron gray stone he looked like a wild Druid warrior. Dark. Dangerous.
Olivia felt the breath shiver in her throat. This was not the civilized, straitlaced earl of a London ballroom, but a far more primitive male.
A little frightening, but undeniably alluring.
He released her and suddenly shucked off his coat. Beneath the white linen of his shirt, the shadowy contours of his muscles rippled as he raised his arms in martial salute to the moon.
The Perfect Hero, limned in the magic of midnight.
Spellbound by the sight, Olivia blurted out, "Oh, Anna and Caro would find this all terribly romantic. They enjoy…"
"They enjoy what?" he asked after a slow, spinning turn around the red-gold flames.
"Oh, er, you know—those wildly emotional scenes one reads about in novels and poetry."
John remained strangely silent. Rather than resume his humming, he recaptured her hands, and for an interlude, the only sounds in the night were the crackling coals and their steps scuffing over the hardscrabble ground.
And the nightingales. The notes of a new song floated out from the dark, breeze-ruffled foliage of the trees.
"And you do not consider yourself romantic?" he finally asked.
Olivia shook her head. "Ye gods, no. I haven't a romantic bone in my body. My passions are purely pragmatic."
"I think you are very wrong. The essays you write are, at heart, powerfully romantic."
"Th-that's absurd. They—"
The touch of his fingertip stilled her lips. "They are romantic because they inspire us to think we can be better than we are. They give us hope that the future can be brighter."
The sudden warmth suffusing her cheeks was not from the burning branches, but rather from some inner glow.
They danced on. Olivia lost count of the steps and the minutes. Lost count of all the rational reasons to put an end to the whirling dervish dance of emotions inside her.
Stop. The inner word was lost in the echo of a myriad other longings. Throwing thought to the wind, she pulled away from John and peeled off her spencer jacket. It fell to the ground with a whispery sigh.
To her surprise, he laughed and suddenly stripped away his shirt and tossed it atop her crumpled spencer.
"You once said that waltzing was far too stilted and that we all ought to dance naked in the moonlight."
"I say a great many foolish things, Wrexham," said Olivia, watching the light lap over his sun-bronzed skin. I feel a great many foolish things.
"But you say far more wise things," he murmured. He came close—too close. "And by the by, you called me John the last time we were alone in London. I should like for you to do so now."
"I—it doesn't seem right. That was when we were…friends."
"We aren't friends now?" he questioned.
I don't know what we are, she thought. Perhaps there wasn't a word to describe it.
When she didn't answer, he took another step, and once again, she was in his arms. "I should hope we are, Olivia. I feel a special bond with you that I don't have with anyone else."
She lay her cheek on his shoulder. "How strange, I feel quite the same way. I mean, I am very close to my sisters, but this feels…different."
A low chuckle. "I should hope so. I would be a little worried if you wished to kiss your sisters."
"I shouldn't wish to kiss you, either, Wrexham.
"John," he corrected. "Why not?"
"Because…" A wave of longing crested inside her. Tipping her head up, Olivia stared at the stars, hoping to hide the pearls of moisture clinging to her lashes. "Because of a great many reasons."
"Such as?" he pressed.
"Corsets, to begin with," quipped Olivia, though her throat was painfully tight.
"Ah. Corsets." John twirled them in a tight circle. "I imagine they are deucedly uncomfortable things to wear."
If anything, his mood was even stranger than hers.
"Anything else?" he asked.
As if that wasn't enough? However, if he wished for more then she would humor him.
"Then let us move on to the rules of Polite Society. Do you wish a list of each and every one? As it is, we've already broken too many to enumerate."
"True." His voice was low and little rough around the edges. "But there are times when rules must yield to a more elemental force." And with that, he framed her face between his palms and possessed her mouth in a bruising kiss.

Excerpt © Reprinted by permission. All rights reserved.

Giveaway: 

2 Print copies of SCANDALOUSLY YOURS
To enter Giveaway: Please complete the Rafflecopter form and Post a comment to this Q: 

What did you think of the excerpt spotlighted here? Please leave a comment for the author with your thoughts and first impressions… 
Meet the Author: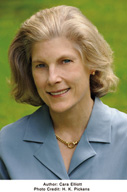 Cara Elliott started writing Western novels at the age of five. However, she traded in her cowboy boots for Regency high-top Hessians after reading Pride and Prejudice in junior high school and hasn't looked back. She graduated from Yale University, and she now lives and works in New York City.
Twitter, @CaraElliott
Facebook, http://www.facebook.com/cara.elliott71