Today it is my pleasure to Welcome romance author
Michele Renae
to HJ!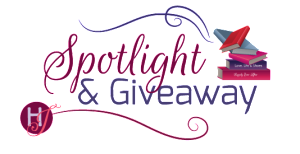 Hi Michele, welcome 🙂
Five things on your bucket list?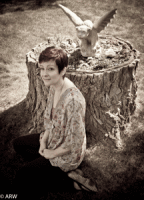 Buy an apartment on the Ile Saint Louis in Paris.
Learn how to make macarons.
Own a pair of Louboutins.
Learn to speak French.
Meet Jean-Hugues Anglade.
What can you tell us about your new series:
SCREEN is book #2 in the Paris Secrets trilogy. The first book was Window. The third book in the series is SKIN, and that is due out this fall. The series takes place in Paris and highlights a curiously unique relationship between a woman and a man who initially meet through their bedroom windows, across the street from one another. They take it beyond 'the glass' and move to cyber sex, and from there, well, will they meet or not?
Let's talk about your newest release: Screen
If you had to summarize the book for the readers here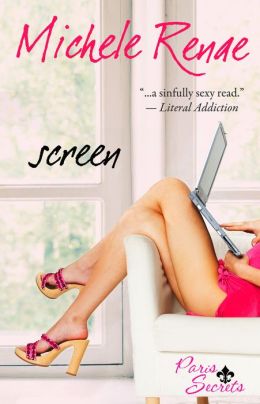 SCREEN moves beyond the window and onto the computer screen. Cyber sex is a strangely popular form of dating nowadays, and I wanted to explore that. The couple knows one another, having developed a trusting relationship through windows. Now, they've introduced voice and can actually talk to one another on the computer. How far can this curious relationship advance? Will she ever learn his name? And is there anything that could possibly be wrong with the man who looks like a god and seems so kind and sexy?
Please tell us about the characters in your book?
The story is told from the heroine's POV. She is eager to take their relationship to the next step and actually talk to Monsieur Sexy (the name she has christened him with) and learn more about him. But she's still a little reluctant to jump in completely. Cyber sex is a good middle ground for her to get to know him better. I like to think she's your average woman (who…happens to be able to afford a small apartment in Paris) who has wants, needs, and desires just like all of us. She can be a flake sometimes, and other times she is true to herself and really knows what she wants. She's like all of us, constantly changing and always learning.
The hero, Monsieur Sexy, is only seen through the heroine's eyes but we learn a lot about him in this installment of the trilogy. Could that be more than we really wanted to know? Hmm…
What scene did you most enjoy writing? Why?
The opening scene is my 'let's begin with a bang' scene. After WINDOW only featured the twosome across the street from one another, I wanted to give readers a peek into the couple should they ever come skin to skin with one another. So you get that right away. I hope I didn't disappoint!
Mmm… If I closed my eyes and pressed my back to the wall I could picture him standing before me now. Tall, broad-shouldered, and possessed of an innate charm; he could seduce without uttering a word. His fingers slid down the charcoal suit coat, unbuttoning one, then the next steel disk. Sky gray eyes mesmerized me. A knowing smirk curled into a smile.
The only thing on his mind was sex.
He strode toward me. I dropped my arms to my sides, my palms flattening against the wall. With an anticipatory inhale, my chest lifted, and my shoulders tilted forward. Aiming for him, wanting him to move faster, to make a connection.
To finally touch me.
He shrugged down the finely-pinstriped suit coat. Hooking a finger at the collar, he smoothed it in half lengthwise with his other hand in a well-polished move. A man of style and taste. He tossed it aside, landing the expensive coat across the back of the gray velvet chaise where I had spent many an afternoon daydreaming about him.
I hadn't made it as far as the chaise today. The daydream bombarded.
I shifted, palms still against the wall, but shoulders moving me closer, bending me forward so my silk shirt fell open to reveal cleavage, which was pushed up nicely by the demi-cup La Perla hug of black lace.
"Tell me what you want," he said in a deep, masculine purr that skittered through my system and directly to my core. "You want to fuck?"
I grew wet like that.
"I want you to touch me. I want to feel you. Finally. I want you to push me against the wall and—"
He seized my shoulders and pushed. My back hit the wall. Not painful, but rather, exciting. I bit my lip and flashed want at his stern but softening gaze. That curl of a knowing smile remained. I wanted to lick the dash of stubble under his lower lip. Feel its roughness against my soft mouth.
"You want a lot," he said.
What scene was the hardest to write? Why?
All I can say is 'the dressing room scene'. And I can't share a snippet because that would give away too much. It challenged the heroine in new ways sexually and mentally.
As you wrote your characters was there anything about them that surprised you?
I was surprised that the heroine was so willing to explore that part of herself that she'd often thought was more of an introvert.
The hero continues to surprise me with every chapter I write. That's all I can say about him. 😉
If you could have given your Characters one piece of advice before the opening pages of the book, what would it be?
To the heroine I might have suggested she NOT water the plants.
To the hero I would have told him not to mention the panties. Seriously, dude?
Who would you cast in the role of your characters if your book was optioned for a movie?
Well, I've got a Pinterest page for this story and it features photos of people who inspired me for the heroine and hero. I adore Luke Evans and can entirely imagine him staring at me through a window. 😉
What are you currently working on? What other releases so you have planned for 2013 into 2014?
I am currently working on SKIN. And guess what? I promise you'll get inside the hero's head for this story! That should come out later this fall.
And under my other name, Michele Hauf, I have out last month, THE VAMPIRE HUNTER. In September will be BEYOND THE MOON.
Thanks for blogging at HJ!
Giveaway:

I have a digital copy of SCREEN for one lucky winner. As well, one digital copy of WINDOW for another winner.
To enter Giveaway: Please complete the Rafflecopter form and Post a comment to this Q:

So the Paris Secrets trilogy is fun and flirty and unique for some readers who may not have read a lot of stories set only in the heroine's POV. What is the most unique story you have read lately that really worked for you, yet was surprising in the way the author changed things up from the usual?
Except
I sat there a long time, fluttering down from the dream. And then I remembered that though Monsieur Sexy was, in reality, far away, I had the power to bring him closer, as if reaching through the glass in a daydream.
I stood, tugged down my skirt, and wandered into the kitchen. My thighs were hot and slick. Parts of me still hummed softly from the orgasm. My face and breasts felt flushed. I love a good orgasm.
A red envelope sat on the table, tilted against a stack of research books. The books were about Henri VIII. The envelope was from my window lover. (Yes, you read that right. There really was a man in the window.) He'd left the note with the building concierge for me early this morning before getting in a cab and heading to the Charles de Gaulle airport to catch a flight to Berlin.
I didn't know his name. I'd never heard his voice (save in my dreams). I couldn't begin to describe how he smelled or even know if he had a favorite color or sports team. I wasn't sure how old he was (my guess placed him at early thirties). I couldn't know if he was a steak and potatoes kind of guy or a vegetarian.
I'd never felt his touch upon my skin.
And yet we had shared an amazing two weeks of window sex.
You may wonder, what the heck is window sex? It's two people standing in their adjacent bedrooms before floor-to-ceiling windows, self-pleasuring as they watch the other do the same. Sounds weird, but oh, it has been a ride I have not wanted to end.
Separated by two sheets of glass and fifteen feet of alley space, we'd occasionally communicated with a few words hastily scrawled with black sharpies on spiral notebook paper. But mostly we'd spoken with our eyes, our hands, and the flex and shift of our naked bodies.
I knew he was ripped, that he had a sense of humor, and that he liked chocolate cake. He taught fencing from his home, wore expensive suits and boxer briefs. I knew he wasn't circumcised. When erect, his penis was thick and a nice handful. He liked to jack-off. Hard.
And I knew that I could trust him.
We'd made rules. No names. If we should meet one another on the street, we'd turn and walk away. We'd followed those rules. And they had been tested.
And now a new test. He taught some kind of computer mumbo-jumbo online, and had, just this morning, flown to Berlin for two weeks. Business trip. I wasn't sure of his exact job title. And he knew only that I was a research assistant. Knowing more wasn't important at this stage in the relationship.
Now I must endure two weeks without seeing my window lover, whom I had christened "Monsieur Sexy". (I do live in Paris, and I did hope that he was French, though he always wrote me notes in English). Two weeks of wandering before my bedroom window and not seeing the light in his bedroom across the street. A light that had illuminated delicious scenes of skin, carnal lust, and pleasure.
While at work at the map shop today, I had muddled over what I would do with myself these next few weeks. Alone! Tragically abandoned by my lover. Our steamy relationship shoved to an abrupt halt.
Guess what? I have a tendency to think too much.
Around noon I'd gotten lost in a mental replay of our daring window antics. (Two customers all day; trust me, I'd had lots of time for mental wandering.) The first time I had bared my breasts to him. The first sight of his cock. Me using the vibrator while he jacked off.
By the time I'd punched out at five, I'd been horny enough to engage in a flirtatious exchange of glances with a blonde man in a business suit on the Métro. He'd clutched a leather valise and had paused from texting on his iPhone to wink at me. Thank goodness he'd gotten off at the first stop. I could flirt, but to actually follow through? Eek! I was more daring behind glass.
Anyway, the new test.
Before leaving, Monsieur Sexy had asked me (via a note scribbled with Sharpie) to Skype him. Innocent enough, right? He'd left his email address in the red envelope that now sat on the kitchen table. If I wanted to take our relationship to the next level all I had to do was open the envelope.
I was curious. Anxious. Eager. Frightened. Anticipatory. A jumble of nerves had me pacing before the window now. I glanced to the red envelope. Could I do it? We'd never spoken. And Skype would allow us to see one another much more closely than we had up until now.
I could handle that. I'd seen all of Monsieur Sexy, as he had of me. He'd watched me masturbate, and bring myself to orgasm with a vibrator, and I'd even done a silly strip tease for him while wearing mylar stripper pasties. The man—whose name I did not know—knew things about me that no one else did.
How's that for never having spoken a single word to one another?
The red envelope screamed with a loud, teasing silence. I turned away from its shout and hugged my arms across my chest.
I craved his touch. His arms around me. His cock inside me. I wanted to learn more about him. And yes, I did want to hear his voice. But I was a nervous wreck right now. It was a big step. I know, most people spoke to one another on their first date. It was sort of a requirement.
So I had done things a bit differently. Call me unconventional.
I picked up the envelope, weighing the thick stationery upon my palm. The paper had a rough grain and felt hand-crafted. It was crimson. The color of a deep, velvety rose petal. It also reminded me of lushly painted lips pursed in expectation of a kiss.
Oh, a kiss. More than anything, I desired his kiss.
A kiss would claim me. Secure our weird relationship in a new and startling hold. A kiss would breathe his world into me. A kiss from him would melt my insides and make me cream down my thighs.
A kiss would be the most raw and intimate means of communication we could share.
But because I'd gone about this relationship in such a backward manner, I had yet to feel the heat of his mouth against mine. I didn't know if his mouth would be firm and commanding, or if he preferred a lighter touch before thrusting his tongue against mine.
I wondered if he thought this much about me? Did he crave the feel of my skin beneath his fingers? Did he wonder how my lips would taste on his? Did he ever daydream about licking my pussy and listening to my moans as I begged him to never stop? When he grasped his cock and slid his fingers firmly and furiously up and down did he imagine thrusting inside me?
Book Info
Let's begin with a bang, shall we?
They began a daring affair a few weeks ago, baring skin, sensual secrets—their very souls—before their bedroom windows situated across the street from one another. Now they've taken it to the next level. The laptop screen has added sound to their intimate liaisons, and his voice, that delicious French accent, is oh, so sexy. His laughter teases good shivers across her skin. And his sensual commands seduces her deeper into a world of erotic play. Fantasies lure them into a new intimacy and a surprising trust that the two strangers who have never touched welcome.
Yet frustrations grow as she pines for his touch. They must meet. Soon. But a secret is revealed that will challenge their desires and the trust both have earned.
Return to the heroine's Parisian apartment as she continues her relationship with Monsieur Sexy and they explore the delicious intricacies of cyber-sex. Book #2 in the Paris Secrets trilogy is available February 11th.
Book Links:
Author Bio
An author of over 50 stories in the fantasy, action/adventure, historical and paranormal
romance genres, now writes erotica as Michele Renae.
Michele is good at daydreaming, kitty wrangling, navigating Paris from memory, and locating parking spots close to the front door. She is not so good at making bath bombs, being patient in line at the Post Office, and reading only one book at a time.
Website | Facebook | Twitter |