Today it is my pleasure to Welcome NYT Bestselling author
Jennifer Probst
to HJ!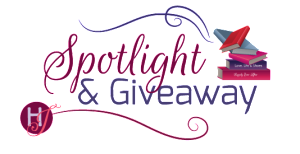 Hi Jennifer and welcome to HJ! We're so excited to chat with you about your new release, Searching for Always!

I'm so thrilled to be here thank you so much for having me today!

Tell us about the book with this fun little challenge using the title of the book: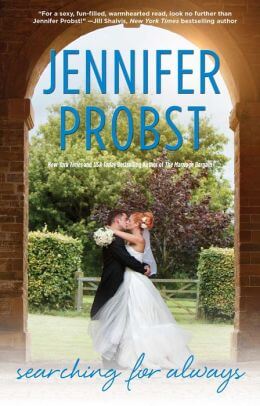 Searching for Always – A is for Arilyn, l is for love, W is for willpower, a is for attitude, y is for YES and s is for SEX!!
Please share the opening lines of this book:
OFFICER STONE PETTY was having a shit day.

It started with some type of brownout that killed his alarm and made him late.

He despised tardiness in all forms and enjoyed a morning routine that set him up for the day.
Please tell us a little about the characters in your book.
Officer Stone Petty is a cop. He's a bad ass, cynical, sarcastic, workaholic, and has anger issues. Arilyn is a yoga teacher, matchmaker, generous, kind charitable person who had her heart broken and is now majorally pissed off at life. Stone Petty is mandated to attend anger management classes where Arilyn is the teacher. They don't like each other – are complete opposites – and sparks fly whenever they are around each other. Get prepared for some fun!
Please share a few Fun facts about this book…
It features a rescue dog and a beloved character introduced in Searching for Someday. IT's a standalone so readers can jump in and read the rest of the series at their leisure. It contains tons of banter, hot sex, hysterical moments, and a journey to love that is well fought and well deserved. It features a wedding where characters from my marriage to a billionaire series have a walk on scene!
What first attracts your Hero to the Heroine and vice versa?
Their banter and wit. They have an intense sexual attraction that's masked in witty dialogue the reader will fall in love with. Stone is attracted to her physically but it's her brain and heart that's the real turn on. Same with Arilyn.
The First Kiss…
LOVED writing the first kiss scene. Here's a taste…
"I have a proposition," he drawled. "One kiss. Let's

prove to each other we'd be a disaster together."

"I don't need a kiss to confirm you'd be a nightmare

to deal with," she shot back. "You're an exsmoker,

workaholic, anger-ridden, meat eater cynic."

His fingers moved to caress her cheek, the line of

her jaw, up to her temple. Little brushes of tenderness,

contradicting the raw strength and power in those

hands and body. Ready to crush her but choosing gentleness.

The lust rolled over her in waves, and she

fought back with all her power.

"And you're a tree-hugging, naïve, post-world hippie

with a God complex," he retorted. "Vegetarian, to

boot. Plus a hardened criminal."

Arilyn growled under her breath and dug her nails

into his shoulders with fierceness. "You know nothing

about me, Officer! I am not naïve."

"Stone. Now shut up."

His mouth took hers.

She planned to fight back and give him everything

she got.

And she did, but not in the way she planned.

The moment those blistering-hot, soft lips met

hers, she lost it. Swamped by the delicious scent and

taste and feel of him, she arched upward and opened

her mouth for more. He muttered something dark and

dirty, and slid his tongue past her parted lips and beyond.

Then he showed her who was boss.

Oh, he kissed her with all the hard passion and lust

she always dreamed about but never inspired. With

her past lovers, she got tender, slow lovemaking, and

poetic words murmured in her ear.
If your book was optioned for a movie, what scene would you use for the audition of the main characters and why?
def the first intimate scene where they banter!
"That's outrageous," she finally managed to respond.

"Archaic!"

"And needed for a little brat with a God complex.

You think because you meditate and eat from the

earth and bend your body like a pretzel, you're the

only one with morals? I'd never blackmail you or lie

to my boss. I'll finish every one of your ridiculous

classes and prove your techniques don't work."

"I don't think like that! And my classes aren't ridiculous.

I'll prove they work by the time you finish

the course."

"I'm tired of hearing about how beneficial anger

management is. I want to talk about a more important

subject."

"Pinky?"

"No. I wanna talk about sex."

She shook in his grip. There was nowhere to run,

nowhere to hide, and damned if she hadn't lost her

ability to tell him to move out of her space.

Because she didn't want to. A strange heat loosened

her muscles and made her sluggish. Her belly

tightened. Her panties dampened. Oh, she'd been

turned on before and was no stranger to arousal, but

this was different. With other men, she chose. With

him, it was as if her mind disengaged from her body

for the very first time and she had no control.

The words shot like a bullet and made her jerk.

Those cruel lips tipped downward in a sneer. "Let's

talk about this attraction we have for each other and

what we're gonna do about it."

Arilyn was way past yoga breathing and now tried

to gulp for air. "Nothing. We do nothing. There is no

attraction, and you've proved your point. I bow to

your testosterone need to control all situations. "

He leaned in. The crisscross scar hooked into his

brow. Even his eyebrows were strong looking. Full

and dark like his midnight hair, which was free from

his usual ball cap and spilled all messy and sexy

around his ears and forehead. Individually, his features

weren't remarkable. His nose hooked to the left,

a sure sign of past fights. His cheekbones were high.

Jaw square. Skin on the fair kind. But together? He

was devastating—the Black Irish look that made

women weak in the knees, on the edge of civilized,

yet not. Would his goatee be rough and scratchy, or

silky smooth if she touched it? And why did his lips

look soft, when his features were chiseled from stone?

"Damn, you're hot. Too bad you're also a pain in

the ass and completely wrong for me."

She bared her teeth, more comfortable with the

punch of anger that flooded her system. "Good, because

it'd be a cold day in hell before I'd pick you as

a boyfriend."

"How about a lover?" His breath rushed warm

over her lips.

She opened her mouth to tell him this little scene

was now over. Instead, the denial tumbled from her

lips. "You're my student. We need to keep the boundaries

appropriate."

His thumb brushed her lips, as gentle and light as

a feather stroke. "That's just an excuse and you know

it. You're not my official therapist. There's no hardand-

fast rules about a six-week course."

She stumbled over her next denial. "I don't want

a lover. I need three months to cleanse properly from

my last relationship."

"What if I can help?"

She managed to snort. "Oh, I know how you want

to help."
If your hero had a sexy-times play list, what song(s) would have to be on it?
Hahah great question! I always have a playlist for my books loaded on Spotify but if Stone had his own theme song, I guess he'd be playing some old school R&B music like Marvin Gaye. Stone wouldn't think too much of seductive music – he doesn't need props…
If you could have given your characters one piece of advice before the opening pages of the book, what – would it be and why?
No need to fight so hard. The moment they gave up and surrendered to their emotions, everything began to fall into place.
What are you currently working on? What other releases do you have planned for 2015?
I'm working on the first in a brand new series about three hot contractor brothers! It's called Everywhere and Every Way and the title series is the Billionaire Builders series. Think HGTV, Property Brothers and The Marriage Bargain all rolled into one! My next release is august 4th with a novella called Summer Sins – a very hot new adult in the Hot in the Hampton series.

Thanks for blogging at HJ!
Giveaway:

SIGNED paperback of Searching for Beautiful – US only
To enter Giveaway: Please complete the Rafflecopter form and Post a comment to this Q:

What are your favorite type of tropes? Friends to lovers, enemies to lovers, marriage of convenience, secret baby?
Excerpt from Searching for Always:
Her teeth pulled at her lower lip. Her breath made

a catchy little moan, and when she finally spoke, her

voice came out husky, like she'd spent the night in his

bed screaming his name and had nothing left. "What

are you doing here?"

"Gen said you wanted to talk to me."

She blinked. "No. I didn't even know you were

here."

"I think I was set up. They think I'm a stripper."

A giggle escaped her lips. Fascinated, he wanted

to hear the sound again. She hiccupped. "Kennedy

hired a cop stripper. Kate freaked and begged me to

take her place." Her head tipped up to look at him.

"I'm her wing woman," she said proudly.

Damn, she was adorable. "So you're gonna take

the stripper on for the sake of your friend?"

Her eyes heated, roving over him like a hungry

she-lion. "Yeah. I am."

Stone ached all over. He'd give over a damn appendage

just to touch her right now. "You're a good

friend. I kinda wish I was the stripper right now."

Her tongue snaked out and wet her bottom lip.

Those eyes heated and took in his uniform with more

than a hint of lust. His dick wept. "You look like a

stripper," she whispered.

He moved closer. "You think?"

"Yeah."

The women roared their frustration, begging him

to do something. The blonde looked like she was

about to start ripping off his clothes herself for giving

her a bad deal. Nothing mattered except the woman

in front of him who tortured his body and mind on a

daily basis.

"What should I do?"

She reached over, placed her hands on his face,

and dragged his head forward. Her breath rushed in

his ear.

"Take it off."

He growled low, ready to grab her, toss her on his

shoulder, and take her to bed. Oh, she was brave with

the alcohol and her friends and wanted to play now,

huh? Did she have any idea he was a master?

"Be careful what you wish for," he warned. "Payback

is a bitch, little one."

She had the nerve to nip at his earlobe and touch

her tongue to the inner shell of his ear. He hissed in

agony, and she pulled back a few inches. Smiled. "So

you've said before. Unless you're all talk and no action?"

He wasted no more time. She squealed as he

tossed her over his shoulder, his hand on the gorgeous

curve of her behind, and dumped her right into the

chair.

The women screamed with encouragement. He

blocked her escape by standing right in front of her,

so her gaze was in line with his rapidly growing erection.

The music rolled out its sexy rhythm, and Stone

decided to teach her a lesson of a lifetime.

He began to take it all off.
Excerpts. © Reprinted by permission. All rights reserved.

Book Info:
She's an expert in helping others de-stress, but Arilyn Meadows is running on fumes. Along with her job counseling singles seeking soul mates at the Kinnections agency in Verily, New York, she's a yoga teacher, animal shelter volunteer, anger management therapist, and helping hand to her beloved grandfather. No time to find Mr. Right—but after discovering her yogi boyfriend in a compromising asana, Arilyn would rather dog-sit for her honeymooning friend Kate than risk her heart on another downward dog. And when police officer Stone Petty—radiating masculinity and bad-boy attitude—is sent to her for mandatory lessons in cooling off when the job gets too hot, Arilyn vows to ignore his seductive glances and sexy grin. But there's no halting their sizzling flirtation—a red-hot, high-speed chase that's breaking all the limits.
Book Links:
Meet the Author: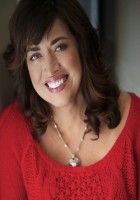 Jennifer Probst wrote her first book at twelve years old. She bound it in a folder, read it to her classmates, and hasn't stopped writing since. She took a short hiatus to get married, get pregnant, buy a house, get pregnant again, pursue a master's in English Literature, and rescue two shelter dogs. Now she is writing again.
She makes her home in Upstate New York with the whole crew. Her sons keep her active, stressed, joyous, and sad her house will never be truly clean.
She is the New York Times, USA Today, and Wall Street Journal bestselling author of sexy and erotic contemporary romance. She was thrilled her book, The Marriage Bargain, was ranked #6 on Amazon's Best Books for 2012, and spent 26 weeks on the New York Times. Her work has been translated in over a dozen countries, sold over a million copies, and was dubbed a "romance phenom" by Kirkus Reviews.
She loves hearing from readers. Visit her website for updates on new releases and her street team at www.jenniferprobst.com.
Sign up for her newsletter at www.jenniferprobst.com/newsletter for a chance to win a gift card each month and receive exclusive material and giveaways.
Website | Facebook | Twitter |