Today it is my pleasure to Welcome romance author
Barbara Hannay
to HJ!

Hi Barbara, welcome back to HJ!
What is your favorite trope to read, one you will never get tired of?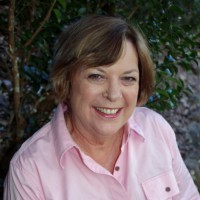 I must admit I hardly ever write them, but love to read about bad boys.
Let's talk about your newest release: Second Chance with Her Soldier
If you had to summarize the book for the readers here
A soldier returning home from Afghanistan must now sign his final divorce papers, but when he's marooned by flood waters over Christmas, he and his wife have one last chance to save their marriage.
Please tell us about the characters in your book?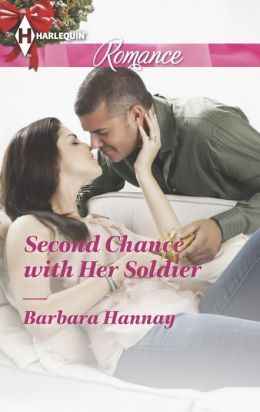 The hero, Joe Madden, has been toughing it out as a soldier, trying to ignore the wreck of his private life. Now that he's home again, he must face the reality that his love for his wife and little son is as strong as ever.
Ellie, the heroine, has been equally tough, coping with a series of infertility problems, and then running their cattle property single-handed after Joe leaves to join the army.
When the floods force them together at Christmas, their attraction is as strong as ever, but before they can resolve their other issues, they have to talk, really talk… and it's time for Ellie to reveal a dark secret that has haunted her throughout their marriage.
Was it love at first sight for your characters? If not what was the pivotal moment of change?
Yes, it was love at first sight… which was part of the reason they later had doubts. They now fear that perhaps it had all happened too quickly.
If your characters could go back in time and change one thing what would it be? Why?
They would change the impulsive night that led to the first pregnancy and rushed marriage…
What scene did you have the most fun writing? Why?
Well, the first kiss was fun… There's been such a long build up…
All Ellie could think about was crossing that space, rushing into Joe's arms and sealing her lips to his. Winding her limbs around his tree trunk body. Kissing him senseless.
Say something, Joe. Break the spell.
He didn't move, didn't speak, and something inside Ellie – most probably her willpower – snapped.
She flew across the carpet.
'I'm sorry,' she murmured half a second before her lips locked with his.
But Joe wasn't looking for an apology, not if the hungry way he returned her kiss was any guide. He pulled her close, held her close, keeping her exactly where he wanted her, hard against him in all the right places, while his lips and tongue worked his dazzling, dizzying magic.
He tasted of Christmas and champagne and all kinds of happiness, and Ellie was swooning at the long remembered taste and smell and intensely masculine feel of him.
Her knees gave way, but fortunately, her hands linked behind his neck provided a timely, but necessary anchor.
What scene was the hardest to write? Why?
I always find endings hard — because everyone knows how romances end, so I'm always striving to make each ending different and unique to the characters…
Wasn't it time for courage at last?
Speaking to Joe was the first step.
Her legs were unsteady as she moved forward, her bare feet silent on the verandah floorboards.
'Joe?' she said softly.
His head jerked up. Instantly, he glared at her. 'What the hell's going on, Ellie?'
'Joe, I'm so sorry.'
Already he'd sprung to his feet, as agile as a panther. But his face was white in the moonlight. 'What's got into you?' He threw up his hands. 'What was that all about in there?'
'I'm sorry. It wasn't a reaction to you, Joe. Please believe me. I didn't know it was you.'
His scowl was derisive. 'Who else would it be, for God's sake? You saw me. I was standing right in front of you and you kept screaming. I'm your husband, damn it, not an axe murderer. I thought –'
How did your character spend the week just before the story starts?
Joe was still in Afghanistan, finishing up his final deployment, but trying not to think too much about home. Ellie was working hard on their cattle property, trying not to dwell on Joe's return.
Who would you cast in the role of your characters if your book was optioned for a movie?
Sam Worthington and Rose Byrne.
What are you currently working on? What other releases so you have planned for 2013 into 2014?
I'm currently between books! Yay! But I've just handed in a single title for Penguin called The Forgotten Homestead. This will be released in July 2014 and combines a contemporary romance with a WW2 romance. It was a great thrill to write this!After Christmas I will be diving into a Boss, Baby, Secretary story for Harlequin Romance.
Thanks for blogging at HJ!
Giveaway:

A signed copy of Second Chance With Her Soldier
To enter Giveaway: Please complete the Rafflecopter form and Post a comment to this Q:

This flood-bound Christmas was potentially a disaster for Joe and Ellie. I hope yours is much happier. How do you plan to spend the holidays this year?
Except
'Ellie, it's Mum. Do you have the television on?'
'Television?' Ellie's response was incredulous. 'Mum, I've just come in from the paddocks. Our dams are drying out. I've been wrestling with a bogged cow all afternoon and I'm covered in mud. Why? What's on TV?' The only show that interested Ellie these days was the weather.
'I just saw Joe,' her mother said.
Ellie gasped. 'On TV?'
'Yes, darling. On the news.'
'He – he hasn't been hurt?'
'No, no, he's fine.' There was a dismissive note in her mother's voice, a familiar reminder that she'd never approved of her daughter's choice of husband and that, eventually, she'd been proved right. 'You know he's home for good this time?'
'He's already back in Australia?'
'Yes, Ellie. His regiment or squadron or whatever it's called has just landed in Sydney. I caught it on the early news, and there was a glimpse of Joe. Only a few seconds, mind you, but it was definitely him. And the reporter's saying these troops won't be going back to Afghanistan. I thought you should know.'
'OK… thanks.' Ellie pressed a hand to her chest, caught out by the unexpected thud of her heart.
'You might be able to catch the story on one of the other channels.'
'Yes… yes, I guess.'
Ellie was trembling as she hung up. Of course she'd heard the news reports about a staged withdrawal of Australian troops, but it was still a shock to know that Joe was already home. For good this time.
As a commando Jo had been on dozens of short term missions to Afghanistan, returning each time to his army base down in New South Wales. But now he wouldn't be going back.
And yet, he hadn't made any kind of contact.
It showed how very far apart they'd drifted.
Almost fearfully, Ellie glanced at the silent blank TV screen in the corner of the homestead lounge room. She didn't really have time to turn it on. She was disgustingly muddy after her tussle in the dam with the bogged cow and she needed to get out of these stinking clothes. She wasn't even sure why she'd rushed inside to answer the phone in this filthy state, but some instinct had sent her running.
She should get changed and showered before she did anything else. She wouldn't even look for Nina and Jacko until she was clean.
But even as she told herself what she should do, Ellie picked up the remote. More than one channel would cover the return.
It took a few seconds of scrolling before she found a scene at Mascot airport and a journalist's voiceover reporting an emotional welcome for the returning troops.
The screen showed the airport crowded with soldiers in uniform, hugging their wives and lifting their children high, their tanned, lean faces lit by unmistakable excitement and emotion.
Tears and happy smiles abounded. A grinning young man was awkwardly holding a tiny baby. A little girl hugged her daddy's khaki clad knee, trying to catch his attention while he kissed her mother.
Ellie's throat ached. The scene was crammed with images of family joy. Tears prickled her eyes and she wondered where Joe was.
And then she saw him.
The man who would soon be her ex.
At the back of the crowd. Grim faced. He was skirting the scenes of elated families, as if he was trying to keep out of camera range while he made his way purposefully to the exit.
He looked so alone.
With his green Commando's beret set rakishly on his short dark hair, Joe looked so tall and soldierly. Handsome, of course. But compared with his laughing, happy comrades, he also looked very severe. And so very alone.
Ellie's mouth twisted out of shape. Tears spilled. She didn't know why – she simply couldn't help it.
Then the camera shifted to a politician who'd arrived to welcome the troops.
Quickly, she snapped the remote and the images vanished.
She let out her breath in a despairing huff. She felt shaken at seeing Joe again after so long. To her dismay, it had been more like a horse kick to her heart.
She drew a deeper, calming breath, knowing she had to set unhelpful sentimentality aside. She'd been braced for Joe's return and she'd known what was required.
Their divorce would be finalised now and it was time to be sensible and stoic. She knew very well there was no prospect of a happy reunion. She and Joe had made each other too miserable for too long. If she was honest, she wasn't surprised that Joe hadn't bothered to tell her his deployment was over. She didn't mind really.
But she did mind that he hadn't even asked to see Jacko.
Book Info:
One last chance?
Returning from the front line, Corporal Joe Madden clutches his divorce papers. After a series of heart-breaking fertility problems, his once perfect marriage is facing the final curtain.
It may be three years since Ellie saw her husband, yet his power to make her heart race is just as strong. But he's only passing through and all that's needed is a signature…
Until the rains fall on Karinya Station and there is nowhere to escape. Could a Christmas peace treaty and a magical few days bring the sparkle back into their marriage?
Author Bio
Multi award winning author, Barbara Hannay, is a city bred girl with a yen for country life. Most of her 40 plus books are set in rural and outback Australia and they've been enjoyed by readers around the world.
In her own version of life imitating art, Barbara and her husband currently live on a misty hillside in beautiful Far North Queensland where they keep heritage pigs, hens, ducks, turkeys and an untidy but productive garden.
Zoe's Muster (Penguin Australia) was a finalist in the Romance Writer's of America's RITA® award. Barbara has finalled six times for this award which she won in 2007.
Website | Facebook | Twitter |