Seduced by the Game A Contemporary Sports Romance Anthology 
This anthology of 8 brand new novellas is hot enough to melt the ice these players skate on.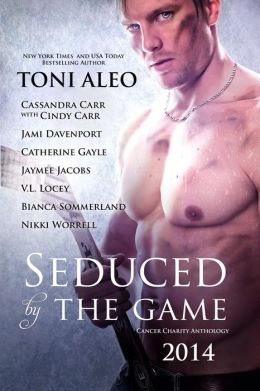 It's time to drop the gloves and fight!
Support the Fight against cancer that is.
Featuring stories from popular New York Times & USA Today, Amazon, and Barnes & Noble bestselling authors, including Toni Aleo, Cassandra Carr, Cindy Carr, Jami Davenport, Catherine Gayle, Jaymee Jacobs, V.L. Locey, Bianca Sommerland, and Nikki Worrell.
Excerpt from Tangled in the Laces by Toni Aleo
"So you're Grady's sister, right? Younger sister?"
She nodded as he got lost in depths of her green eyes. "Yes, I may be younger, but I can still make him cry."
Karson laughed. "Good to know and, if I may add, that's kind of hot."
He wanted to make her laugh. When her lips curved in a smile, the laughter followed, and his dick came to life in his pants. It was such a heavenly sound, and he had never wanted to make a girl laugh as much as he wanted to make Lacey.
"You're a dork." "That's a good thing, right? That turns you on?"
She laughed again as she shook her head. Looking at him through hooded eyes, she said, "Maybe."
"Good to know. It was great to see that you came to watch me play tonight. I'm pretty good, huh?"
She laughed, rolling her eyes. "Wow, conceited much?"
Karson grinned. "I know what I saw."
"You're delusional. I came to watch my brother."
Still grinning, he said, "But you watched me."
"You were on the ice; I was watching the game," she protested, but he shook his head.
"Your eyes never left me."
"How do you know?" she asked with an amused look.
"Because when I wasn't trying to score, I was watching you."
Her cheeks deepened with color as she looked down, playing with the label on the beer. "I'm not sleeping with you; you're wasting your time throwing all this game at me."
He was a goner. This girl was it. Any other girl would have fallen for his game, but not Lacey Martin.
Smiling, he said, "Who said anything about sleeping together? Are you thinking about having sex with me?"
Her cheeks colored more before she looked away, laughing louder, making him think that maybe she was. He liked that. A lot. "Oh my God, shut up!"
"I never once brought up sex, and you did."
"Whatever," she said, a grin still pulling her lips.
"You are really beautiful when you do that. I like that half smile thing. Really hot."
Meeting his gaze, her smile fell as she looked away, shaking her head. "You're wasting your time."
"Let me be the one to decide that, and aren't you supposed to thank me? I did just say you are the hottest girl in the world."
Her cheeks still burned with color as she nodded. "Thank you."
"You're welcome."
Excerpt from Crashing the Boards by Jami Davenport
Party crashing was an art—if done right.
Isabella Maxwell should know. She'd been crashing parties for years, at first to get a decent meal and later—much later—as a part-time profession with her three younger sisters. She'd never crashed a party she didn't take from dud to memorable in minutes.
Tonight she might have met her match.
She'd done her research and knew the obstacles and challenges, but nothing prepared her for the scene awaiting her on the party deck of the Washington Queen, a local tour boat rented by the Seattle Sockeyes hockey team for an evening dinner cruise around Elliott Bay.
As security checked invitations at the door, Izzy snuck past them and peeked in the doorway, scoping out the scene inside—DJ in the corner, empty dance floor complete with mirror ball and flashing lights, not a dancer anywhere. Hockey players were slouched in chairs clumped around tables, reminding her of pimply faced preteens at a junior high dance. Only these boys weren't preteens or pimply faced. They were a formidable wall of broad chests, muscular thighs, and determined expressions. Each one mirroring the other, but she'd done her research. There was one man she needed to win over to salvage this party, and he hadn't arrived yet.
Her sisters had already boarded the boat, managing to sneak past security, every one of them dressed to kill or at least to charm a professional hockey team, Bethany in her plunging Vera Wang gown and deadly high heels. Emma and Avery, the youngest at twenty-one and identical twins, looked every bit like giddy hockey groupies who'd managed to snag an invite to the party. Standing near the buffet table, they giggled and whispered as they stole glances at the players. Several players stared right back. Nearby, Bethany engaged the team play-by-play announcer in conversation, while he stared at her boobs, but men always stared at Bethany's boobs.
The stage was set.
Time to get this party started. The Sockeyes were going to have the time of their lives if she had to threaten bodily harm with their own hockey sticks.
"Ma'am, I need to see your invitation." A security guard with a receding hairline, the waist of his polyester pants pulled up to his armpits, and a determined set to his skinny jaw, stepped in front of her before she could enter through the double doors.
"Oh, that." Izzy made a show of digging through her saddlebag of a purse, not exactly in keeping with her little black sheath, but it served its purpose. "I know it's in here somewhere."
The security guard wasn't the least bit impressed. He tapped his toe on the floor and took a ready stance as if he expected her to run any moment. Just what she needed, a SWAT team wannabe. She batted her eyes at him and continued to dig in her purse.
"I'm sorry. I know it's here somewhere."
"Ma'am, you'll need to leave the boat until you can find it."
She laughed and rubbed one perfectly manicured finger across his name tag. "Now, Carl, you just hold on one teensy bit. We'll get this straightened out." Izzy slipped into her fake Southern drawl; it brought most men to their knees.
Not Carl. In fact, not one hair quivered on his mustache. "My orders are strict. No one, not even the governor, gets in without an invite." He wrapped scrawny fingers around her arm and pulled her none too gently from the doorway. He might look like a wimp but the guy was surprisingly strong.
No matter. She'd switch to Plan B.
"My boyfriend will be here any moment. He must have the tickets."
As if on cue, her target for the night walked up the ramp and onto the boat. Cooper Black. The captain of the newly christened Seattle Sockeyes, and the most outspoken man on the team especially when it came to the team's move and current situation, which he hated—the very man Izzy needed to tame tonight for this situation to turn around.
Judging by the stubborn set of his jaw and those steely blue eyes, this wasn't going to be easy.
Giveaway :

Two Digital Copies of SEDUCED BY THE GAME
To enter Giveaway: Please complete the Rafflecopter form and Post a comment to this Q: 

What did you think of the excerpts spotlighted here? Please leave a comment for the authors on your thoughts about this Anthology.
About The book: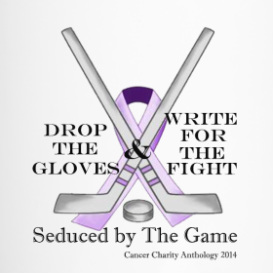 TANGLED IN THE LACES By New York Times and USA Today Bestselling Author – Toni Aleo
In Tangled in the Laces, Karson King is on the fast track to the pros and Lacey Martin is coming back from a hard fight against cancer and is terrified of him but their love is too much to ignore. Will Karson prove that he will protect her heart at all costs, or will he leave Lacey to pick up the pieces of her life once again?
HOOKING HANNAH By Cassandra Carr and Cindy Carr
When Hannah attends an all-star game, she doesn't expect a hockey player of all people to turn her world upside down. Her sister is married to a player and Hannah never wanted that life. But Scott could change everything. For Scott's part, he has to know the woman who stirred his blood with just a look, and once he does, he realizes he wants Hannah to be his forever. Now to convince her…
CRASHING THE BOARDS (Seattle Sockeyes 1.5) By Jami Davenport
Professional party crasher, Izzy Maxwell, needs the cooperation of reluctant party guest Cooper Black, the team captain of Seattle's new hockey team, but Cooper can't get past his anger over the team's relocation to Seattle. Can Izzy melt Cooper's frozen heart or will this party crash along with her fledgling business?
TAKING A SHOT (Portland Storm 2.5) By Catherine Gayle
Katie Weber has had a crush on Jamie Babcock for almost two years, since he joined her father's hockey team, the Portland Storm as an eighteen-year-old rookie. When cancer takes her health, her hair, and even her friends, she can't bear to go to senior prom…until Jamie intervenes.
A VALUABLE TRADE By Jaymee Jacobs
Bryan's life gets turned upside down when he gets traded to the Dallas Comets, and things get even messier when he meets Georgiana, the Director of Team Services. He's got a lot of work to do to prove his worth to his new team, but Georgiana's sure he'll prove to be a valuable trade.
HEIR APPARENT By V.L. Locey
Superstar Cam Evans is fighting to climb out of a slump that`s growing worse with each day of living in denial. Fresh from the minors, Jacobi Neal is hungry for this chance to play back-up for the legendary goalie. Can two men battle each other, their inner demons, and the sizzling attraction building between them?
BLIND PASS (The Dartmouth Cobras 0.5) By Bianca Sommerland
Nothing could stop Tim Rowe, the assistant coach of the Dartmouth Cobras, from falling in love with Madeline, but love alone can't satisfy every need. Sometimes, to reach the goal, you have to take the chance with a . . . Blind Pass.
CAPTAIN, MY CAPTAIN (Prequel to Scorpions Series) By Nikki Worrell
Keith Lambert is the captain of the Flyers—until he's not. To everyone's shock, he's traded to the San Diego Scorpions. As if that's not bad enough, Phoebe, his girlfriend of two years, decides she doesn't love him enough to follow.
All alone in a new town, Keith is drawn to Kelly, his take out delivery girl. When she shows up at ice girl tryouts, he's lost. She's all he can see. Can he convince her to forget her past and take a chance on him or is he destined to be alone in a new town a little bit longer?
**Proud Supporters of Hockey Fights Cancer