Today it is my pleasure to spotlight the release of

Shattered Duty

by Katie Reus

Will he choose revenge or the woman he loves…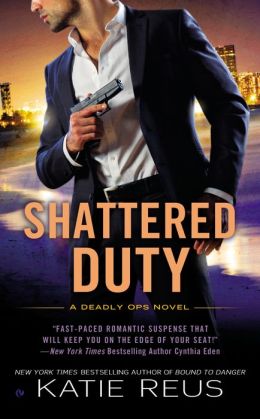 When his wife was murdered two years ago, Special Agent Levi Lazaro turned his back on everything he cared about. Ever since, he has thought of nothing but vengeance. Now he's finally uncovered the identities of those who killed his wife—and he's ready to destroy them at any cost. He won't let anything stand in his way—not even a beautiful NSA agent on a mission of her own.

Special Agent Selene Wolfe prides herself on being the best. Her fearlessness and quick-thinking make her the perfect person to take down a deadly terrorist cell. But she needs Levi's help, and the moment he shows up, Selene knows her objectivity—and her heart—are in trouble.

As the two strike an uneasy alliance, Levi finds himself tormented by his desire for Selene—a feeling he thought long dead. But when their mission takes an unexpected turn, he finds himself at a crossroads. Can he put aside his need for revenge to save the woman who's reawakened his soul?

Read an exclusive excerpt from Shattered Duty 
Selene rolled her hips against him, feeling almost mindless with need, excited about what might happen between them, when he suddenly stopped. Pulling back, he stared down at her, his chest rising and falling erratically in tune with her own breathing.
She wasn't sure what to say so she started to withdraw her hands from him when he suddenly blurted, "I'm sorry."
She blinked, unsure why he was sorry. "I was . . . willing." Which he had to know.
His jaw tightened for a long moment, his eyes never leaving her face. "I know. I feel . . . guilty."
Hurt and anger erupted inside her, but she didn't outwardly respond, not wanting him to know his words affected her. "About me?" she asked carefully, inwardly cursing when her voice shook.
"Yes. No. Not about you. About how I feel about you. When I saw you at Shah's party my reaction was . . . intense." He looked away when he said the last part, as if in shame. His profile was hard and unforgiving.
Understanding set in and she wasn't sure what to feel. She knew she didn't like the sick sensation in the pit of her stomach, but she liked that she affected him as much as he did her. "So you feel like maybe you're being unfaithful in a way?" Even though all they'd done was kiss. She wasn't even sure why she'd asked. She should just let this drop, but couldn't seem to help herself.
Swallowing hard, he looked back at her and nodded. "Sort of. I keep thinking, what if I'd met you when I'd been married. Would I have reacted the same? I don't know. I just can't turn my head off."
"You wouldn't have reacted to me if you'd been married." Of that she had no doubt. It wasn't the way Levi was hardwired.
His expression darkened. "How can you know that?" he asked, his voice savage.
"Because you're not a douche. That's how I know. When you were married you were faithful, committed, and in love with your wife. You wouldn't have been looking. And you can't play the 'what-if' game because it'll only drive you insane. Trust me. Things happen and our futures change and there are no what-ifs anymore. The path we're on is the one we're supposed to be on. And I'm not saying stuff happens for a reason. I hate that saying because it's total bullshit. I'm just making the point that you're not doing anything wrong by wanting me. But if you feel guilt or shame, then this stops right now." Because she wasn't going to take any man's scraps. Selene pushed at his chest, wanting to get up from the bed but he kept her pinned beneath him, an immovable force.
"I don't . . . fuck," he growled, the self-loathing in his voice pretty damn clear. His breathing had grown even more erratic, his chest rising and falling against hers. For a long moment he just watched her with those dark, penetrating eyes.
Right about now she wished she understood the opposite sex more. She understood men, or at least that their dicks seemed to motivate them more often than not, but Levi was too damn complicated. Everything she'd read about him, not to mention his ability to stay off the NSA's radar for two years, told her that he was a man not used to showing any emotions, to doing whatever it took to get the job done. She'd already agreed to take him to the meeting with Tasev so she didn't think this kissing episode and little confession was about him manipulating her. She didn't have much experience with men so she couldn't be totally sure. God, what the hell was she thinking though? She couldn't trust him. She shoved at him again, this time harder.
Thankfully he moved off her, his expression dark and full of too many emotions for her to sift through.
"We've got to prepare for tonight and stop by my place. I've also got to call Wesley," she muttered.
She mentally shook herself for this stupid lapse in sanity—and self-control. No matter what, Levi was a man on a mission and she wasn't stupid enough to think that because he desired her that it would mean anything if she got in the way of that mission. She needed to remember that. She knew exactly how men could be when it came to their own self-interests.
Sitting on the edge of the bed, turned away from her, he finally spoke, his voice guttural. "This isn't over between us." Without waiting for a response, he shoved up and stood.
She should have said something witty to make it clear that this was never happening again. Unfortunately her body flared to life at those heated words. She wanted to know what it was like to be completely possessed by this man. Instead of scaring her, the thought sent the most erotic thrill racing through her.
If she was stupid enough to sleep with him, she knew that things between them would end badly, but she wanted Levi in a way that defied logic, and probably her sanity, and she wanted everything he had to offer. Even if she got burned in the end.
Shattered Duty Excerpt Copyright © 2015 Katie Reus. Posted by arrangement with the publisher. All rights reserved.


Giveaway:

Print copy of SHATTERED DUTY ( A Deadly Ops Novel, #3)
To enter Giveaway: Please complete the Rafflecopter form and post a comment to this Q:

What did you think of the excerpt spotlighted here? Leave a comment for the author with your thoughts on the book…
Meet the Author: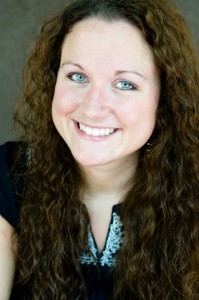 Katie Reus is the New York Times and USA Today bestselling author of the Red Stone Security series, the Moon Shifter series and the Deadly Ops series. She fell in love with romance at a young age thanks to books she pilfered from her mom's stash. Years later she loves reading romance almost as much as she loves writing it. However, she didn't always know she wanted to be a writer. After changing majors many times, she finally graduated with a degree in psychology. Not long after that she discovered a new love. Writing. She now spends her days writing dark paranormal romance and sexy romantic suspense.
For more information on Katie…
Sign up for Katie's newsletter: http://eepurl.com/jEABv
Visit Katie's website: www.katiereus.com
Find Katie on Facebook: https://www.facebook.com/katiereusauthor
Follow Katie on twitter: https://twitter.com/katiereus