Today it is my pleasure to Welcome romance author
Cynthia Sax
to HJ!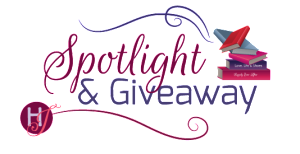 Hi Cynthia, welcome 🙂
Thank you for having me, HJ (big hugs). I'll go all Hair Club For Men on you and say 'I'm not just a writer. I'm also a reader.' (grins) I love your blog (I'm a lurker) and am excited to be on this side of the post today.
If someone wrote a biography about you, what do you think the title of the book should be? Why?
The title should be 'Batsh*t Crazy' (laughs) I'm a writer. I make up imaginary characters and then torture them before I give them their happy endings. If that isn't crazy, I don't know what is!
Which of your prior characters would you most/least likely invite to dinner and why?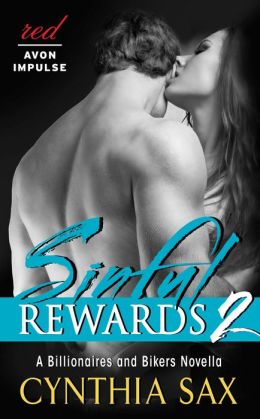 I spent over six months and 1,200 pages with Bee, Nicolas, and Hawke from Sinful Rewards, my sizzling 12 novella serial from Avon Impulse. When I wrote that last novella, I cried. It was like saying goodbye to dear friends. I would love to have dinner with them, though I'd ask Bee to cook. She's much more culinary gifted than I am.
Let's talk about your newest release: Sinful Rewards Book 2 A Billionaires and Bikers Novella
If you had to summarize the book for the readers here
Sinful Rewards is a sizzling love triangle between Bee—a new grad, Nicolas—a billionaire with a dark secret, and Hawke—a tattooed bad boy biker. This is the second sexy novella in the serial and I strongly recommend readers pick up Sinful Rewards 1 first.
Please tell us about the characters in your book?
I love all three of the main characters (Bee, Nicolas and Hawke). Life is too short to write about characters I don't love.
Bee (Belinda Carter) is a new grad. She was the unplanned result of a wild one night stand between a hard working waitress and a tattooed biker. When Bee's mom told her lover (Bee's dad) she was pregnant, he hopped on his bike and rode away, leaving her mom to raise a child (Bee) alone and unwed in a very judgmental small town. Bee's biggest fear is to repeat history. She's looking for a stable, constant man.
When she sees Nicolas, a billionaire real estate developer, she believes she's found this man. He's handsome, wealthy, builds homes for families and forms lasting relationships with the people around him. When she looks into his eyes, she sees the loneliness she sees reflecting in her own mirror every morning. He's perfect, he needs her, and Bee is determined to be the woman worthy of his forever.
Then she meets Hawke. Hawke is a tattooed bad boy biker, just like her dad. He's Trouble with a capital 'T' and she knows she should stay away from him. He'll give her a night of savage passion and leave her, riding away without a backward glance. He's not a handsome man, doesn't have any money, dresses deplorably, yet she can't stop thinking about him.
As you wrote your protagonist was there anything about them that surprised you?
One of Bee's most distinctive characteristics is her loyalty. She doesn't turn her back on her friends and loved ones, would never betray them. She's the last woman I would ever expect to be in a love triangle.
What scene did you most enjoy writing? Why?
When we first met Nicolas in Sinful Rewards 1, he was quiet, standoffish, a bit of an alpha asshole, but as the story progresses, we see the man behind the expensive suit, his true self and his wicked sense of humor. I fell in love with him more and more with each novella.
Here is a playful snippet between Nicolas, our tormented billionaire, and Bee, our unusual heroine. Bee has sent Nicolas an article on how to be a good friend, not expecting him to read it.
"I'll talk less in the future," Nicolas vows, squeezing my hand.

"What?" I blink, not knowing where this comment is coming from. "Why would you do that?"

"That was the first recommendation in the article you sent me yesterday. I should talk less and listen more." He pulls his hand away and plucks at his cuffs, avoiding my gaze. "I didn't realize I was being too chatty."

"You are not being too chatty." I stare at Nicolas. Oh, God. I sent my already silent billionaire an article advising him to talk less. "If anything, you need to talk more, much more." I think about our conversation, about the long stretches of unnerving quiet. "Is this why you're not answering any of my questions?"

He hesitates for a moment and then nods. "That was a factor."

"What were the other factors?"

"As you pointed out yesterday"—Nicolas's dark eyes glimmer—"I'm kind of an asshole."

"I believe I said you were a complete asshole." I laugh and he smiles, his white teeth flashing in his tanned face, his male beauty blinding me. He can't truly be an asshole. Assholes don't read articles on how to be a good friend.
What scene was the hardest to write? Why?
The hardest scene to write in Sinful Rewards 2 was when Hawke reveals a bit about his past and Bee realizes why he drifts from town to town. I cried while writing, revising and now excerpting this scene.
"My best friend, Rock, and I would pummel each other into the ground." He rubs the barbed wire tattoo circling his right bicep. "Then we'd dust off the dirt and go for drinks, the best of friends."

"Rock?" I choke back my laugh. "Your best friend's name is Rock? You're Hawke and Rock?"

"He'd argue we're Rock and Hawke." Hawke gives me one of his charming lopsided grins. "I like it better your way, and yeah, those are our nicknames." He shrugs his broad shoulders, his muscles rippling under his black T-shirt. "We thought it sounded cool when we were seven." Crimson creeps up his neck, my tattooed biker adorably embarrassed.

"Hawke and Rock," I repeat. He's had a best friend since he was seven. I stare up at his harsh countenance, his flat nose, his sparkling eyes, and hope unfurls inside me. That's not an act of someone afraid of commitments. "Did Rock join the marines also?"

Hawke nods. "We signed up as soon as we were able. We did everything together. It made sense we'd do that too." He rubs his tattoo again, reddening the skin around the black ink.

I place one of my hands on his scarred fingers, halting the vigorous action. A charge shoots up my arm, across my chest, a surge of energy linking us, powerful and frightening. I'm tempted to drop my hand, to move away from him, to protect myself, but something in Hawke's expression stops me. He needs this connection. I don't know why, but he does.

"I made the decision to join." His lips flatten into a grim white line, the glimmer in his eyes extinguished. "He followed me. He always followed me. He said he didn't regret it, said that even at the end, but. . ." The flash of pain streaking across Hawke's face steals my breath away, the emotion stark and raw.

I link my fingers with his, our joined hands placed over his barbed wire tattoo, and I wait, silently giving him my support, not expecting him to continue. If this was Nicolas, he wouldn't continue, keeping his secrets, but this is Hawke, an entirely different male animal.

"But I know." He takes a ragged breath as though this conversation is taking everything he has, zapping all of the strength in his massive body. "I know if he hadn't followed me to Iraq, if we hadn't joined." His voice chokes. "Rock would be alive today."

Rock would be alive.

"Oh, God." Pain pierces my heart. His best friend, his constant companion since he was seven years old, died, leaving him forever.

If anything happened to Cyndi, I don't know how I would survive. I drop my prized purse and wrap both of my arms around Hawke, flattening my curves against his muscle, pressing my face against his cotton T-shirt.

"It's not your fault." I breathe in, inhaling the scent of engine grease, leather, and man, not knowing what to do, what to say.

"Belinda." There's a world of hurt in Hawke's voice.

"It's not," I insist, seeking to reassure him, to relieve him of his guilt.

Hawke hesitates for a moment and then crushes me to him, splaying his big fingers across my back. He's a huge man and I'm not the tallest woman, yet we fit together perfectly, his warmth surrounding me.
Who would you cast in the role of your characters if your book was optioned for a movie?
Oh boy, I'm terrible at this. (grins) My characters are all unique, not based on any movie stars. Here goes…
I'd love for Natalie Portman to play Bee. I hear she's vertically challenged also so she would sympathize with Bee's challenges. Nicolas' role could be played by Diego Boneta, the Latino heartthrob in Pretty Little Liars. Nicolas has the same wonderfully dark thick wavy hair. Hawke is a toughie. How about Hafthor Julius Bjornsson aka The Mountain from Game Of Thrones? Although Hawke has a much sweeter personality, he has the same size and not-so-handsome face.
If you could have given your characters one piece of advice before the opening pages of the book, what would it be and why?
I would advise Bee to trust her mom with more of her secrets. Bee is very protective and doesn't want to worry her mom so she limits what she shares. Her mom is stronger than Bee realizes.
Oh, and Bee should see Dru as a more serious threat to her happiness.
What are you currently working on? What other releases so you have planned for 2014?
I'm continuing to obsess over the yet-to-be released novellas in Sinful Rewards, driving my editor crazy with tweaks here and there. This 12 novella serial will be releasing one a month from July 2014 to June 2015. Priced at less than a convenience store chocolate bar, I like to think of it as a calorie free reward for reading buddies.
I'm also polishing my contribution to the Shades Of Pink anthology. Releasing in the fall, all donations toward this anthology (and it will be priced at donate what you can – even 50 cents can make a difference) will benefit breast cancer research, a cause near and dear to my heart (as readers of Flashes Of Me know).
Where can readers get in touch with you?
I LOVE reader mail. If you ever have any questions, email or PM me.
Author Website: http://cynthiasax.com/
Blog: http://tasteofcyn.com/
Facebook: https://www.facebook.com/cynthia.sax
Twitter: @CynthiaSax
Thanks for blogging at HJ!
Giveaway:

2 Digital Copies of SINFUL REWARDS #1 by Cynthia Sax.
To enter Giveaway: Please complete the Rafflecopter form and Post a comment to this Q:

How do you prefer a romance to start – with the characters forming a friendship first (Bee and Nicolas) or with characters being immediately hot and sweaty for each other (Bee and Hawke)?
Excerpt
"You like my bike, huh?" Hawke grins, one corner of his lips quirking endearingly higher than the other. The stubble shadowing his square chin accentuates his broad cheekbones, the darkness contrasting vividly with his pale eyes.

"Yep." I don't like what his bike symbolizes, his chosen means of transport is built for one person, but I admire the workmanship. "It's very pretty."

"Pretty?" He scowls, appearing deeply offended, lines grooved around his mouth. "Paintings are pretty. You're pretty."

He thinks I'm pretty. My soul fills with happiness.

"Bikes aren't pretty, sweetheart. They're powerful machines." Hawke clutches the throttle and revs the engine, the sound vibrating through my chest. "One thousand CCs, like having a beast between your legs."

He's a beast, all leather and denim and muscle, and I'd like to have him between my legs, our two naked forms fused into one, his rough hands cupping my ass cheeks, lifting me into him.

God, I want this man yet I can't have him. I squeeze my thighs together, struggling to contain my urge to touch him, to stroke him, taste him. He's wrong for me in so many delectable ways and I shouldn't be thinking of him. Nicolas, my stable, serious billionaire, should own my thoughts, my body, my heart.

"I have to go to work." I step backward, retreating as I always do from temptation, and never have I been as tempted as I am right now.

My gaze lingers over Hawke's wide leather-clad shoulders, massive arms, scarred knuckles. His tattoos remain hidden but I know they're there, decorating his golden skin, as detailed as the designs on his bike. He's big and broad, a mountain on wheels, giving the illusion of solidity yet destined to leave, the combination confusing my bad boy inner warning system.

"Hop on the back." Hawke twists his torso and pats the tiny wedge of seat behind him, his palm smacking hard leather. "I'll give you a ride."

I skim my tongue over my bottom lip, the thought of sitting behind him, straddling his big body with my legs, pressing my breasts against his back, thrilling me.

"Do you have a helmet?" I ask, knowing the answer. Helmets aren't mandatory in Chicago and a man like him doesn't wear unnecessary protection. He takes risks, flying as free as the bird he's named after, untamable and wild.

"No, I don't have a helmet." Hawke's smile fades, his blue jean eyes growing serious. "But you're safe in my hands, Belinda. I'll be careful with you." He extends one of his arms, holding his hand out to me.

I stare at his creased palm. It takes all of my willpower not to grasp his fingers, not to slide my hand in his, allowing him to pull me wherever he wants me to go.

"I can't risk it." I force the words, my heart screaming in protest.

"I see." Hawke drops his hand. He doesn't see. He thinks I'm talking about his bike. He doesn't know the risk I can't take is touching him.
Book Info:
Belinda "Bee" Carter isn't quite sure what she's gotten herself into. She's been receiving mysterious messages from a secret admirer who is sending her more and more erotic dares. Each time she fulfills his desires, she gets rewarded. She's convinced that her mystery texter is one of two super-hot men—Nicolas, the handsome billionaire, or Hawke, the sexy biker—but she can't tell which one it is. And she's coming to realize that beneath her peaches-and-cream exterior beats a heart that longs to play out all of her most secret fantasies.
As the stakes are raised again, will Bee succumb to the sensual allure of this latest dare?
Tour-wide Rafflecopter Giveaway: (Three Digital Copies of SINFUL REWARDS #1 by Cynthia Sax)a Rafflecopter giveaway
Author Bio
Cynthia Sax lives in a world filled with magic and romance. Although her heroes may not always say, "I love you", they will do anything for the women they adore. They live passionately. They play hard. They love the same women forever.
Cynthia has loved the same wonderful man forever. Her supportive hubby offers himself up to the joys and pains of research, while they travel the world together, meeting fascinating people and finding inspiration in exotic places such as Istanbul, Bali, and Chicago.Please visit her on the web at www.CynthiaSax.com
Website | Facebook | Twitter |