Please welcome USA Today Best-selling Harlequin author

Katherine Garbera

to HJ!
My latest release SIZZLE from Harlequin Blaze takes place on the set of the reality TV show Premier Chef–The Masters. All of the chefs on the show are professionally trained and each of them has a different reason for being there. The hero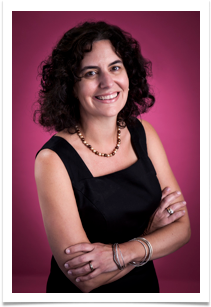 Remy Cruzel is part of a storied culinary family and wants to prove to himself that he has the skills and hasn't just gotten where he is by being a Cruzel.
He's a hot Cajun who does everything with passion and intensity and he keeps Staci Rowland on her toes throughout the story.
Here's a little teaser of from the book:
He wasn't leaving California without taking Staci Rowland to his bed. He'd thought that she'd distract him from cooking but he was coming to realize that if he didn't have her, it would be more of a distraction.

She was temptation incarnate and he was from The Big Easy. He'd been raised to indulge his passions in the kitchen and out and even though this would be the first time that he combined the two, he found the an­ticipation exquisite.

"Remy?" she asked.

He glanced over at her and saw the confusion in her eyes. And for a second he wondered if he'd misjudged her but then she licked her lips again and he smiled. He knew that he hadn't.

Staci seemed as if she were dealing with some is­sues in this competition, much like the rest of them. And though tonight it was just the two of them, he knew that whatever knowledge he gleaned about her would be useful for the rest of the weeks ahead.
He closed the gap between them. Put his hands on her shoulders and leaned down as he drew her closer. He brushed his lips over hers and tasted the buttery sweetness of the sauce but also the indescribable taste of Staci. It was unique, mysterious and so addictive he didn't want to stop kissing her.

Yet he knew he had to. He stepped back and saw her watching him with an unfathomable expression. He'd shocked her. Hell, he'd surprised himself because he'd thought the young impulsive man he'd been was gone forever. But he was glad that he was back.

He thought he needed to be a little impulsive if he was going to find the right path forward for himself and for Gastrophile.
I was inspired by two things when I started writing Remy–the first was the city of New Orleans which I have visited many times. I love the food and the attitude of the city. The other inspiration came in the form of Gambit–you might know him(he's portrayed by Taylor Kitsch) if you went to see the movie X-Men First Class. He's a mutant gambler with a sexy accent…let's face it, how could I not be inspired by that bad-boy. J
Giveaway: a digital copy of Sizzle and its companion book One More Kiss.
To enter giveaway: Complete the Rafflecopter form below and post a comment to this Q:
Who's your favorite Hollywood hottie? Why?
Sizzle by Katherine Garbera
A recipe for desire…or disaster!
Preparation: Only the best chefs are selected to compete in the hit reality TV show Premier Chef. First, add one bakery owner— Staci Rowland, who's out to prove that even the sweetest chef can wield a wickedly sharp knife. Then counter that sweetness with Remy Cruzel, a spicy and smokin'-hot Cajun chef, who's looking to prove he's more than his name….
Cooking instructions: Place each chef in direct competition with each other—and in the same house. Let the initial attraction simmer, and quickly turn into a steamy fling.
Caution: These key ingredients to a successful show—and a red-hot rendezvous!—are hiding a few secrets from each other, and from our judges. And the end result is one dish you won't want to miss!
One More Kiss by Katherine Garbera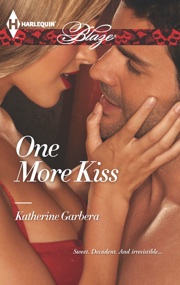 One taste isn't enough…
Since her divorce, cupcake queen Alysse Dresden prefers baking over boys…until a phone order from a sexy-voiced stranger melts her insides like butter. It isn't until Alysse makes the delivery in person that she realizes—too late—that the only man who can do that is her ex-husband….
After Marine Corps ace Jay Michener walked out on his weeklong marriage, he never stopped thinking of Alysse. Wanting her. And with his reenlistment only weeks away, he wants a second chance.
But Alysse has plans of her own—and if the way into a guy's heart is through his stomach, maybe the way out of it is through his bed!