Today it is my pleasure to Welcome USA Today bestselling romance author
Sarah Morgan
to HJ!
 Hi Sarah, welcome to HJ!
What would you say are the defining characteristic of your Novels?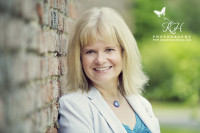 I write hot and usually humorous contemporary romance, with strong independent heroines and sizzling sexy heroes
What can you tell us about your new O'Neil Brothers series:
This series is about the three O'Neil Brothers, twins Jackson and Sean (I always think if there is one thing better than a hot guy, it's two identical hot guys) and younger brother Tyler. All three left home to pursue their own ambitions, but the sudden death of their father brings them home again to the beautiful Snow Crystal Resort and Spa which has been in the family for four generations. Sleigh Bells in the Snow is Jackson's story, sexy surgeon Sean's story is told in Suddenly Last Summer, out July 2014 and bad boy Tyler's story in November 2014. I'm having such fun writing these books!
 Let's talk about your newest release: Sleigh Bells in the Snow
If you had to summarize Sleigh Bells in the Snow for the readers here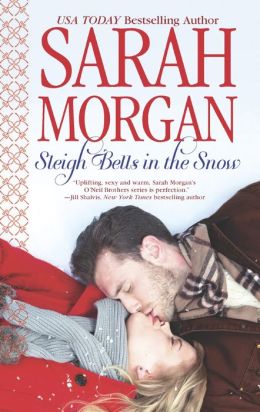 My heroine Kayla hates Christmas. It's the worse time of year for her and all she wants is for it to be over as quickly as possible. When she's invited to spend a week at beautiful Snow Crystal over the holidays to experience all the place has to offer and work up a business plan for the O'Neils, she sees it as a perfect escape. She'll be staying in a secluded lodge in a forest – no Santa, no decorations, no constant reminders of Christmas. What could be better? Unfortunately things don't turn out quite as she expected. Soon she is neck deep in snow and surrounded by the one thing she avoids – family. Instead of spending the holidays alone, she's baking with Grandma, chopping logs with Grandpa and falling for sexy Jackson. The chemistry between the two of them is enough to melt all the ice in Vermont and suddenly Kayla questioning what she really wants for Christmas…..
Please tell us about the characters in your book?
My heroine Kayla Green is a public relations expert. She isn't interested in love or relationships and she loathes Christmas. It's a really tough time of year for her, and all she wants to do is hide until it's all over.
My hero, Jackson O'Neil is tough, calm, strong, determined and loves his family even when they drive him crazy. His family is the reason he's come home to Snow Crystal. He's determined to save the place that has belonged to the O'Neils for four generations.
Was it love at first sight for your characters? If not what was the pivotal moment of change?
It wasn't love at first sight although it was definitely attraction at first sight. And the pivotal moment of change comes after a snowmobile ride through the snowy forest when Kayla realises just how strongly the two of them are attracted! That scene was so much fun to write and the two of them definitely melted some snow in the forest!
If your characters could go back in time and change one thing what would it be? Why?
Kayla would arrive at Snow Crystal with a thicker coat and a pair of boots suitable for snow. Jackson would probably increase the stock of beer in his fridge because brother Tyler keeps helping himself.
What scene did you have the most fun writing? Why?
I loved writing the scene in her office in New York where Kayla thinks she's managed to escape Christmas by agreeing to spend a week at Snow Crystal (she hasn't!)
"You're working over the holidays?" Stacy stared at her in dismay. "Kayla, that totally sucks."
It was a dream come true. "It's a bummer, but I'll live with it," Kayla said happily.
"But what about Christmas?"
"Christmas is cancelled." She resisted the temptation to dance across her office.
"You're being so brave about it."
"I'm gutted, but there's no point in moaning."
"That is so unfair of Brett." Stacy was outraged. "You should be partying. Enjoying yourself. I don't mean to be personal, but when did you last go on a date?"
"Date?" Why did everyone keep asking so many difficult questions? "Er—there was that guy from the twentieth floor—I saw him a couple of times."
"If you're talking about the accountant, you saw him once."
"I'm not good at long relationships." Kayla piled everything she had on Snow Crystal into her bag. "Did you call everyone for a meeting?"
"Yes. And Kayla, one date is not a relationship."
"My point exactly."
"Are you sure you won't come with us tomorrow? We're meeting at 7:00 a.m. downstairs at the Rockefeller Centre for the first skate of the day. Full VIP package. Hot chocolate and skate concierge. We'd love for you to join us."
"What the hell is skate concierge?" Kayla reached for the bottle of water she kept on her desk.
'Some guy or girl pulls your skates on I guess." Stacy shrugged. "After that we're going to Santaland at Macy's. It's the whole Christmas experience."
Kill me now
What scene was the hardest to write? Why?
The scene where Kayla messes up. She is ruthlessly efficient and takes pride in her work. In fact work is the only thing that matters to her at this point in the story so it is a very low moment for her.
She'd blown it.
Stumbling through the snow on her high heels, Kayla knew she should stop and change into her boots, but she wanted to put as much distance between herself and the O'Neils as possible. Ruined shoes were the least of her problems.
For the first time in her life, she'd blown a meeting with a client.
How had that happened?
She was good at what she did. She knew she was good, and yet she hadn't controlled the meeting; she'd crumbled.
Cold crept over her legs and up her skirt. Her feet were freezing. Her hands were freezing.
Her laptop bag crashed against her hip and she hugged it against her, terrified of slipping and breaking it.
Her humiliation was total but worst of all were the other emotions. Emotions she hadn't experienced in a long time.
Over the years, she'd dealt with almost every situation except this one.
She'd come here to avoid Christmas and families and suddenly found herself slap bang in the middle of both.
How did your character spend the week just before the story starts?
Kayla is doing what she always does. Work. Jackson is juggling the pressures of his family and work.
Who would you cast in the role of your characters if your book was optioned for a movie?
I'd have Diane Kruger for Kayla, and Henry Cavill (but I'd cast him in anything and everything. Preferably without a shirt)
What are you currently working on? What other releases so you have planned for 2013 into 2014?
My Cosmo Red-Hot read, Ripped, will be out November 25 and I'm very excited about that. It's a fun, very sexy novella which I hope will make readers smile!
As for writing, I've just finished Suddenly Last Summer, Sean's story, which will be out summer 2014 and I'm about to write my second book for the Cosmo Red-Hot read programme which will be out May 2014 then I'll be finishing off my O'Neil Brothers series with Tyler's story. I'm very excited about that one!
Thanks for blogging at HJ!
Giveaway:

One signed copy of Sleigh Bells in the Snow
To enter Giveaway: Please complete the Rafflecopter form and Post a comment to this Q:

What's your favourite Christmas tradition? 
Except
Her hand wrapped around the tall cappuccino she'd picked up on her way into the office. She unwrapped her cashmere scarf and dropped it over her chair, sending snowflakes floating across her desk. "It's freezing out there. If I'd known New York was this cold in winter I would have requested the L.A. office." Snatching a sip of coffee, she toed off the boots she'd worn to walk the short distance from her apartment and dragged her shoes from the drawer in her desk.
Through the glass wall that cut her off from the rest of the fortieth floor, she could see two of the junior account executives discreetly replenishing makeup. "What's going on? Brett will hit the roof if he walks past and sees lip gloss and girl bonding."
"Brett's with Jackson O'Neil. They're waiting for you in the boardroom."
"Jackson O'Neil is the reason for the perfume and the sudden run on cosmetics?"
"The man is smoking hot, Kayla."
Only half listening, Kayla pulled her phone out of her pocket, checking new emails while she pushed her feet into her shoes. "Did you get any more information on him?"
"Yes. He is insanely sexy and—" Stacy blushed "—single."
"I meant on the company."
"I sent everything I found to your in-box this morning, but Kayla he's—"
"Somehow I've managed to amass fifty emails since I left my apartment. How is that possible? I cleared my in-box at 5:00 a.m." Kayla put down her coffee, slid her phone into her bag and scooped up the stack of notes she'd scribbled at three in the morning. "When I saw the snow, I assumed O'Neil would cancel."
"He took an earlier flight because the forecast was bad and he wanted this done. I collected him from the foyer. I managed to behave with dignity and not leap on him."
"That would have given a whole new meaning to the phrase 'full service agency.'" Grinning, Kayla smoothed her hair and took a deep breath. "Go and stick your head under the water cooler."
"Your in-box is the equivalent of a cold shower. By the way, this came for you. It's marked Personal so I didn't open it. I guess it's from someone who doesn't have your home address." Stacy handed her an envelope, and Kayla recognized her stepmother's handwriting.
Cold trickled down her spine. It was like landing naked in a snowdrift.
"Thanks." Stuffing it quickly into her bag, she strode out of her office and took the stairs down to the foyer, wishing she'd left the envelope on her desk instead of putting it in her bag. Now it was there, she couldn't stop thinking about it. It made the bag feel heavy even though it weighed no more than a few flakes of snow.
She stopped in the stairwell, pressed her palm to her ribs and took a few deep breaths.
The only things that should be on her mind right now were Jackson O'Neil and the Snow Crystal Resort and Spa. She shouldn't be thinking about her stepmother, not least because thinking of her stepmother always made her think of her father and then, inevitably, her mother.
She allowed herself a moment to stare through the window at the high-rises of Midtown, reminded herself how hard she'd worked to be standing here now, and then she continued down the stairs and pushed open the doors into the foyer.
The New York offices of Innovation were sleek and stylish, enveloped in floor-to-ceiling glass that offered breathtaking views over the skyscrapers of Manhattan. Usually Kayla found it the perfect working environment, but today chic minimalism had been displaced by festive touches. A huge Christmas tree dominated the foyer and someone had twisted a rope of tiny stars across the top of the boardroom door.
Everyone, from the receptionist right up to Brett himself, was in that smiling, energy-fuelled phase that came between Thanksgiving and Christmas.
Maybe she was Scrooge, Kayla thought gloomily, her heels tapping on the polished oak floor as she walked past the receptionist and gave her a discreet wave. Maybe next year she'd book herself a log cabin with a view of a forest and a lake.
Maybe next year she'd arrange for someone to kidnap Santa.
She pushed open the door and Brett rose to his feet.
"Here she is! The star of the show. Kayla, meet Jackson O'Neil. Jackson, this is Kayla Green."
He was standing with his back to her, his eyes on the city spread out in front of him.
In those few seconds, Kayla decided Stacy had exaggerated his appeal. True, that jet-black hair looked promising, and he appeared to be taller and broader than the average businessman she encountered during her working day, but as far as she could see there was nothing else about him that warranted the volume of cosmetics and heavy breathing that was going on up on the fortieth floor.
And then he turned.
With hair that black she'd expected his eyes to be dark, but they were blue. A fierce, intense blue, and Kayla stopped breathing altogether because nothing about this man was average.
There was a hard strength to his features, a toughness that fitted everything she'd read about him in the cold, chill of her early-morning work session. From the bold sweep of his eyebrows to the bump in his nose, he was wholly and unequivocally male.
That heavy-lidded gaze assessed her in a single sweep, and she felt as if someone had kicked her legs out from under her.
She thought about Stacy's suggestion that she ask Santa for Jackson O'Neil naked.
Dear Santa, it's been a long time since you've heard from me, but—
"Miss Green." His voice was deep and strong, and she was recovering from the shock of realizing that for once Stacy's taste in men made perfect sense, when he strode across the room and shook her hand.
The sudden jolt of chemistry unsettled her.
"Good to meet you, Mr. O'Neil."
For a fleeting moment it crossed her mind that this man might even have what it took to make her forget her emails. Then she remembered that the consequence of forgetting her emails was doing a bad job and there was no way she was ever going to let that happen.
Book Info
Once upon a time, Christmas was Kayla Green's favorite time of year. Now all the workaholic wants for Christmas is for it to be over—as fast as possible! So when duty calls her to snowy Vermont to close a deal with a new client, Kayla is grateful for an excuse to avoid the holidays for another year.
Jackson O'Neil left a thriving business behind to return home and salvage his family's resort—it's in his blood, and he can't let it fail. Now that he's got marketing whiz Kayla Green working with him to put Snow Crystal on the map, success is on the horizon. The fact they strike enough sparks off each other to power all the Christmas lights in Vermont is just an added bonus.
Kayla might be an expert at her job, but she's out of her depth with Jackson—he makes her crave the happy-ever-after she once dreamed of, and it's terrifying. As the snowflakes continue to swirl, will the woman who doesn't believe in the magic of Christmas finally fall under its spell?
Author Bio
USA Today bestselling author Sarah Morgan writes hot, happy contemporary romance and her trademark humour and sensuality have gained her fans across the globe. Described as 'a magician with words' by RT Book Reviews, she has been nominated three years in succession for the prestigious RITA© Award from the Romance Writers of America and won the award twice; in 2012 for her book 'Doukakis's Apprentice' and 2013 for 'A Night of No Return'. She also won the RT Reviewers' Choice Award in 2012 and has made numerous appearances in their 'Top Pick' slot.
Sarah lives near London with her husband and children, and when she isn't reading or writing she loves being outdoors, preferably on vacation so she can forget the house needs tidying. You can visit Sarah online at www.sarahmorgan.com, on Facebook at www.facebook.com/AuthorSarahMorgan and on Twitter @SarahMorgan_