Today it is my pleasure to welcome author 

Sheila Roberts

to HJ!

Hi Sheila, welcome 🙂
If someone wrote a biography about you, what do you think the title of the book should be? Why?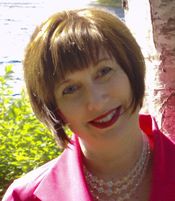 I think maybe, "One Small Life Lived in a Big Way" because that's how I think of my life. I haven't brokered world peace and I'm no Mother Teresa, but I've had a wonderful life full of lots of fun and adventure. The budget hasn't always been big but I've still managed to live large.
Which of your prior characters would you most/least likely invite to dinner and why?
In this book? It would definitely be Rachel's ex. Oh, wait. Maybe I'd have him over and feed him fried worms. He's such a skunk. But the three friends? I'd want to hang out with all of them.
Let's talk about your newest release: Small Change
If you had to summarize the book for the readers here…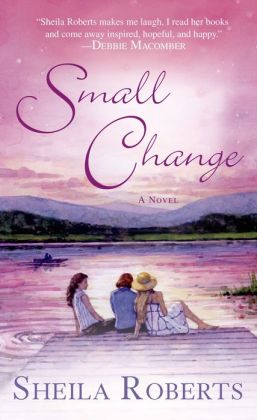 This book is about three women with money problems, banding together to help each other improve their lives. I wrote it when things weren't going so well in the economy and it's got a lot of great money-saving tips in it. As well as some romance!
Please tell us about the characters in your book
Tiffany, is a shopaholic, trying to fill a void. Rachel is a single-mom trying to simultaneously pay the bills and keep her kids happy with guilt spending. Their friend Jess's husband has just been downsized and now Jess needs to enter the job market. Which is so not her. Maybe she needs to get creative about earning a living? And maybe Tiffany needs to hide her credit cards from herself. As for Rachel… maybe she needs to find a way to keep them all on track financially. That calls for banding together and helping each other make the kind of small lifestyle changes that can add up to a big difference.
As you wrote your protagonist was there anything about them that surprised you?
No, but there were things about me that surprised me. I'm truly brilliant when it comes to living well on little. 🙂 And it was fun to be able to share some of those tips in the book.
What scene did you most enjoy writing? Why?
I love this scene. My three friends are in the woods, picking wild huckleberries so they can make jams and syrups. Tiffany is very concerned though that they're going to get eaten by a bear. That would be very costly huckleberry jam!
… as Tiffany's pot began to fill with berries she got more into the spirit of the outing and even strayed as far as three feet away from Rachel's side. Progress, indeed.
It was a perfect September day, and the morning sun fell warmly on Rachel's shoulders, lulling her into a sense of peacefulness. The air smelled so fresh! She took a deep breath, filling her lungs. So what if she was on a shoestring budget? The point was, she was living, really living. She was in love and her children were healthy and she had her friends. And saving money was becoming an adventure.
She was so busy musing on the wonderful turn her life had taken that she didn't hear the crashing in the underbrush until Tiffany screeched.
"Bear!" cried Tiffany She threw her pot over her shoulder and bolted, starting a female stampede.
She pushed into Jess and Jess's big pot of berries went flying as well. Jess didn't stop to mourn. Her eyes were the size of CD's as Tiffany swept her forward. The two of them collided with Rachel, who was still taking in the whole drama – the screaming friends, the lost harvest, the black shape bounding toward them. Down they all went, like the the Three Stooges in drag.
Tiffany scrambled up, heedless of the branches scratching at her, still screaming like a banshee, and bolted off in a direction that Rachel was sure wouldn't lead them back to the trail. Jess hauled Rachel up and was ready to follow.
Too late. The animal was upon them. It burst forth from the underbrush and Rachel's heart stopped. Jess let out a shriek.
And the big, slobbery, overjoyed black lab jumped up on Jess, ready to play and knocked her back down on top of a huckleberry bush.
Who would you cast in the role of your characters if your book were optioned for a movie?
Hmmm. Maybe Jennifer Aniston as Rachel. I think Tiffany looks just like Scarlett Johansson, so let's offer that part to her. and I could sure see Leah Remini as Rachel. Oh, yes! Let's turn this book into a movie.
If you could have given your characters one piece of advice before the opening pages of the book, what would it be and why?
Don't panic, ladies. It's all going to work out!
What are you currently working on? What other releases do you have planned for 2014?
I'm currently finishing up a novel for Christmas of 2014. This is going to be such a fun year because I have a lot of fun reads coming out: "The Cottage on Juniper Ridge", "The Tea Shop on Lavender Lane," and "The Lodge on Holly Road". (At least I think that's the title!) And then I'll be included in a Christmas anthology with Debbie Macomber, Brenda Novak, and RaeAnne Thayne – something I'm very excited about.
Where can readers get in touch with you?
They can find me on Facebook (Sheila Roberts, author), Twitter (_Sheila_Roberts), and of course, my website: http://www.sheilasplace.com
Thanks for blogging at HJ!
GIVEAWAY:

A copy of Small Change and a $25 Visa gift card
To enter Giveaway: Please complete the Rafflecopter form and post a comment to this Q:

Do you have a special money-saving tip? Care to Share?
Excerpt
After stowing away her garage sale finds Rachel started on some much needed house cleaning. She was washing windows when she heard a lawn mower fire up next door. It was a sound no one had heard over there for a long time, and she peered out the family room window for a closer view. Sure enough, someone was mowing the lawn. Whoa. That was some someone.
She squirted more glass cleaner and quickly rubbed the window for a clearer view.
Holy Danielle Steele, but he was gorgeous. She took in the slim hips encased in Levis, the t-shirt stretched across broad pecs, and the arm muscles rippling under caramel colored skin and swallowed hard. This man could be a cover model. Why was he wasting time mowing lawns? Was there room in the budget for her to hire to come mow hers?
Of course not. Darn.
The sun was out and the weather was balmy, making it a perfect day for weeding flowerbeds. Maybe she would just go out and pull a few weeds. Except she didn't have a thing to wear.
The man next door was doing the side yard, giving her a clear view of raven black hair and straight black eyebrows, gorgeous brown eyes. And that strong, square jaw, that practically screamed, "Touch me." Would he like a drink of water? Was he hungry? Was he married? She craned her neck, trying to zoom in on his ring finger.
"Mom, what are you doing?"
Rachel gave a start and the bottle of window cleaner dropped from her weak hand. "Claire." She picked up the bottle.
Her daughter looked at her like she had slipped a cog. Maybe she had. Ever since her library visit her brain had been operating under the influence of romance novels. From now on she was sticking to finance books. "Did you need something?" she asked. She needed something, and she wasn't going to find it in any finance tome.
About the book:
Take a trip to the charming little town of Heart Lake, and meet three best friends you'll never forget. . . .
Rachel, Jessica, and Tiffany have major money problems. Tiffany's whipped out the plastic one too many times, and now a mountain of debt has come crashing down on her. Jessica's husband has lost his job, thrusting this longtime stay-at-home mom out into the cold, cruel workforce. And Rachel's divorce transformed her from an upper-middle-class mom to a strapped-for-cash divorcée. So the three women start a financial support group called the Small Change Club—vowing to bring balance back to their checkbooks…and, in turn, their lives. Along the way they learn some valuable lessons—that friendship is an investment that keeps on growing and that sometimes love, like a loose coin, can be found in the most unexpected places…