Today it is my pleasure to Welcome romance author
Jennifer Faye
to HJ!
Hi Jennifer, welcome back to HJ!
What would you say are the 5 best things about being a writer?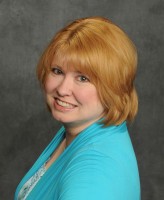 1. working in my pajamas
2. not having to commute to work
3. getting to use my imagination all day
4. making readers smile
5. getting wonderful notes from readers
 Let's talk about your newest release: Snowbound With The Soldier
If you had to summarize the book for the readers here
After seven long years, Kara and Jason are reunited during a Nor'easter that traps them in a mountain cabin where they must face the ghosts of Christmas past, present & future.
Please tell us about the characters in your book?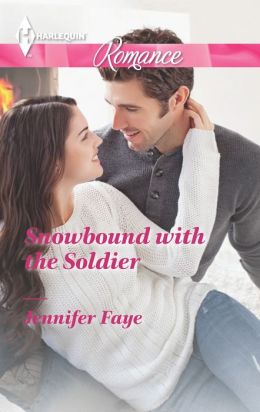 Jason Greene was a sergeant in the Army , but he's now out on a medical discharge. Having lost his chance to make the military his lifelong career, he's returning to the only other life he's known–runing his family's resort, the Greene Summit Ski Resort.
Kara Jameson is a small town girl who loves her family and her quiet life. She'd never dream of moving away, but with the Greene Summit being sold, she'll have to find work elsewhere. Saying goodbye to the life she's built for herself, after Jason broke their engagement and her heart, will be hard, but she is courageous enough to do what needs done.
Was it love at first sight for your characters? If not what was the pivotal moment of change?
Not exactly. They became friends in school when Jason stepped up and protected Kara from the school bully. He won her heart that day. But for Jason, they were only friends. They palled around for years, but didn't cross the romance line until high school. And it wasn't until college that they became engaged…but that didn't last long. Without explanation Jason called off the engagement at a Christmas dance and left town. Now seven years later, they are reunited…
If your characters could go back in time and change one thing what would it be? Why?
Hmm…sorry. I can't tell you that or it'd ruin the story for the readers, but trust me it's worth the wait. 😉
What scene did you have the most fun writing? Why?
This is actually a tough question, as there were a lot of fun parts to this story. But if I had to narrow it down, I'd say the parts where Jason is trying to pretend that he's no long attracted to Kara, which couldn't be further from the truth. LOL.
In some distant part of his brain, Jason knew he shouldn't be staring, but the sight was too delicious to turn away. He never would have imagined that old flannel shirt could look sexy on anyone, but he doubted Kara could look bad in anything.

Every muscle in his body grew rigid and he swallowed hard. This wasn't right. She shouldn't be here. It would be way too easy to slip back into an old, comfortable routine with her. His gaze continued to drink in her beauty, impressing it upon his memory, because that was as much of her as he'd allow himself.

When she cleared her throat and straightened her top, his gaze jerked upward, meeting her jade-green eyes. He resisted the urge to tug on the collar of his T-shirt to let out the steam coming off his heated body.

"Here, take this," he said, his voice gruffer than normal. He held out a bowl of hot stew. "I'll— It'll warm you up."

"Thank you. Smells good." She sat up, tucking her feet beneath her and reaching for the bowl and plate. "Is this homemade bread?" She sniffed it and ripped off a healthy chunk.

He nodded. "Just bought a bread machine."

Sly leaped onto the sturdy coffee table and plopped down in front of him. Her piercing gold eyes seemed to question him about why she didn't have her dinner, too.

"You'll get yours in a sec," he muttered, before leaning over and holding out a spoon for Kara. "Here."

"The stew smells so good. I can't wait to try some."

She lifted a steaming spoonful, her full lips puckered. He couldn't turn away as she blew on the spoon, then devoured the stew. He waited, wondering what she thought of his culinary skills. When she moaned in approval, his mind spiraled in a totally different direction. His hand tightened at his side. He needed to concentrate on anything other than this infernal effect she was having on him.
What scene was the hardest to write? Why?
The hardest scenes to write were the deeply emotional ones. To go through that range of emotional upheaval with Kara and Jason was exhausting. Did I mention that these two have a LOT of baggage?
Jason hitched his thumbs in his jeans pockets. "I'm sorry about what happened between us. I handled it poorly."

"You certainly did."

"If I could explain, I would, but I can't—"

"Don't." She held up a hand, stalling his too little, too late explanation. "Nothing you say will change what happened."

Her pride refused to let on that his presence affected her, that even after all this time she longed to know what had changed his mind about marrying her. She reconciled herself to the fact that she was better off not knowing— not prying open that door to her past.

Jason shifted his weight from one foot to the other. "I guess it was too much to hope that you'd be willing to put the past behind us."

She lifted her chin, drawing on the strength she'd used to manage this place in the recent absence of her boss, who also happened to be Jason's father. "I've moved on."

It'd taken time—lots of time—but she'd gotten over him and the way her life had unraveled after he'd dumped her. She refused to let him get under her skin again. Besides, she had enough on her plate already.
How did your character spend the week just before the story starts?
Jason stayed out of sight while the deal for his purchase of the Greene Summit Resort was finalized. After having left town on bad terms, he didn't want anyone to know he was the buyer until after the deal was signed and official.
Kara spent the week working overtime at the resort, getting ready for the new owner and hoping to impress them enough to keep her job. As such, her holiday activities have been put on hold. But with Christmas being her favorite holiday, she has plans to catch up on everything. 😉
Who would you cast in the role of your characters if your book was optioned for a movie?
For the heroine, I would cast Emily Blunt. She has that girl-next-door quality as well as being a natural beauty.
And for the hero, Ryan Gosling. He may be a bit older than my hero, but with those looks whose going to be that picky. 😉
What are you currently working on? What other releases so you have planned for 2013 into 2014?
My next release will be out in March 2014, SAFE IN THE TYCOON'S ARMS.
This story is something a little different for me as there isn't a sexy cowboy anywhere in sight. And it takes place in the Big Apple. But the hero, Lucas, is a rich businessman that can fill out a suit in all of the right places…And did I mention he was named Bachelor-of-the-Year???
Thanks for blogging at HJ!
Giveaway:

Snowbound With The Soldier by Jennifer Faye (e-copy)
To enter Giveaway: Please complete the Rafflecopter form and Post a comment to this Q:

What memorable Christmas gift did you receive from your significant other? It can be funny or romantic.
Except
Old Man Winter huffed and puffed, rattling the doors of the Greene Summit Resort. Kara Jameson turned her back on the dark, blustery night. She didn't relish heading out into the declining weather to navigate her way home after a very long day at work.

She took a moment to admire the massive evergreen standing in the lobby of what had once been one of Pennsylvania's premier ski destinations. The twinkling white lights combined with the sparkling green and red decorations would normally fill her with holiday cheer, but not tonight. Not even the rendition of "Jingle Bells" playing softly in the background could tempt her to hum along.

The resort had been sold. The somber thought weighed heavily on her shoulders. It didn't help that rumors were running rampant that all the management positions were being replaced.

Why did it have to happen with Christmas only a few weeks away?

Everything will work out. Everything will work out. She repeated the mantra over and over in her mind, anxious to believe the old adage. But something in her gut said nothing would ever be the same again.

"Kara?"

The deep baritone voice came from behind her. She froze. Her gaze remained locked on a red bell-shaped ornament as her mind processed the sound. Even in the two syllables of her name, she knew that voice, knew the way her name rolled off his tongue as sweet as candy.

Jason Smith.

It couldn't be. He'd sworn he would never come back.

"Kara, won't you even look at me?"

Her gaze shifted to the glass doors that led to the parking lot. Her feet refused to cooperate, remaining cemented to the swirled golden pattern on the hotel carpet. Seven years ago, she'd bolted out those exact doors after Jason had broken their engagement. Back then she'd been unsure and confused by the depth of her emotions. Since then life had given her a crash course in growing up. Running was no longer her style.

She sucked in a deep breath, leveled her shoulders and turned.

Clear blue eyes stared back at her. A slow, easy grin lifted the tired lines around Jason's eyes. She blinked, but he was still there.

This couldn't be happening. The overtime and lack of sleep must be catching up with her.

"Are you okay?" He reached out to her.

She jumped back before he could touch her. Words rushed up her throat, but clogged in her mouth. She pressed her lips

together and willed her heart to slow. Her pulse pounded in her ears as her fists clenched at her sides. A breath in. A breath out.

"You're so pale. Sit down." He gestured to one of the overstuffed couches surrounding the stone fireplace. "You look like you've seen a ghost."

She didn't move. This surreal moment struck her as a clip from a movie—a visit from the ghost of Christmas past. Only, this wasn't a Hollywood soundstage and he wasn't an actor.

She studied the man before her, trying to make sense of things. The dark scruff obscuring his boyish features was a new addition, as was the two-inch scar trailing up the right side of his jaw. His hardened appearance was a visual reminder of the military life he'd chosen over her. Her fingers longed to reach out and trace the uneven skin of his jaw, but instead she gripped the strap of her tote even tighter. A bit older and a little scuffed up, but it was most definitely Jason.

Just pretend he's a mere acquaintance from years ago, not the man who threw your love back in your face and walked away without any explanation.

"Jason Smith. I can't believe you're here," she said, trying her best to sound casual.

"Actually, I go by Jason Greene these days…."

The fact he now used his mother's maiden name came as a surprise, but Kara supposed she shouldn't find it too shocking, knowing the stormy relationship between him and his father. The name change had presumably contributed to her inability to track him down and notify him of his father's failing health. A question teetered on her tongue, but she clamped her lips shut. Playing catch-up with Jason was akin to striking a match near fireworks. One wrong move and it'd blow up in her face. Best to stick to safe topics.
His gaze implored her for an answer, but to what? She'd lost track of the strained conversation. "What did you say?"

"How are you?"

He wanted to exchange pleasantries as though they'd parted on good terms? She didn't have time to beat around the bush. She should already be home, getting dinner for her daughter before they went over her homework.

"When you left Pleasant Valley, you swore you'd never return. So what happened? What finally changed your mind?"

His expression hardened. If he'd been expecting a warm welcome, he'd been sadly mistaken.

He shrugged. "Things change."

Well, most things did, and generally not for the better, but not in Jason's case. He hadn't gained so much as a beer gut or a receding hairline. Even the jagged scar on his face added to his sexiness.

Kara's gaze rose to meet his. At first glance, she thought his intense blue eyes were the same as she remembered, but a closer inspection revealed a hard glint in them. He no longer resembled the warm, lighthearted guy she'd dated for nearly four years. Or had he been that way all along? Had those rose-colored glasses she'd been wearing back then obscured his real character? Had she ever truly known him at all?
Book Info: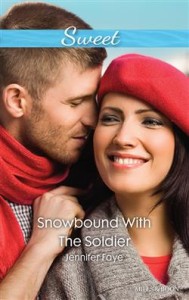 Maybe this Christmas…?
It has been seven long years since Kara Jameson last saw Jason Greene. Returning home as a wounded war hero, Jason looks a shell of the man she once knew. Yet her heart still skips a beat as if it was yesterday….
Stepping back into civilian life, Jason looks to Kara for help. But there's too much water under the bridge—not to mention too much lingering attraction.
But it seems that the mountain weather has other ideas, and when Kara and Jason end up snowbound together they are forced to confront the ghosts of Christmas past.
Book Links:
Author Bio
Jennifer Faye is a two-time RT Book Reviews TOP PICK author. Maybe that's partly due to the fact that she has spent most of her life with her nose in one book or another. It was only natural that she dreamed of becoming a romance writer and spinning the tales of the imaginary people running around in her mind. But first life took her on a couple of detours. Refusing to give up on her dreams, she finally succeeded in getting her name on a book cover. She currently resides in Pennsylvania with her very, very patient husband, one amazing daughter (the other remarkable daughter has flown the coop to chase her own dreams) and two spoiled rotten cats. When she's not glued to her laptop writing another contemporary romance (which isn't often) or enjoying some family time, she loves to get lost in a good book, cross-stitch, embroider, quilt, knit, watch hockey (go Pittsburgh Penguins!), and garden. Jennifer loves to hear from readers–you can contact her via her website.
Website | Facebook | Twitter |