Today it is my pleasure to Welcome author
Amy Andrews
to HJ!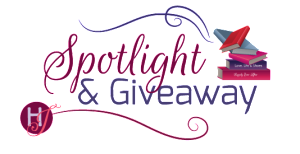 Hi Amy and welcome to HJ! We're so excited to chat with you about your new release, Some Girls Do!

Hi Sara – so nice to be back. This feels like my second home!

Please summarize the book for the readers here: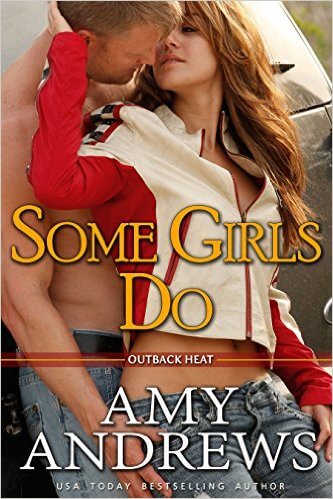 Some Girls Do is the first book in the 4 book Outback Heat series which is set in the small, fictitious outback town of Jumbuck Springs and follows the trials and tribulations of the Weston family. Some Girls Do is little sister Lacey's story and if you like off-limits, older brother's best friends romances then this is the one for you. Read and enjoy as a very determined Lacey puts poor old Coop through his paces!

Please share the opening lines of this book:
Cooper Grainger watched the leggy brunette press a Corona bottle to her lips and wished he was her beer. She downed a hearty mouthful, swiped her tongue across her lips, then laughed at something a guy in her group said as she passed the bottle to him before bending over the pool table.
Please share a few Fun facts about this book…
The original title was Little Sister Don't.
I cut out the first sex scene in revisions (dont worry, I'm going to release it as exclusive content for my newsletter subscribers so make sure your signed up!)
I spent a lot of time Googling car restoration and picking my hubby's brains about restoring a mini which he was doing when we first met.
If your book was optioned for a movie, what scene would you use for the audition of the main characters and why?
Definitely the scene in the Weston house when Lacey is trying to convince her brothers she's coming home whether they like it or not. It's a scene of high emotion and even higher stakes as the tension cranks up to the rather unexpected conclusion.
"Okay … fine …" she said, her heart tripping as the lie formed remarkably easily in her head. "I wasn't going to tell you this just yet, because I know how much you'll freak out but …" she glanced at her hands, she couldn't look at them while she lied. "I am pregnant."
Coop's eyes widened in her peripheral vision as a chair crashed to the floor. "What?" Marcus gaped, full of big brother indignation.
Lacey switched from Coop's alarmed gaze to JJ's. The other woman had been quiet, well used to Weston family disputes playing out over the dinner table, but she narrowed her eyes slightly. Her searching stare lasered straight into Lacey's brain and she looked away from its intensity to face her brothers.
All three of them were gaping at her, a variety of emotions flashingflitting across their shocked faces. Disbelief from Jarrod. Affront from Marcus. White- knuckled anger from Ethan.
Panic surfaced. Crap! She should take it back. She should take it back right now. She could do that. She could walk this back before any more damage was done.
"Lacey … no …" Jarrod muttered, clearly gutted by her revelation as he ran a hand through his wavy red-gold hair.
Guilt bit hard at her conscience. Jarrod's disappointment was difficult to take. As a kid it was Jarrod she'd always sought out for good, considered, non-judgemental advice. He'd been her confidant. Ethan had been the one she'd always sought to impress, and she'd been Marcus's little buckaroo going to footy games with him and up for any of his daring adventures; but Jarrod had been her touchstone.
Lacey couldn't bear him looking at her like she'd betrayed him somehow and she opened her mouth to retract.
"Since when the fuck have you been having sex?"
It was Lacey's turn to gape as Marcus's angry interjection, which stopped dead any retraction she was about to make. Was he freaking serious? Did Marcus actually think she was going to stay a bloody virgin forever?
She wasn't his little buckaroo anymore.
She stood, damned if she was going to let him tower over her. "Jesus. I'm twenty-one, Marcus."
This was her fault. She'd let them dictate her life too long, happy to be the apple of their collective eyes. To know her big brothers had her back, that they loved and supported her unconditionally.
And this … infantilising was the flipside.
"I drink and I say fuck and I stay out late on a school night and I've smoked a joint and skipped classes and flunked an exam or two and yes … I've had sex. Lots of sex."
Stunned silence followed. Obviously none of her brothers knew what to say to any of her revelations. She glanced at Coop who was also looking at her like she'd lost her mind.
What do you want people to take away from reading this book?
I want them to get immersed in a fun, sexy story and forget about their lives for a while. I dont necessarily want them to take anything away. I want them to be entertained. To laugh. To gasp. To tingle. And finally to sigh. Although if some of my overseas readers walk away from it knowing what a jumbuck is then that'd be kind of neat too 🙂
What are you currently working on? What other releases do you have planned for 2015?
I'm currently putting the finishing touches on the Outback Heat Series. The next 3 books release over six weeks.
Some Girls Dont – October 6th
Some Guys Need A Lot of Lovn' – October 20th
Some Girls Lie – Nov 3th.
And in amongst all that I'm also part of a seven author boxed set releasing in late October all based on the seven mortal sins. I'm doing gluttony and its my first foray into BDSM – eek!

Thanks for blogging at HJ!
Giveaway:

An electronic copy (must have an Amazon account) of my USA Today bestselling book No More Mr Nice Guy.
To enter Giveaway: Please complete the Rafflecopter form and Post a comment to this Q:

Are you a fan of small town romance?
Excerpt from Some Girls Do:
Coop was still wide awake twenty minutes later when the sound of a soft sob floated towards him. What the hell? He'd thought she was asleep. He rolled over on the world's most uncomfortable couch trying to ignore it, but her crying yanked hard at invisible strings.
There were a helluva lot of tears for a guy she didn't even love. He sat up, swinging his feet onto the floor, his head in his hands, a battle waging on the inside.
Go to her. Don't go to her.
Coop hauled his shirt off over his head, hot and bothered in the artificially warm environment, tossing it aside as he flopped back down annoyed at himself for his weakness and indecision. But a few minutes later he couldn't ignore it any longer. Lacey may have been a major pain in his butt but she was hurting and it didn't seem right to ignore that.
He wouldn't ignore an animal whimpering in pain, would he? He sure as shit couldn't ignore his best friend's sister alone and hurting not ten metres and a wall away.
And what Ethan didn't know wouldn't hurt him.
Coop rose from the lounge, threw his shirt back on and stalked to his bedroom with determined strides, lecturing himself as he drew closer. He was an adult man in control of his body and his impulses. She was a mess. She was sobbing over another man for fuck's sake. A lying, cheating scumbag who didn't deserve a single bloody tear.
Although he suspected Lacey was crying over a lot more than some lousy prick that had done her wrong. The death of ideals was often harder to bear.
He paused momentarily in his open doorway. He could just make out her outline on his bed with his night vision. Her back was to him, his spare pillow over her head, an arm anchoring it in place. He hesitated briefly again before letting compassion win out over common sense.
"Don't cry, Lacey," he murmured as he stopped beside the bed.
She pulled the pillow away and looked up at him with a wet face and swollen eyes and he wished, not for the first time, he had some superpower that allowed him to go back in time and fix bad shit before it happened.
They both could have done with a bit of that.
"I'm sorry," she said looking at him like her entire world had ended and it grabbed a big handful of his gut and squeezed hard.
He sighed. "Move over."
Thankfully she didn't question him or his motives, just wriggled over enough to admit him. Coop pulled back the covers and lay down beside her, putting out his arm in silent invitation. He braced himself as she took it, rolling on her side, moving closer, her head making a pillow out of his shoulder, her breasts and belly and thighs smooshing up against his side, her toes brushing his ankle, her upper hand sliding onto his ribs.
He didn't dare breathe as she settled against him, but his heart thudded like a gong in his chest and his body burned in carnal recognition. When she seemed comfortable he curled his arm up, his hand coming to rest on her bare shoulder. He swallowed as his palm prickled with heat and awareness.
"I—"
"Shh," he interrupted. He didn't want to lay here in the night and talk as if they shared a bed on a regular basis. He just wanted to get through this night with his sanity intact. "Go to sleep," he murmured.
"Th-thank you," she whispered on a hiccupyoughy sob.
Coop stared at the ceiling as her body grew heavy and relaxed against his.
What the fuck am I doing?
Snuggled up in bed with a woman who should come with a flashing neon warning sign.
Danger, danger, danger.
A woman whose body he knew intimately. Who he'd spent probably one of the most amazing nights of his life with. Who came to him in dreams so erotic, so vivid, he woke from them calling her name.
Who was his best friend's sister.
Who he could never ever have.
Coop sighed, resigning himself to a night of staring at the ceiling. After all, he wasn't any stranger to those. But holding her close, all warm and pliant, the patter of rain on the high window above them and her soapy aroma winding around his senses, he knew he needed more than the ceiling to distract him from the slow burn of heat licking through his veins.
So he turned his mind to everything that had pissed him off about her since their first acquaintance—including her disappearing act. Cataloguing her litany of sins and pitting them against the slow simmer of lust invading every cell in his body helped. Even if he did understand why she'd been such a pain in the ass.
He understood she was pissed at the world. Pissed that her mother had been diagnosed with cancer. Pissed that her mother had fought for two long, awful years then lost the battle anyway. Pissed that her brothers had insisted she leave home so soon after. That she'd been appointed a babysitter. That she'd had to ask him for help.
He got it.
But it was time she grew up. Crap happened to people—he knew that better than anyone. And you were allowed to be sad about it and you most definitely were allowed to be pissed about it. But at some point, you had to get your shit together.
It was time for Lacey to get her shit together. And if he had to threaten her with getting her brothers involved he would.
It was that or putting her over his knee and spanking her. And he wasn't entirely sure if that would be a hardship.
For either of them.
Excerpt. © Reprinted by permission. All rights reserved.

Book Info:
Fashion student Lacey Weston is desperate to leave the city and go home to Jumbuck Springs. Her three older brothers are adamant she's not. They made a death bed promise to their mother that Lacey would stay the distance at design school and Ethan, the oldest, takes this responsibility very seriously. But Lacey is deeply homesick and determined not to be dissuaded again. She's also impulsive enough to try anything – even faking a pregnancy.
Ex-cop turned mechanic, Cooper Grainger – one of Ethan's oldest friends – agrees to watch out for Lacey in the city even though he has a history with her he'd rather forget. How hard could it be, right? But a couple of years later, Coop is over pulling Lacey out of scrapes and cleaning up her messes as she tries to outrun her grief and sense of dislocation. He takes her back to Jumbuck Springs so she can persuade her brothers to let her come home. But things don't go according to plan. Before Coop knows it Lacey's pregnant and he's putting his hand up as the fake baby daddy, filling in for the town mechanic and moving in with her at the local pub.
Lacey is thrilled to have won a reprieve but nothing about the situation sits well with Coop. Least of all having sweet little Lacey Weston as his new roomie…
Book Links:

Meet the Author: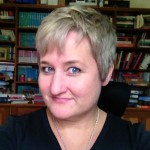 Amy is an award-winning, best-selling Aussie author who has written over fifty contemporary romances in both the traditional and digital markets.
She loves good books, fab food, great wine and frequent travel – preferably all four together.
She lives on acreage on the outskirts of Brisbane with a gorgeous mountain view but secretly wishes it was the hillsides of Tuscany.
To keep up with her latest releases and giveaways sign up for her newsletter – http://www.amyandrews.com.au/newsletter.html
Website | Facebook | Twitter |