Today it is my pleasure to Welcome author
Jessica Peterson
to HJ!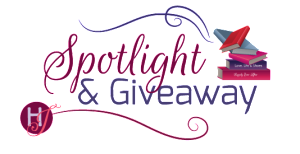 Hi Jessica and welcome to HJ! We're so excited to chat with you about your new release, Spanish Lessons (Study Abroad #1)!

Hi there! Thank you very much for having me – I'm so excited to be here today talking about the sexy Spaniards in my Study Abroad series!

Tell us about the book with this fun little challenge using the title of the book:
Oooh, this is fun. Here we go: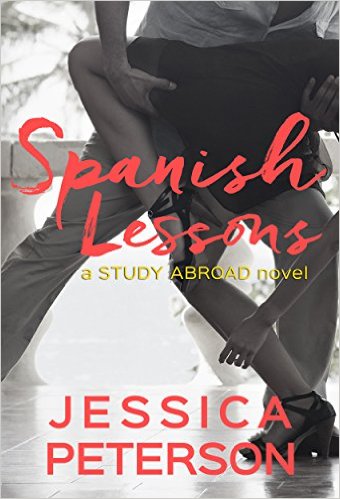 S is for sexy Spaniards!
P is for paella (a typical Spanish dish of rice, seafood, and veggies…seriously yum!)
A is for Art History
N is for naughty make-out scenes
I is for intense emotional connection between the hero and heroine
S is for study abroad
H is for hot sex scenes!
L is for love
E is for ever after (as in happily ever after!)
S is for smokin' dancing scenes
S is for sinful studying sessions
O is for amazing orgasms
N is for never leaving Spain again!
S is for staying true to yourself
What's your favorite line(s) from the book?:
This is a tough one. As much as I love writing sex scenes (and I do!), I love a great kissing scene almost as much. This is an excerpt from Viv and Rafa's first kiss after an amazing night dancing at a discoteca in Madrid.
"This is just a kiss, I tell myself. It's just one kiss that he won't remember, that I'll try to forget. Still. There's this rush between my skin and bones that whispers to me, telling me this is no ordinary kiss. That nothing will be the same after this kiss."
Please tell us a little about the characters in your book. What first attracts your Hero to the Heroine and vice versa?
Viv and Rafa are near and dear to my heart – I absolutely loved writing them. Rafa just might be my ultimate book boyfriend. Vivian starts the book in a pretty low place. She's been used and abused by the guy she really liked back home; she doesn't want to get hurt again, especially by a sexy Spaniard she'll have to leave at the end of the semester. But then she meets Rafa Montoya. She's first attracted to him because he's really, really handsome. He's also really sweet, and a wicked dancer to boot. A total charmer. It doesn't hurt that he falls pretty hard for her, too!
I think Rafa is attracted to Viv's self-deprecating sense of humor. He also loves her passion for her classes, her friends, her interests. He is instrumental in helping Viv pursue those passions a bit more fearlessly.
When you sat down to start this book, what was the biggest challenge you faced? What were you most excited about?
I'm a slow writer, and I tend to edit as I go. So that makes every book difficult to write for me. SPANISH LESSONS was especially difficult because it's the first time I wrote New Adult (I began my romance career writing historicals). It's a whole new voice, with new rules and new challenges to consider. For example – the "lingo" used in sex scenes is completely different in New Adult than it is in historical romance. It's much more explicit; much hotter. I love it now, but that was certainly an adjustment for me!
I was most excited about revisiting my own time studying abroad in Spain. I never had hot Spaniards fall madly in love with me (tragic!), so in some ways SPANISH LESSONS was a way of revisiting that particular fantasy of mine. Writing this book also really made me miss being young and carefree, as hokey as that sounds. I wish I could be twenty again and escape to Spain for a semester!
What, in your mind, makes this book stand out?
The study abroad angle! I had such a fabulous time studying abroad – it was one of the most romantic periods of my life – and I've always wondered why there aren't more books about falling in love with hot European men while abroad. So far in this series, I have a sexy Spaniard hero, a sexy Spaniard rockstar hero, and a Welsh footballer/soccer player hero. I haven't started book #4 yet, but I'm thinking of a British Prince hero for that one. We'll see!
Like I said before, I love writing sex scenes. And there are plenty of steamy ones in this series!
The First Kiss…
My favorite scene! Here it is:
We cross the street—I'm on the outside—and when we step up on the curb I give Rafa's hand a tug. He turns to face me, the laughter softening in his eyes. My heart is pounding so hard inside my head I think it might explode. I take a step closer.
"Are you okay, Vivian?" he asks.
Not okay. Definitely not okay. But I'm going to do it anyway.
I've never made the first move before—at least not when I was this sober— but I know if I don't just go in for the kill, I'm going to mess it up.
I rise up, slowly, on my tip toes. Our faces inch closer. He keeps looking at me; I feel the heat of his gaze on the rise of my cheekbones. But I can't meet his eyes, so I focus on his lips instead. The scent of his aftershave hits me and I know I've made the right decision.
Or maybe the worst decision ever.
My body slides up the tall length of his, our clasped hands trapped between us. I love the solid warmth of his body, the delightful shock of being this close to someone.
And then I kiss him.
I close my eyes and press my lips to Rafa's mouth and I kiss him.
The second I do it, I think oh my God, what a fucking idiot fish I am, what in the world am I doing, stop now, stop while you're ahead.
It's excruciating, that first second.
But the second—er, second—is much better, because Rafa starts kissing me back.
His lips melt into mine, slightly parted, perfect for kissing. My heart flutters inside my chest. The kiss is slow and a little timid, like neither of us want to go too far or reveal too much. But I don't mind it. I like slow, especially with Rafa. It allows me to savor every heartbeat, every feeling, every damn delicious thing about him.
Rafa pulls back. My stomach flips. I wait for him to bumble an excuse, to tell me he can't because he has a girlfriend, he has to get home, he thinks I smell.
But when I open my eyes, he's grinning. Relief, warm, spreads through me.
"For a minute, I believed you didn't want to do that," he murmurs. "Back there, after the chocolate incident…"
I shrug, bashfully. "I did. I do. I do, Rafa. I just…gah, I was just being an idiot."
He brings our joined hands up between us, settling my hand on his chest. I can feel the pound pound pound of his heart. Something about its furious working makes my own skip a beat. I'm the one who is making him feel this way. I'm the one he feels this—whatever this is—for.
I look up, startled, a little scared. Rafa brings his hands up to my face, his fingers gliding with erotic ease to rest just beneath my earlobes, in my hair, on my cheeks. He angles his head, his lips hovering less than an inch above mine.
A current of desire rips through me. I have never felt anything like it.
Rafa holds me there, an inch from the kiss I want more than my next breath. His nose brushes mine as he looks at me and looks at me and keeps looking, his eyes glassy with heat. He's making me wait.
"I didn't know if you wanted to do that," I say.
One side of his mouth curls into a grin. "Do you not remember? I kissed you first, Vivian."
My cheeks burn with the memory of the quick, sweet kisses he gave me when we first met at the bar.
"But those were polite kisses," I say. "Hello kisses."
"But still kisses. I have been waiting to do it again all night."
He bends his neck and presses his lips to mine. My eyes flutter shut, a poignant rush of sensation moving from where our mouths meet to where my legs do. His mouth moves over mine, opening me to his every stroke, every pull and nick and bite. In a handful of heartbeats Rafa makes the kiss his own, holding my head in the cradle of his hands as he moves over me. He tastes like chocolate, just a hint of sweet sangria.
Behind my closed lids, a confetti of sparks ignite and sparkle.
Whistles and catcalls erupt somewhere behind us. Rafa slows, but his lips never leave mine. He wedges my legs between his own, and in one swift, strong movement, he swivels me around, reversing our positions so that he is between me and the street. I sense him hunching his shoulders forward, blocking me from sight, pressing me into the little make-out alcove.
I don't have time to think or catch my breath. Rafa keeps kissing me, and the kiss keeps getting better. Deeper. Our first kiss was timid; but this kiss—this kiss is anything but. My head spins as I try to keep up with him. He's slow and fast and insistent and soft, all at once. I lose myself in him, my mind a blessed blank. He's just as good a kisser as I thought he'd be.
Better, even. There is something incredibly sexy about the way he moves. He's confident without being overbearing. Yes, the kiss is his, but that means I'm his focus. He lavishes me with attention and care, his tongue working to open me to him, and I open, willingly, wildly.
This is how everyone dreams of being kissed. With abandon. With feeling. I grasp his forearms, my fingers digging into his bare skin as I hold on for dear life.
There is nothing safe about Rafa. Not the way he looks at me or the way he dances or how I feel when he touches me. Definitely nothing safe about the way he kisses me.
But I feel safe with him anyway. Safe to be myself. Safe to kiss him back without worrying about what happens next.
I feel safe because we'll probably never see—much less kiss—each other again. He's way out of my league. And I don't want to fall for a guy I'll just have to leave in a few months. I don't want to get hurt again. I can't bear it.
This is just a kiss, I tell myself.
It's just one kiss that he won't remember, that I will try to forget.
Still. There's this rush between my skin and bones that whispers to me, telling me this is no ordinary kiss.
That nothing will be the same after this kiss.
If your book was optioned for a movie, what scene would you use for the audition of the main characters and why?
The kissing scene above! By the way – my celebrity inspirations for the hero and heroine are:
Rafa – a Spanish Max Irons (hot, right?)
Vivian – Chloe Grace Moretz
If your hero had a sexy-times play list, what song(s) would have to be on it?
I love this question. I never write while listening to music – it's too distracting – EXCEPT when I write sex scenes. Then a sexy playlist is a MUST. For this book, I had "Where R U Now" by Justin Bieber/Skrillex/Jack U on repeat. I also listened to a lot of Miguel ("Coffee") and then of course some Ed Sheeran, because his music can just be so romantic.
What do you want people to take away from reading this book?
Follow your passions fearlessly! And travel abroad if you can. For a semester, a week, a weekend – it will change your life in ways you can't imagine.
What are you currently working on? What other releases do you have planned for 2016?
So I just released book #2 in the Study Abroad series, LESSONS IN GRAVITY, and I'm currently working on book #3 (no title yet). This one is about an American student who falls hard for a super hot footballer who plays for the best team in Spain. It's going to be HOT!

Thanks for blogging at HJ!
Giveaway:

5 Study Abroad Prize Packs: digital copies of both books #1 and #2 in the Study Abroad series, SPANISH LESSONS and LESSONS IN GRAVITY
To enter Giveaway: Please complete the Rafflecopter form and Post a comment to this Q:

Have you ever traveled abroad? If not, what is the country you'd most like to visit? Why?
Excerpt from Spanish Lessons (Study Abroad #1):
I duck out of the crowd, my heart pounding. I make my way toward the bar and look around for the bathroom. I need a minute to catch my breath, to clear my head. I don't want to be seen stumbling out of here with mascara streaking down my face.
I finally find the bathrooms at the end of a hallway. They're unisex; I push through the first door that's open, relieved to find it unoccupied. It's one of those bathrooms that has its own sink in the corner. Good; a little cold water might help me calm down.
I reach behind me to close the door, but to my surprise someone pushes back, swinging it open. I stumble further into the bathroom, go fuck a fish on the tip of my tongue.
The words die on my lips. Rafa fills the doorway. The anger radiating from his body is palpable. He looks huge. I reach for the wall behind me.
Oh God oh God oh God.
Before I have a chance to say a thing, he's slamming the door shut and stalking toward me. His nostrils flare as he stares me down.
"What the hell was that?" he says, his voice rough, strained with barely contained rage.
"What was what?" I say.
He's close now, he keeps coming, relentless, and I have nowhere to go. I fall back against the wall, my chest working as I struggle to breathe. I press my palms to the wall; it's cool to the touch.
He looms over me, so close I can smell his aftershave. Even in his glowering, he looks and smells delicious. I feel trapped.
I feel turned on.
"You know what I'm talking about. Who is he?" Rafa growls.
"The guy I was dancing with? I don't know."
"Is he going to give you what you want? Is he going to keep you from getting hurt? I thought you didn't want to start something while you were in Madrid."
I blink. Rafa must be as drunk as I am. There's no way he'd be saying these things, here, in a bathroom at Ático, if he were in his right mind. But just because he's tipsy doesn't mean he's not right.
Still. I have to defend myself. He was just doing the old bump and grind with my best friend, wasn't he?
"That's none of your business," I say. "It was just a little fun. I can dance with whoever I want to. Just like you, Rafa."
He puts his hand on the wall beside my head, leaning into me. My courage wavers, even as the place between my legs throbs with heat. The light in the bathroom is low; I can see the fine sheen of sweat that glistens on Rafa's skin. He's killing me.
"Maddie was the one who danced with me," he says. "I did not invite her attention. I was just being polite."
"Just being polite?" I cry. "Are you kidding me? You were practically having sex out there. With my best friend."
Rafa moves closer. I'm bunched up against the wall now.
Someone pounds on the door and it creaks open. Rafa flies across the bathroom to slam it shut, shouting something in rapid-fire Spanish as he throws the bolt into the lock. The guy on the other side of the door shouts something back; Rafa's got an angry reply for him.
He turns to me. "You think I want Maddie?"
I swallow, hard, and look away. It's unfair to call him out for dancing with Maddie, I know. I shut down whatever Rafa and I had before it even began. Just because I can't have him doesn't give me the right to keep him away from someone who can. He doesn't deserve to be treated this way.
I let out a breath, tucking my hair behind my ears. "I'm sorry. It's okay, you know. It's okay if you like her. I told you I couldn't…that I didn't…God, I'm sorry, I'm making a mess of this…"
In one, two strides Rafa is across the bathroom. He plasters his body against my body and takes my face in his hands and presses his hips into mine, a hot, hard, deliberate grind. A cry escapes my lips at all this sudden, searing contact; the onslaught of all this Rafa is overwhelming. The smoldering heat inside me sparks into huge, heady flames.
"You think I want Maddie?" he repeats.
"It's all right," I breathe. "It's all right if you do."
"It's not all right." He looks at me. Bends his neck.
"Rafa," I plead. "Please."
He angles his head, his breath warm on my mouth, and my eyes flutter shut. He's killing me. He's been killing me ever since I laid eyes on him my first night out in Madrid.
He crushes his lips to mine. In the space of half a heartbeat the kiss is overwhelmingly deep. My knees buckle; I let out a moan; he holds me up with his weight, his mouth moving hungrily, deliciously over mine, drinking me in, making me his. I fall into him, I fall into this kiss, I've been waiting for this and I don't want it to end.
The kiss isn't hurried, it's not messy; but it's hard and relentless, all our pent-up longing spilling over. Like we're saying with our bodies what we can't say with our words. My hands move up his chest; my arms circle his neck, pulling him closer, closer, he can never be close enough. The wall is hard and unyielding against the blades of my shoulders. It will probably bruise me. I don't care. I want to be marked. I want Rafa to mark me.
Our first kiss was a little hesitant, polite. There is nothing polite about this kiss. This kiss is all sensation. All sex. I've wanted to kiss Rafa like this forever. I've wanted to feel the weight of him pressing into me, squeezing the air from my lungs, I've wanted to see how perfectly, exactly, our bodies fit together. I've never felt this wild before. This sure, this scared.
"There," Rafa pants, pulling back. He searches my eyes. "Is that the proof you need? I don't want Maddie. I want you. Maddie is your friend, and so she is a friend of mine. I know she has shit going on with her family, and I'm trying to be there for her, trying to be a good friend. But that is all she is—a friend. Vivian, you are the one I want."
My heart is pounding. That's all I've ever wanted to hear—that I am the one.
I want to smile. I want to cry.
Rafa is leaning in again, taking my bottom lip between his teeth, his mouth moving over my jaw, down the slope of my throat.
"Tell me you don't want me," he says, his teeth nicking at the skin beneath my ear. He's doing it again—reading my thoughts. "Tell me to stop, Vivian."
No way, I think. Not for all the sangria in Spain. I never want him to stop. Just this once, I want to feel what it's like to be the star. The one. It's so sweet, so poignant. So lovely.
My desire liquefies as Rafa's mouth moves over me. He somehow manages to be both careful and carnivorous at once. We move well together. There is no awkwardness, no sloppiness. Only urgency and need.
The idea that we could be caught, that Rafa is having me against the wall of a bathroom at a discoteca, only intensifies the desire surging through me. It's lewd, what we're doing, and I love it.
I want more.
His mouth moves to my shoulder. His fingers glide down the skin there, curling around the tiny strap of my tank top. I dig my fingers into his hair, tugging at his curls.
"Tell me to stop," he repeats, his voice a murmur against my skin.
"Don't," I breathe. "Please, Rafa, don't stop."
He slips the strap over my shoulder, pulling it down, down, revealing the half moon of my breast that curves over my strapless bra.
His fingers slip inside my bra. I suck in a breath when they brush against my nipple, coaxing it to a hard, tight point.
I see stars. My pussy pulses.
And then Rafa is ducking his head, using his fingers to prop my breast, swollen with need, above my bra. His mouth finds my nipple; he bites, tears at my skin, soothes with his tongue.
The back of my head hits the wall.
I'm coming apart. I'm in Rafa's arms, exactly where I promised myself I would never be, and I am coming apart, helpless against the onslaught.
Excerpts. © Reprinted by permission. All rights reserved.
Book Info:
VIVIAN BINGLEY HAS BIG PLANS FOR HER SEMESTER ABROAD IN SPAIN…
Along with her BFF Maddie, Vivian hopes to indulge her inner Art History nerd by visiting the best museums in the world. She also wants to tackle more practical concerns—like a less than stellar GPA in her major, Economics—with the help of a Spanish tutor.
BUT FALLING FOR HER STUDLY SPANISH TUTOR DEFINITELY ISN'T ONE OF THEM.
Madrileño Rafa Montoya is the stuff study abroad dreams are made of: super studly and super smart. He also happens to be super into Vivian. With his wicked dancing skills and his passion for the arts, he tempts her to throw caution to the wind and live out her wildest dreams.
Only problem? Maddie wants Rafa, too, and Vivian promised herself she'd never settle for second best again…not after a hookup-gone-awry last semester left her heartbroken. Is it best for Vivian to protect her heart at all costs? Or is letting Rafa in worth the risk?
Book Links:

Meet the Author: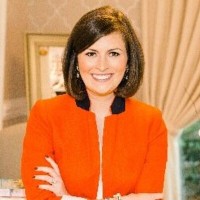 Jessica Peterson began reading romance to escape the decidedly unromantic awkwardness of her teenage years. Having found solace in the likes of Mr. Darcy, Jamie Fraser (OMG love the gingers!), and Edward Cullen, it wasn't long before she began creating tall, dark and handsome heroes of her own.
She lives in Charlotte, North Carolina with her husband, Mr. Peterson, and her smelly Goldendoodle Martha Bean.
Website | Facebook | Twitter |