Today it is my pleasure to Welcome author
Andrea Laurence
to HJ!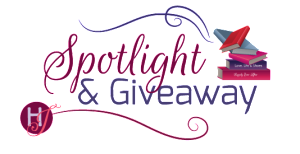 Hi Andrea and welcome to HJ! We're so excited to chat with you about your new release, Stirring Up Trouble!
Please summarize the book a la Twitter style for the readers here: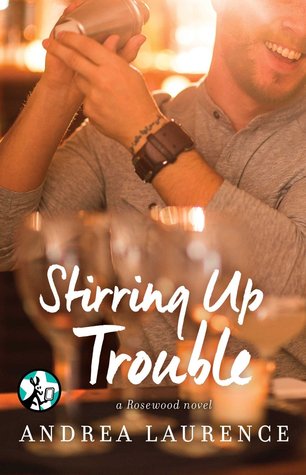 When a battle between an early bird baker and a night owl bar owner lands them in front of the judge, they have to learn to work together or risk landing in jail. So what happens if they wave the white flag and surrender into each other's arms?

Please share the opening lines of this book:
"Now those are some nice-looking buns."

Madelyn Chamberlain looked up in time to see Emmett Sawyer walk past her bakery. He was up early for a night owl—or perhaps he was up late for him—but as always, the shaggy, laid-back owner of Woody's, the local bar, was looking casually delicious. He managed to make a simple T-shirt and jeans look sexy. Of course, it helped that his well-worn jeans fit him like they were custom-made.
Please share a few Fun facts about this book…
The book features the beginning of two spicy senior romances.
I wrote the original draft of the book in a month with fewer revisions than I expected.
Emmett is very afraid of heights, but I didn't know it until I put him on a ladder and made him climb it.
Maddie was inspired by actress Alyssa Milano and Emmett was inspired by actor Michael Vartan
I've always wanted to handcuff characters together. This book gave me the chance I was looking for.
What first attracts your Hero to the Heroine and vice versa?
Aside from those physical fireworks, Emmett enjoys that Maddie doesn't know everything about him. She doesn't expect fancy dinners or expensive gifts. She just lets him be him and he likes that. Maddie finds Emmett infuriating, but she's also attracted to his attitude. He doesn't care what anyone thinks of him, so she knows he isn't just interested in her for her family connections.

Using just 5 words, how would you describe Hero and Heroine's love affair?
Tumultuous, sweet, secretive, supportive and criminal

The First Kiss…
Their first kiss takes place after they get handcuffed together for a night. Tensions are high and it spills over in a spectacular way.
"Earlier you said I was beautiful—a sadist—but beautiful. Am I distracting because I drive you crazy or because I'm beautiful?" she asked in a breathy voice that made his chest and his pants tighten at the same time.

Even now, handcuffed to her, he wondered what she'd do if he kissed her. Maybe this was his chance. It wasn't like she could get away. It'd almost be worth it to see the look on her face. And maybe once he kissed her, he'd realize there wasn't anything special about it and he could focus on something else.

"Both," he said, inching closer to her. He expected her to pull away, at least as far as she was able, but she stayed in place. His left hand reached out for her cheek and he stroked her skin.

Maddie stiffened initially at his touch, then her eyes closed and she leaned into him. He hadn't expected that reaction at all. Emboldened by her response, he leaned forward and pressed his lips to hers. He wasn't sure what kissing her would be like, but the reality was far, far better than he ever could've anticipated. For someone so uptight and critical, her lips were soft and inviting. She molded to him without an ounce of tension in her body. She seemed to welcome his touch, even groaning softly as his free hand stroked the long line of her neck.

It was the sound that jerked him back to reality. What was he doing? She might be beautiful, but she was a total pain in the ass.
Without revealing too much, what is your favorite scene in the book?
My favorite scene of the book has to be when they're ordered to clean graffiti off the town water tower. Emmett is afraid of heights and not too happy about it.
Emmett was pretty certain the situation couldn't get any worse. He had a criminal record. He was losing money because he had to close the bar to serve some of his community service time. He still owed the city of Rosewood three thousand dollars in fines. He also had twenty-four hours of time with Maddie to look forward to. Things seemed pretty darn crappy if you asked him.

But he was wrong.

Standing at the base of the Rosewood water tower with a gallon of paint and a sack full of rollers, he knew things had just gotten much, much worse.

He'd never given much thought to the water tower. It was there, looming over the cityscape of Rosewood like the Space Needle in Seattle. Large, silent, and forgettable. And it had certainly never crossed his mind how one might get up to the top of it. Why would anyone not associated with the water company want to do that?

Standing at the base of the tower now, he found that the method of scaling the water tower was the only thing on his mind. As best he could tell, a spindly steel ladder running along one of the tower's legs was the answer. How the hell would he be able to climb that thing while carrying paint? The Penis Picasso, at least, just had to carry up a can of spray paint, not a gallon of exterior-grade latex.

"Well, we'd better get to it. I don't want to climb down in the dark," Madelyn said.

The dark? Shit. He hadn't even considered that possibility. How could this be a viable punishment? One of them could get killed climbing up this thing.
If your book was optioned for a movie, what scene would be absolutely crucial to include?
I think the scenes with Maddie and her best friend Lydia are pretty important. As the book goes on, Maddie changes, but Lydia is still the mean girl she's always been. It shows a lot about how much Maddie is growing as a person throughout the story.
"What is that?"

Maddie went back behind the counter and peered in at what Lydia was pointing at. "It's a Bavarian cream-filled horn dusted in sugar crystals."

"Lord," she said, taking a step back. "I don't know how you can stand to be around all this junk food. It's a wonder you don't weigh more than you already do."

Maddie bit the inside of her cheek to avoid responding. She was the same size eight she'd been since graduation, so she wouldn't let her friend get a rise out of her when it wasn't true.

"So, word is that last night you and Emmett were spotted looking quite chummy on your front porch. What," Lydia said with a mix of interest and disgust, "was that all about? I thought you two were fighting."

"We were. And now we're not."

An amused smile crossed Lydia's face. "So, now you're dating a bartender? Really? How very blue-collar of you, Maddie."

Maddie tried not to frown at her. "For one thing, he isn't a bartender. He owns the bar."

"The guy brings me drinks when I order them," Lydia said. "Same thing."

"And for another thing, I don't really want to talk about it."

Lydia leaned against the counter. "You don't want to talk about it? Was it really that bad?"

"No, it was wonderful. I had a great time. So really, I don't want to talk about it because you're just going to pooh all over it and ruin my buzz."

Lydia ignored her, narrowing her gaze. "Did you sleep with him?"

"It was our first date, Lydia! No, I didn't sleep with him."

Lydia shrugged and strolled down the counter to the small container with cookie samples. For all her money and their years of friendship, she'd never come into the shop to buy anything. She ate a sample or whined until she got something free. Sometimes she went as far as to walk into the kitchen and just take something off the cooling racks without even asking. But she never bought anything, claiming she didn't need the calories.

Before now, that hadn't bothered Maddie. Lydia was her best friend, right? Of course she didn't have to pay for a cookie. But something had changed, even just in the last few days since they went to lunch. Maddie had changed, without realizing it. Lydia was the same as she'd always been. That didn't leave them with a lot in common anymore.
Readers should read this book …
If they enjoy quirky little towns and the people that live in them and if they enjoy having a good laugh over small town scandals. Everyone knows a Maddie. Watching her evolve from the mean girl everyone hates to someone people can look up to is a fun process. Of course, there's also the Penis Picasso….
What are you currently working on? What other releases do you have planned for 2015?
I'm currently working on my July 2016 book for Desire, the first in the upcoming Newports Continuity. This fall, I have the final two books of the Brides & Belles series coming out – One Week with the Best Man and A White Wedding Christmas.
Thanks for blogging at HJ!
Giveaway:

A digital copy of Facing the Music (book 1 in the series) and Feeding the Fire (book 2 in the series) for one reader.

Andrea is running a special contest to celebrate the release. Pre-order STIRRING UP TROUBLE by October 11th, then go to her website at http://www.andrealaurence.com/contest to register the pre-order. Everyone that enters will get an exclusive short story set in Rosewood and one will get a Kindle Fire HD 7!


To enter Giveaway: Please complete the Rafflecopter form and Post a comment to this Q:

Are you an early bird like Maddie or a night owl like Emmett? Do you wish you were the opposite?
Excerpt from Stirring Up Trouble:
Maddie looked up in time to see Miss Francine, the owner of the local flower shop, Petal Pushers, rushing through the door. She came by every morning with a bouquet of fresh flowers that Maddie displayed on the counter. She was clutching a bouquet of pale pink hydrangeas and white dahlias, but she didn't seem particularly interested in the flowers.

"Oh my heavens, have y'all seen it?" Miss Francine was red-faced and absolutely horrified. She thrust the bouquet across the counter to Maddie and shook her head in dismay. "It's disgraceful."

"Seen what?" Miss Dotty asked.

Miss Francine took a moment to recover before she could speak of the dreadful thing. "Someone has spray-painted a giant penis on the side of the Piggly Wiggly."

Miss Dotty snickered. Pepper smothered a snort of laughter. Maddie just sighed. This town was so unrefined sometimes. She worked hard trying to bring some culture and elegance to Rosewood and just when she was starting to make progress, a ten-foot wiener shows up on the side of the grocery store and sets her back months.

"I could see it out the window of my shop this morning. I went to turn the Open placard and there it was in bright red paint like a damn neon sign. Some teenager's prank, I'm sure. Pat Kincaid, the manager of the grocery store, is out there painting over it right now, but the damage is done. The elementary school bus already went by and all the kids saw it. Clark Newton at the newspaper even snapped a few pictures for the front page of the Rosewood Times tomorrow."

"There'll be some interesting discussions around the dinner table tonight," Pepper mused.

"Indeed. I'm so rattled by the whole thing—I think I might get a little something, Maddie. My blood sugar feels low from the shock of it all."
Excerpts. © Reprinted by permission. All rights reserved.

Book Info:
When a prim and proper baker and a laid-back bartender have a neighborly disagreement that gets them both in trouble with the law, a sweet reconciliation is stirred up in the playful third romance in Andrea Laurence's sexy Rosewood series.
Maddie's life is perfectly sweet. Her bakery's tasty treats are rising to the top of every must-have list in town, and her commute is just a block away by foot. She loves everything about her little downtown Victorian bungalow—except for her unbearably noisy neighbor, Woody's. The bar's obnoxious and sexy owner, Emmett, seems to live to aggravate Maddie. But he mostly thinks she could use a stiff drink to dislodge the stick up her ass. He's just trying to run his business. Bars stay open late, they play music, they serve alcohol. If she doesn't like it, why did she buy a house across the street?
When Maddie and Emmett's battle lands them in front of the local judge, they're ordered to do several weeks of community service cleaning parks and painting over graffiti. As they scrub away the latest works of art by the town's anonymous "Penis Picasso," the baker and the bartender slowly begin to see there's more to each other than meets the eye. So what happens if they wave the white flag and surrender into each other's arms?
Book Links:

Meet the Author: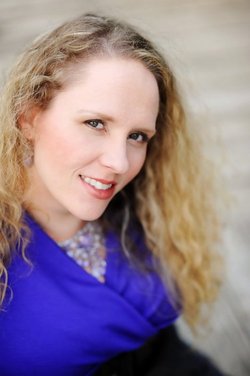 Andrea Laurence is an award-winning author of contemporary and paranormal romance. She has been a lover of reading and writing stories since she learned to read at a young age. She always dreamed of seeing her work in print and is thrilled to share her special blend of sensuality and dry, sarcastic humor with the world. A dedicated West Coast girl transplanted into the Deep South, she's working on her own "happily ever after" with her boyfriend and their collection of animals including a Siberian Husky that sheds like nobody's business.
Website | Facebook | Twitter |