Today it is my pleasure to Welcome historical romance author
Jennifer McQuiston
to HJ!
Hi Jennifer welcome to HJ!

If you gave the characters from this book an opportunity to speak for themselves, what would they say about you?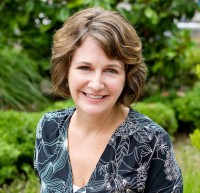 I believe my characters would tell the world I deserve a good bit of uninterrupted sleep. 🙂 My day job is kind of a 40-60 hour a week gig, so my characters have a habit of greeting me every morning at 4am and demanding caffeine.
They would also be laughing hysterically at me. You see, this was my second book, and the first I had ever written under deadline. I had an idea of who my characters were and what they believed about life and love, but the evolution of their romance came slowly to the page. Apparently, they didn't appreciate the deadline anymore than my muse did, and enjoyed messing with my head and sending me into an occasional panic with their lack of cooperation. But they eventually found their happily ever after — which means they really ought to say "Thank you" now!
 Let's talk about your newest release:

SUMMER IS FOR LOVERS
If you had to summarize the book for the readers here
SUMMER IS FOR LOVERS is an unrequited love story set in the Victorian seaside resort of Brighton. It features an unconventional heroine who doesn't fit in with the popular crowd, and a hero shaped by his past failures and who believes he is undeserving of love.
Please tell us about the characters in your book?
Though it was not socially acceptable for a woman in 1840's England, my heroine, Caroline Tolbertson, is an excellent swimmer, though she must hide her inclinations from the world. Thanks to a promise she made to her dying father, she feels a great responsibility to take care of her family, and the only means available to improve her family's position is to marry well. Unfortunately, she is viewed as something less than the feminine ideal by the summer set from London and finding an acceptable suitor is proving difficult. My hero, David Cameron, is a recently decommissioned military officer trying to find his new place in life. Guilty of past mistakes when it comes to love, he is wary of getting too close to an innocent like Caroline.
Was it love at first sight for your characters? If not what was the pivotal moment of change?
My characters first meet when Caroline is twelve and David is twenty years old. She saves his life after he almost drowns, and her first impression of him is more a childish crush than love. Now he's back in Brighton for an unforgettable summer… and Caroline finally knows just who she wants.
If your characters could go back in time and change one thing what would it be? Why?
My hero has something of a black reputation, thanks to a mistake he made in love over a decade ago. I don't want to reveal too much, but it is something he has always regretted and would certainly change if he could.
With respect to my heroine, Chapter 1 opens with the following sentence: "Caroline Tolbertson knew she would never forget her first kiss–even though she desperately wanted to." Suffice it to say, she has just suffered her first disastrous kiss at the hands of a London dandy, and she really wishes she hadn't done it–especially when he tell everyone who will listen that the experience was like kissing a boy!
What scene did you have the most fun writing? Why?
The scene I had the most fun writing was their first intimate scene. Caroline has made a devil's bargain with David: he will show her something of the physical nature of love, and she will in turn teach him how to swim. David has no intention of touching Caroline…but that doesn't mean he can't encourage her to do the honors on her own!
Caroline looked over her shoulder and raised a brow. "You are not in a position to negotiate the terms of this next half hour."
"You negotiated the terms of the swimming lesson," he pointed out, making no move to come closer and help her out of her clothing. "And then you provided today's instruction from shore, a distance of some two dozen yards or more." He smiled, and it w

as a wicked sight to behold. "I offer the same to you. Our clothes remain on. And a kiss, while nice, is a bit more physical contact than what I have in mind."
Irritation made Caroline restless. "If you'll recall, you promised to show me far more than just a kiss."
"Aye. And you'll not discover what I intend unless you take yourself up on that rock like a good lass and wait for my instructions."
Caroline sucked in a breath, at a loss to explain why his words, far from making her feel angry or unwanted, sent a sudden, forbidden thrill snaking through her veins. "What would you have me do?"
"You instructed me from a distance today. Turnabout is only fair." He crossed his arms, still making no move to touch her. "Up on the rock, if you please. Skirts pulled up high."
She regarded him for a long silent moment, aware of the accelerating bump of her pulse. This didn't seem anything close to what she had petitioned him for yesterday. How could she help him overcome his aversion to emotional intimacy if she was not to be permitted to touch him? "This was not our bargain."
"On the rock," he said, more sternly this time, "or I shall presume you do not mean to have this lesson today."
"I instructed you from a distance because I could not risk getting my hair wet," she objected over her shoulder, but she clambered up the sun-warmed rock face anyway. "And you did brilliantly out there on your own," she added as she threw herself down in a puddle of skirts.
"I suspect you will acquit yourself well enough," he replied. His choice of words sent her embarrassed anticipation soaring even higher. She had no idea what he was about, or what was in store for her.
She only knew the threat of not finding out was untenable.
What scene was the hardest to write? Why?
Oddly, the scene I had the most trouble writing was one that featured the heroine, facing a room full of suitors other than the hero. They are loud, boisterous, and have completely caught her off guard. They are also potentially the only hope she has to secure her family's future. I think it was difficult for me to write because I knew these men were not right for her…and yet, I needed to somehow make them viable candidates in both the reader's and the heroine's eyes.
Three gentlemen callers were standing in her foyer, each of them a fine potential match, each one an opportunity that could not be squandered. She had no reason to dislike any of them, save the fact that none of them was David Cameron.
"Going for a walk is a capital idea," Duffington agreed. "Mother always says a bracing bit of ocean air in the morning does her a world of good."
Caroline's fingers closed around the blue silk fabric and the stiff spines of the parasol Penelope held out to her. Duffington offered his arm, clearly determined to be first in line. She placed a tentative hand on the man's sleeve. His arm felt thick and solid beneath her fingers, but the sensation did not send her senses spinning in the same manner that touching David Cameron's arm did.
Well, she didn't need her senses to skitter. She needed to convince one of these fine young men she was someone worth considering.
With her stomach in knots, Caroline forced herself to step out the door on Duffington's arm. She needed to make a good impression today, so that one of these men—any of them, really—might be smitten en

ough to offer for her, and, by necessity, bring her sister along for the keeping. For her future's sake, she needed to behave.
Even if all she wanted to do was bolt.
How did your character spend the week just before the story starts?
Caroline has spent a week suffering the taunts and whispers of the summer set in Brighton, as a result of her first ill-considered kiss.
David has spent the week worrying about his mother, who has been ill and must be brought to Brighton to take in the medicinal sea baths.
Who would you cast in the role of your characters if your book was optioned for a movie?
Hmmm… I think a younger Sandra Bullock (think of her in the movie While Your Were Sleeping) would make a fantastic Caroline. Tall, somewhat athletic, and endearingly awkward.
The late Heath Ledger is who I imagine for David… down to the brooding dark past.
What are you currently working on? What other releases so you have planned for 2013 into 2014?
I just finished up the last book in my 3 book series, MOONLIGHT ON MY MIND. It is scheduled to be released March 24, 2014, and features a plot where the heroine has accused the hero of murder… and he is determined to marry her to keep her from testifying against him.
Thanks for blogging at HJ!
Giveaway: I will be giving away a copy of

SUMMER IS FOR LOVERS

 to one random commenter!
To enter Giveaway: Please complete the Rafflecopter form and Post a comment to this Q:

Summer is for Lovers is an unrequited love story set against a beach holiday, which is a bit timeless. Do you have a memory of a summer love to share?
Book Info:
His heart is unavailable. Luckily, her interest lies in the rest of him . . .
Though she was just a girl when they first met, Caroline Tolbertson's infatuation with David Cameron remains undimmed. Now fate has brought the handsome Scotsman back to Brighton for what promises to be an unforgettable summer. Soon, Caroline will have to choose a husband, but for now she is free to indulge her curiosity in things of a passionate nature.
That is, if David will agree to teach her.
Past mistakes have convinced David he'll make a terrible husband, though he'll gladly help the unconventional Caroline find a suitor. Unfortunately, she has something more scandalous in mind. As the contenders for her hand begin to line up, her future seems assured . . . provided David can do the honorable thing and let them have her.
When a spirited young woman is determined to break Society's rules, all a gentleman can do is lend a hand . . . or more.
Author Bio
A veterinarian and infectious disease researcher by training, Jennifer McQuiston has always preferred reading romance to scientific textbooks She lives in Atlanta, Georgia with her husband, two daughters (who got a pony out of mom's book deal!) and a house full of pets. Her first book, WHAT HAPPENS IN SCOTLAND, was released in March 2013. SUMMER IS FOR LOVERS is available September 24, 2013, and the third book in the series, MOONLIGHT ON MY MIND, will be released March 24, 2014.
You can connect with me on: Website | Facebook | Twitter |