Today it is my pleasure to Welcome romance author
June Gray
to HJ!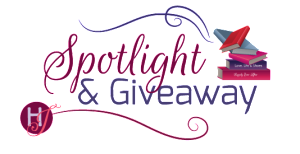 Hi June and welcome to HJ! We're so excited to chat with you about your new release, Surrender!
Thank you for having me!
Please summarize the book a la Twitter style for the readers here: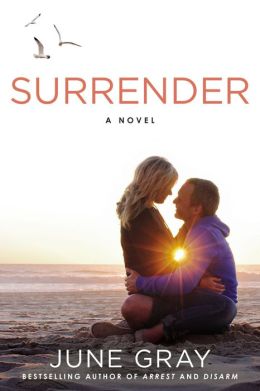 Surrender is the story of Julie, who was pregnant when her deployed fiancé died in Afghanistan. She has had to raise her son by herself and, as a result, has closed herself off to romantic relationships.
Meeting Neal blindsides her because she was only looking for a fling, never expecting something more to develop. But just when she finally begins to think that they may have a future together, Neal reveals a secret that will have her questioning everything—including her ability to love again.
Please share the opening line of this book:
"I don't think that kind of love—the kind you read in romance novels—actually exists."
Jason Sherman, my boyfriend, fixed me with a skeptical stare. "You don't?"
"You do?"
In dealing with such sensitive topics (grief and losing a loved one in a war) did you interview anyone or conduct special research?
I read a lot of articles about deaths of military members and how those left behind cope with the loss. It's absolutely heartbreaking, especially when children are left behind. Being a military wife, I frequently hear about the death of a servicemember, some during deployments and some during exercises back on US soil. And it always hits home. Even if the fallen servicemember is only a friend of a friend of a friend, the loss creates a ripple in our community that we all feel. Deep down we all have that secret fear that it might one day happen to us.
Please tell us a little about Julie and Neal. What's something we wouldn't learn about them just by reading the book? Guilty pleasure movie or music? Random pet peeves? Was there anything about them that surprised you while writing their story?
What a great question!
Julie's guilty pleasure is anything sweet. She likes to indulge in chocolates once in a while, but in the back of her mind, she knows she mustn't because she still wants to retain her dancer's body. She dislikes whining and people who put on a helpless act. She loves the movie Love, Actually. She secretly wishes that Will, her son, will become a dancer and follow in her footsteps.
Neal grew up knowing he'd be in the military. I don't know if this was evident in the story, but his mother is his hero. When he was younger and she was still in the Navy, he was sure she was a cape-wielding superhero.
Neal's also very analytical and oftentimes approaches real world problems with numbers and charts. He likes to create elaborate spreadsheets before making any big-ticket purchase.
What, in your mind, distinguishes this book from other books out there in the same genre?
I think the fact that our protagonist, Julie, has a five year old son is different. It's not often you read a romance novel (at least, for me it isn't) where the heroine has a child and has her life in order before she meets the Hero.
Also, the novel is populated with people you might meet in real life. I wrote The Disarm Series with the intention of making each book as realistic as possible. Sure, sometimes the drama is amped up, but for the most part, there are no billionaires or MMA fighters to be found (not that there's anything wrong with that!). Henry or Elsie or Julie are people you might run into at the coffeeshop or at the grocery store, and the idea that these ordinary people have extraordinary stories is what drives me to tell my stories.
The First kiss…
"His gaze flicked down to my lips then back up to my eyes. I held my breath and, tired of waiting, grabbed the back of his head to bring his mouth to mine. Our lips parted on impact, our tongues ebbing and flowing. He tilted his head and deepened the kiss, wrapping his arms around my back and almost lifting me off my feet."
I'm not sure what to say about this scene other than Hey, Julie's about to get her groove back!
Did any scene have you crying or laughing while writing it?
The flashback scene where Neal realizes for the first time that his mother is going to die really had me bawling. I had to stop writing after that scene, open up the curtains, and just absorb some light for a while! I don't know why that particular scene hit me so hard, but the entire book (and series in general) was tough to write emotionally.
"Look," I said, holding it up before her. "These are all the places I want to go once Dad and I are done building the plane. I've got a notebook with information on each country, the best time to visit, the best sights to see."
She reached out and touched every single red pin, reciting each location under her breath. When she was done, she looked up, tears shining in her eyes. "Yes. This."
We looked at each other for a long time, understanding passing between us.
Finally, I set the board down at my feet. "You're not going to make it to my graduation, are you?" I asked, my voice cracking at the end.
If your book was optioned for a movie, what scene would you use for the audition of the main characters? 
Oh goodness, I'm not sure. I think I'd choose that balcony scene in Las Vegas, when Julie first tells Neal about Jason's death and how it changed her entire life. I'd want to see how the actress juggles the grief and tiny bit of resentment she still harbors over Jason's death.
I'd also want to see how the male actor reacts, how he expresses the shock, resignation, and anger that Neal goes through. That scene is the first time, I think, that Neal is finally faced with the reality of who she is. So it's important that he reacts appropriately to her story, but is also mysteriously angry about it.
What do you hope readers will take away from reading this book?
I want readers to read this book and come away feeling optimistic, that no matter how great the loss, it's not the end. It's a bittersweet message but full of hope.
What are you currently working on? What other releases so you have planned for 2015?
I've just begun a new serial called Untamed that I'm self-publishing. It's an erotic romance about a woman who goes on a retreat to the Smoky Mountains and comes into contact with a mysterious, uncivilized man who is accustomed to taking whatever he wants.
Thanks for blogging at HJ!
Giveaway:

2 Print copies of SURRENDER by June Gray
To enter Giveaway: Please complete the Rafflecopter form and Post a comment to this Q:

Do you think Julie is justified in resenting Jason a little bit for leaving her pregnant and alone, however unintentional? Follow Up: Do you think Neal was right, that we should be free to acknowledge that the dead were not perfect?
Excerpt
After the sun set and people began to dance in the light of the candles, I found I could no longer avoid the inevitable. Or maybe I just couldn't stay away any longer. Either way, my body propelled itself in Neal's direction, with a slice of cake as my offering.
"You've been avoiding me," he said with a raised eyebrow, accepting my offering and taking a bite.
"I have," I said sheepishly. "It's like my secret world and my real world suddenly collided. I wasn't ready for that."
He grinned. "In this scenario, I'm the secret boyfriend, right?"
"I think you ought to buy me a secret dinner first before earning that title."
He set the plate down on the table behind him and leaned into me. "Would you like to take a walk along the shore?" he whispered.
To answer, I took his hand and led him away from the party.
We walked toward the water, leaving behind the soft light from the reception. Here the darkness veiled us and allowed me to shed my worries for a few moments.
He stopped and turned to me. "So tell me something about yourself, Julie."
His question caught me by surprise. I'd thought he was leading me there for a repeat of the morning. "Like what?"
"Like . . . what were you like at fourteen?"
"A bit of a deviant," I said with a chuckle. "That was the year I lost my virginity."
He laughed in surprise. "Wow. That's . . . at that age, I was still trying to get a handle on things, if you get my meaning."
I grinned, unabashed. "What can I say? I was a bit advanced for my age," I said. "Why, when did you lose your virginity?"
"I was eighteen. It was with some girl I just met."
"Ah, a one-night stand."
"I suppose, though I saw it more as a helpful Samaritan willing to help me out with a problem."
"What problem?"
"That I was eighteen and still a virgin," he said with a laugh. "Actually, up until then, I was dating a girl through most of high school, but she made me wait, saying she'd made a promise to God that she wouldn't have premarital sex."
"Let me guess—she ended up cheating on you with another guy?"
"No, not at all. After we graduated, I realized I just didn't want to be that committed yet. My whole life was ahead of me; I wanted to go to college, see the world. The last thing I wanted was to get married and tie myself down. So we broke up, our respective virginities intact." He turned to the ocean, a faraway look on his face.
"You loved her," I said softly.
He turned back to me. "I guess. At least, at the time I was sure I did. But I don't regret breaking up with her," he said. "Last I heard, she's married and now has two kids and a fulfilling career. So you see, her life wouldn't be as good as it is now if I hadn't broken up with her."
"So you did her a favor by breaking her heart?" I asked with a teasing smile.
"Not exactly. I'm just a big believer in things happening for a reason," he said, giving me a pointed look.
"Why, Neal, you're a romantic at heart," I said, affecting a Southern Belle accent, trying to steer away from the serious turn in our conversation.
He shook his head, a smile playing along his lips. "I just think there are no coincidences in life. That the universe put us in exactly the right place at the right time."
I broke away from his gaze. "I'm not so sure about that theory. What about people who die unexpectedly?"
"I'd say it was just their time to go."
"That's a heartless way of seeing things."
"It's not heartless; just realistic. You can't outrun or cheat death. When it comes for you, you can either go down with a smile on your face or go down fighting. Either way, you're going down."
"I can't believe that." I wrapped my arms around myself, but they weren't enough to keep the wind from seeping bone deep. Neal came to face me, shielding me from the wind. "I take it someone you loved died?" he asked, his face too earnest and intent for my liking.
"My fiancé." I swallowed the lump in my throat and shook my head, reminding myself that this weekend was about fun, that it was only about two people having consensual, hopefully mind-blowing sex. "We don't need to talk about it," I said, reaching out and grabbing a handful of his sweater. "Let's just keep this thing between us as uncomplicated as possible, okay? Talking is overrated."
"Okay, then." He took a step closer, all traces of gloom wiped from his face. "If we can't talk, then we're going to dance."
I hooked my hands around his neck and he wound his arms around my waist, his hands a pleasant weight on the small of my back. I craned my neck to look up at him, tracing every curve and angle of his face with my gaze, from his strong nose to his square jaw.
He bent down and whispered, "I thought about you all day." One of his palms splayed on my back and pulled me closer so that our bodies touched. I shivered at the contrasts, from the warmth at my front and the cold at my back, at the softness in his expression and the hardness of his body, at the intensity of his views on death and the easygoing attitude that quickly took its place.
I leaned my head on his shoulder. "I haven't been held like this in so long," I murmured, then realized belatedly what I'd said. I was only too glad that the darkness hid the blush that was no doubt coloring my face.
"That's a damn shame," he said, bowing his head to rest his cheek against my temple. "A woman like you should always be held like this."
Book Info:
Julie Keaton had everything—she had a new career in a new city and, more importantly, a bright future with fiance, Jason Sherman. That is, until the day she discovered that he had been killed in Afghanistan. In one moment, her life changed, as everything she'd hoped for died along with him.
Years later and Julie still feels the aftershocks of Jason's death. She is no longer the same adventurous, open girl; now she wears armor around her heart in order to protect the most important thing in her life—her son.
But when Julie meets the mysterious Neal, she starts to feel the smallest flicker of hope, as what began as a fling quickly becomes something more. Neal is the first man since Jason's death to break down her armor and make her believe again. But when she discovers the secret he's been keeping, she has to ask herself: can she surrender to a future with Neal or will Jason's death forever tie her to the past?
Book Links: 
DISARM Amazon  |  BN  |  Kobo  |  iTunes
ARREST Amazon  |  BN  |  Kobo  |  iTunes
SURRENDER  Amazon  |  BN  |  Kobo  |  iTunes
Meet the Author:
June Gray is a daydreamer who, at the age of ten, penned a short story inspired by a Judy Blume novel and has been unable to stop writing since. She loves to tell stories that titillate and enrage, that break the reader's heart and put it back together again.
Her fairy-tale life has been lived on four different continents—most recently, in a two-hundred-forty-year-old castle in rural Germany owned by a Graf. She was born in the Philippines, raised in Australia, and now calls the United States home, and she can currently be found enjoying the shores of Miami with her husband, two daughters, and a miniature schnauzer.
Even though I'm really terrible at social media, I can be found almost everywhere.
Website: www.authorjunegray.com
FB: https://www.facebook.com/JuneGrayAuthor
Instagram: http://instagram.com/authorjunegray
Twitter: https://twitter.com/AuthorJuneGray
Email: authorjunegray@yahoo.com