Today it is my pleasure to welcome another of my favorite Harlequin 'Romance' Author 

Susan Meier

to HarlequinJunkie!
Susan thanks for accepting my invitation to blog at HJ!
Tell us a little bit about Susan Meier, Where do you call home?
Susan: I live in Western Pennsylvania. In the mountains! This is one of those places where we have the saying…Don't like the weather? Wait five minutes and it will change. LOL. Winters are cold. Springs are beautiful. Summers are wonderful. And fall is just about as pretty as anything can be because of the changing leaves on the trees.
What are 4things you never leave home without (apart from keys, money and phone)?
Susan: When I go on vacation or to a writer's conference, I always take my laptop, hard copy of my latest project, lots of socks and T-shirts because I love to be totally relaxed in my downtime!
Can you talk to us about your current projects?
Susan: Right now, I'm working on my 50th book for Harlequin. It's a Christmas story. The heroine is a teacher hired to supervise the home schooling of the hero's two kids.  I thought it was appropriate that a Christmas book be that milestone book, since my Christmas books have always been fan favorites. So though I'm in the planning stages right now, I'm working to think of something that will make this book super special. As a thank you to my fans but also as a way to celebrate finally hitting fifty books! LOL
Two brothers. One secret that nearly destroyed both of their lives:
'The Tycoon's Secret Daughter'

 and 

'Nanny For The Millionaires Twins' 
A special Note from Susan:

THE TYCOON'S SECRET DAUGHTER and NANNY FOR THE MILLIONAIRE'S TWINS are a duet…connected books. When I originally got this idea, I'd wanted to write it as a three-book series, but  my editor suggested that if we did it as a duet, with two brothers, we could make it much more intense.

Why would we want it to be more intense? Because THE TYCOON'S SECRET DAUGHTER and NANNY FOR THE MILLIONAIRE'S TWINS are books 46 and 47 for me. And as you've probably guessed, after 45 books, it's hard to come up with something fresh and interesting. Yet, when you're hitting a milestone you want the books to be wonderful, memorable.

So I gave all my energy to coming up with story ideas I'd never tried before, ideas I believed could put readers on the edges of their emotional seats. Book 46 deals with a recovering alcoholic and the wife who left him. You would think this would be a real downer but Kate left Max because she was pregnant. When the book opens eight years later, he's sober, finally meeting his daughter.

That was a tough book to write because Max was incredibly honest, but also incredibly desperate to know his daughter. So desperate he constantly proved himself to be different than the man Kate had left behind. But how could she ever trust him?

She couldn't … except he was so different, so funny, so kind, so good to Trisha…and so handsome. More handsome than even the boy she'd left behind. And "How could she ever trust him?" quickly became, "How could she ever resist him?" She knows that if she'd just met him on the street, she'd give him a chance, the benefit of the doubt. And she fights herself constantly, asking herself if it's fair to hold the sins of the past against someone who's clearly changed.

If you think THAT'S a dilemma, fast forward four years to when Chance – Max's younger brother who disowned the family when he discovered he might have been adopted into the Montgomery family, but he was his Brandon Montgomery's bastard son – finally comes home. Gwen never stopped loving him as a son. No matter that he was the product of her husband cheating; she wanted him in her life. When he has twins and needs help, she insists he come home.

And what does he find? Not just Gwen, ready to love him, but also a nanny who makes him feel selfish and petty for feeling sorry for himself. Not by shaming him, but simply by being kind and eager to work in spite of the fact that she was in a motorcycle accident that nearly took her leg. Worse, her fiancé lay in a coma in a rest home. Not really alive, but not dead either, and she's too full of integrity to desert him.

How can a man who's only known deceit in his life turn away someone so honest, so eager, so full of integrity? He can't. He almost can't believe she's real, but when he realizes she truly is as good and pure as she portrays, he's mesmerized.

But she's engaged. The only way she'll ever be his is if her fiancé dies.

Yikes!

THAT'S a dilemma! LOL

So join me for books #46 and 47, and see how I challenge myself to handle some very difficult conflicts, with some absolutely amazing characters. These were two of the most fun books I've ever written, as I wrestled with some real life problems but wouldn't let my characters mope. 🙂

Oh, in case you're wondering…Book 48 is a continuity, so I didn't have a lot of control over that plot, but fasten your seatbelts for books 49 and 50. LOL!!!
Susan, I absolutely adore this book! Let's talk about your newest release 'Nanny for the Millionaire's Twins' 
If you had to sum up "Nanny for the Millionaire's Twins" for the readers her….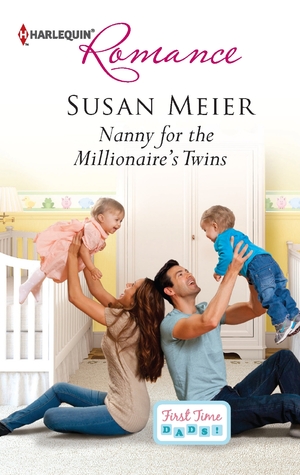 Susan: It's an impossible situation romance. But I went into it thinking, sometimes people need to see what it would be like not to get what they want to realize how much they want it! LOL Even though Tory and Chance know they will probably never be together, they can't help falling in love, can't stop being there for each other, because they are truly made to be together…though they can't be.
 What was your inspiration behind "Nanny for the Millionaire's Twins"?
Susan: I really wanted to write something that went beyond the obvious. I wanted my two characters to really KNOW they couldn't be together. It bought out a lot of integrity in both characters. I think it brought out the best in them. Which is what makes the book one of the best I've ever written.
This book was an emotional powerhouse; I could barely read through the last 60 pages with adry eye ….what was it like for you writing it?
Susan: I cried a lot.  LOL. My editor and I joked that it was almost impossible to proof the last sixty pages. But, I want to stress, that you don't cry sad tears as much as tears of respect for these two and tears of hope. I think that's the thing that wound its way through the ending and made it so emotional. You wanted these people together so much that as the situation began to deteriorate you couldn't help rooting for them to make it through.
Chance and Tory thanks for stopping by and giving me an opportunity to pick your brains 🙂 …
 Chance what are the 3 things you most love about Tory
Most of all her integrity and honesty. After being duped by a gold digger, I realized how important honesty and integrity were. And it doesn't hurt that she's beautiful.
Tory what was it like "dating" Chance?
Full of surprises. He's a fun guy.
 Chance which scene do you think will surprise readers the most?
The Valentine's Day scene because it turns on a dime. Readers feel every emotion from joy to despair in three pages. LOL
 Sara: OMG yea! what an emotional roller coaster…
Chance: How do you keep the romance alive in your relationship with the two little ones around?
I'm a firm believer in nap time! LOL
  Tory / Chance: If you could have one wish, no questions asked, what would it be and why?
Susan: Neither Tory nor Chance would change anything about their lives, which is why this book was so fun to write. Everything that happened, including the things with his father duping his mom into adopting him HAD TO happen to get them to each other. I love books like that that have the thread of destiny running through them!
3 GIVEAWAYS, 3 Winners!

: To go in the draw to win copies of  

'The Tycoon's Secret Daughter'

and

'Nanny For the Millionaires Twins'
 Please enter your email in the Rafflecopter below and just answer this: 

Do you believe in Destiny, why?
Excerpt: Normally, I give readers the first two scenes of a new book. For NANNY FOR THE MILLIONAIRE'S TWINS, I thought we'd try something different. A pivotal scene.
 The sounds of Tory with the kids woke Chance the next morning and he breathed a sigh of relief. But instead of jumping out of bed to help her, he pulled the cover over his head.

Had he actually kissed her the night before?

Yes. Because he was an idiot. He didn't know what had happened at that party. But he couldn't blame Kate. She'd only read what she'd seen on his face. He did like Tory better than any of the women he'd met. But he shouldn't have kissed her. Not only was he a poor judge of character with resultant trust issues…who was supposed to be building up trust muscles. But also…damn it! He needed Tory. Yes, he liked her. But she was his nanny. He needed to respect their employer/employee relationship…and for the love of all that is holy, he shouldn't have kissed her!

She'd run out like Cinderella and was probably intending to quit today all because he had no commonsense.

He tore off the covers.

Of course, he had commonsense. The kiss had been an aberration. He would apologize and they would move on.

He rolled out of bed and nearly walked into the nursery shirtless. Until he remembered how his blood heated every time she looked at him, and his muscles tightened. She had a way of making him feel he was the first man she'd ever looked at. If he was trying to stay away from her, was it really wise to see her without a shirt?

With a growl, he grabbed a T-shirt, jerked it on, and headed for the nursery. He opened the door and stepped inside just as she looked up from the changing table.

Their gazes caught.

She swallowed and turned away.

Embarrassment flooded him. He didn't know why he was tongue-tied around her. He didn't know why feelings kept rolling through him, making him want more from her than their boss, nanny relationship. But whatever was happening, it was wrong. It had to be. Otherwise, he'd be smoother, suave, his normal, flirtatious, sweep-women-off-their-feet self. Since he wasn't, no matter what his instincts kept insisting, these feelings had to be wrong. And he would not give in to them again.

He strolled inside as if everything was fine.  That he hadn't kissed her. That he hadn't potentially ruined their working relationship. "Hey."

"Hey."

Her voice was soft, breathless and an avalanche of desire tumbled through him but he ignored it.

"Before we say anything I want to apologize for kissing you." He moved their conversation past his awkward apology by pointing at Sam who bounced in the walker. "Looks like you're almost done with them."

"Yes. They've been bathed and fed." Lifting Cindy from the changing table, she sucked in a breath. "Chance, we still need to talk."

Oh, lord. She wasn't going to let him off the hook with his breezy apology. She was going to quit. And he'd deserve it.

"Please don't quit. I'm an idiot. I swear I won't kiss you again."

She silently passed Cindy to him, and her hand immediately went to the collar of her simple t-shirt. Her fingers closed around a thin gold chain. When she pulled it from beneath her shirt, a diamond ring came with it.

He frowned.

She caught his gaze. "I'm engaged."

It took a few seconds for that to sink in, when it did, his heart stopped. "You're engaged?"

"Yes."

He fell to one of the rockers. So much for his instincts that kept telling him Tory was attracted to him. It was no wonder she ran when he kissed her. "I am so sorry."

She cleared her throat. "It's okay. I don't actually wear the ring, so you had no way of knowing."

The dual devils of his mistrust of humanity in general and women in particular sat on his shoulders and nudged him to forget his embarrassment and go directly to righteous indignation. She was engaged. But she'd danced with him, flirted with him. Instead of him owing her an apology, his demons insisted that she owed one to him. And by God, after the torment of hellish guilt he'd suffered since that kiss, he was getting one.

"It's mighty convenient that you don't wear the ring."

"My fiancé was the driver of the motorcycle I was riding when I was injured."

That stopped his angry mental tirade. Nothing he said or did with this woman ever turned out the way he thought it should. Everything surprised him. It was no wonder he always said and did the wrong things.

So this time he said nothing.

"He was supposed to give me the ring the night of the accident, but … well, we had the accident. He didn't fare as well as I did." She paced away and straightened the covers in Sam's crib, as if she needed something to do while she spoke. "He … um … well, he was really badly hurt. He lapsed into a coma and never came out. His parents found the ring and the proposal he'd written. It was on a piece of paper that was so worn –" Her voice caught. "That we knew he'd practiced it a million times. He might not have ever gotten to say it, but we knew he meant every word. So I keep the ring–" She dropped the chain back down her t-shirt, "–here."

Welcome to another boatload of guilt. Every time he thought he had a handle on her life, she added something worse. Not only had he kissed a woman who had a fiancé, but while she was trying to have a night out, probably desperately in need of a little fun, he'd made a move on her.

"That's where you want to go on Saturdays and Sundays? To visit him?"

"Yes."

"I'm so sorry."

"I am too, you know?" She lifted Sam from the walker and faced finally him. "It's been hard. I haven't even flirted in years. And I'm attracted to you, so you sort of overwhelmed me last night. But I'm committed to Jason. I love this job. I love your kids. I was hurt in the accident when I was twenty so this is the first time in my adult life that I've felt like I was doing something with my life. But I can't stay on as your nanny if you're interested in me."

"I'm not." Yesterday that would have been a lie. Today, it was solidly the truth. He liked her too much, respected her even more now that he was hearing her whole story, to hurt her. "And I love you as my children's nanny." He patted his chest. "I've never been happier."

"So we're cool?"

"Yeah. We're cool."