Today it is my pleasure to Welcome author
Peggy Bird
to HJ!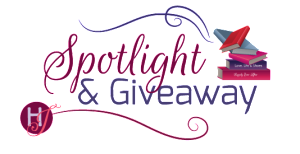 Hi Peggy and welcome to HJ! We're so excited to chat with you about your new release, Thankful for Love!
Please summarize the book for the readers here: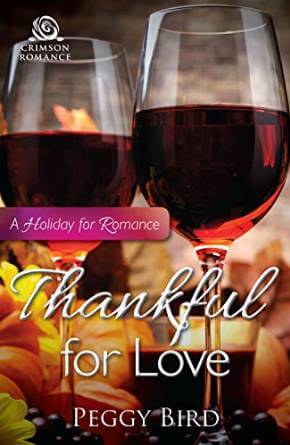 Eastern Oregon rancher Jack Richardson needs a kid wrangler to help with his two sons. Quanna Morales needs a full-time job so she can pay her rent, take a class at the local college, and help her mother meet the expenses of a special needs son. When the job at the Richardson Ranch is offered to her, she is sure it's perfect.
But the growing attraction between Jack and Quanna begins to complicate things. She's afraid if she starts anything romantic with him, it will wreck her relationship with his sons and lose her the job she desperately needs. Jack fears he's too old for her. And, most of all, Quanna worries that Jack's family and friends won't approve of his having a relationship with an Indian.
When it all blows up at Thanksgiving, Jack and Quanna will have to find a way to overcome their fears so they can be thankful for the love they've found in each other.

Please share the opening lines of this book:
Jack Richardson knew what was coming as soon as Anne Salazar said, "We need to talk." He even felt a sense of relief that it was finally happening.
"I'm listening, Anne," he said.
Please share a few Fun facts about this book…
Research included a road trip to the Wild Horse Resort and Casino on the Umatilla Reservation near Pendleton, Oregon, where a friend gave me the grand tour of the casino and resort. It was some of the most fun research I've ever done.
I chose the name Quanna for my heroine because a college friend—last name, Parker—named her daughter Quanna, and I learned the story of the Indian hero.
One of the Richardson sons behaves a lot like a member of my family. I won't say whom, but his name starts with BEN.
If your book was optioned for a movie, what scene would you use for the audition of the main characters and why?
The scene where Jack first realizes he's attracted to Quanna would be a good one. He's just chased off two drunks who were hassling her in a restaurant, and insists he walk her to her car:
When she stood, he noticed, for the first time, how the jeans she wore hugged every curve she had. He also noticed she had an interesting set of them. There was something about her tonight that made him look at her quite differently than he did at the ranch. Maybe it was the lighting in the bar.
As they got to the door of the restaurant, Jack reached in front of her to open it, placing his hand on the small of her back as he did. He felt something when he touched her, a slight shock, like he'd walked across a rug and picked up an electric charge although the floor in the bar was smooth, glossy wood. What the hell? And had she felt it, too?
He dropped his hand as soon as she got through the door and they walked silently to her car. She unlocked it and he opened the door for her.
"Thank you," she said. "But I don't think it was necessary."
"You're wrong. Those two jerks are standing across the street staring at us," Jack said. "Get in the car and lock the doors. I'll wait until I'm sure they don't try to follow you home."
He watched her until her car was out of sight and he knew the two drunks hadn't gone after her before he headed back to the restaurant.
He tried not to think about what had happened when he touched her. But he couldn't. Tonight he'd seen her for the first time as a beautiful woman, not just the pretty girl who took care of his kids. Images of her silky black hair free and falling over coppery brown skin flashed through his mind. Skin that would be soft and smooth to the touch. His touch. While they were both in his bed.
Wait. Why the hell was he was thinking about her hair or the feel of her skin? He hadn't thought about a woman in that way for so long he had pretty much assumed the possibility was, sadly, all in his past or so far in his future as to be virtually unattainable. This was a hell of an inconvenient time for the reemergence of his heretofore-slumbering libido, not to mention an inappropriate person to have awakened it.
What do you want people to take away from reading this book?
After writing stories set in urban areas for five years, I wanted to give readers a glimpse of another part of the Northwest, the high plains in Eastern Oregon. I hope I conveyed the beauty of the landscape. I also hope I have given a small insight into the life of the Native Americans who lived there first and who, as tribal members like to say, are still here.
What are you currently working on? What other releases do you have planned for 2015?
Having finished the Holiday for Romance series, I'm working on a stand-alone book to be released next year. The heroine is an English lit professor from Portland State University who writes erotic romance under a pen name. She meets the hero, a history teacher who writes historical romances, at a conference. She's so worried about protecting her chances at tenure that she masquerades as her fake identity. Of course, the two fall for each other and she's stuck trying to conduct a romance under one name and a career under another.
Thankful for Love is my last release for 2015. A box set, which includes my novella Lights, Latkes and Love, was released about a month ago.

Thanks for blogging at HJ!
Giveaway:

2 eBook copies of "Thankful for Love."
To enter Giveaway: Please complete the Rafflecopter form and Post a comment to this Q:

I think the fall and winter holidays are the most romantic time of the year. What's your favorite and why?
Excerpt from Thankful for Love:
Except when he opened the front door he discovered that the house wasn't empty. He wasn't alone. Quanna was in the kitchen. She was at the sink, her back to the door from the living room, chopping something, onions he thought, and putting them into a bowl. She was singing. He listened for a few seconds, trying to identify the song but couldn't. Probably something someone his age wouldn't know.
He walked quietly toward the kitchen door, enjoying what he saw, not wanting her to know he was there quite yet. Dressed in a tank top and shorts, not her usual jeans and T-shirt, she had what seemed like miles of coppery skin on display. She was so damn beautiful it made his heart ache. In the months she'd been working for him her open and loving ways with his sons had made her such an integral part of the family he didn't know what they would do if she left.
Which made his attraction to her dangerous. Not only was she young but she was too important to him, to his kids, to risk it all because he found her so alluring. Besides, maybe she'd get pissed if he asked her out. Maybe she'd be repulsed. Okay, he knew that probably wasn't true. Even if he wasn't about to confess it to Sam, once or twice he thought he'd seen her look at him as more than her boss. Maybe more than once or twice, although it could have been his imagination.Or wishful thinking.
Either she sensed his presence or his jumbled thoughts had resulted in some noise emanating from him because without warning she whirled around, the knife she was using pointed at him.
"Oh, God, Jack. You scared me." One hand held the knife; the other was covering her heart. Which, of course, drew his attention to her breast. Her nipple peeked through the thin cotton of her top, daring him to reach out, to touch.
He struggled to get his mind, and his eyes, off that tempting bit of flesh. "I'm sorry. I didn't mean to frighten you. I tried to make some noise when I came in so you'd know someone was in the house." It was a lie but he didn't want her to know he'd been staring at her.
"Well, I didn't hear you."
"Would you mind putting the knife down? I'd rather continue the conversation without worrying you're about to use it on me." He smiled, hoping she understood he wasn't actually worried about her attacking him.
She looked down at her hand as if seeing it for the first time. "Aiming a weapon at your employer is probably not listed as acceptable behavior in the nanny handbook." She dropped the knife onto the kitchen island. "I'm sorry. But you did frighten me. I wasn't expecting you until Monday."

Author bio and social media information:
Born in Philadelphia, I've spent most of my adult life in the Pacific Northwest where I have happily grown webs between my toes and moss behind my ears. Over my adult life, I pursued a number of careers—nurse, legislative staffer, lobbyist, public affairs consultant, non-profit association executive, workshop teacher, oh, and mother and wife—before deciding to leave it all for what I've loved through every stage of life—writing.
But instead of the intricately plotted mysteries and deeply moving memoir pieces I assumed I'd write, the characters in every piece of fiction I started wanted their love stories told. Even when I had many of them hanging around questionable people or involved in murder, intrigue and general mayhem.
That's how my Crimson Romances were born. All the stories are set in some of my favorite places in the country—Portland, Oregon, the Puget Sound, Philadelphia. My second series, A Holiday For Romance, includes some of my favorite times of the year—Independence Day, Halloween, Christmas/Hanukkah, New Year's Eve, Thanksgiving.
Still no mysteries but I'm working on it.
Excerpt. © Reprinted by permission. All rights reserved.
Book Info:
Eastern Oregon rancher Jack Richardson needs someone to wrangle his two sons, and Quanna Morales is the available candidate. She needs a steady job badly, so she jumps on the opportunity, even though she's focused on her education and busy helping her mother take care of her disabled brother.
Jack and Quanna can't fight their attraction, but Quanna worries his family and friends will exhibit the anti-Indian prejudice she's only too used to encountering. And if things go badly between them, Quanna will not be able to help support her family and the boys will have lost yet another mother figure. When her worst fears come true and a feud erupts at the Thanksgiving table, will Jack be able to convince her that their love is strong enough to overcome any obstacle?
Book Links:

Meet the Author: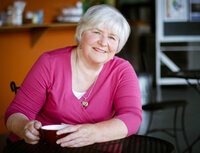 I've always been a writer: stories when I was a kid, plays for my cousins to perform, terrible adolescent poetry. For the price of a few cigarettes, I ghosted love letters and "Dear John" letters for classmates in nursing school. During a checkered and wildly varying work life, I wrote speeches for politicians, brochures, fact sheets, press releases and newsletters for anyone who asked me to, and the occasional proposal and/or report for consulting clients. On vacations, I wrote memoir pieces, a number of which ended up being published in anthologies and magazines.
A few years ago, I began writing fiction (although writing for a politician is considered by some to fall in that category.) I started out writing what I believed were mysteries but the characters wanted their love stories told instead. Crimson Romance subsequently contracted for the "Second Chances" series of six books set in and around Portland, Oregon and the Northwest. In each of the stand-alone books, one (sometimes both) of the lovers needs a second try at the brass ring to find happily-ever-after. As many of us do. I know I did.
Amazon Author's Page: http://www.amazon.com/Peggy-Bird/e/B0081JM3LG
Facebook: https://www.facebook.com/peggybirdauthor?ref=bookmarks
Pinterest: https://www.pinterest.com/writingbird/
Twitter: https://twitter.com/peggybirdwrites