Today it is my pleasure to Welcome romance author
Darcie Wilde
to HJ!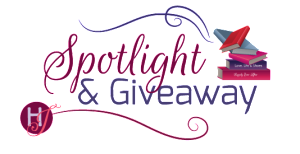 Hi Darcie and welcome to HJ! We're so excited to chat with you about your new release, The Accidental Abduction!
Do you think you could have survived in the regency romance era? Why or why not?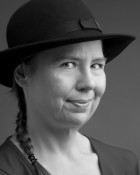 Survived? Certainly. The question is, as who? I would have definitely been middle or working class. My mother would have been a teacher and "charity worker." My father would have been an engineer. So, I would have had a decent upbringing, and probably some schooling. Had I married as I have married in modern times to a university lecturer, we would have had a good income, enough for a modest home, a few servants, etc. Nothing fancy, but decidedly above the poverty level. If I stayed "hardy" and had easy pregnancies, I would have had as good a chance as anyone.
If you had to summarize the book for the readers here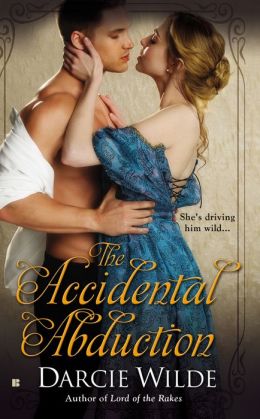 It is a book about attempts to run — from family, from self, from feeling, from past and secrets, and how that all changes when you begin to run towards something rather than away.
Please tell us about the characters in your book?
Both Harry and Leannah are feeling constrained by the expectations they feel their families have for them. Harry that he will always be the stout and steady fellow. Leannah that she will always sacrifice to save others who depend on her. Their coming together is both a rebellion against these expectations and a need for someone to support and understand them. That it grows into true love comes very much as a surprise to all concerned.
As you wrote your protagonist was there anything about them that surprised you?
Leannah is a widow. She was married young to a much older, much richer man. Her relationship with her first husband was in some ways a very good one, although it was very complicated. The depth of it, and the echoes of it that reverberated for the character all through the book did surprise me. The strength of Harry's personal rebellion was another shocker. I really had expected him to be a more mellow sort.
Please share a few fun facts you learned from your research into this particular era? Anything weird or totally unexpected?
The Panorama at Covent Garden was really strange. It was a large, and really complex arrangement of painted screens and lights that people walked through and got the illusion of walking through some famous scene, like the Battle of Waterloo. A very big deal at the time, with thousands of people visiting every day. Also, hostesses giving balls would sometimes commission artists to decorate their floors with elaborate chalk drawings that everyone would see and exclaim over when the doors were opened, and then would gradually be destroyed over the course of the evening as everybody proceeded to dance on top of them.
Did any scene have you crying or laughing while writing it?
I could cop out and say the whole book. I'd only be exaggerating a little. Harry and Leannah really took hold of their story strongly. I really did enjoy writing the scene at the beginning where Harry thinks he's rescuing Leannah from a runaway carriage:
Harry gritted his teeth, and didn't let himself think about what he was doing. With the carriage rocking at breakneck speed, the horses straining against rein, bit and bridle, he clambored over the carriage seat trying to get to the driver's box. His hand slipped and his elbow buckled and he was staring at the rushing pavement, but he caught the edge of the box again, and pulled and swung himself around just so, and he was up beside the woman.
He slapped his hands down over hers; had just enough time to realize she wasn't wearing gloves and that they were skin to skin, before he pulled back hard.
"What are you doing!" she cried.
"Let go!" he shouted. "I've got them! They're slowing!"
"I don't want them slowed, you idiot!"
The butt of her whip caught him in the guts. The blow, aided by sheer and complete shock — toppled Harry backwards, onto the seat, and then onto the boards.
"Get up! Get up, there!" The woman cracked the whip over the team's head. The horses charged forward.
Harry pushed himself to his knees again. Outrage cleared the last of the fog from his eyes. It also let him see the situation. The woman — bent low, lashing the space between her horses ears — was not panicked. She was not trying to hold onto runaways. She was driving at the absolute the limit of the horses' speed and the carriage's endurance.
"Stop!" Harry shouted.
"No!" she shouted back. "Sorry!" she added.
"You'll crash us!"
"Watch me!"
Did he actually hear pride in her voice?
I'm being abducted, Harry thought as he pushed himself back into a sitting position. By a madwoman.
If your book was optioned for a movie, what scene would you use for the audition of the main characters and why?
There's a scene in a stable where Harry and Leannah have every rational reason to say good-bye to each other, but both make a very different choice. It would take some seriously good acting and chemistry to convey the internal realities and reasoning of the characters at that moment.
If you could have given your characters one piece of advice before the opening pages of the book, what would it be and why?
Never underestimate yourself. Or your little sister.
What are you currently working on? What other releases so you have planned for 2014?
I have a couple of new projects going that I'm very excited about, both mysteries. The first is a new series set in the Regency that begins with a murder inside the sacred precincts of Almacks. It's been such fun delving into Regency England from, for me, an entirely new angle. The second is a contemporary cozy set in Portsmouth, New Hampshire, with magic, and cats.
Where can readers get in touch with you?
My website is www.darciewilderomance.com. I'm also on Facebook and Twitter (Darcie_Wilde). I'd love to have some more tweet-peeps!
Thanks for blogging at HJ!
Giveaway:

2 Print copies of THE ACCIDENTAL ABDUCTION by Darcie Wilde.
To enter Giveaway: Please complete the Rafflecopter form and Post a comment to this Q:

What's a historical period you'd like to see more Romances set in? Why?
Excerpt
There was a soft knock at the door. Leannah looked up, expecting to see Mrs. Jessop again, but instead, it was Harry Rayburn who shouldered his way into the parlor. He had doffed his rain-drenched coat and now wore just his shirtsleeves and waistcoat. The wooden tray he carried was loaded with clean cloths, towels, a steaming kettle and a tin basin. He'd draped a thick, white wool shawl over his arm as well. She noticed how his fair hair was badly touseled from having been rubbed dry, as were his wiskers. Really, they were a sight to behold. Despite her worries, Leannah felt herself smile.
"I've had a word with the stable lad, Martin," Mr. Rayburn told her as he set the tray on the table by the fire. "He confirms what the landlord said. The only trade this evening's been the mail coach and some farmers stopping by for a pint before the rain came on. But they were in fact expecting a Mr. Dickenson and a young lady, and they were to have separate rooms ready."
"Which means Genevive at least planned to come this way."
"And that this Dickenson meant for them to stay the night, within bow shot of London." Mr. Rayburned frowned as he poured hot water into the basin. "Not something I would have expected for an elopement."
Genny, what are you doing? Leannah automatically pushed her hair back from her cheeks and winced again. Mr. Rayburn moved toward her, but stopped in his tracks. Their landlord might be be mistaken as to their exact identities, but they weren't alone anymore. He couldn't casually touch her now. Someone might see the violation of propriety.
Leannah didn't want propriety. She wanted someone else to be strong, just for a minute. She wanted to collapse and cry. But that wasn't allowed either.
"However, that's neither here nor there," Mr. Rayburn went on. "It's safe to assume they've been delayed by the rain. All we have to do now is wait for them to turn up."
"Oh, is that all?" Leannah repeated wearily. "I'd rather be trying to run them down."
"Believe me, I understand the sentiment. Here, you'd better get this shawl around you." Mr. Rayburn was trying to sound brisk but the words were kept catching in his throat. "Mrs. Jessop is seeing about some dry clothes. I told her the luggage was delayed with the servants. And we need to get those cuts washed." He indicated the basin. "It's been my experience that dirt can slow down the healing."
"Thank you." She stood to reach for the shawl he held out at arm's length. It was thick, undyed wool, made soft by time and much wear. She took it carefully, so as to not let her hand touch his. Her body had come too close to betraying her enough times tonight. She could not court fresh tempatation. "I seem to be thanking you a great deal, but you've done so much." She drew the shawl close about her.
"All part of the service," he answered with what she was coming to think of as his habitual smile.
Leannah found did not want to look at Mr. Rayburn anymore. She did not need to see him with his collar and cravat loose, exposing the intricate lines of his throat with its sprinking of golden stubble, or the swell of his Adam's apple. She especially did not need to see the curve of his shoulders and arms beneath the plain white linen of his shirt. Instead, Leannah got to her feet and turned her attention to the basin of steaming water. She plunged her hands into it. The heat was scalding, and Leannah hissed and jerked her hands back.
Of course Mr. Rayburn was right there. "Here," he said and she knew she did not imagine the tremor in his deep, patient voice. "Let me."
Leannah knew exactly what she should say in this moment. No. Thank you. I can do this myself. You needn't trouble. Truly. But she didn't say it. She only held out her hands. Mr. Rayburn dipped a cloth into the water and wrang it out. He took her right hand in his. With infinite gentleness, he dabbed at the raw, straight gash on her palm, clearing away the caked grime. It hurt, but the pain was nowhere near as powerful as the sensation of his skin against hers. She could feel every nuance of his fingers. If she'd been a properly bred miss, his callouses would have made her cringe. Instead, they fascinated her. She wanted to know what those rough hands would feel like caressing her bare arms, and tracing a warm line across the sentive skin of her throat, or her mouth, or her breasts.
Leannah couldn't even grit her teeth against the image, because she didn't want him to think he was hurting her. Mr. Rayburn took up a long strip of clean white linen. Quickly and efficiently, he wrapped it around her injured hand.
"You've had practice at this," she remarked, struggling to find some kind of intellectual distance that would keep her from slipping away with the rising tide of her need.
"Well, working in a warehouse, you see a few injuries."
"I would not have thought to find myself in such capable hands on this night." Now it was her words that made Leannah wince. The list of things she should not have said was growing unforgiveably long. She told herself it didn't matter. There was no one to hear. No one, except of course Mr. Rayburn himself. What would she do if he decided she was flirting with him?
What was she going to do if it turned out she was?
Book Info:
A headlong flight across London to stop an elopement leads to a hasty wedding between strangers….A sizzling new romance for fans of Sarah MacLean and Elizabeth Hoyt.
Harold Rayburn is about to be taken for the ride of his life…
After having his proposal rejected by a beautiful but flighty woman, Harry vows he is done with unpredictable and impetuous women for good. Until beautiful and fierce Leannah Wakefield barrels into his life, inadvertently kidnapping him while on a wild carriage ride and leaving him all too eager to get back in the saddle…
Leannah would sacrifice everything to protect her family. So upon hearing of her sister's intended elopement, she races across London to stop the ill-advised ceremony before it can happen. However, when her mad journey picks her up an unlikely stowaway, one who ignites her desire beyond all reason, she's the one who ends up hastily wedding a handsome and secretive stranger.
But as Leannah and Harry immediately encounter opposition, jealousy, and suspicion of their hurried nuptials, they begin to doubt that their unquenchable passion can truly lead to a happy marriage—especially when both the bride and groom have devastating secrets to hide…
Author Bio
A longtime resident of the Great Lakes State, Darcie Wilde writes her sizzling-hot romances in Ann Arbor, Michigan. She is the author of Lord of the Rakes and The Accidental Abduction. When not actually writing, she lives out her own happily-ever-afters with her husband of fifteen years, one rapidly growing son, one cat, and one writer's group of infinite patience.