Today, HJ is pleased to share with you

Rachel Van Dyken's

new release: 

The Bachelor Auction

Cinderella never had to deal with this crap.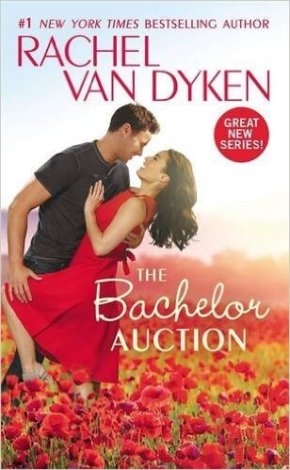 Jane isn't entirely sure that Cinderella got such a raw deal. Sure, she had a rough start, but didn't she eventually land a prince and a happily-ever-after?

Meanwhile, Jane is busy waiting on her demanding, entitled sisters, running her cleaning business, and . . . yep, not a prince in sight. Until a party and a broken shoe incident leave Jane wondering if princes—or at least, a certain deliciously hunky billionaire—maybe do exist.

Except Brock Wellington isn't anyone's dream guy. Hell, a prince would never agree to be auctioned off in marriage to the highest bidder. Or act like an arrogant jerk—even if it was just a façade. Now, as Brock is waiting for the auction chopping block, he figures it's karmic retribution that he's tempted by a sexy, sassy woman he can't have.

But while they can't have a fairy-tale ending, maybe they can indulge in a little bit of fantasy . . .

Enjoy an exclusive excerpt from The Bachelor Auction: 
Tears welled in her eyes. "I'm sorry; maybe I'm more tired than I thought. I should probably go back to bed."
"I'll join you," Brock added then stumbled over his words. "I mean, I'll take you. Damn it, sorry. Clearly we're both tired."
She didn't have a chance to say anything more before he picked her up and carried her slowly up the stairs, careful not to bang her ankle on the wall. Once they were back in her bedroom he placed her on the bed and pulled the covers over her, his eyes searching, yearning, as raw emotion raged like a war across his dark features.
Did he want something more from her? Did he feel the electric pull between them, too? So many times it seemed like he had more to say, like he wanted to pull her into his arms and devour her. Just the thought had a shiver running down her spine.
God knew, she wanted him.
Even though she knew she would end up without him in the end, it didn't make her feelings toward him go away, though she wished they would.
"I'm sorry, Jane," he whispered, tucking her hair behind her ear over and over again, as if he couldn't stop touching her. "Like I said, I was surprised, and apparently I turn into an ass when I'm caught off guard."
"Most old people do," she joked in a deadpan voice. "I think they're afraid of heart failure. Either that or their hearing is already going so they get defensive."
His eyes darkened. "Very funny."
She laughed into the blankets. "I thought so."
"Keep making fun of me and I'll throw you over my knee."
She stilled.
His smile froze and then turned very dangerous, so dangerous she could feel the impact of it all over her body.
"I should go," he whispered, still not moving.
"Probably." Her throat worked hard to swallow as he leaned over the bed and pressed a kiss to her forehead. His lips slid down to her temple and then her cheek. An inch from her mouth he waited, hesitated.
Her body burned for more of his kisses, more of his touch.
But she didn't know what to do. The last man who had kissed her had told her she was frigid because she wouldn't sleep with him.
Would Brock be the same?
He was used to women giving him whatever he wanted—she'd fall short.
Finally, she sank back into the pillows. "Goodnight, Brock."
He let out a heavy sigh and pulled back. "Goodnight, Just Jane."
When he was almost to the door, she called out, "Don't forget to remove the dentures!"
With a curse, Brock stumbled into the door and then turned around and glared. "What did I say about teasing me?"
Feeling braver now that he was farther away, she arched her brow "Maybe I like being punished."
He gripped the doorway with his large hands and swore. "Now she tells me."
"I figured you were already leaving so I was safe."
"I could always sprint back toward that bed."
"But you won't."
He sighed. "Not tonight. But Jane?"
"Yes?" Was that her voice? All husky and desperate?
"Tomorrow is a new day, isn't it?"
"Yes," she croaked, "It is."
Excerpt. ©Rachel Van Dyken. Posted by arrangement with the publisher. All rights reserved.
Giveaway:

Print copy of THE BACHELOR AUCTION (The Bachelors of Arizona) by Rachel Van Dyken
To enter Giveaway: Please complete the Rafflecopter form and post a comment to this Q:

What did you think of the excerpt spotlighted here? Leave a comment with your thoughts on the book…
Meet the Author: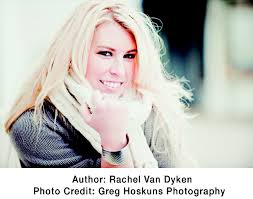 Rachel Van Dyken is the New York Times and USA Today bestselling author of New Adult, Regency, and contemporary romances. When she's not writing you can find her drinking coffee at Starbucks and plotting her next book while watching The Bachelor. She keeps her home in Idaho with her husband, son, and their snoring boxer, Sir Winston Churchill. She loves to hear from readers! You can follow her writing journey at www.rachelvandykenauthor.com.