Today it is my pleasure to Welcome author
Robin Bielman
to HJ!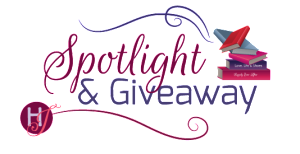 Hi Robin and welcome to HJ! We're so excited to chat with you about your new release, The Best Friend Bargain!

Hi everyone! Thanks so much for having me back again, Sara. This is one of my favorite spots to hang out.

Please summarize the book a la Twitter style for the readers here: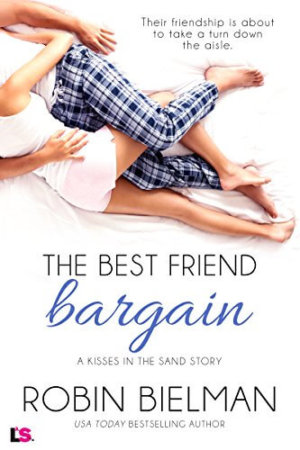 Falling for his best friend wasn't part of their bargain, but once they've crossed the line, can they risk their friendship for the one person they can't live without?

Please share the opening lines of this book:
"Will you marry me?"
"Hey Danny, want to get hitched?"
"Hi Danny. I know this sounds crazy, but marry me maybe?"
Ugh. No matter how Olivia Lincoln proposed it to her best friend, he was going to think she'd lost her mind.
Please share a few Fun facts about this book…
My heroine has a thing for Chewy Chips Ahoy cookies and I love them, too.
Talk of, or watching movies seems to often work its way into my books and this time The Fifth Element is mentioned. My hubby and I love that movie and can watch it over and over again.
Olivia's middle name is May. I chose that name because it was my grandmother's name, although my grandma spelled it Mae. I switched the spelling because I love the nickname Danny has for Olivia – Maybug – and the spelling looks much better with a "y" instead of an "ae."
I was writing this book back in October, so Halloween time, and I came across a picture of my husband and I dressed as the Skipper and Ginger from Gilligans's Island. We won best couple in the costume contest at the party we were at (I used temporary red dye on my hair and wore lots of make-up and a sequined gown and no one recognized me!) and seeing the picture of my hubby in his Captain's hat is what gave me the idea to have the birthday party in the opening scene of the book have a crazy hat theme, and have Danny wear a Captain's hat. 🙂
5) While writing this book I developed a fondness for honey.
What first attracts your Hero to the Heroine and vice versa?
Danny and Olivia have been best friends for fifteen years so their new attraction is based on deep-rooted friendship. They start to be more physically attracted to each other when they start living together and noticing things they already loved about one another, but now it's with greater awareness. And desire. 😉

Using just 5 words, how would you describe Hero and Heroine's love affair?
Love worth fighting for always.

The First Kiss…
Biggest and best mistake ever

Without revealing too much, what is your favorite scene in the book?
Danny and Olivia's first kiss is actually one of my favorite scenes, and I hate to leave you guys hanging with my previous answer so here's more of a tease…
The tail end of daylight cast a glow around Olivia in one-of-a-kind beauty and he found himself tucking her hair behind her ear as she looked up at him with similar appreciation.
When her gaze moved to his mouth, he was a goner.
He ignored the voice inside his head reminding him she was his best friend and once they crossed this line they could never go back, and gave her two seconds to say something to change his mind.
One, two…
She took a step back.
One kiss. One kiss to get it out of his head and put it to rest. She might have placed another foot between them, but Danny saw the indecision in her eyes. He inched closer, unwilling to let her go without one more try. It was a jerk move, but if he didn't get to taste her he'd go insane wondering.
He cradled her neck in his hands.
"Danny." He liked how breathless his name sounded on her lips.
"We have to. I'm going out of my mind, Liv."
She half gasped, half sighed, a pleasure-and-pain kind of sound he wanted to turn into one of satisfaction. They had to get this crazy new attraction out of the way so they could go back to being just Liv and Danny. "Make it terrible," she whispered.
He smiled. "I'll do my best."
"To make it awful," she reiterated.
"Prepare yourself for the worst kiss ever."
If your book was optioned for a movie, what scene would be absolutely crucial to include?
Hmm… I love opening scenes, especially the meet cute. Since Danny and Olivia are best friends, I tried to get a little creative so they'd have a meet cute at the start of the book. Picture a bar scene for a birthday party and there's a cake sitting atop the bar that Olivia is checking out because who doesn't love cake? Here's a snippet…
A commotion sounded from behind Olivia but before she could turn around to check it out, someone bumped her. Someone tall and solid, because the jolt knocked her off balance, and she face-planted into the cake.
Yes, she did.
Her nose actually hit bottom.
She froze for a second. Since she couldn't see anyone, maybe no one could see her.
Firm but gentle hands took her by the shoulders and lifted her off the cake. "I'm really sorry. Are you okay?"
Olivia knew that voice anywhere. She hadn't heard it in the six months she'd been in Europe and, even with cake and frosting all over her face, hearing it now brought instant comfort. She licked her lips and swallowed the delicious taste of chocolate and vanilla buttercream before turning to say hi to her best friend.
His lips were pressed together, but his dimples were on full display and his eyes were laughing their ass off. He glanced down at the cake, back at her, then out toward the party. Whoever had pushed him had pulled a disappearing act and, unbelievably no one else seemed to take notice of the girl wearing cake instead of a hat. Except the bartender. He put down her drink and said, "I'll grab you a clean towel."
Danny tipped back his skipper's cap. "I'm sorry," he said again. "But if it's any consolation, chocolate is a good look for you."
So he wanted to bypass the "Liv, what are you doing here?" question and banter instead? Fine. Liv could do that. She couldn't blame him for not wanting to get messy. Or for taking her sudden appearance with some cold shoulder. She'd left with barely a good-bye and few words since, too busy giving herself a European makeover and falling in love.
She blinked a bunch of times and slid her tongue across her bottom lip. Then, because humiliation didn't hurt quite as much with an accent, she went British on him and said, "There's a first time for everything."
He grinned and his brows rose in that charming way of his. He couldn't help himself. Accents were his weakness with every female but her.
"Done right, first times are better than any other time."
"And if it's done wrong?"
"Then you have to do it again. And second times can be tricky." He leaned his elbow on the bar, looking all relaxed and not the least bit contrite, like he was really enjoying seeing her covered in cake. The jerk.
"How'd I do?"
"I'd say you nailed it." His lips pursed together in an annoying grin. "You could stop here and be satisfied." He leaned a little closer. "Did I say chocolate was a good look for you? I meant great look."
"Aren't you the sweet talker." Olivia glanced over her shoulder for the bartender. What was taking him so long? She was about ready to climb over the bar in search of cocktail napkins.
"So I've been told," Danny said.
"By countless women, I know."
He cocked a brow at that. "I should tell you the accent makes the cake on your face even better."
"Imagine how good I taste."
"I'm all for taste tests," he said, his voice going deeper. Huh? He lifted his arm and gently rubbed the pad of this thumb across the corner of her mouth.
Readers should read this book …
Because Danny and Olivia's story will leave you with a happy heart.
What are you currently working on? What other releases do you have planned for 2016?
I'm currently working on the first book in my new NA series. The book is titled Talk British to Me and I can't wait for readers to meet Mateo and Teague!
My next release is in October. It's a Christmas story and my hero is a prince! The book is titled Once Upon a Royal Christmas and it follows Rowan (the sister of my hero in my April release, Falling for her Bachelor) and her misadventures with the way-too handsome Prince Theo.
Thanks for blogging at HJ!
Giveaway:

One print copy of Blame on the Kiss. Open internationally.
To enter Giveaway: Please complete the Rafflecopter form and Post a comment to this Q:

In honor of Olivia eating cake at the start of the book (hee hee), what is your favorite cake flavor?
Excerpt from The Best Friend Bargain:
Danny had missed the hell out of Liv, but seeing her didn't entirely erase his agitation. He hadn't expected her to hop on a plane for London six months ago with barely a goodbye and then practically suspend communication. And he hadn't expected her to stroll into White Strand all these months later with something bothering her, and looking…
He'd just forget about those moments when she'd had cake on her face and he'd had no clue who she was. That moment when, for the first time in a while, he'd wanted to take a woman home with him. The absurdity of the situation and her coolness had been damn appealing. She hadn't yelled or made a scene, she'd jumped into conversation. With an accent. If he were honest, though, he'd been intrigued by more than just the accent and even-temper. He liked the new hair color, the new curves, and a certain twinkle in her pretty green eyes that he'd never noticed before.
And here he was, taking her home, but for entirely different reasons. Liv had something on her mind he needed to get to the bottom of. They didn't keep secrets from each other. She'd left the country right after being humiliated and fired from her job. The few times she'd texted, she'd sounded good. Her occasional emails had been brief, but positive.
So it bugged him he didn't know what her deal was.
She followed him the short distance home in her rental car. He parked in the garage, tossed his captain's hat onto his passenger seat, and met her at the sidewalk, eager to show her the house he'd been renting and planned to buy. With no other homes available in the area, he'd lucked out landing this one. Sweet, little old Mrs. Landry owned the property and lived in the back guesthouse. Rumor had it she was getting ready to sell and move to Florida to be near her daughter and her family. He couldn't wait to make the house his.
"Let's head inside and I'll come back out to grab your stuff," he said.
"You really like it here," she answered, picking up on his enthusiasm.
"Yeah. There was a minute or two when I wasn't sure leaving the sports agent world to design furniture had been a smart thing to do, but business is finally taking off and being able to work with my hands and make something feels great."
"How are Bryce and Zane?"
Danny smiled at the mention of his two other best friends. "You know that Zane and Sophie had their baby and named her Hannah?" Liv nodded. "Wait until you see Zane. He's so stoked he's got a perma-grin going on that's wider than his surfboard. Bryce signed a new surfer since Zane is cutting back now, and Bryce and Honor are still shacked up and happy as ever."
"You're still okay being the fifth wheel?"
"You know I'm not in for anything else." Ever. Liv knew about his disease and that he'd never marry or have kids because he refused to be a burden to someone else later in life. It didn't take away how happy he was for his friends, and he rarely had trouble finding a warm female body when he wanted one for a night or two.
"Never say never," Liv threw out in a feisty tone he didn't recognize.
Something was definitely up with her.
Excerpts. © Reprinted by permission. All rights reserved.

Book Info:
Their friendship is about to take a turn down the aisle.
Olivia Lincoln has a plan guaranteed to get her life back on track. A plan that involves her best friend, Danny. And he's on board, too…until she blurts out that they're engaged and expecting a baby, and the news spreads like wildfire.
The problem? Danny doesn't do marriage. Or family. And everyone knows it, including Olivia.
As irritated as he might be, protecting Olivia is what Danny does. But put best friends under one roof, add house rules begging to be broken, accidental nakedness, and pancakes in bed, and what started as a marriage between friends threatens to turn into the real deal…which would ruin everything.
Book Links:

Meet the Author: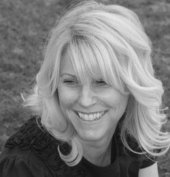 When not attached to her laptop, USA Today Bestselling Author Robin Bielman can almost always be found with her nose in a book. A California girl, the beach is her favorite place for fun and inspiration. Her fondness for swoon-worthy heroes who flirt and stumble upon the girl they can't live without jumpstarts all of her story ideas.
She loves to go on adventures, and has skydived, scuba dived, parasailed, gotten lost in the wilderness (and only suffered a gazillion bug bites for it) hiked to waterfalls, and swam with dolphins. In her spare time she also likes to put her treadmill to good use while watching her favorite TV shows, take hikes with her hubby, indulge her sweet tooth, and play sock tug of war with her cute, but sometimes naughty dog, Harry.
She dreams of traveling to faraway places and loves to connect with readers. Keep in touch and sign up for her newsletter on her website at http://robinbielman.com
Website | Facebook | Twitter |