Today, HJ is pleased to share with you J. S. Scott new release

The Billionaire Takes All

A-list movie star and billionaire Julian Sinclair learned from past tragedy that life doesn't come with multiple takes. Now that he's figured out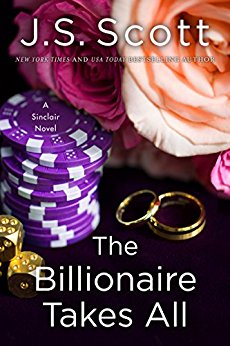 what he wants—in the lush form of redheaded Kristin Moore—he's got one chance to claim it.

Between working as a medical assistant and filling in at her parents' bar, Kristin has no time for pleasure. So Julian is bringing her to his brother's Vegas wedding, where their mutual attraction can finally get a starring role.

What happened in Vegas has followed Kristin right back to Amesport, Maine. In the space of one magical weekend, the leading man in all her X-rated fantasies whisked her off to Sin City for breathtaking sex, followed by an "accidental" marriage she doesn't remember. Kristin fully expects Julian to demand a quickie divorce.

But instead he's daring her to go all-in. To gamble everything on a love that might be too good to be true…or the best, wildest adventure of their lives.

Enjoy an exclusive excerpt from The Billionaire Takes All:
"You really expect me to believe that you detoured all the way to the East Coast just so you could have a date? You have women falling all over you in California. Why couldn't you just pick one of them? I'm not your type, and I'm certainly not a woman you'd want to be seen and photographed with, Hotshot."

She resorted to using the nickname she'd given him from the first day they'd met. He'd nonchalantly referred to her as "Red," a nickname she'd always hated. So she'd come up with one to sling back at him. Not so much because he'd been arrogant—although he definitely was—but it reminded her that she had nothing in common with him.

She wasn't rich.

She wasn't a movie star.

And she definitely was not an adoring fan.

Kristin worked from early morning until late at night to keep her family afloat. She didn't have time to think about hot kisses from a movie star. She and Julian might cross paths occasionally, but they were from different universes.

Kristin wiped her sweaty palms on her jeans, resisting an attempt to straighten out her messy ponytail, and wishing she had donned a nice shirt instead of the sweatshirt she was wearing with the Shamrock's logo.

It doesn't matter how I look. I'm not out to impress Julian Sinclair.

"Yes, I detoured here for you, and no, I don't want us photographed. The last thing I want is for you to have to live the way I do."

He sounded so forlorn that he had Kristin's attention now. Julian Sinclair had everything a man could ever dream about. He'd been a Sinclair billionaire long before he'd risen to stardom. What could be so bad about that?

"How is your life?" she asked curiously.

"Spent hiding from the press, hunted like a prey animal every time I step out the door. I can never assume I'm alone, because there are cameras everywhere. People break into my homes, and I've lost track of how many times I've changed my phone number," he rumbled. "I might get attention, but it isn't always pleasant."

"I'd think you'd like that. Well, except for maybe the burglary part. You made it. You're an A-lister. Everybody wants you."

"The fame is a part of what I do. I've been in the public eye since the day I was born because I'm a Sinclair, but never to this extent. I'd never want you to come under fire by the media. They're relentless."

His words made her think about the day he was being pursued by a rabid group of fans. Kristin had taken pity on him that day and helped him get the women off his tail. Maybe it had been the quick flash of vulnerability on his face that had made her help him. He'd reminded her of a fox being pursued by a hungry pack of hounds.

Honestly, she hadn't been thinking about her quality of life when she had said he wouldn't want to be connected to her with pictures. She'd been thinking more along the lines that she wasn't anything like the women she'd seen him photographed with in the past: A-list actresses, supermodels, and other beautiful women in the film business. "Nobody would believe we were dating anyway," she shot back at him. "In case you haven't noticed, my hair is bright red and unruly, I have freckles everywhere, and I'm overweight and dumpy. Like I said . . . not your type."

She wasn't exactly insecure, but she was realistic. Women like her didn't go out on dates with men like Julian Sinclair. She was comfortable with the genes she'd inherited, and resigned to the fact that she'd never be model thin. Her body wasn't built that way.

There was silence in the back of the limo as Julian's gaze lazily swept over her face and body, his expression revealing nothing. "I don't agree," he countered.

Damn him! He's trying to disarm me. Does he really think I'll fall for this?

"Stop looking at me like that," she insisted irritably, knowing he was just playing with her. He had to be.

He straightened up and leaned forward, his hands on his rock-hard thighs. "Like what?" he questioned in a low, husky baritone.

Kristin leaned back into her seat to put more distance between them. "Like you find me attractive," she blurted out. "I don't like it."

"I'm not going to deny that I do."

She lifted a brow. "Scarlet?"

He shrugged. "You don't like to be called Red."

"I'd prefer not to be referred to as a color shade, either," she told him huffily.

"I don't exactly like being a hotshot," he replied, his lips forming a small grin as he looked at her in challenge.

Kristin looked away from him long enough to realize that they were almost to the airport outside of town. Panicked, she put her nose to the glass window to try to see landmarks before turning to him again. "Enough! You have to take me back, Julian. You've had your fun."

His grin got bigger. "We haven't had any fun yet. But I'm sure you'll learn how to smile when we get to Vegas."
Excerpt. ©J. S. Scott. Posted by arrangement with the publisher. All rights reserved.
Giveaway:

Ebook: The Billionaire Takes All (The Sinclairs Book 5) by J.S. Scott (Gifted via Amazon)
To enter Giveaway: Please complete the Rafflecopter form and post a comment to this Q:

What did you think of the excerpt spotlighted here? Leave a comment with your thoughts on the book…
Meet the Author:
J.S. "Jan" Scott is a New York Times, USA Today, and Wall Street Journal bestselling romance author. She's an avid reader of all types of books and literature, but romance has always been her genre of choice. Writing what she loves to read, Jan pens both contemporary and paranormal romances. They are almost always steamy, generally feature an alpha male, and include a happily ever after—she just can't seem to write them any other way! Jan lives in the beautiful Rocky Mountains with her husband and two very spoiled German shepherds, and she loves to connect with readers. Visit her at www.authorjsscott.com and on Facebook at www.facebook.com/authorjsscott.